Why do I have ball of foot pain when running? That's probably the question that lead you here and one from an athlete I coach that lead to me do some digging.
Initially, I assumed it was all about foot strike.
Landing too far forward on the toes rather than with more of the mid-foot. But that alone is just one potential factor. After all, your foot is a complex structure of 26 bones, 33 joints and more than 100 muscles, tendons and ligaments.
Ball of foot pain may be caused by a variety of factors. In this article, we'll go over what ball of foot pain is, what it feels like, possible causes and recommendations to make sure you never experience it again.
Read till the end of the article to learn more about the 7 best running shoes for metatarsalgia (ball of foot pain).
Ready? Let's get started!
What is Ball of Foot Pain (Metatarsalgia)?
Ball of foot pain can be a nuisance for many people, especially runners.
The medical term for pain in the ball of the foot is metatarsal pain or metatarsalgia. It's an umbrella term for a symptom that can have many possible causes.
People who experience ball of foot pain feel aching pain and inflammation in the padding directly below the toes. This also happens to be the position where we place the most pressure when moving and standing.
This aching sensation is usually present in what's known as the metatarsal heads, the joint that's just under our toes.
The condition is especially common among athletes who play high-impact sports, such as running, due to the stress they place on the balls of their feet.
The great news is that because it's common, we have a lot of great knowledge on how to treat it!!
Symptoms of Ball of Foot Pain
Ball of foot pain occurs in the padding right below your toes. Here are some of the main symptoms you might feel:
Sharp or burning pain in the ball of your foot
Shooting pain in the ball of your foot
Pain that worsens when you stand, run, flex your feet or walk (stops hurting with rest)
Pebble in your shoe sensation
Numbness, or tingling in your toes
Runners with a tendency to land on the ball of their foot create massive amounts of pressure in the push-off phase which can inflame this area and there might also be some swelling. Bruising might also occur on your foot.
It's also possible if you wear a lot of high heels as a runner that this area could be more sensitive due to that constant pressure.
Other Common Running Foot Pain
If you feel like the symptoms listed above don't exactly describe what you're experiencing then check out these other in-depth articles to help resolve foot pain while running issues:
8 Possible Causes of Ball of Foot Pain
There are various possible causes of ball of foot pain. Sometimes it's due to one single factor, while other times it might be several issues that are compounding together to cause this condition.
Basically like everything in running, right?! It's a combination of factors to explain any injury.
Here are the main possible causes.
#1 Intense Training
Being a distance runner can increase your risk of having metatarsalgia. The front of our feet absorb the impact of every single step we take, it's not surprising that foot soreness and unfortunately sometimes pain are often reported.
Your feet have to absorb 7 times your body weight with every step. This means if anything is off and due to the repetitive nature of running, it's very easy to end up with an injury.
The bones, tendons and ligaments all need time to adapt to this high impact activity.
Of course your feet are tired as they adjust to the new impact of running or the in wrong running shoe.
You've heard it before, but increase intensity SLOWLY.
Increase total endurance slowly.
Give your body time to adapt to new stresses.
#2 Tight Calves From Ill-Fitted Shoes
Wearing high heels can transfer extra weight to the front of the foot and therefore it's a common cause of metatarsalgia for women. It causes an increase in tight calves, which are then going to pull on all the foot muscles.
Additionally, shoes with a narrow toe box or shoes that lack sufficient cushioning and support can create issues. For new runners that cushion can help the feet adjust to the impact.
Furthermore, running in shoes that are old or worn down can change your gait which then contributes to ball of foot pain.
You definitely need to know when to replace running shoes and just as importantly to rotate running shoes.
#3 Certain Foot Shapes
Listen just because you can't control the shape of your foot doesn't mean you're stuck with pain. You need to know which area applies to you and then focus on how to best care for your foot. That could be the right shoe, the exercises below or an insole.
Having a high arch can also put extra pressure on the metatarsals.
Having a second toe that is longer than the big toe is also another possible cause since it causes more weight than usual to be shifted to the second metatarsal head.
A hammertoe, i.e., a downward-curling toe, and bunions, i.e., swollen, painful bumps at the base of your big toes, can also cause ball of the foot pain.
Sometimes wearing high heels for extended periods or wearing shoes that are too small can also misshapen the feet which can lead to this condition.
In fact, we see that wearing heels all day lead to a number of issues like calf pain and Achilles pain, so if it's possible to switch that up in your life…do it!
#4 Poor Footstrike
Runners who land too far forward on the foot are consistently running up on the ball of the foot. This creates a few issues:
The fat pad is taking on the weight of each step
Your calves are being over worked
Overworked muscles become tight and thus pull on everything
#5 Lack of Ankle Mobility
"Restricted mobility through soft tissues in and around the ankle and foot can play a role. Flexibility and mobility exercises for the calves, both gastrocnemius, and soleus, as well as ankle mobility exercises and foot rolling, can help," says Dr Asher.
Foot activation exercises such as foot yoga or simply adding in some movements to work on your range of ankle motion are key. We often overlook the ankles when thinking about the foot.
Checkout this great mobility move for runners.
View this post on Instagram
#6 Excess Weight
If you're running overweight, more pressure is going to be put on your metatarsals because most of our body weight transfers to our forefoot when we move. Therefore, losing weight might help with the symptoms.
A number of studies have shown that even a minor amount of weight loss, resulted in less discomfort in all lower extremity areas from the plantar fascia to the ball of foot.
#7 Stress Fractures
If you have stress fractures in the metatarsals or toe bones, it can change the way you put weight on your foot which can also further exacerbate the condition and lead to metatarsalgia.
Generally, you are going to be feeling sharp pain in the area of the stress fracture. Many runners will try to push through this, but the result is either a full break or that the stress fracture can't heal.
#8 Morton's Neuroma
This is a painful condition that affects the ball of your foot, usually between the third and fourth metatarsals. It's usually a result of a non-cancerous growth of fibrous tissue around a nerve in the foot.
The pain and symptoms are similar to metatarsalgia and can also contribute to stress in the metatarsals, thereby causing metatarsalgia on top of Morton's neuroma.
How is Ball of Foot Pain Diagnosed?
Sometimes ball of foot pain goes away on its own after a few days. If your pain persists for more than a few days after resting and changing your footwear, or the pain is severe and you can see signs of swelling or discoloration, it may be time to get checked.
To get diagnosed correctly, head to your doctor's office where they will begin an exam for metatarsalgia by asking about your symptoms. Your doctor will also physically examine your foot.
To rule out any stress fracture or other problems that may be causing your pain, you may need an X-ray. Alternatively, an ultrasound or MRI may be ordered to access the soft tissues surrounding the metatarsal joints.
They can quickly reveal whether a problem such as Morton's neuroma, stress fractures, or a sesamoid injury is to blame instead of metatarsalgia so you can get the correct diagnosis and then treatment.
How to Treat Ball of Foot Pain
If you're wondering what can help with foot pain from running due to ball of foot pain (metatarsalgia), you've come to the right place.
First of all, the good news is that it can be easily treated without the need for surgery.
Depending on the level of severity of your condition, your doctor may prescribe orthotic inserts, such as metatarsal pads or shoe inserts to minimize the pain you're feeling in your foot. These are made to help align the foot and provide extra cushioning.
For swelling in the area, an ice pack wrapped in a towel can ease things up. You may also be advised to take over-the-counter painkillers such as ibuprofen. But you should only take it if your doctor tells you to.
Immediate Pain Relief for Foot Pain
Here are a few ways to help in immediate pain relief if you're experiencing foot pain:
Long Term Tools to Help Foot Pain
In order to ensure you never experience ball of foot pain again and to help assist recovery, a long-term approach is necessary to back the short-term approach.
Dr. Asher Henry, PT, DPT, CSCS has some useful suggestions:
"I would suggest those with metatarsalgia seek out PT, especially if they're having any sharp, shooting pain or lingering numbness", she explains.
The importance of wearing the right shoes can never be emphasized enough.
"With runners, shoe selection can impact sensations they're having in the foot. So, if they're running, shoes are too tight. This can cause discomfort similar to diagnosable metatarsalgia. Testing out wider shoes Is a good idea as well as looking at how tight they're cinching down the laces," Dr. Asher recommends.
Understanding the cause behind your metatarsalgia can greatly assist in recovery as well.
Other long-term tools you can incorporate to reduce the risk of such conditions or to resolve it if you're currently experiencing it are:
Improving your foot strike (see video below.)
Wearing a well-cushioned shoe (recommendations below)
Learning to replace your shoesto prevent top of foot pain
Foam rolling to release tight calvesor rolling foot on a PT ball to release tension
Continuing to spend time on strengthening your calves, glutes, and core for better running form
Avoiding walking barefoot
Soak and use a pumice stone on your feet to help remove calluses to relieve pain.
Improving your foot strike takes a little bit of practice, but is well worth it for the benefits. Watch this video to help you better visualize how you want to land ideally.
Improving your foot strike takes a little bit of practices, but is well worth it for the benefits. Watch this video to help you better visualize how you want to land ideally.

What to Look for When Choosing Running Shoes for Metatarsalgia
When looking for shoes to help there are a few features that really help:
Cushioning
Protecting and cushioning the metatarsals is a top priority, so make sure there's plenty of padding under your forefoot.
The metatarsal area of the forefoot is especially vulnerable. This is an important area of the shoe where you should have plenty of cushioning and protection.
Low Heel to Toe Drop
Pressure on the forefoot can be reduced with a lowered heel. It helps reduce that forward push to put less strain on the balls of the feet.
Arch Support
Good arch support will keep your feet correctly positioned and alleviate pressure on the ball of your foot.
Make sure the shoe you choose has the right arch support for your foot, whether it's low, medium/neutral, or high.
Wide Toe Box
In order to provide the forefoot enough room to spread out, a wide toe box is essential for runners with metatarsalgia. This allows the forefoot to spread naturally, effectively reducing pressure on the metatarsals.
Breathable Mesh Uppers
The shoe's upper must meet three requirements: be lightweight, facilitate breathability, and fit snugly. A smooth, soft lining, as well as moisture-wicking features, are also helpful.
Comfortable Fit
There should be a durable outsole with excellent traction, to protect your forefoot from the extra shock of slipping.
Durable Outsole
To prevent the forefoot from the extra shock of slipping, the outsole should be sturdy and have good traction.
Best Running Shoes for Metatarsalgia (Ball of Foot Pain) in 2023
Here are the 7 best running shoes for metatarsalgia (ball of foot pain) in 2023. Hopefully, these shoe options will give you a place to start in making your selection.
As always when I recommend shoes, I've either run in them myself or chatted with others to understand what they like and I've researched why they're a good suggestion for ball of foot pain.
These Hoka One One Bondi running shoes are among the most effective running shoes for metatarsalgia because they reduce pressure on the ball of the foot and provide a plush, cushioned ride.
The full-length EVA midsole allows for a soft landing on the ball of your foot. This feature helps provide comfort to the ball of the foot and alleviates metatarsal pain. Plus, the EVA foam is engineered to give exceptional arch support, which keeps your joints aligned and effectively distributes pressure over the foot.
I often describe this as my recovery run shoe because it's so plush.
Meta-Rocker technology, which creates an effect similar to a propelling fulcrum, is integrated into the outsole. It ensures a smooth transition of your body weight onto the front foot, which relieves pressure on the ball of the foot and creates a balanced ride.
The shoes also include a breathable mesh upper that provides comfort and wicks away sweat and moisture while you run. The hoses include a padded collar that makes it easy to put on your shoes without having to unlace them.
They are truly a neutral to underpronators' best bet for relieving pain in the ball of the foot and preventing metatarsalgia. The thick layer of cushioning, early-stage meta-rocker to help with the heel-to-toe transition, and a plush memory foam collar for step-in comfort make these shoes ideal for metatarsal pain.
I've been using these shoes for marathon training and absolutely love the cushioning they provide. Many runners report that these shoes feel a little more narrow, so if you like a wider shoe other shoes on the list might work better for you.
The Saucony Kinvara is among the most lightweight, well-cushioned running shoes with excellent metatarsal support. The shoes have a spacious forefoot that makes it easy to move your toes and protects the ball of your foot.
This one does NOT have a lot of arch support though, so you need to know if that's important for you. It's not for me, and thus this is one of my long time favorite running shoes.
But, the lower drop shoe can help to encourage a good foot strike.
The PWRRUN foam cushioning mechanism in the midsole gives incredible energy return when your foot strikes the ground. It is far more flexible and durable than EVA material.
The foam provides a springy, long-distance running experience without putting excessive strain on the lower part of your feet. The sole of these shoes is highly flexible, allowing for a smooth and efficient transition of weight from the rear to the forefoot.
No matter the surface, the injection blown rubber soles will provide you with durability and years of use, as well as good traction, and shock absorption.
The footwear is also equipped with FORMFIT technology. It features three layers of cushioning that are designed to replicate the contour of your foot. This makes it possible for the shoes to fit your feet properly without causing any discomfort to the toes or the metatarsal bones.
Plus, the insole is easily removable to insert your own custom orthotic or insole. Since knee surgery, I often wear an insole that helps to ensure my feet don't fall inwards (overpronation). That's kept my knees, ankles, and feet very happy.
Neutral shoe
Moderate cushion
Weight: 6.8 oz men's, 6.2 oz women's
Heel drop: 4 mm
2 colors
Not available in wide
Read my complete Saucony Kinvara 14 Review
The Altra Torin have more of foot shaped design than other brands which means your toes have plenty of room to spread out and the zero drop cushioned shoe is truly helpful for many runners trying to improve their foot strike.
These running shoes for metatarsal pain include a firmer forefoot and a comfortable slipper top. They include an upper that gives your toes plenty of room to move and spread so you may run without stressing the balls of your feet. Plus, the foot-shaped toe box promotes healthy alignment of the toes and metatarsal bones, which helps with stability.
In my testing, I've found a lot of Altra's that I like. My only downside on this one is the thin tongue was uncomfortable for me.
The toe box and heel side of the shoes have the same height, which allows for improved posture and makes the shoes suitable for under pronation. Also, the toe box is wide enough to give runners with wide feet plenty of room.
The shoes include a Quantic foam midsole, which makes them lightweight and provides excellent shock absorption and flexibility. The lightweight design supports your feet, which is especially important if you have metatarsalgia.
The rubber outsole further increases their durability and protects them from wear and tear while you're on the go. The biomechanically designed rubber pattern on the outsole corresponds to your foot's metatarsal heads, providing for a highly natural ride.
The upper of the shoe is also fantastic because it keeps your feet cool, dry, and supported while you're out running.
10.1 oz. Men's / 8.3 oz. Women's
Zero drop model
Designed for the road, but the outsole would do great providing grip on basic trails
Available now for $140
The Asics Gel-Venture are some of the best trail running shoes for relieving pain in the ball of your foot.
Shoes are designed with a GEL technology cushioning system that is positioned in the heel area to absorb some of the shock created by impact. This additional cushioning mechanism makes the shoes significantly lighter and overall helps to alleviate pressure on the balls of the feet.
The moderately low arch of these shoes distributes load away from the forefoot and ball of the foot. The moderate arch height provides a light degree of support.
The shoes also come with a removable ortholite insole that gives your feet even more support and comfort. The shoes' outsole is made of High Abrasion Rubber (AHAR) technology, which is positioned in key areas of the outsole to give better durability.
The midsole of running shoes is constructed from compression-resistant EVA material. This protects the soles of the feet from the impact of running on hard surfaces.
The New Balance Fresh Foam 1080 v12 is a comfortable shoe for runners with wide feet that comes in wide and extra-wide sizes. Metatarsalgia is alleviated by the roomy toe box and plush forefoot cushioning. Another shoe that shows up in my best marathon running shoes list!!
The New Balance 1080 v12 is a great option for runners with wide feet and metatarsalgia.
It has a wide and spacious toe box that fits the forefoot without putting strain on it. The Hypoknit upper is a seamless material that stretches and shapes to your foot without chafing, providing a roomy forefoot and a close, supportive midfoot.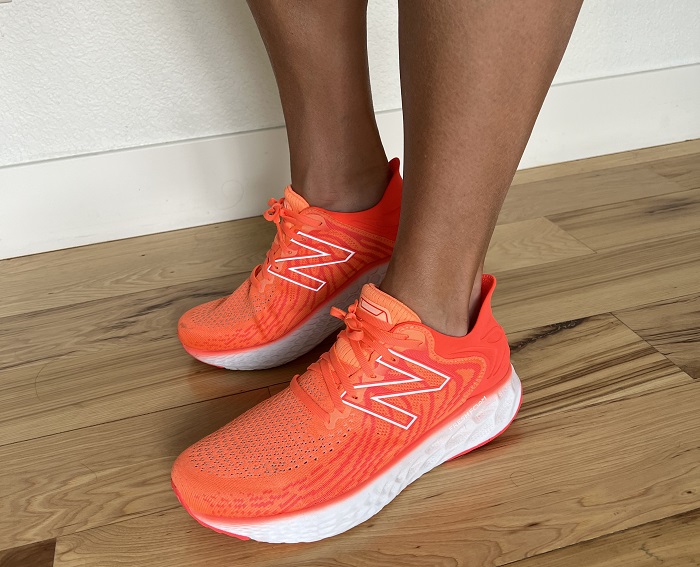 The layer of Fresh Foam X provides exceptional cushioning. It's light and soft, but it can handle speed. It also features a rocker bottom, which reduces foot fatigue and improves the heel to toe transition.
As an added bonus, the outsole is made up of two different types of rubber for traction and outstanding grip on a variety of surfaces.
Current model is the 12
Neutral running shoe
8mm heel drop
Cushioned and responsive
8.3 oz women's
The Brooks Ghost 15 is a versatile running shoe that is ideal for beginner to experienced runners with metatarsalgia who want a soft, smooth ride with ample cushioning.
The midsole of the Ghost 15 is made of cloud-like DNA Loft foam, which gives the entire foot great cushioning. This also features shock-absorbing and metatarsal-guarding forefoot cushioning.
This foam also has a good energy return, so it feels springy when you push off with your toes. I've put in quite a few miles in this shoe and it feels really great. I am not one for the higher heel toe drop, but it hasn't bothered me.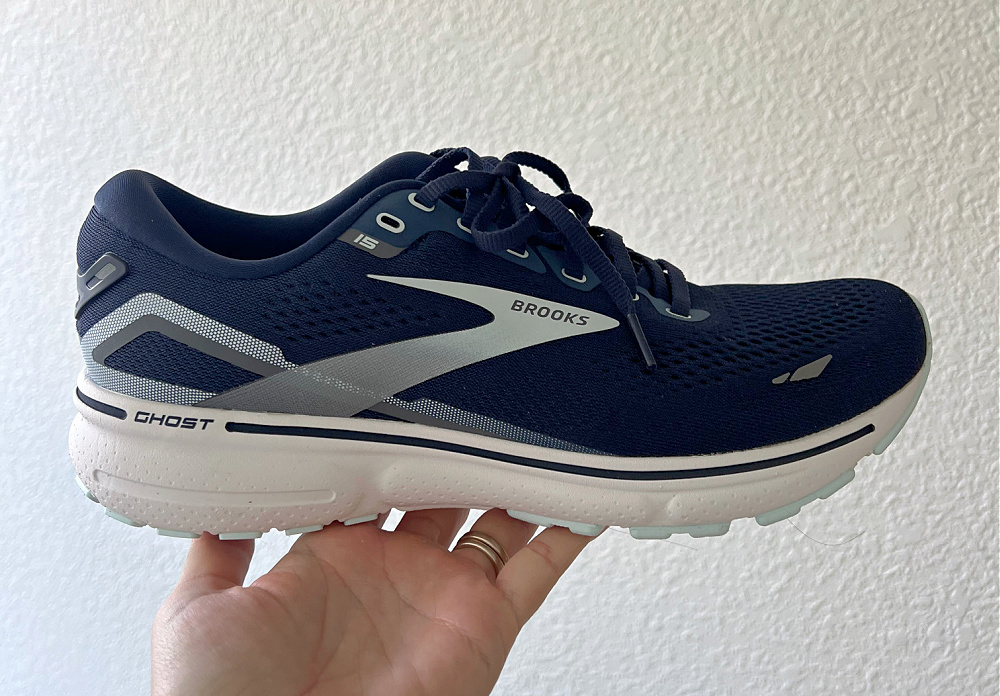 The high arch in the shoe's midsole is another great feature that aids in support and relieves pressure on the forefoot.
The classic lacing system and breathable mesh upper collaborate to keep your feet securely in place and allow the midsole to do its job.
The sturdy rubber outsole includes a Segmented Crash Pad in the forefoot, providing extra impact protection and flexibility during the toe-off phase.
Plus, the blown rubber underfoot offers superb traction on a variety of surfaces.
Current model is Ghost 15
Listed as neutral running shoe now, but still known for stability
12 mm heel drop
9.1 oz women's, 10.1 oz men's
See my detailed Brooks Ghost 15 review >>
These Brooks Adrenaline shoes are a great option if you have severe ball of foot pain and find it difficult to firmly press your feet into the ground when you're running.
The shoes are ideal for metatarsal pain since they provide excellent support to runners with all types of arch types. They're also running shoes I recommend for knee pain, so ideal if you've got lower leg issues.
The DNA loft Crash Pad and BioMoGo DNA cushioning systems in the midsole of the shoes work together perfectly to give the balls of your feet extra support and comfort.
The loft pads absorb shock and impact, providing a smoother transition from heel to toe and a gentle landing for your feet. The loft pads feel like you're running on a pillow because they have extra air and polyurethane. This allows you to run more efficiently and quickly without experiencing pain in the balls of your feet.
The shoes also include a special GuideRails holistic support system that helps runners in maintaining their natural running motion. Sled glides built into the system allow for easier side-to-side movement while maintaining the natural motion of your knees and joints while you run.
Plus, the shoes include a breathable mesh upper that is built with a contemporary fit technology that keeps your feet aerated when running and provides a snug fit around your heels at all times. Shoes that fit this well also reduce the likelihood that your ball of the foot may slip and rub against the insole.
Support
12mm heel drop
Maximum cushion
9.0 oz (womens)
$140
Ball of foot pain while running may not be uncommon, but it is an injury you can prevent and recover from!
Other ways to connect with Amanda
Instagram Daily Fun: RunToTheFinish
Facebook Community Chatter: RunToTheFinish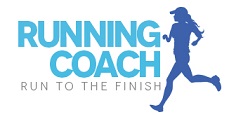 Sign Up to Receive a Weekly Newsletter with Top Running Tips and Laughs