Running with bunions. Those unsightly protrusions from the base of your big toe that make running painful and put holes in the sides of your shoes.
Even the scientific name is terrible: hallux valgus.
These embarrassing foot conditions affect about a quarter of the population and can cause severe pain and even hinder daily activities like walking and running. Fortunately, there's a way to prevent them reaching such an extreme level.
Can you run with bunions?
For sure. The biggest limiter will be finding a shoe fit that allows you to run without pain. We're going to dive more in to each of these below!
Find the right shoes
Try additional toe spreading tips
Try including some foot massage and strength
Ok now that we've answered your first burning question, let's better understand what a bunion is and how to detail with it.
So what exactly are these bumps and what can we do about them?
What are Bunions?
A bunion, medically referred to as hallux valgus, is a when the first metatarsophalangeal joint (MTP) of the big toe pushes inward (medially). The result is that bone pushing farther to the inside of your foot, which causes it to then rub painfully on shoes.
Your big toe will now be pointing more towards your small toes rather than straight ahead.
It's far more common that you might assume, which also means we have some great ideas for helping you to run with a bunion and less pain. Over 23% of adults (usually female) have dealt with a bunion.
What Causes Bunions?
Like any foot issue, there are a number of causes of bunions.
low arches
loose joints and tendons
runs in families, as some foot shapes are more prone to them
Occupations that require long periods of standing, such as nurses, teachers, or cooks and servers in restaurants
Pregnancy can also lead to bunions thanks to hormonal changes that can loosen the ligaments and flatten the arch (which is why insoles are helpful).
But, the most notable cause is likely due to wearing narrow shoes with pointed toes.
A tapered toe box forces the big toe joint (known medically as the first metatarsophalangeal joint, or MTP for short) into the space where the second toe belongs. Prolonged pressure causes the MTP to protrude outward and the big toe to point inward, sometimes crossing over or under the second toe, causing a hammertoe.
Sometimes, the same issue occurs in the fifth metatarsal (pinky toe) causing a bunionette.
Probably goes without saying, this is an example of pointy footwear and not ideal for running, ha! (image from Getty).
Is a Bunion a Bone Growth?
Contrary to what most think, the bump that sticks out is not a bone growth, it is the first metatarsal bone pushing outward, while the big toe points toward the second toe.
Women are 10 times more likely than men to experience bunions, largely due to high heels. Heels over two inches tip our body weight forward, squishing the toes into the front of the shoe, creating the perfect situation for bunion formation.
Unfortunately, most shoes on the market, including running shoes, are designed with this tapered toe leaving many of us susceptible to bunions.
YESSS this is why I've talked a lot about lower profile shoes, you don't need to go barefoot, but start watching the heel drop they list in descriptions.
Up until two years old, babies' shoes are designed to accommodate our natural foot shapes, in order to make balance for walking easier. After that, we begin to see the tapering of the toes in footwear.
Image source
Notably, bunions (among other foot problems like plantar fasciitis and hammertoes) in barefoot societies are rare. So that whole barefoot running thing, maybe there's something to it, after all…thought I'd much prefer you checkout a shoe like Altra.
Does Running Make Bunions Worse?
Running is not directly to blame for causing bunions, rather they are caused by ill-fitting running shoes.
We often hear the terms "zero drop" or "2-mm drop" in relation to running shoes. What this refers to is the difference in height between the heel and the forefront of the shoe. Most running shoes are designed with elevated heels and and tapered toe box.
Mile after mile, particularly for long distance runners, this can lead to or exacerbate the discomfort of bunions.
Runners with bunions or those who wish to prevent the deformity, should look for properly-fitting shoes with the following features:
A wide toe box that allows the toes to spread fully.
A flexible sole, which helps strengthen the foot muscles opposed to a rigid sole that limits range of motion in the foot.
Zero toe spring. Shoes have incorporated a toe spring that lifts the toes and overextends the plantar fascia. This is often the culprit for other foot problems such as shin splints, plantar fasciitis, neuromas, and more.
A flat heel, which promotes proper alignment of the body.
According to DPT Amie Ramczyk, "a lot of people who have bunions have flat feet and walk with feet turned out, causing them to roll off the bunion and not the big toe. This then causes decreased ROM in the big toe and ankle as well and can lead to other issues up the chain."
So it's the result of how you change your gait repeatedly that leads to issues, rather than just the bunion itself.
The goal of finding the right shoe or working through some strength exercises for your feet is to help prevent that supination.
Best Running Shoes for Bunions in 2023
These are the shoes that came most highly recommended by Physical Therapists and Podiatrists that I know (and equally important, by runners I know who deal with this issue).
You'll notice that each of these is focused on the wide toe box and often zero drop shoes ,or very low heel to toe drop. That does not mean you need to sacrifice cushion!
I've tested many of the Altra's and was really impressed with the cushion, but for sure the Bondi is going to be your big time cushion winner!
The Altra Lone Peak 6 is a popular trail running shoe due to its lightweight, comfortable design and exceptional traction, and is also a great choice for anyone suffering from bunions.
These shoes are made with a durable outsole that provides exceptional stability and traction on a variety of surfaces, making it perfect for off-road running. A zero-drop platform encourages a more natural footstrike, and a wide toe box helps anyone with bunions run more comfortably.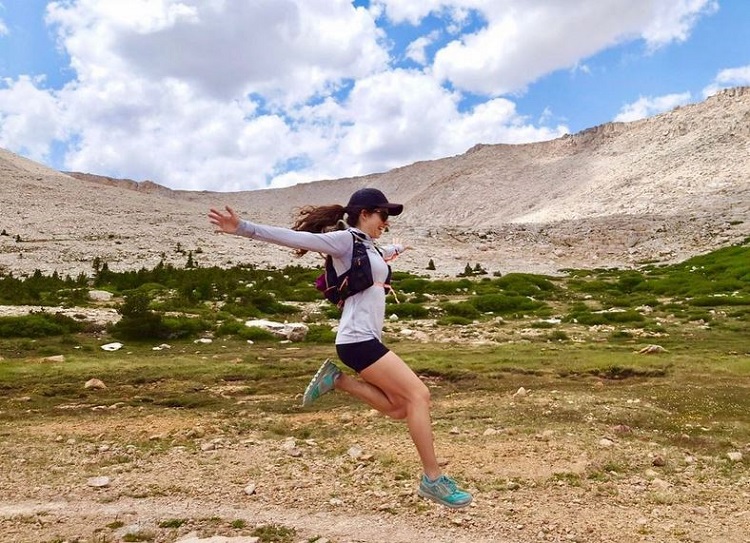 The redesign of the lacing mechanism allows for a tighter pull over the instep and a modest improvement in stability, which is perfect for anyone who has bunions but narrow feet.
These shoes by Altra are really a great way to start out in the world of trail running shoes with zero drop to help with your bunions.
Altra Escalante 2.5 is another great zero drop shoe by Altra that will help you run with greater ease if you have bunions. These shoes are perfect for hitting the roads and will help you have a natural foot strike even with bunions.
The upper of the shoe is made of a breathable knit fabric that adapts to the shape of the foot for a snug and comfortable fit. The shoe also has a wide toe box, which allows the toes to splay naturally and enhances stability during runs giving ample room for your bunions without having to worry about them hurting during a run.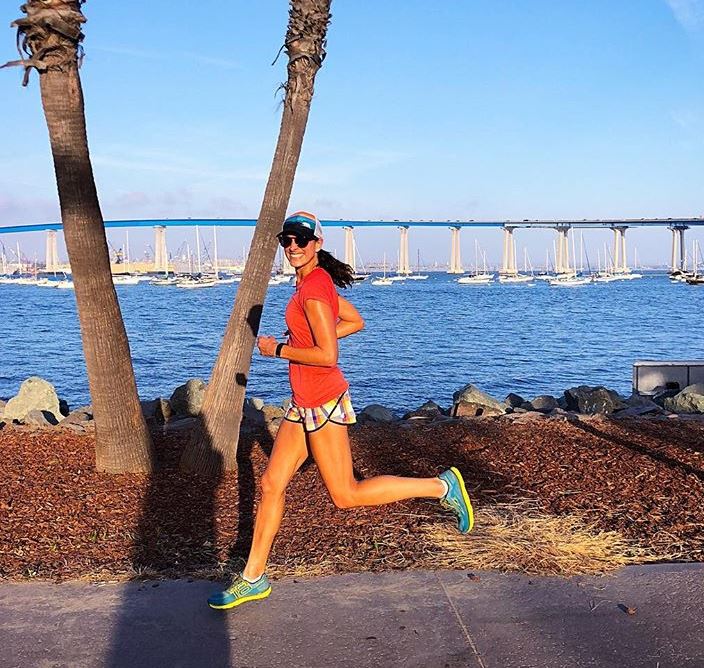 The midsole of the Escalante 2.5 is made of Altra's Ego foam, which provides a good balance of cushioning and responsiveness. The outsole is made of a durable rubber material that offers excellent traction on various surfaces.
Overall, the Altra Escalante 2.5 is a solid running shoe that is suitable for both short and long-distance runs. Its zero-drop platform and wide toe box design make it an excellent choice for runners who value natural foot movement and stability but suffer from bunions.
It's hard to top Hoka One One's Bondi running shoes if you're looking for a well-cushioned shoe that keeps you injury-free. The engineered mesh upper stretches and moves with you while you run or walk, reducing pressure on your bunions.
The Bondi's full-length midsole cushioning provides high-performance comfort for a relaxed, effective stride. They come in medium, wide, and extra-wide widths for those who need more space in the front.
Hoka Bondi is more expensive than some other running shoes, but the quality, performance, and durability more than make up for the price.
Read my full review of the HOKA Clifton vs Bondi >>
If you're looking for the plush feel of the Bondi, but want a speedier shoe, then the Bondi X by Hoka is the one for you.
It's a high-performance running shoe designed to provide superior cushioning and support for runners with bunions. The engineered knit upper is lightweight and breathable, while the full-length carbon fiber plate helps to increase stability and reduce pressure on the bunion.
The carbon fiber plate in the compression-molded EVA midsole is similar to the foam used in the Carbon X and Rocket X, which are truly shoes for the PR-minded.
The midsole of the shoe is made up of soft foam cushioning, providing a comfortable and responsive ride. While the stiff plate helps compensate for the softness of the midsole.
The Hoka BondiX is a great choice for runners with bunions looking for a high-performance running shoe that provides superior cushioning and support.
The Topo Terraventure 3 combines the best of both worlds with moderate cushioning and just a 3mm drop. The shoe provides an excellent balance of cushion, protection, and flexibility.
It has an accommodating toe box that allows plenty of room for your bunions to move freely without any discomfort or pain. The outsole is made from durable rubber with aggressive lugs for enhanced grip on off-road terrains.
The midsole is made of EVA foam that offers a great balance of cushion and responsiveness, while the upper of the shoe is made from a breathable mesh material that keeps your feet cool, dry, and comfortable.
Overall, the Topo Terraventure 3 is an excellent trail running shoe suitable for all types of terrain and will keep your bunions from hurting during a run.
The Inov-8 Roadclaw is a great option for runners with bunions, thanks to its roomy toe box and flexible design.
The wide toe box allows for natural foot movement, reducing pressure on the bunion and preventing further irritation. The shoe's lightweight design and responsive moderate cushioning make it ideal for long-distance running, while the breathable upper helps to keep feet cool and dry.
These shoes fit well enough to provide support without being overly tight, and the durable outsole provides good traction on a variety of terrain types.
Overall, the Inov-8 Roadclaw is a comfortable and supportive option for runners with bunions looking for a lightweight and breathable shoe for their training.
If you're looking for a more traditional running shoe for bunions, the Saucony Guide is the one for you. It features an 8mm drop and a streamlined profile with effective support. The structure of the shoe's support under the foot feels firm, while the rest of the shoe is plush and comfortable.
Runners who want some support but don't want to give up a soft, comfortable feel on the foot will love this combination.
The shoes feature a moderate cushion that's perfect for road running, giving you enough support for stability but simultaneously enough cushion to keep your bunions pain-free during your runs.
When it comes to comfort and support, the New Balance 860 is in a league of its own! The 860 has a soft EVA core in the midsole and a tough polyurethane rim called ENCAP for more support and durability.
Plus, the blown rubber outsole works to give your bunion the highest possible level of shock absorption. And what's best is that the New Balance 860's toe box has a lot of width and depth, which makes it a good fit for your bunions.
This classic go-to has been around for more than 30 years and is the standard in its field. You'll get just the right amount of cushioning and support. Put on a pair of 860s and go for a run! They will provide ample space and support for your bunion.
The Fresh Foam 1080 from New Balance provides a number of advantageous features for someone with a bunion. I recommend these shoes for long distance running, I love the feel!
First, they are made with a double jacquard mesh upper and a bootie construction to provide the most comfort and support possible without sacrificing toe room in the forefoot.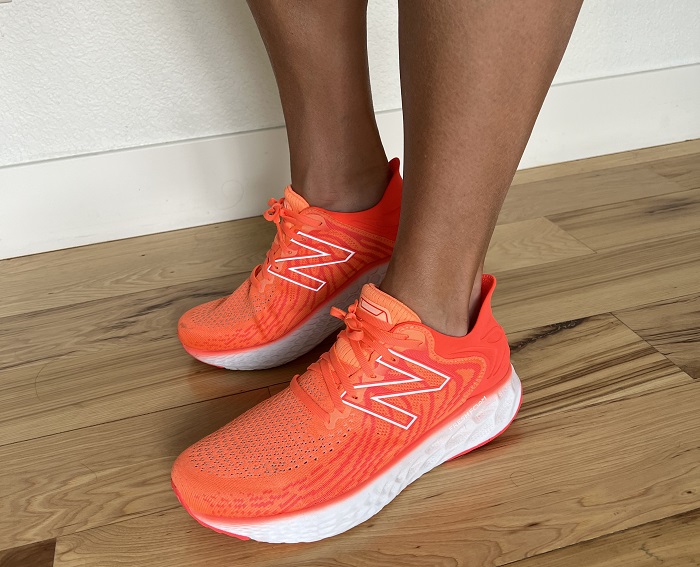 The mesh top allows for a seamless fit, so there are no irritating seams while running. In addition, the laser-engraved midsole has thicker cushioning than its predecessors, making this shoe a frontrunner in the category of shock absorption.
Moreover, there is a tiny forefoot flare that relieves pressure on the area of your foot where your bunion is located.
If you have a bunion and enjoy running, these are some of the finest running shoes for bunions.
Hoka Clifton is the ideal shoe for a runner who needs a stable shoe and has bunions. The Clifton boasts a nice rounded and wide toe box to provide your bunion enough toe room, allowing you to run in comfort without worrying about irritating bunion pain.
The Clifton also has a late-stage Meta-Rocker design that makes it more stable and a smooth toe-off that spreads your weight out evenly. If you plan to stand or walk for extended periods of time, the Meta-rocker will provide further bunion pressure relief.
This is another shoe I have used for years and recommend to all types of runners.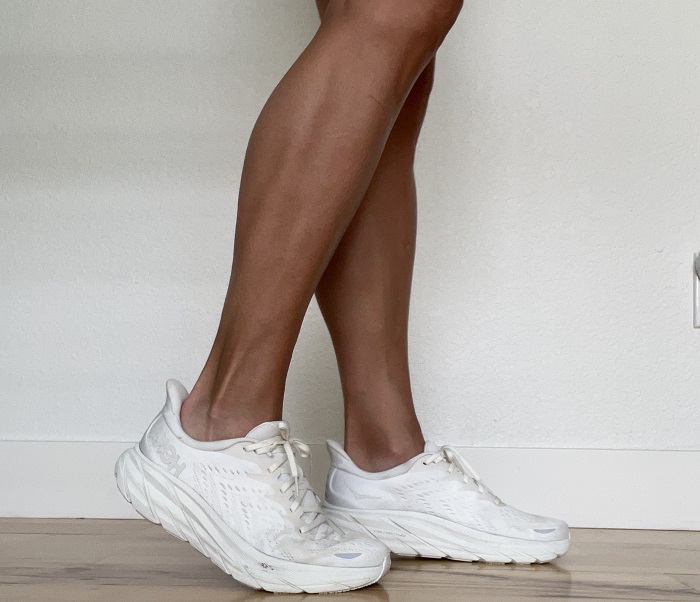 Moreover, this Hoka shoe has arch-lock wings that provide stability and support for the midfoot, allowing you to still have the roomy toe box and secure fit you need for running.
All in all, if you have a bunion and need a running shoe with lots of cushioning, this is the one for you.
Gel Kayano is a great, dependable shoe from Asics that's lightweight and provides the support and stability that runners with flat feet need while also giving them protection from bunions
The shoe's upper is made of breathable mesh that gently hugs the foot without making bunions worse.
Overpronation is also a problem for runners or walk with flat feet, but the shoe's Guidance Trustic System and Dynamic Duomax foam keep it in check.
The Kayano is a high-quality choice available in medium and wide widths that can support those with flat feet in walking and running comfortably.
Read my full Asics Gel Kayano review >>
Brooks Ghost
The Brooks Ghost 15 running shoes feature clean heel-to-toe transitions and a neutral support system. Plus, they're made using a soft, smooth material that makes sure it won't hurt your bunion area. The high-energy cushioning and rubber bottoms make these shoes ideal for running.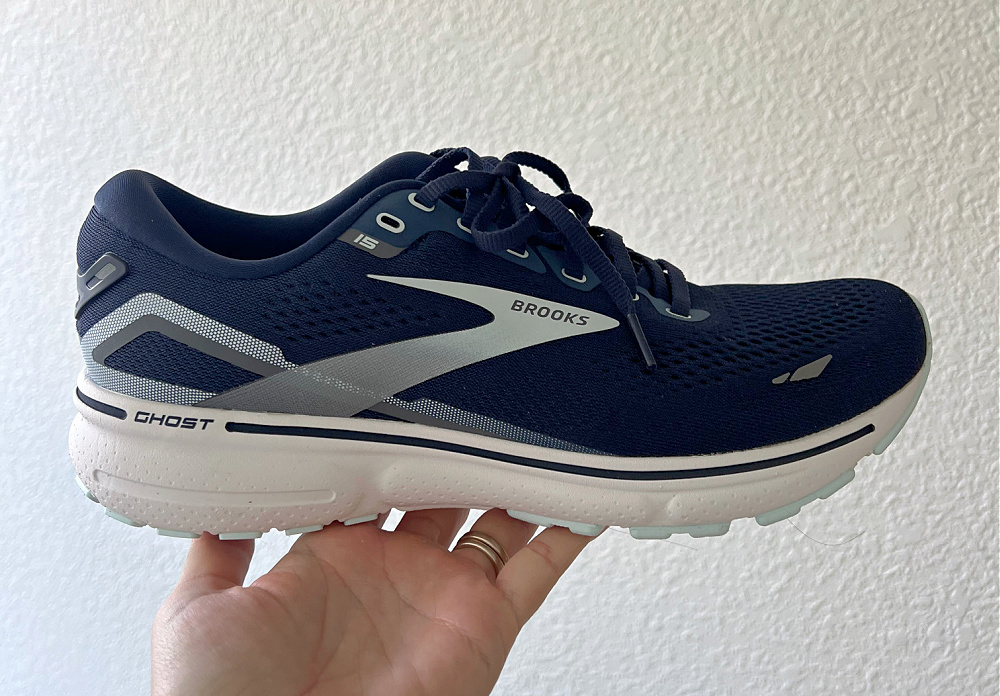 Brooks Ghost blends DNA loft and BioMoGo DNA cushioning to provide the optimum amount of underfoot softness while maintaining durability and responsiveness. Plus, they adapt to the distinctive stride of bunion feet.
The shoes are light and made with segmented crash pads that protect your feet on any terrain with built-in shock absorbers. The mesh uppers and 3D fit print ensure a snug fit and good air circulation.
Also, the midsoles of the shoes adjust to the shape of your foot with every step to give you the most support and flexibility. These running shoes have a light lift and responsive stride thanks to three cushioning, energizers, and speed levels.
Read my full Brooks Ghost 15 Review >>
If you're looking for even more options, check out the best wide toebox running shoes >>
Additionally, PT Ramczyk, has seen that "depending on the circumstance a carbon fiber plate may be beneficial as well to help prevent 1st toe extension – if that is really painful."
Learn more about how carbon fiber shoes work here >>
Finding shoes with a wider toe box for a better fit and less foot pain!
Click To Tweet
11 Bunion Treatment Home Remedies
Most assume that their only bunion treatment are bunion surgeries, however those are really only recommended as a last resort, when the pain is impacting your daily life.
Recovery from surgical procedures can take anywhere from six months to a year, so if you're a runner, that's not exactly ideal. Often, the surgery doesn't last, and the bunion returns once again.
The good news for those suffering from bunions is that there are plenty of at-home treatments that can help relieve pain and even correct the bunion in some cases.
#1 Wear Daily Appropriate Shoes
The first step is changing your shoes.
All of your shoes.
Not just your running shoes.
The brands listed above also design every day shoes, some even work-appropriate. There are plenty of companies who make shoes that accommodate the toes properly. Here's a list of Correct Toes-approved shoes that others have compiled.
#2 Choose Better Running Shoes
As noted above, moving to a Zero Drop shoe or simply one of the models with a wider toe box will help tremendously.
#3 Change Your Shoe Lacing
There are multiple ways to lace your running shoes that will result in more space around the toebox. This could go a long ways toward making any shoe feel more comfortable.
👉See How to Lace Your Running Shoes for Pain Relief >>
#4 Consider an Insole
Initially, you need to do some gait retraining to help your brain and feet remember how to hold the arch up correctly. Ideally you won't need arch support forever, but they can be a great tool
Start by using them in your daily shoes or during some runs, but continue doing all of the exercises below to really make a lasting difference.
👉Here are some of the best running insoles >>
#5 Try Toe Spacers
Think of toe spacers like braces for your feet. They help correct the alignment of the toes over time. Bodhi Feet and Yoga Toes are two well-known brands designed to help correct the foot shape.
You'll need to build up your tolerance at first. Wearing them too long can cause painful leg cramps. Eventually, you'll wear them throughout the day, so it's important to find a shoe that accommodates your foot during use.
Alternatively, you can also wear a splint at night to help keep the toe in the correct position.
#6 Add Padding around Bunion
Moleskin and gel pads can help protect the bunion from rubbing against your shoe. Both are widely available in drugstores.
You can also try shoe inserts designed to position the foot correctly and raise the arch.
#7 Taping for Arch Support
I'm a big fan of using Kinesiology tape. It was a game changer for me during a knee injury both before and after surgery.
In this case you could be taping for a couple of reasons:
Along the area of pain, taping with no stretch can help to slow pain signals
Taping along the arch to provide more support so your foot is not collapsing
TIP: Use hand sanitizer on the area prior to placing the tape. It will help it to stick longer! I also prefer RockTape for longer staying power.
#8 Try Post Run Icing
In most cases, I tell you that we want to go with heat instead of ice to loosen muscles etc. However, for a bunion we simply want to reduce any swelling and to stop the pain signals, so ice is a great option.
Remember no more than 10 minutes at a time.
#9 Painkillers
Over the counter painkillers like ibuprofen and acetaminophen can help temporarily alleviate the pain, however make sure you read all about how to use them safely. Taking them pre-run can do all kinds of bad things to your liver.
Which is why you often hear me talk in stead about CBD pain relief muscle rub and turmeric.
#10 Bunion Exercises
There are simple foot exercises and toe stretches you can do to help train the big toe to go back toward alignment and increase flexibility. You know I love a bunion treatment that you can take charge of!
Practiced every day, they can make a significant impact in the pain associated with bunions as well as slow the progression.
Toe Yoga
Jay Dicharry, director of Rep Lab in Bend, OR and author of Running Rewired suggests daily "toe yoga" to develop muscle coordination in the feet.
With your feet flat on the floor, lift just your big toe and hold it in the air for one second.
Lower the toe and lift the remaining four toes for one second.
Alternate between the sets for 2 to 3 minutes on each foot.
(Image Source)
Big Toe Stretches
With your foot flat on the floor, take your big toe with one hand and slide it away from the remaining toes into its natural alignment, while still keeping it on the ground. This stretches the muscle responsible for controlling the big toe, the adductor halas.
While holding your toe out, massage this muscle by running your thumb down your foot between the first and second toe.
You may find a trigger point, which indicates an area to pay more attention to during the massage.
Hold the toe in this position for 10 seconds while massaging and repeat three to four times.
Resistance Exercises
Take your hand or a resistance band and pull your big toe toward you while using your big toe to push against the resistance. Keep your feet either flat on the ground or flexed in front of you while sitting on the floor.
Towel Scrunches
Place a towel on the ground and use your toes to scrunch the towel toward you. Repeat five times. A similar exercise is to pick up marbles or other small objects with your toes. Place 20 or so on the ground and pick them up one by one with your toes and place them in a bowl.
#11 Ball Rolling for Massage
Get a textured foot massage ball and massage your feet for several minutes each day. Be sure to roll the ball along each metatarsal of the foot. This is an excellent exercise to stretch the muscles and relieve tension.
Running with bunion pain, shouldn't be the thing that stops you. Don't be afraid to keep testing shoes and exercises!
If you're dealing with other issues, checkout these articles for more tips:
Are you a runner with bunions?
What recommendations do you have for fellow bunion sufferers?
Other ways to connect with Amanda
Instagram Daily Fun: RunToTheFinish
Facebook Community Chatter: RunToTheFinish