In the US alone over 100 million people deal with bunions. So you are not alone in trying to figure out the best running shoes for bunions! I've got friends who deal with this and it's important to know that they don't have to mean the end of your running.
The right running shoe is going to make a massive difference in reducing discomfort while running.
Previously I've written about the running with bunions treatment techniques, like taping bunions and foot exercises. Make sure you check that out for some additional ways to improve your time on the roads. But today, we're going to dive more in to what you need to look for in running shoes.
For you, it's not just about cushion and weight. Instead, our focus shifts to a wide toe box, better arch support and even a lower heel to toe drop. Let's discuss each of these features a bit more and then dive in to reviews of my top running shoe for bunions.
What to Look For In Shoes for Bunions
As noted there are three things we want to asses when selecting you best shoe. These are all things you can pretty easily find the details for when shoe shopping online, but may need to better understand what they mean or why they matter.
Wide Toe Box Shoes
Dr. Gaby Go, DPT, PT, says "When working with patients who are dealing with bunions, one of the most impactful things you can do to prevent bunion formation is ensure that the toe box of your shoe is wide enough to accommodate all your toes. The goal is that you can comfortably spread your toes within the shoe itself. "
Should I Buy a Wide Shoe if I Have Bunions?
Remember that a wide toe box means the area where your toes are is often more footshaped. It does not mean the entire shoe is wide, which can create issues if you have a more narrow heel or arch.
If a shoe is too wide, it can cause blisters and other issues. This is because your foot has too much room to move around in the shoe and as a result creates the friction that leads to blisters or even chaffing.
So again, our focus in on a wider toe box, as we see here with Altra Running Shoes. Having bunions doesn't necessarily mean you have wide feet.
Moderate Heel Toe Drop
Heel to toe drop refers to the change from the heel of the shoe to the toe in height. It's not the same thing as stack height which is how tall the shoe is overall.
Standard running shoes are often 12MM in drop, which is great if you have Achilles issues, but not an ideal running shoe for bunions. We know that one of the worst shoes to wear with bunions is a high heel. In effect, the higher the drop the more pressure you are putting forward on the foot and the bunion.
Ideally we want to look for shoes that are 6mm or less. Lucky for you there are now a lot of those available.
Arch Support
Again we're looking for things to ensure that we aren't placing extra pressure on your forefoot with each step. And if your arch is coming down that will create bunion discomfort.
According to DPT Amie Ramczyk, "a lot of people who have bunions have flat feet and walk with feet turned out, causing them to roll off the bunion and not the big toe. This then causes decreased ROM in the big toe and ankle as well and can lead to other issues up the chain."
What Shoes to Avoid with Bunions?
The biggest thing in running shoes for bunions is going to be avoiding a narrow shoe or one with inflexible material, which often includes waterproof trail shoes. Many folks find that Nike and Saucony both run narrow, which means you'll be looking for Wide versions of their shoes. In fact, I specifically recommend a wide Saucony below.
Meanwhile New Balance is well known for their availability of Wide Shoes and I do recommend them a ton.
7 Best Running Shoes for Bunions
There are a lot of factors to consider when you're choosing a new pair of running shoes. If you're looking for a pair with a wide toe box, these are our 7 picks for the best running shoes you can buy right now.
These are the shoes that came most highly recommended by Physical Therapists and Podiatrists that I know (and equally important, by runners I know who deal with this issue). We've looked at some of the best brands and shoes so that you can be sure that your feet will be happy no matter how far you run.
#1 Best Cushioned Zero Drop Shoe – Altra Provision
The Altra Provision is a great stability shoe that is lightweight and lets you run in a natural way. It has Altra's well-known EGO midsole, which provides lightweight cushioning for soft landings and explosive takeoffs.
For those with flexible arches or who tend to overpronate, this is the ideal shoe. Altra designed the Provision with GuideRail technology, which provides medial support when you need it
The Altra Provision is a lightweight and supportive zero drop shoe. That means we have eliminated worries about the heel to toe drop and we have provided that arch support, all alongside some really nice cushion! Just remember that if you are new to Zero Drop running shoes, you want to gradually introduce them to your training. Start with just 1 short run per week.
We know I'm not a big stability shoe person and yet these don't feel like a stability shoe at all. I think it's because they have a good amount of cushion and aren't stiff.

10.1 oz. Men's / 8.3 oz. Women's
Zero drop model
Highly cushioned with more of a maximal shoe style
Designed for the road, but the outsole would do great providing grip on basic trails
Available now for $140
I've taken these out for quite a few miles now and surprised myself by finding my calves didn't scream. I think a good sign that I've been rotating through a large variety of heel stacks.
This is one that I'd recommend if you've been considering a stability shoe, but aren't going to let up on all the hip, glue and core work that will make sure you aren't relying on the shoe.
#2 Best Cushioned Stability – HOKA Arahi 6
If you've ever wondered are HOKAs good for bunions? Yes!
They have both the wider foot we are looking for, along with the lower heel drop and by default provide a bit more stability. As always there are some models that can be better for bunions than others and you'll see 2 on this list.
The Arahi is a stability running shoe designed for runners who need support for overpronation. Which means for us, that it's going to support the arch.

This shoe features a J-Frame technology that helps to guide the foot and reduce overpronation, while the foam midsole provides a cushioned and responsive ride. Truly it's not often you find a shoe with this amount of cushion that's also designed with stability in mind.
I've said before with HOKA one of the things I appreciate is that by default the shoes are going to provide you with some support and stability, without feeling stiff. As someone who also appreciates the feeling of cushion underfoot when the miles get long, this is a great combo to help relieve some of that bunion running pain.
The mesh upper is breathable and flexible, and the shoe features a wide base for added stability. The Arahi is a great choice for runners who need support and stability, and who want a comfortable, cushioned shoe for their daily training.
Since I am not a stability shoe runner, this and the Gaviota have not graced my feet. I'm sharing with you feedback from other runners who have used them!
Stability Running shoe
Moderate Cushion
5 mm drop
7.6 oz women's, 9.3 oz men's
Available in 11 colors
Available in Wide in some colors
$140
I am about to break one of the rules that I listed above, but for extremely good reason. One of my good friends, Danielle Pascente, has long dealt with bunions and running. For at least 10 years, she has sworn that this is the ONE shoe she can wear running without pain.
That's a pretty darn good endorsement even if the shoe  has a 10mm heel drop. Plus, it's a model that so many people love and have used enough they're all the way up to version 20. Many say it's ideal when you need to be on your feet a long time.
The plushiest model in the Brooks line features plenty of DNA Loft foam, plus the Ortholite sock liner. This is designed to be the plushest ride they have with not only their signature DNA, but a new nitro infused midsole.
Let's be honest, most of us don't understand all the technology, but what we do know is how it feels. And if you love how a shoe feels that actually helps your performance, so this is worth testing. Buy direct from Brooks for an easy return if needed.
10mm drop
9.1 oz women's, 10.1 oz men's
$160
If you like Brooks but want slightly less stability, she has also reported the Brooks Ghost can be a good option. I personally like that shoe for the right amount of cushion for long runs.
#4 Best Saucony Shoe for Bunions: Saucony Guide 16
The Saucony Guide is a stability running shoe that is designed for runners who need more support and guidance. It features a medial post, which is a firmer foam that helps to prevent overpronation and provides stability.
That being said, it's  not HUGELY structured. Compared to older stability shoes, this isn't going to be super firm or provide massive support. It's just providing a little bit of extra for those who find their arches dropping or have flat feet.
This is going to be less cushioned than the HOKA Aharai and Brooks Glycerin, but that's not a bad thing. There is a benefit to having a little more feel for the ground (and this is by not means a minimal shoe without cushion).
The upper of the Saucony Guide is made of breathable mesh material that offers flexibility and a secure fit.  Moving slightly away from past posts to provide stability is their new Hollow Tech medial support. The TPU medial support element placed in rear of the midsole provides support without the rigid and firm feeling of a medial post, seen in most shoes.
Structured cushion (light stability)
8mm heel toe drop
7.8 oz women's, 8.8 oz men's
Available in Wide
$140
The Inov-8 Roadclaw is a great option for runners with bunions, thanks to its roomy toe box and flexible design. The brand is very similar to ALTRA with a focus on that wide toe box, but this particular model is also more narrow in the heel. Some women may find that fits a little bit better and prevents slipping.
The wide toe box allows for natural foot movement, reducing pressure on the bunion and preventing further irritation. The shoe's lightweight design and responsive moderate cushioning make it ideal for long-distance running, while the breathable upper helps to keep feet cool and dry.
It's fair to say they might not be my favorite look, but hey if they're comfortable then that's the shoe I'd be wearing!!
They also have small lugs on the bottom which are going to provide you with some great traction if you'll be doing gravel paths or perhaps going from paved to dirt. Not designed for technical trails, but great for those back and forth city days or just the roads.
Zappos has a fabulous return policy, so again easy to test and send back if it doesn't work for you.
Neutral with stability
8mm heel toe drop
7.8 oz women's, 8.8 oz men's
$145
Cloudflyer running shoes are known for their comfort and style. They feel super nice on your feet, due to their soft cushioning, but they also have the stability you need. Having run in these, I'd label them as a firmer shoe providing more support and less of that plush cushion.
Great if you need some additional stability or arch support. These shoes are not bouncy or super cushioned, so again if you want that softer feel choose one of the first couple shoes listed.
The wide version of a Cloudflyer shoe still has all the luxuries but is constructed 4mm wider than the regular fit. It might sound like a small amount of difference, but your toes will thank you the very first time you go for a run in them!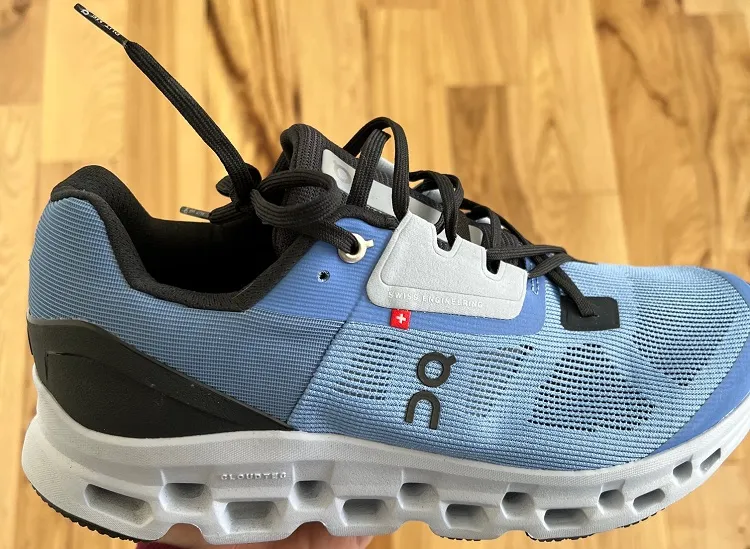 Stability running shoe
7mm heel drop
Moderate cushion
14.8 oz women's
 $159.99
#7 Best Trail Running Shoe for Bunions – HOKA Speedgoat
I'm trying to give you a variety of brand options in case you already know you don't like a certain type. But I have to include the Speedgoat because it's a favorite of mine as a neutral shoe that's so durable.
I've put a lot of trail miles on this shoe and it can take it. From easy trails, to more technical you'll have plenty of grip and great cushion to make the miles comfortable.
Some folks dislike the max height because there's less connection to what's underfoot. I've never had that issue.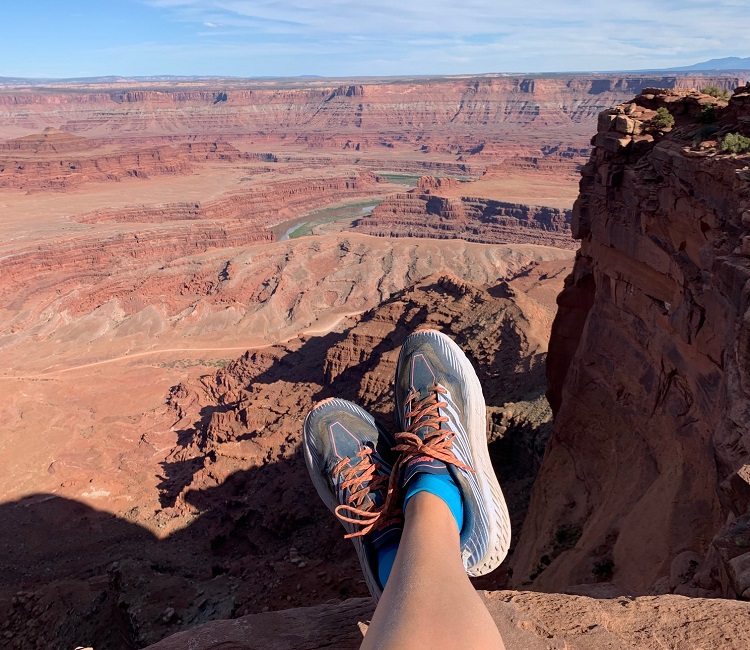 Neutral running shoe
Available in wide width
4mm heel drop
Moderate cushion
8.5 oz women's. 10.3 oz men's
 $155
There are a few shoes that I have recommended in other articles when looking for wide walking shoes (like the HOKA Clifton) that I didn't include here. They could absolutely work, but I'm trying to eliminate your overthinking about the best sneaker.
All right, we've talked a ton here about what you need to look for in the best running shoes for bunions, alongside some well tested options. Go forth and find the shoe that's going to allow you to run pain free!!!
Looking for additional running shoe information?
Other ways to connect with Amanda
Instagram Daily Fun: RunToTheFinish
Facebook Community Chatter: RunToTheFinish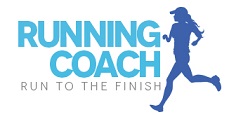 Sign Up to Receive a Weekly Newsletter with Top Running Tips and Laughs