30 Day Core Challenge | Abs, Glutes and Hips
THE SECRET TO RUNNING INJURY FREE…
is just 10 minutes a day.

Grab the course now before prices go up!
10 Minutes a Day to a Stronger Core:
FEATURED IN
HERE'S WHAT YOUR 30 DAY
CORE CHALLENGE INCLUDES:
DEMO AND FOLLOW ALONG VIDEOS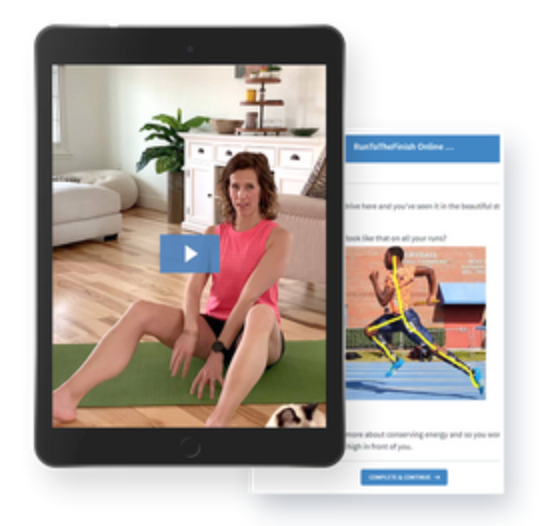 WHAT TO EXPECT INSIDE
EASY TO FOLLOW 10 MIN A DAY PROGRAM FOR RESULTS!
---
Get the Core Program NOW or Access to EVERY Course & ALL Coaches for Just $299/year
(save $800 by getting all courses with Run Club Annual)
Billed annually to save $60 membership per year
RESULTS OUR RUNNERS ARE GETTING & YOU CAN EXPECT

Great program! I used it as my warm up while training for my first half and it made such a difference with the knee pain I was dealing with. I know how important strength training is but it's the first thing I drop when struggling to find time to do everything, this program was great to ensure I got it in when short on time.
This program has helped me a lot with my running form. Every workout is short but efficient, so easy to fit in before or after my runs. And I really like the mobility practice that is part of the program, I always need to work on mobility and having that as part of a scheduled program makes it more likely that I'll do it :D
This program is an excellent mix of exercises for abs, glutes, mobility…pretty much the whole enchilada for the runner's body. The instructions are easy to follow and the on-going narrative is encouraging and motivating. It took me more than 30 days because life got in the way, but I enjoyed every moment. Now I need to incorporate the exercises into my daily practice.
I loved the 30 days core and I am still doing them, over and over again!
I have really appreciated having this program to follow & so happy that I've stuck with it so far. Thank you! One thing its taught me is that it doesn't have to take a lot of time to get results.
Realizing my weak spots in my core. I'm pretty good at core work but not always encompassing my entire core. The lower back and glute stuff I'm feeling much more. And doing them before my runs has been a huge difference in how my runs are feeling!
FREQUENTLY ASKED QUESTIONS
REACH YOUR GOALS MORE EFFICIENTLY
Join over 1,480 fellow runners in Virtual Run Club
Virtual Run Club Membership
LIVE COACHING & ONLINE COMMUNITY
✔ 1 Weekly LIVE with Coach Amanda Brooks
✔ Chat with 9 Running Coaches
✔ Private Facebook Community
VIDEO WORKOUTS & CHALLENGES
✔ 3 Weekly ZOOM Strength Workouts
✔ 30-Day Runner Core Program
✔ 30-Day Running Technique Program
COURSES
✔ Better Runner Blueprint
✔ Masters Running Course
✔ 30-Day Runner Nutrition
TRAINING PLANS & GUIDES
✔ 10+ Training Plans for Different Distances
✔ Running for Weight Loss
✔ Runner Strength Training Guide
Save $60 with annual Run Club Membership – $299
30 DAY CORE CHALLENGE
+
30 DAY FORM PROGRAM

FOLLOW ALONG VIDEOS FOR CORE AND FORM
Plus
30 DAYS TO IMPROVE YOUR FORM
Immediate access to do the work on your own timeline.
✔ Abs, glutes and hips workouts
✔ Drills to improve your running form
✔ Drills to improve cadence and speed
✔ All designed to keep you injury free
$79 one time
LEVEL UP AND JOIN VIRTUAL RUN CLUB
WHO AM I?
There are a few things you should know about me first, just in case you're not sure if I'm the "real deal". I sometimes run on a treadmill. I walk, too. I don't run everyday. And pizza is my love language. Still think I'm a real runner? Awesome. In reality, I'm just like you.
Over the last 13 years, I have poured thousands of miles and hundreds of hours of research into comprehensively understanding all it takes for you to run strong, safe, and supported. I've built my own personal online runner's club, a community of tens of thousands of runners who all share one thing in common: a seemingly insatiable craving for cereal. (Oh, and they like to run, too.)

In the Virtual Run Club, I'm bringing it all to you, so it can change you the same way it has changed me.

This community is different: I'm committed to helping you without massive and unrealistic expectations, but by helping you succeed through dedication, support, education, and accountability.
I'm a journalist turned author and certified running coach, and I'm on a mission to uncover and ignite the runner in you.
Whether you need a plan and accountability, nutrition support and injury prevention, or just someone to believe in you when you don't feel like believing in yourself, I've got your back.

I cannot wait to hang out in the middle of the pack together.
DON'T WAIT FOR ANOTHER MONDAY
The best thing about the 30 Day Core Challenge is you can start immediately and do it whenever works best for you! It's just 10 minutes!