Online Running Coach
Online Running Coach
You aren't a professional athlete, that doesn't mean you deserve less from a coach.
You don't need to wait to be picked.
You don't need permission.
Running is open to everyone. It doesn't require a specific body type, just a heart that knows there is more and wants it now.
I started running because it was the fastest way to burn calories. I never considered that running would fundamentally change me, that running was going to change my outlook on life, increase my confidence and lead me on journeys I never imagined.
I am a knowledge nerd. I love learning and disseminating information. I am your last stop for finding all the running answers.
Stop spending time you could be working on achieving your dream Googling for more information and get started now.
I don't like wasting time, yours or mine.
In Your Corner Start to Finish
To change one's life, start immediately, do it flamboyantly, no exceptions.– William James
Break free of the confusion, the fear, the mental gymnastics telling you it's too hard and take action now. Stop waiting for someday or letting your night time promises go unfulfilled in the light of another day.
Maybe you woke up determined, but after a few moments of huffing down the block you turned back and threw yourself on the couch with the Real Housewives? Or maybe you've stuck to it religiously, but damn it you can't seem to hit that PR?
What you need to know before we go any further.
You must be results oriented and ready to do the work. This doesn't mean you need to be running 6 min miles, it means you need to be open to adjusting your run/walk pace or trying new things to get to your goals.

The "I would but" mentality is going to be checked at the door. You can, and together we will.

You've got to communicate. I'm invested in you once we begin this relationship, but I'm not a mind reader!

Personalized intensive 1-to-1 coaching is right for you if if you know that running is about more than simply right, left, right, repeat. We're going to to massage your attitude until you find the joy in running again. We're going to slowly tweak your nutrition until people are asking if you've had a java while their in the 3PM slump munching on crappy vending machine candy. We're going to implement little changes that make you stronger, faster and injury free.
Find that runner's high you've heard so much about and finish week after week fist pumping, twerking and dancing in the street because finally you've found a program that is design just for YOU.
Give yourself the gift of believing in your potential.
Due to the intensive nature of this coaching, only a few slots are available during the year. If you're ready for change, don't wait, take action now. An object in motion gains momentum…an object on the couch…
Nitty Gritty
The fine print of what you'll be getting is covered in depth when we speak, but what would you expect from a personal coach?!
Online tracking diary to record runs, how you felt, food

Customized training plan (built around your life, your goals, your body)

Guidance on nutrition

Guidance on pre-hab, cross training

Overcoming mental hurdles

Someone in your corner from start to finish
Everyone needs a coach. We all need people who will give us feedback. That's how we improve.– Bill Gates
Ready to make a change?
Coaching Team
Due to the HUGE volume of requests, RunToTheFinish now has a team of coaches, all operating under Amanda's philosophy that there is no perfect plan, only the plan designed for you, your life and your goals.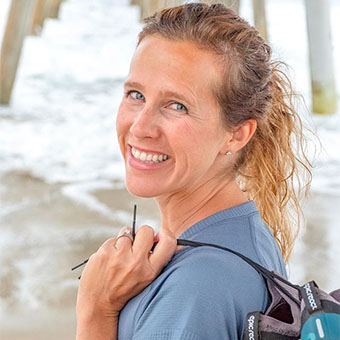 Amanda BrooksAs the owner of RunToTheFinish, head running coach, Amanda is involved in the training plan of every runner. She has over 17 years of running experience and 7 years coaching runners from a run/walk of their first half marathon to hitting an injury free training cycle for a 1:31 half marathon. Amanda is a certified personal trainer and keeps her roster small to provide individualized attention.
Alexis FairbanksAlexis is a long time runner, former collegiate middle distance runner and passionate about helping people enjoy running in a healthy, injury free way. Alexis has experience coaching runners of all levels and often finds herself helping runners define what goal is best for them right now. She brings her experience in creating custom plans to life for those trying to find consistency and those trying to just squeeze a bit more out of their next race.
Kaitlyn FaistKaitlyn brings her in person training skills to our team atmosphere, which is a great value. After years of instructing classes and doing 1-1 personal strength training, she's using her run coaching certification to bring a new level of strength training to our training plans. Her own love of combining running and strength training ensures she knows how to help you balance all your active interests.
IMPORTANT NOTE:
Because change doesn't happen over night there is a 3 month minimum commitment to the program. Each year I now take on only 5-6 VIP coaching clients, who receive every bit of my knowledge and support to meet their massive goals, while enjoying the journey.
The investment in your goal begins at $230/month for coaching with Amanda  – if you're determined, committed and ready for fun apply below.
STOP THE STRUGGLE
Let's do this. Together.
The number of people we coach remains small to ensure maximum support from us.