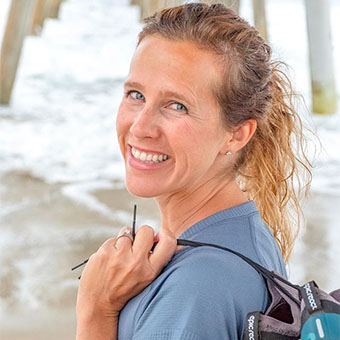 Amanda Brooks started RunToTheFinish.com in 2007 as a way to connect with fellow runners.Over time it transitioned in to a place for runners to find highly researched articles and run coaching, while on social media she connects with runners daily over their love and laughter around their chosen love of sweat. Now RTTF has reached over 12 million runners and Amanda's running love only continues to grow.
ABOUT THE BOOK
Run to the Finish is not your typical running book. While it's filled with useful strategic training advice and unique tips, at its core, it's about learning to love the run you've got without comparing yourself to other runners.
Mixing both humor and helpful advice, Brooks delivers a down-to-earth, inspiring guide filled
with all the tips and secrets you need to have the best run for you, such as:
dynamic warmups and the power of gratitude miles
understanding the difference between discomfort and pain
mastering the mental side of running
treating the most common injuries
01
Run To The Finish Community
Running can often be a solo sport, but sharing the highs and lows with fellow runners is part of what keeps us going. Love polls, tips, and runner's high discussions?
GRAB THESE TRAINING PLANS
Early access the printable versions of the training plans in the book.
02
Join the List
Once you've made your pre-sale purchase, drop your email here and I'll grab your confirmation to then send you the training plans!
Testimonials
Amazon Customer
This book draws you in!!!!
This book is perfect and geared towards the everyday runners who are looking to expand their journey with a renewed look. This is for those that truly deeply have a passion for running. It's broken down into super digestible material, so much humor which really sounds like the author is in my read reprogramming myself! I can't say enough good things. I feel like Amanda is that really cool friend cheering me on. So, grab a copy for yourself and everyone you know that wants to build their journey, you won't regret it!
@elliegails
Want to hear something great? I have my daughter your book – she love it. But the unexpected bonus – her boyfriend is not a reader-never has been- he loves the book and want his own copy!!! (He is also a runner). It's so exciting to think your book may turn him on to a whole new world of books!
@dickeychick
Hi Amanda – I just wanted to send you a HUGE THANK YOU for writing Run to the Finish. I downloaded it about teo days ago and I can't stop reading it. Nearly everything is resonating with me – I have highlighted so many things; I have taken screenshots of pages and sent them to my 14-year-old daughter since she just started high school track this week; and I can't stop telling everyone about it. Hoping to meet you in DC on March 16. THANK YOU! THANK YOU! THANK YOU!
Quotes
"Suddenly, when the run itself is the goal, there are no more bad runs. Suddenly it doesn't matter if we don't finish within our goal time—or don't finish at all. What matters is that we tried, that we enjoyed the process. What matters is that we got out there." ― John Bingham, No Need for Speed: A Beginner's Guide to the Joy of Running
"We all have our Achilles heel–an area of weakness that often gets injured or threatens injury. For me, my hips (weakness) and calves (tightness) are my areas of concern. For my training partner, it's his plantar fascia. I suspect that you have a problem area as well. Develop focused injury-proofing for that area, and don't let up. Don't work on it only when you're hurting. Work on it year-round."– Greg McMillan
PODCASTS ABOUT RUN TO THE FINISH:
THE EVERYDAY RUNNERS GUIDE
You know I love to talk running, so it's been a blast to chat with a number of podcasts over the last few months.
Fitnessista – Discussion of tips for new runners
The Run Duo – Breaking down fitness myths
Running 4 Real with Tina Muir – Deep dive in to the real side of running and writing
Rambling Runner – What is it like to write a book and why?!!
Diz Runs – How to come back from injury, handling the comparison game and more.