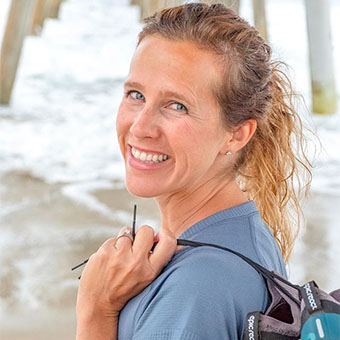 Amanda Brooks started RunToTheFinish.com in 2007 as a way to connect with fellow runners.Over time it transitioned in to a place for runners to find highly researched articles and run coaching, while on social media she connects with runners daily over their love and laughter around their chosen love of sweat. Now RTTF has reached over 12 million runners and Amanda's running love only continues to grow.
About The Book
Run to the Finish is not your typical running book. While it's filled with useful strategic training advice and unique tips, at its core, it's about learning to love the run you've got without comparing yourself to other runners.
Mixing both humor and helpful advice, Brooks delivers a down-to-earth, inspiring guide filled
with all the tips and secrets you need to have the best run for you, such as:
dynamic warmups and the power of gratitude miles
understanding the difference between discomfort and pain
mastering the mental side of running
treating the most common injuries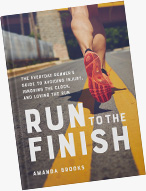 Select an online store to pre-order
Get your copy of Run To The Finish
and claim your pre-sale bonuses
Book will be available in stores nationwide March 3rd.
Testimonials
Quotes
Podcasts about Run To The Finish:
The Everyday Runners Guide
You know I love to talk running, so it's been a blast to chat with a number of podcasts over the last few months.
Fitnessista – Discussion of tips for new runners
The Run Duo – Breaking down fitness myths
Running 4 Real with Tina Muir – Deep dive in to the real side of running and writing
Rambling Runner – What is it like to write a book and why?!!
Diz Runs – How to come back from injury, handling the comparison game and more.
Tour Partners