Whether you're a newbie or an experienced runner, you're going to sweat when running. Good running jackets will not only protect you from the elements but also help you shed extra heat and moisture.
Lack of breathability in a jacket might cause it to feel like a damp, swampy plastic bag. In contrast, running jackets with breathable materials, zippered vents, or mesh panels efficiently wick moisture away.
Recently, when I asked what gear you really wanted to know about, I was surprised that what's the best running jacket was the top question. Testing out gear is something I actually really enjoy. It's an excuse to go for a run as part of my job, I mean really…how is that so hard?
But jackets meant, I was going to get to run in a variety of conditions. Bring on the snow, the rain, the wind, I shall fear thee not with my new gear.
Over the last few years, I've pulled on a lot of jackets and gone for a run.
✅HINT: I LOVED all of these, but if I had to spend my money on just one, you'll see it below.
The results below are jackets for a wide variety of situations that I would absolutely recommend. There were others tested that simply aren't included here because they didn't perform as well or better than the one's I've listed.
What is a Running Jacket?
A running jacket is an outer layer that helps to make the run more comfortable by preventing chill from the wind or protecting you from the rain. Ideally it's made from a wicking material that breaths because we don't want it to hold in body heat creating a sauna effect.
If you're looking specifically for a waterproof running jacket, I've done a separate article for running rain jackets! They have slightly different features that are important (though you will notice one cross over jacket!)
Should You Wear a Jacket While Running?
Running layers are always useful, but more so when you are dealing with the elements. A running jacket is a great tool to ensure that you don't use the weather as an excuse to skip your run.
What's the Difference Between Waterproof, Water resistant, and Windproof Jackets?
Waterproof refers to a fabric's resistance to water penetration. It creates a barrier between you and the elements.
Water resistant resists the penetration of water at low levels, which is sufficient for mild drizzle or light rain, but water will penetrate the fabric if pressure is applied, such as by a backpack strap.
Windproof is the fabric's resistance to air penetration. It can be done by the way the fabric is made or by covering it with a membrane or layer that doesn't let wind through.
9 Best Running Jackets for Women in 2023
What's the best running jacket? The one that meets your needs for that day, but you'll find many of these are versatile for a variety of conditions and temperatures.
Honestly, I wanted to test out jackets for a variety of weather conditions. So you'll find that some are better for maybe a spring run and some for a cold winter run, hopefully showing you what you need year round to make running as comfortable as possible.
Lululemon Running Jackets
I feel like I'm often asked if they make good running gear, so I might as well answer this question first. Yes, I run in a lot of Lululemon shorts, tanks and even jackets because they do make gear that works.
I used to think they were pricey, but really…nope.
They are right on par with other high quality brands that you'd want a long lasting running jacket from.
Lululemon Down For it All Jacket – ($199) If you're running through the serious cold, this is what you want. It's designed to move with you, has a great collar to actually keep your neck warm and a good phone pocket!
Break a Trail Jacket – ($120) It's waterproof, wind resistant, lightweight and designed for runners with vents to help release heat. BIG winner for waterproof at this price point!
Fit: I tend to size up in jackets if I want to layer much under them from Lulu because they are a bit more fitted.
Durability: A jacket you can wear for running and all over town still feeling stylish…unlike say the neon one I mention below. It's gonna last like all their gear.
(avg $149)
One of the things that we often find troubling with winter runs is that we start cold, begin sweating then are in a strange hot cold scenario.
This jacket felt so extremely light, but with the Primaloft through the front chest it's designed to keep your core warm and when that happens your body will continue to work on warming your fingers and toes!!! Love that it's also going to break the wind there, which helps with warmth.
Since your core is warm, this has light sleeves and the back is actually lightly aerated. All of these means a good fit that keeps you warm, but not over heated.
There are two side pockets which you could shove a phone it, but I rarely like a phone in my running jacket. No matter how snug I feel like it bounces.
Fit: I wore a Medium in this and felt good that I could layer under and it was not too tight.
Durability: Definitely a jacket you could wear with packs and not worry about rips.
When are hitting some of the TRULY cold days of winter, this is a real winner. It's warmer than most on the list, but without becoming something overly bulky.
I love that it's anti-odor as well because I'm always going to sweat no matter how cold!
Chest area is a quilted pattern with recycled polyester, while the sleeves are a brushed fabric. This is ideal because we want the maximum amount of warmth around our core to ensure our body then keeps sending blood to the hands and toes.
Fit: Looser, I was able to wear a base layer and second shirt if desired under.
Durability: Super durable due to the slightly thicker fabric.
**Note personally the fit of this was too big for me, so I tend to wear my On Climate jacket the most for cold weather workouts. I am generally in love with their apparel, but wanted to give you more options!
✅If I had to pick ONE jacket from them all this one would be it.
(PSSSSTTT Run Club members we have a discount inside the club!! Pays for multiple months of membership!)
Technically this jacket is only water repellent and their Waterproof Anarok (which I have tested as well) is legit going to keep you dry. But this is still my top pick for a jacket when drizzly or snowing.
Hands down this jacket is worth every single penny if you find yourself running in wet conditions. I was skeptical of the price tag and because I've tried waterproof jackets that just made me feel like I was in a sauna.
Nope, not this one!!
I used it over my winter fleece on a day where snow was falling and on a warm rainy trail run in Sedona. In both cases I was amazed to finish up finding that truly I was still dry (I mean minus my normal sweat session).
More importantly in the warm weather instance was that this jacket is light and since it wasn't hot enough to want to be wet, it felt like the perfect weight.
Fit: I went with a small. It's a good fit with plenty of movement in arms and shoulders even when I had on a couple layers underneath. Doesn't look baggy when wearing just a short sleeve shirt. I did pull the hood up and actually had it stay in place while running.
Durability: This has been tossed in an out of bags and worn with a pack, I feel pretty confident it's got a very long life.
What runner among us doesn't know Gore-Tex? They ensure that your trail shoes doesn't soak your feet, they provide the grip on lots of your shoes, they are the pioneers of waterproof.
But did you know they have their own clothing?
When you need to get your run done and the rain just won't stop, this is your jacket. While it was initially designed for cyclists, we runners are getting the benefit of the active technology that helps to ensure it's breathable, windproof and doesn't just keep off a little rain, but is truly waterproof.
Fit: Ultra lightweight running jacket with a closer to the body fit than another other jacket listed here.
Durability: It's super thin, so probably not idea to wear with a hydration pack.
Best Lightweight Windy Run Jacket – Patagonia Houdini – ($109)
You've entered that weird how do I dress phase of Fall and Spring…usually a layer too many or one not enough. Enter this jacket from Patagonia.
It's super light weight, water resistant and it packs down super tight, so you could throw it in your pack if you decide it's too much. But likely even if you warm up, I think you'll find this layer can stay on. It's just a lightweight addition that will block some of the early morning breeze and help you adjust to varying temperatures.
Fit: A size small was a good fit. Not tight, a general fit that leaves a little room. I'm not sure I could ever get the hood on this to stay up, so it feels a little unnecessary, even if cute.
Durability:Highly durable
File this under things that surprised me and that you've now seen me run in a million times! It's super light and packable, but has provided me with the exact level of warmth I needed on a lot of cool spring mornings or just as a top layer when it's windy.
The fit is loose and light, so I have no issue tossing it over a long sleeve shirt and feeling comfy. I'm never going to overheat because of this jacket.
It also has a small front pocket which is perfect for my car key! Plus, if you're packing for a hiking trip or long day on the trails, this jacket can be folded down and zipped in to that pocket!
Fit: A size small is still a loose fit. I liked it this way, but if you want tighter you may size down.
Durability:Highly durable
Sometimes you aren't as concerned about the elements as you are the darkness that sets in for a good portion of our running year! Which means it's time to take your reflective wear to the next level with this jacket.
No need to remember extra blinky lights, you are now the light and I guarantee you'll be seen in this.
It looks gray in the daylight, but as soon as the lights hit it you are visible to the max! If you want a little less, they have shirts and vests too, but today we're talking jackets.
This jacket is water repellent and a bit heavier than the other options reviewed here, simply due to the materials needed. I could see getting warm in this jacket if it was a normal Colorado morning where the temp jumps quickly as the sun comes out, so definitely for those dark runs or cooler days.
Fit: This is one to size down. The small is swimming on me, which isn't uncomfortable, but also not super flattering.
Durability: Thick quality material, no fears of it ripping or losing it's reflection! Can be machine washed, which is not the case for a lot of these.
Factors to Consider When Buying Running Jackets
When looking for the best running jacket, there are a few factors to consider. Let's look at the most important ones in more detail:
Type of Runs
Are you a road runner, or a trail runner, or do you mix it up? Are you training for a marathon?
You could possibly wear any of these jackets for any kind of running, but you can narrow your search by thinking about what kind of running you do most and what features are most important.
For example, a fully waterproof jacket, such as the Gore Shakedry Jacket, may be preferable for trail runners who train in wet conditions.
On the other hand, the Lululemon Down For It All Jacket's compact fit and reliable phone pocket may appeal to road runners and track athletes.
And those who love running in the early hours of the morning before sunrise will appreciate the reflective materials used in the PYR Fully Reflective Jacket.
Running Temperatures and Weather Conditions
When you buy a jacket, you should think about the weather and temperature where you'll be working out.
For example, maybe you're looking for a thin layer to wear for the first few miles of a cool morning run or maybe you want extra protection from the rain or wind even when it's warm outside.
And so, if you're only going to run in mild weather, it makes little sense to spend $200 on a heavier, windproof, and waterproof running jacket.
Similarly, if you need a jacket that'll keep you warm on chilly, windy runs, it would also be a waste of money to get the ultralight Patagonia Houdini Air.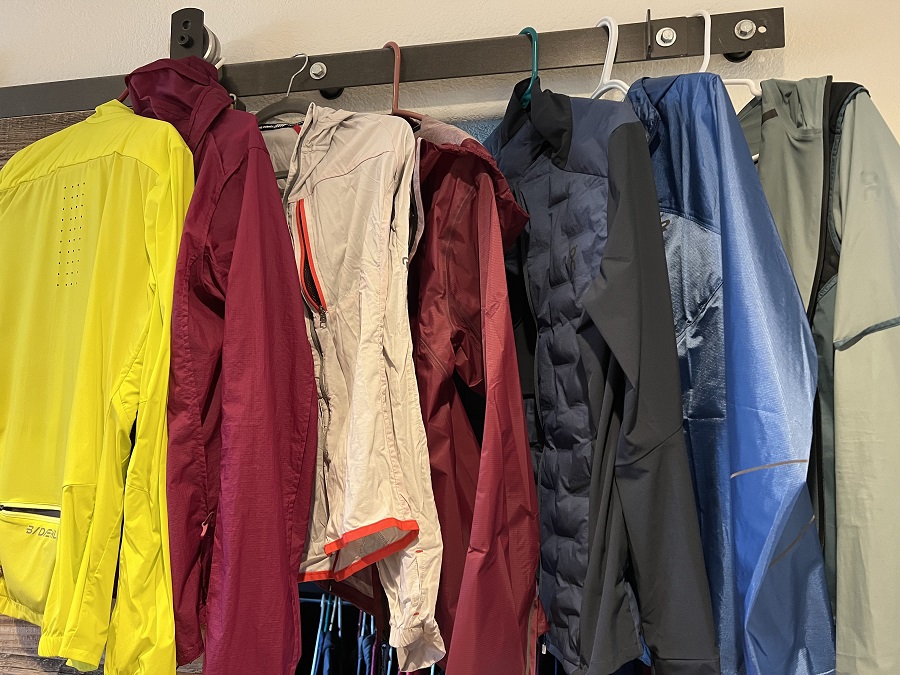 Breathability
As with any other outer garment, your running jacket should protect you from the elements. But unlike other types of jackets, this one will be used for running so it also needs to be breathable.
Your body temperature may rise as you progress through your cardio goals, giving you a sweaty body from head to toe. This can not only hinder your performance but in less-than-ideal conditions, it could even become a safety risk.
So, it's important to look for running jackets with lots of ventilation so your body heat can escape and you can stay as dry as possible.
Comfort and Fit
Comfort is definitely subjective, but while testing I've found that certain features affect how comfortable a jacket is regardless of the general preferences of the runner wearing it.
For a good fit, it's important to use lightweight materials and a fit that's not too tight or too loose. Also, flat, taped seams are significantly more comfortable than exposed, raised seams, which are frequently uncomfortable and aggravating.
Water Resistance
If you want to stay dry, it's important to understand the difference between 'water-resistant' and 'waterproof.' Many of the running jackets I've mentioned in this article feature a Durable Water Repellent (DWR) exterior coating, which can provide protection against morning dew and light rain.
But even though this technology can work for many runners, if the weather is wetter, you might want to look into waterproof choices with laminate layers or coatings that are better for heavy rain. However, keep in mind that some waterproof jackets forego breathability in exchange for greater protection.
Reflective Elements
Some running jackets incorporate reflective fabrics to increase nighttime visibility. Anyone who runs in the early mornings, late evenings, or at night should consider wearing reflective materials, especially if they are running on the road.
Some jackets list 'reflective elements' as a feature, but they aren't always enough to keep you safe. If you run at night, you should consider wearing other reflective gear or lights.
Easy to Pack
A waterproof jacket is a good running gear to have on hand for longer runs, especially if you live in an area that gets frequent rainfall. That means it must be as light as feasible and take up as little space as possible so you can easily pack it when out and about.
Other Features
There are many other features you might want to consider. If you frequently run in windy and damp weather, you should think about investing in a running jacket that comes with a hood.
If you want a hood, look for one that isn't too heavy or bulky because it might be uncomfortable to have it bounce around while you're running. You should also choose an adjustable hood because it's more likely to stay in place.
Another thing to consider is zippered pockets. The good thing about zips on a pocket is that you don't have to worry about your keys, phone, ID, etc. falling out when you put them in there.
If you plan on racing in this jacket or going on long, secluded runs, make sure the zipper unzips smoothly and doesn't catch on the fabric frequently. Nothing is worse than hitting the wall (or bonking) because you couldn't easily have your energy gel due to a suddenly unzippable pocket!
Yes, everything here was reviewed as a women's running jacket because that's what I wear.
But have no fear, these are also the best men's running jackets I feel very confident in saying as the overall features and technology are the same.
More questions on running jackets or other gear?
Let me know so I can keep reviewing exactly what you need!
Other ways to connect with Amanda
Instagram Daily Fun: RunToTheFinish
Facebook Community Chatter: RunToTheFinish
Sign Up to Receive a Weekly Newsletter with Top Running Tips and Laughs