In a recent poll, I asked what gear you wanted reviews on the most. I may have influenced you by saying best running gloves because it was something I REALLY wanted, none the less it was in the top three.
Should You Wear Gloves When Running?
Why the heck not. Personally, if I'm cold then my entire run is less enjoyable and I'm more likely to find a reason to cut it short.
Additionally, we know that in the winter our body will first send all heat to our core to protect our organs. That's why our fingers and toes can so quickly feel cold when otherwise our overall body feels ok. Keeping your hands warm is a great way to feel comfortable from early mornings to snow winter runs.
✳️BONUS TIP: Buy throw away running gloves to wear at the start of your race and while standing at the start line. When you warm up a few miles in, you can toss them without feeling bad about it!
Best Running Gloves
Running gloves for women and men are more than just a standard glove. The best ones are those that not only keep you warm enough, but not too warm and of course wicking!
Nike Running Gloves
Columbia Omni Heat
Brooks Mittens
Nathan Reflective Gloves
Outdoor Research Vigor
Smartwool Fleece Lined
I've tried many pairs over the years, especially since moving to Colorado and getting in plenty of cold weather runs. Some didn't fit great, some were light weight, some didn't actually work on the phone as promised.
Which is why I went in search of (and tested) what's actually worth your money when it comes to gloves for running.
How to Choose Running Gloves?
Many of you like me probably overdress at the beginning of the season, so opt for the lightest weight on those days, but know what the way you LAYER the rest of your clothes can impact how cold your fingers feel.
When you have a warm core, then your body has more energy to put towards warming your fingers.
But if your core is cold, then it will pull energy and blood flow from the extremities.
Let's breakdown what I've been testing! For each running glove I'll rate the warmth on 1-10 with 10 being the warmest gloves.
Running gloves are all designed to be wicking, which means that it pulls the moisture away from your hands and that's super important so you don't start to feel colder. This is why we don't generally recommend cotton gloves, shirts or socks for runners!
Best Touchscreen Running Gloves
Oh these are such a fun glove. They have a great patter for when not reflective, but then offer that extra bit of protection for these early morning runs.
Gloves fit well and the touchscreen actually worked for me. DID YOU SEE THAT?!
I didn't find that feature to work on a lot of gloves I tested, so for me this is big. Because when it's cold, but I want to snap a photo of the incredible deer running along my path, well I don't want to pull off my gloves.
Warmth Level: 5
Cold Weather Running Gloves
These aren't the warmest, but are also probably exactly the mid-level many are looking for.
I have a windbreaker with the Omni heat, so I was excited beyond words to test these out. Unfortunately, I ended up with gloves that were way too big and for that reason at first I wasn't impressed.
But I took them out again on a 20 degree day and found my hands were a bit sweaty by mile 3. Not cold because of the way they're designed, but definitely generating some heat.
The omni is like a little reflective panel inside the glove which should be reflecting the body heat you are generating back to you. Totally works with the jacket, but maybe my fingers just don't generate heat, ha!!
Warmth Level: 6
Best Women's Running Gloves
These have been my stage one, ok it's starting to get chilly, gloves for a super long time. I have a couple pairs because they've lasted forever and well one would go missing…I'd get another pair and find them both.
I love this lightweight glove because it's just what I need for the first 2-3 miles of a lot of fall/winter runs when I'm adjusting to the temperature changes.
I know they wick away the sweat well and fold up super tight, so I can shove them in my pack or a pocket if I decide I don't want to wear them any longer.
Warmth Level: 3
Cold hands no more! Running gloves to handle every temperature! #runchat #bibchat
Click To Tweet
What are the Warmest Running Gloves?
Outdoor Research Vigor Heavyweight Sensor
Can I just say that I realized last year, I generally need to wear two layers of running gloves for my hands to feel ok at the beginning of many winter runs. That will no longer be the case with these!
**NOTE: am waiting on these to arrive so I can fully test the touch screen and warmth**
Warmth Level: assume 8-9
A TON of runners recommend the Oiselle Puffer Mittens, but they no longer make them so these, followed by the mittens below are great substitutes.
✳️BONUS: Stuff hot hands in your gloves on super cold days. It's a trick many friends with Raynaud's Syndrome use and one that got me through a VERY LONG morning of filming running scenes.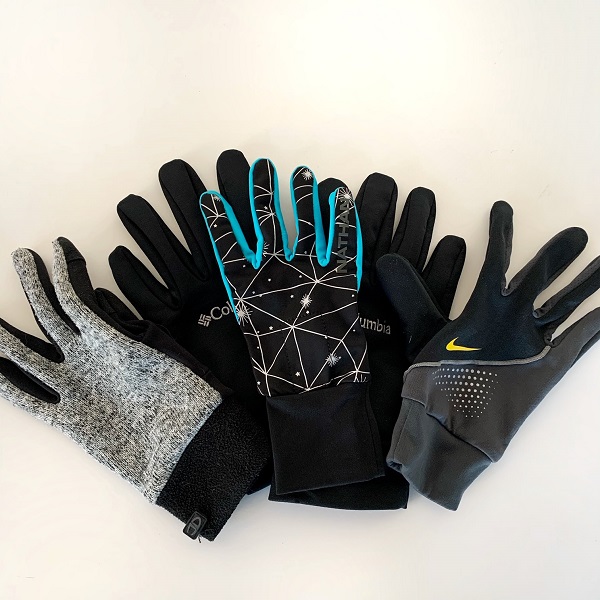 Best Windy Running Gloves
Not too many gloves address wind, but that's probably my biggest issue with cold weather running. If it's not windy, I am pretty darn happy…but it picks up and suddenly every inch of me feels a little tighter and wants to curl in to a ball.
Wool is always a great option for regulating body temperature and pulling moisture away from the body. But the outer layer here is like a shell to help block the wind, and with a tighter cuff, you aren't allowing wind in through the opening either.
Bonus points for the silcone grippers which mean you can actually hold on to things (cough a phone) while running!
Warmth Level: 7
Best Running Mittens
These are one of the only gloves on the list that I did not personally test, but got so many recommendations from folks who have found these to be the warmest things ever that I couldn't ignore the masses.
Because of the mitten style, they should be warmer as keeping your fingers together is like putting your whole body in a sleeping bag, trapped heat. Additionally they have the super light weight insulation, I mentioned in running jackets, which means added warmth.
Warmth Level: 10
How often do you wear gloves?
Any other gear you need recommendations on?
Looking for more reviews to find the best things for your run?
Checkout our full page of my best running gear reviews and guides to save you time searching and money! I share what's worked for me and fellow runners, along with what wasn't worth the price tag.
A few common requests:
Other ways to connect with Amanda
Instagram Daily Fun: RunToTheFinish
Facebook Community Chatter: RunToTheFinish
Sign Up to Receive a Weekly Newsletter with Top Running Tips and Laughs