In a recent poll, I asked what gear you wanted reviews on the most. I may have influenced you by saying best running gloves because it was something I REALLY wanted, none the less it was in the top three.
It's such a common need because our fingers get so cold while running!
I'm amazed how many of you have therefore asked…
Should You Wear Gloves When Running?
Why not? Personally, if I'm cold then my entire run is less enjoyable and I'm more likely to find a reason to cut it short.
Additionally, we know that in the winter our body will first send all heat to our core to protect our organs.
That's why our fingers and toes can so quickly feel cold when otherwise our overall body feels ok. Keeping your hands warm is a great way to feel comfortable from early mornings to snowy winter runs.
✳️BONUS TIP: Buy throw away running gloves to wear at the start of your race and while standing at the start line. When you warm up a few miles in, you can toss them without feeling bad about it!
How We Tested Them
Running gloves for women and men are more than just a standard glove. The best ones are those that not only keep you warm enough but not too warm and of course wicking!
I've tried an incredible amount of pairs of gloves over the years, especially since moving to Colorado and getting in plenty of cold weather runs.
Some didn't fit great, some were lightweight, some didn't actually work on the phone as promised and I quickly realized that water-resistant to play in the snow is NOT a feature of most running gloves.
This is why I went in search of (and tested) what's actually worth your money when it comes to gloves for running.
How to Choose the Best Running Gloves for You
Many of you like me probably overdress at the beginning of the season, so opt for the lightest weight on those days, but know that the way you LAYER the rest of your clothes can impact how cold your fingers feel.
When you have a warm core, then your body has more energy to put towards warming your fingers.
But if your core is cold, then it will pull energy and blood flow from the extremities.
Other factors you need to consider include:
Comfort and Fit
Comfort in running gloves is a question of personal preference, but it begins with a proper fit. As the shapes and sizes of our hands vary, so do the sizing instructions for different brands, so it can be difficult to select the correct size of gloves.
The easiest method to ensure a proper fit is to try them on at a local store before making a purchase or buying a few online to return the ones you don't like. If you buy online, make sure to use the size guide for a certain brand to pick the right size for you.
Apart from this, a comfortable pair of gloves is one that provides the correct amount of insulation for the temperatures you're running in, breathes effectively to wick sweat away from your hands as you run, and protects you from the elements.
Temperature Rating
Runners typically don gloves when the temperature falls below forty degrees Fahrenheit. Choose a glove with adequate insulation for the temps you'll be running in.
There are a lot of different manufacturers that make gloves, and many of them specify a temperature range or grade for their gloves. If given, it should serve as your first point of reference for selecting the appropriate glove for the conditions under which you will run.
Having said that, everyone's tolerance for cold varies, so consider how you actually feel when comparing the indicated temperature ranges. For instance, you might want warmer gloves than your running partner if you typically notice that your hands become chilly earlier.
In the reviews below I used a scale of 1-10 for how warm I thought they were, with 10 being warmest.
Breathability
Our hands, like other parts of our bodies, have sweat glands that create moisture as we run. While we all sweat differently, wearing moisture-wicking gloves keeps our hands dry, warm, and comfortable.
To prevent your hands from overheating while running, invest in a pair of moisture-wicking gloves.
Wear breathable running gloves that wick moisture away from your hands and into the gloves' outer layers or the air beyond.
Some gloves are better at this than others, and the reason for this is typically a mix of the materials used to make the glove and its thickness.
Running gloves are all designed to be wicking, which means that it pulls the moisture away from your hands and, as I mentioned above, that's super important so you don't start to feel colder.
This is why we don't generally recommend cotton gloves, shirts, or socks for runners!
Waterproofing and Windproofing
Waterproof gloves are made with fabrics that keep water from getting into the glove or with substances that do the same thing but are put on the fabric surfaces.
Windproof gloves are made by using fabrics and technology that restrict air from traveling from the outside to the inside. If a running glove is waterproof or resistant to water, it will also block the wind and be windproof.
There are various non-waterproof materials that provide wind protection, and it depends on how densely the fabric's fibers are woven together.
Grip
The last thing you want is to lose your phone while trying to get the perfect selfie while running or at the summit of your trek. Consider running gloves with excellent grip for your phone, keys, water bottle, and trekking poles.
To create a solid grip, most companies utilize silicone overlays on the palm and inner fingers of their gloves. The drawbacks of silicone grippers are the added weight and potential for wear and tear.
Touchscreen Capability
We live in a connected world, and occasionally we need to answer a phone call, respond to a text message, or take a photo while we're on the go. Enter gloves with touchscreen functionality for running!
However, buyers should be aware that this technology is still new and often not very good. Many firms claim that their running gloves have touchscreen capability, although the functionality is minimal.
Before making a purchase, the best recommendation, for the time being, is to maintain a healthy degree of skepticism and to read actual customer reviews.
Price and Durability
It's certainly possible to run most of your daily miles using a cheap glove. When the weather deteriorates, you will require a pair of gloves with more protective materials and technology. And that usually comes at a higher price.
Some weather calls for heavy-duty gloves to be safe, but you may sometimes get away with layering two pairs of less expensive gloves to protect your hands. I've tested all the gloves mentioned in this article so you don't have to worry about most of it!
9 Best Running Gloves
Running gloves for women and men are more than just a standard glove. The best ones are those that not only keep you warm enough, but not too warm and of course wicking!
I've tried an incredible amount of pairs of gloves over the years, especially since moving to Colorado and getting in plenty of cold weather runs.
Some didn't fit great, some were light weight, some didn't actually work on the phone as promised and I quickly realized that water-resistant to play in the snow is NOT a feature of most running gloves.
Which is why I went in search of (and tested) what's actually worth your money when it comes to gloves for running.
Best Touchscreen Running Gloves
Touchscreen compatibility is one of the hardest to find. I'll say that many claim it, but few that I test truly allow me to use my smartphone with my thumb or index finger (where the fabric is designed for use).
Warmth Level: 3
These are such great year-round gloves. Merino wool is that perfect lightweight for those chilly Spring and Fall mornings. It's going to easily wick away sweat, providing just the right level of warmth.
These gloves feature a conductive material on the index finger and thumb that definitely works. I've worn these alot and I'm really impressed that I could fully use my phone.
A definitely winner for me. Especially because they are thin enough to also pair with another mitten when temps really drop.
Warmth Level: 4
Oh, these are such fun gloves for visibility. They have a great pattern for when not reflective, but then offer that extra bit of protection for these early morning runs.
The gloves fit well and the touchscreen actually worked for me. DID YOU SEE THAT?!
I didn't find that feature to work on a lot of gloves I tested so, for me, this is big. Because when it's cold, but I want to snap a photo of the incredible deer running along my path, well I don't want to pull off my gloves.
These are on the lighter side with a lot of breathability making them a good lighter option. Apart from the reflective details, they also feature a custom pocket you can use to stash away some cash or maybe your keys.
Plus, you can even clip a strobe light onto them to improve your visibility while running at night even more!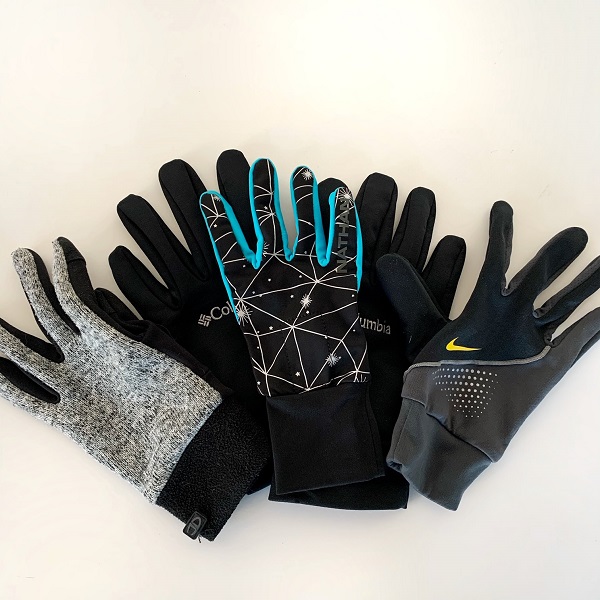 Warmth Level: 6
Running from XS to XL these are a good option to find what truly fits your hand. It's considered one of their mid-weight gloves, so again not the top-level warmth for crazy cold days, but good for most winter runs.
No more freezing fingertips to use your phone. And plenty of durability from this well-known brand that knows how to use wool to keep your body warm and prevents odor.
Best Cold Weather Running Gloves
These aren't the warmest but are also probably exactly the mid-level many are looking for. I'm sure you're going to find ones that are right for you:
Warmth Level: 6
I have a windbreaker with the Omni heat, so I was excited beyond words to test these out. Unfortunately, I ended up with gloves that were way too big and for that reason, at first, I wasn't impressed (size down!).
But I took them out again on a 20-degree day and found my palms were a bit sweaty by mile 3. Not cold because of the way they're designed, but definitely generating some heat.
The Omni has a little reflective panel inside the glove which should be reflecting the body heat you are generating back to you. Totally works with the jacket, but maybe my fingers just don't generate heat, ha!!
It has great ratings on Amazon, and for the ones that it works for it's a great pair of gloves to keep you nice and warm on those colder days.
Warmth Level: 8
This recommendation comes from many of the running coaches on my team. They swear first by mittens, but second by Oiselle for these. In truly cold conditions you can easily slip on a thin pair like the Ibex above and then you've got serious warmth for whatever mother nature is throwing at you.
Waterproof and will cut the wind!
Best Women's Running Gloves
There are a lot of options for Unisex gloves, but I often found they were just too big or way too small for my hands. I really liked these for my lightweight running options, and I'm sure you're going to find the right ones here if you've always felt the same way:
Warmth Level: 3
These have been my stage one, ok it's starting to get chilly, gloves for a super long time. I have a couple of pairs because they've lasted forever and well one would go missing…I'd get another pair and find them both.
This lightweight spandex glove is great because it's just what I need for the first 2-3 miles of a lot of fall/winter runs when I'm adjusting to the temperature changes.
I know they wick away the sweat well and fold up super tight, so I can shove them in my pack or a pocket if I decide I don't want to wear them any longer.
The Dri-Fit fabric definitely helps you stay dry and comfortable, and the mesh accents make them breathable and lightweight.
The design features articulated fingers and palms that fit really great and the silicone grips are definitely a plus on top of it all!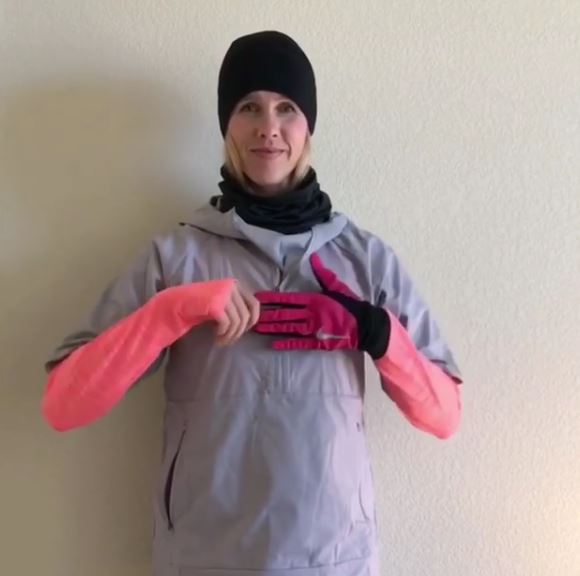 Warmth Level: 4
If you want one step up the Lululemon Run For All Gloves are lightweight, but with an additional mitten hood. These are another great spring, and fall option!
They are water-repellent and made with brushed fleece fabric that's perfect for the cold-weather runs. These gloves even come with reflective details, and include a snap clip to snap them together so you don't lose one in your bag.
Don't let the cold hold you back. These hooded, water-repellent gloves are made with brushed fleece fabric to help keep you warm during cold-weather runs.
They're a great water-resistant and windproof pair of gloves with the fold-top hood that really adds convenience.
Best Running Gloves for Raynaud's
If you've ever experienced numbness in your fingers due to the cold, and want the right protection for Raynaud's, here are my top tried and tested picks for 2022:
Warmth Level: 9
Full-on mittens are going to be the warmest option and the extended cuff prevents air from coming down through the wrists.
I can't vouch for the touchscreen because I feel like that rarely works, but so many of you with super cold fingers told me that mittens like these were your winter running go-to.
I'm a fan of this particular brand because they do shoe a lot of testing and are a budget-friendly mitt. The downside for me with mittens is the lack of dexterity.
BONUS: Stuff hot hands in your gloves on super cold days.
It's a trick many friends with Raynaud's Syndrome use and one that got me through a VERY LONG morning of filming running scenes.
Best Windy Running Gloves
If it's windy, you know you'll some added protection to get through your run. Here is my favorite option that I recommend you check out:
Warmth Level: 8
Not too many gloves address wind, but that's probably my biggest issue with cold weather running. If it's not windy, I am pretty darn happy…but it picks up and suddenly every inch of me feels a little tighter and wants to curl into a ball.
I got these at the end of last season, and I was like WHY haven't I been using a hybrid glove all along?!
Because of the mitten style, they should be warmer as keeping your fingers together is like putting your whole body in a sleeping bag, trapped heat. Additionally, they have great silicone grip so I can actually hold on to that touchscreen device we're all so connected to.
See additional colors on Craft >>
What is the Warmest Running Gloves?
The warmest running gloves will be either a full-on mitten or a convertible glove with a mitten cover. It's the same reason you can be toasty warm inside a sleeping bag while it's cold outside, body heat.
Merino Wool and fleece gloves are going to provide warmth while pulling away sweat
I often double up on gloves like I would a base-layer shirt
Do Running Gloves Keep You Warm?
Keeping your core covered is the first step to helping your hands feel warm. So gloves alone, no.
You absolutely need to think about what layers are protecting your core because that's what the body wants to keep warm, your organs! To do that it's pulling blood from the extremities, which is why your fingers and toes get cold first.
They will not keep you warm on a winter run, but you might find you feel ok in shorts and still want gloves simply due to the fact that blood is shuttled to your core first.
And personally, I'm just less miserable if my fingers don't feel like they're going to fall off.
Looking for more reviews to find the best things for your run?
Checkout our full page of my best running gear reviews and guides to save you time searching and money! I share what's worked for me and fellow runners, along with what wasn't worth the price tag.
A few common requests:
Other ways to connect with Amanda
Instagram Daily Fun: RunToTheFinish
Facebook Community Chatter: RunToTheFinish
Sign Up to Receive a Weekly Newsletter with Top Running Tips and Laughs