SNL often featured gray-haired old ladies in outdated clothing topped of with knee-high skin colored socks; turns out the joke is on us because compression pants and compression socks for running are all the rage and they knew it first!
Originally sold in drug stores to increase circulation for issues like diabetes and arthritis, these days compression gear has undergone a revolution and I'm in love.
Are Compression Pants Good for Running?
While the medical community still utilizes compression apparel for healing, there continues to be debate about the benefit to athletes.
This is largely due to the low number of scientific studies…BUT that's changing and part of why I want to talk about it again today!!
What Do Compression Pants Do?
Compression pants and other gear, usually made of 80% nylon and 20% spandex, conforms snugly to the body preventing oscillation of the muscle during impact and increasing blood flow to the area.
Let's break that down in plain English:
The reduction of oscillation, or muscle movement, is thought to prevent energy waste.
Assists in maintaining proper body alignment.
While increased blood flow ensures that the muscles are receiving a constant supply of oxygen, which is required to sustain performance or enhance recovery.
This article is going to focus specifically on compression tights, but I have an entire post on the best compression socks for running. Both have different uses and you'll need to decide what's most important to you.
Why Run in Compression Pants?

Skeptics believe compression gear falls into the placebo effect category. But still, even if the benefits turn out to be all in our heads, I've yet to meet an athlete who wouldn't embrace any kind of confidence-booster.
Training for a distance event is all about consistency, which means finding the tools that will help you to recover faster and stay injury free.
It seems some of the hype about running faster or farther might just be true when you look at the LONG term impact of using compression gear, rather than the impact on a single run.
Which is exactly what a brand new study in the Journal of Strength and Conditioning found that wearing compression socks for 48 hours after running a marathon improved performance on a treadmill test two weeks later.
(These are the women's leaders in the Houston Olympic marathon trials, rocking those compression socks!!)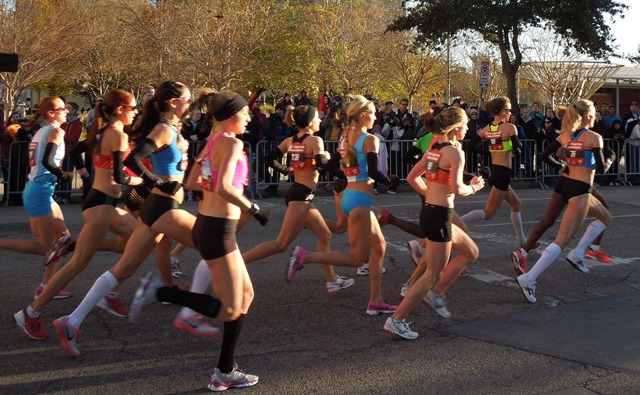 10 Benefits of Compression Tights
In fact, a few brands have conducted a number of third party studies as well, and here is what they found:
increases venous return
reduces exercise induced muscle damage (EIMD)
accelerates recovery processes
removes lactic acid faster
increases strength and power
improves endurance
increases muscle oxygenation
improves body temperature control
reduces in-flight ankle oedema (swelling)
provides additional support to joints
MY PERSONAL RECOMMENDATIONS
✅Best race day compression tights: help prevent calf cramps and keep my muscles going as my form may deteriorate in the final miles
✅Best compression tights for IT Band pain: I have sworn by this style for years and you'll often see me running in them during training as I boost mileage.
**GENTLEMEN** I did a post just for you on the best running pants for men. And yes those two are on it, but in case you'd like more ideas.
Specific recommendations for compression tights and sleeves below!
Can You Run in Compression Tights?
I love wearing my compression tights for long runs, recovery runs or on race day. I don't wear them all the time, but definitely when I need a little extra love for my legs or brain!
Important to know there are different kinds of compression tights!
Some are designed for the muscle support while running and some are designed for recovery, hence the reason my drawer is filled with a variety of compression tights from different brands (largely 2XU, SKINS and CW-X).
Should I Wear Underwear with Compression Pants?
This question always makes me laugh, but I get it and you need to know.
This is really a personal preference, just like going commando or not when you run in leggings. There is no reason you can't wear underwear with them.
Should I get Compression Tights, Calf sleeves or Socks?
Below I'll provide the pro's and con's for using each one.
Tights will help to manage soreness in the entire leg, which I love because my glutes can get tired after long runs or help my IT Band
Calf sleeves are best for people who don't like the feeling on their feet, otherwise I'd skip them.
Compression socks are great for dealing with tight calves and preventing cramping
What to Consider When Buying Compression Pants
Before we look at which ones are the best and the ones I recommend as a running coach, let's look at the two factors you need to keep in mind when figuring which compression pants are right for you:
Right Fit
As the same suggests, compression pants are going to be tighter than usual to affect circulation. However, they should not be so tight that they restrict your movement.
The material, which should be a mix of spandex and nylon or polyester, should be slightly stretchable, but only to a certain point. Once you put them on, you should be able to tell if the fit is good or not. Go with what feels right.
Breathability and Comfort
The added benefits of compression in these tights are undeniable, but comfort is paramount for optimal performance and recovery. Tights should fit snugly but comfortably.
Lastly, a good pair of compression tights should have the same features you'd want in any other pair of running tights, such as moisture-wicking fabric, breathability, softness, pockets, good seams, and possibly sun protection and/or extra warmth, depending on the time of day and the climate.
5 Best Compression Tights for Running
These are fantastic for sore glutes, quads and calf muscles. They can also provide support while running that many feel helps with IT Band issues. Those who suffer from calf or foot cramps often prefer to focus on just the sleeves or socks.
And I know I often talk to the ladies, but men's running compression pants are a big thing in our house, it's become my husband's go to as a base layer for running on any slightly chilly days and he's getting the recovery benefit without realizing it.
I have happily run in a variety of compression tights over the years. Some I loved and some not so much. Here are my top picks.
Remember we aren't focused on shaping your booty which you often see in yoga pants labeled as compression leggings. These are true compression pants! They are going to be tight, that's how they do the work.
As many of you know, I'm 5'9″ so long compression pants are also a must for me and finding ones with length isn't always easy.
I would say most of these are long "enough" though I'd be happy with an extra inch in the inseam, Skins do seem to be the longest.
Can you find great compression pants at Wal-Mart?
Maybe…the problem is that many pants labeled as compression are simply spandex and not truly fitted enough to have the impacts of compression gear.
I know we're always looking for the great deals, but I can tell you all the compression tights I mentioned above have lasted me years and years, through many long runs, recovery days and travel.
Best Compression Running Shorts
Many people wonder, what are compression shorts anyway? Compression shorts are elasticized shorts that conform to your body and apply pressure to your glutes, quads, and hamstrings along a compression gradient.
These are the other option that seem more popular with male runners. I do have a pair that I tend to wear when my glutes or hips have been really sore, but I tend to prefer the tights because I might as well be getting the benefit in my calves!
You'll often find compression running shorts are a bit longer, which I actually like to prevent chaffing!
2XU makes a good short and I've used Under Armour compression shorts, though I don't usually consider the UA gear true compression…they're tight, but not adding that level of compression we need for increasing oxygen flow.
Best Compression Sleeves
A compression sleeve is a band of elasticized fabric worn on the legs or arms to increase circulation. Athletes frequently wear sleeves on their calves, elbows, knees, and ankles.
I'll be honest just never floated my boat. But if you want the calf support and don't want to notice any change in your shoes, they could be the best option. (who am I to question Meb, after all?!)
Plus, if you have issues developing shin splints while running, these could be something you easily wear throughout the day to help with recovery.
And I will say, I've used my calf sleeves to add some compression to my knee when I was having issues last year, ha!
A few that I recommend from testing:
CEP calf sleeves – they are a super high quality brand, which means these will last and you can get them in super fun colors.
ProCompression – I have a pair of their socks and assume the sleeves must be every bit as good! Again they also really love coming up with fun patterns, so your race day look is always top notch.
How to Wear Compression Pants?
There are a variety of times to pull on your compression tights and following I'll address some of those specific situations.
In terms of running, I try not to wear them for every single run because I do want my legs to get fatigued at times, but I adore them as I continue to increase my long runs!
Can I wear compression and fly?
Compression gear is actually used medically to help prevent blood clots while flying for patients!
BUT an important note is that you should NEVER wear compression sleeves when traveling home post race as this could cause blood to pool in your feet. Stick to socks or tights.
Are compression pants a placebo or the real deal? Find out! #runchat
Click To Tweet
Can I sleep in compression gear?
Yes! But make sure you're using recovery specific gear, which is designed with a lighter level of compression (see note above).
However, it's important to note that some would say NO because compression gear is ultimately designed to help with circulation through gravity and graduated compression…neither of which you need while laying down.
How often does it need to be replaced?
Most of my compression gear has lasted years. It's top quality and as long as you wash in cold water and NEVER put it in the dryer, it should retain it's fit and feel.
What other activities can I do in compression gear?
Basically anything! SKINS happen to have 50 UVP and are really lightweight, so you could wear them doing SUP or even for a hard swim session knowing that they won't weigh you down (just thoroughly rise after).
I like wearing compression pants under my snowboarding pants because let's be honest…I'm going to hurt later so I might as well mitigate it!
Are all compression pants the same?
No. Just as each shoe line has their own features, compression brands do as well. I have found it's worth paying for the quality pair because they last and seem to provide me with more of the benefits ascribed to compression wear.
I have said many times that CW-X Stabilyx is my go to for IT Band issues! It's a much different feeling than the very thin Skins.
Do Compression Pants Keep You Warm?
Yes, they can help! And the main reason behind this is body temperature regulation.
Body temperature regulation is critical here. Compression pants create a breathable shell that traps body heat while preventing overheating.
The compressive pressure placed on your muscles, which stabilizes and lessens excessive vibration and shivering, is another beneficial factor. This energy that would have been lost can be used to keep your body warm and increase your endurance.
To further combat the cold, the inside of many compression garments will be brushed or thermal. This creates a warm and comfortable interior, perfect for keeping you going in damp and cold weather.
Does Compression Gear Prevent DOMS (delayed on set muscle soreness)?
William Kraemer, professor of kinesiology in the Neag School of Education, induced delayed onset muscle soreness through an eccentric resistance training protocol in 20 female participants.
Immediately after the muscle damaging protocol the women were divided into two groups, one group wore a compression garment for 5 days while the other group received no treatment.
The results indicated that compression garments facilitated recovery of muscle strength and power and resulted in significantly less perceived muscle soreness.
Really, Amanda, will it help me?
I have been recommending it to my athletes for years now! I don't expect it to make them rapidly faster or stronger, but I have seen it improve recovery which keeps their training on track and that leads to results!
Looking for more running gear reviews?
Other ways to connect with Amanda
Instagram Daily Fun: RunToTheFinish
Facebook Community Chatter: RunToTheFinish
Get more running tips: Pinterest