If you have a fitness lover you care for, I'm sure you've wondered what you could possibly gift them. This guide includes the best fitness gifts for women, including workout gear, the best products, and little gadgets that'll make them happier than you can imagine!
As someone who has been active for my entire adult life, I can tell you these are the things that I wanted to receive (and have with some not so subtle hints!).
Plus, we all know someone who has just about everything and you can't figure out what to gift them. If that's something you're struggling with, this is the gift list for you! I've included unique gifts that are going to make their day (or year)!
I've talked about the best fitness gifts for him as well, but over here it's all about the ladies! I'm sure you'll find some great gift ideas you can't wait to give for birthdays or holidays. Remember that mom probably doesn't need another thing that says mom, she needs some time for her.
21 Best Fitness Gifts for Her
Let's start with the stuff all us fitness lovers need the most: gear. You can never have too much of it, and there's always something new to try out. It makes our fitness journey that much more enjoyable, but we might not always spend on better-quality stuff ourselves.
So consider the following gifts for just about anyone into fitness:
Best Waterproof Jacket
If you know someone with a fitness routine that involves being outdoors a lot (especially during rainy, wet conditions because we train year round) then this is, by far, one of the best things you can get them!
Hands down this jacket is worth every single penny and will make someone super happy when they give it. Cheaper brands usually make you feel super hot, but this one definitely doesn't. It's a breathable, lightweight waterproof jacket that won't leave you feeling like you're sitting in a sauna.
This an incredibly durable jacket too, and my one has been tossed in and out of bags and worn with a hydration pack, and even then is holding strong. Definitely my top pick for waterproof jackets if that's what you're looking to gift (and trust me you should consider it!).
Best Fitness Tights
When it comes to fitness gifts for her Lululemon might be on the pricier side of clothing, but it lasts for ever, performs and fits well. These tights (or shorts) are incredible, and now that they come with a pocket they're even better!
You can easily fit your phone in it, making it super convenient. The back pocket is big enough for a phone, and so are the side pockets!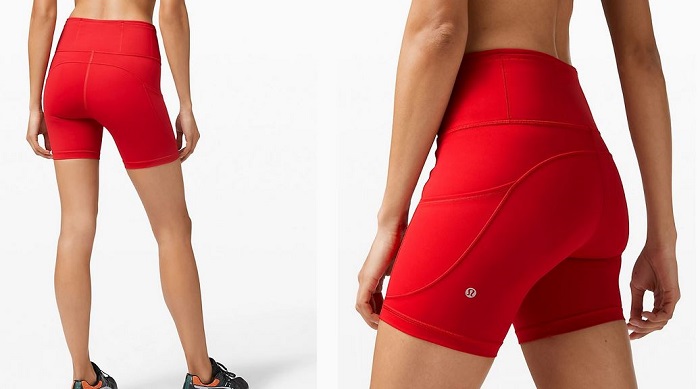 Plus the Lycra fabric is breathable, sweat-wicking, and the definition of comfort. It's also 'squat-proof' so you know your female friends will feel comfortable in them regardless of the workout they're doing!
What's great is that the ankle is a raw hem, which leads to less constricting or chafing, and comes in a high-rise style that's really flattering.
They're available in full-length, crop, capri, and even shorts. Plus they come in a variety of colors, and I'm sure you'll find something your loved one is going to absolutely love.
But in case you're not sure of the right size then nothing fits better than a $200 gift card! Talk about the dream gift!
Best Fitness Shoes
When it comes to gifting your friend or loved one some running shoes, you can't beat the New Balance Fresh Foam 1080.
These shoes are great for just most runners since it's a neutral running shoe that's cushioned and feels incredible when you slip them on, but is still responsive. With a breathable mesh upper, you can rest assured that they'll feel comfortable with these on their feet!
And for those who are spending more time walking, the cushion in this shoe feels amazing!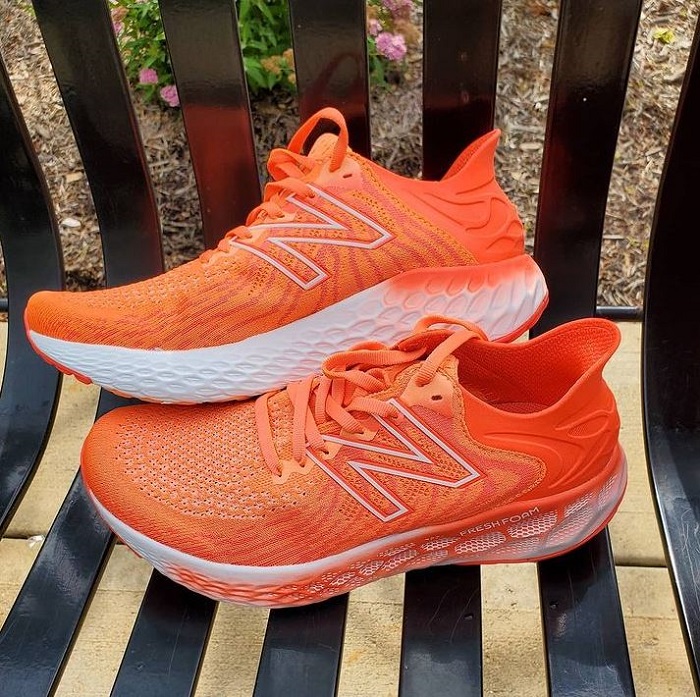 They're neither too wide, nor too narrow, making them ideal for most foot types too. But if whoever you're gifting has wider feet, don't worry because New Balance is known for offering wide sizes in most models too!
Definitely consider these incredibly popular and comfortable running shoes for any runner you know!
Best Fitness Sunglasses
These are, by far, my favorite sunglasses ever that I use on most days during my runs. If you know someone who's out and about a lot because of their fitness routine, then they're going to absolutely love these! I get asked about them DAILY.
The youthful and timeless design of the Oakley Frogskins has earned it a place in style history for more than 40 years.
It uses the same patented O-Matter frame material as the Oakley Flak 2.0, resulting in a robust and lightweight frame. For a safer run and outdoor fitness activities, the lenses give 100% protection from damaging UVA and UVB rays, as well as UVC and blue light up to 400nm.
The lens's hydrophobic coating repels water, oils, and dust, making it the ideal everyday pair for all types of fitness lovers.
This classic design comes in multiple colors of frames and lenses, including non-polarized and polarized lenses so I'm sure you'll find the right pair to gift!
Best Fitness Gifts for Strength Training
For all your strength training and weight-lifting friends out there, these gifts will make their day! All are incredibly versatile and will make working out even more fun for them. Can I just mention that I LOVE that fitness gifts for her now include strength?! It's so key for women of all ages, but especially after 30.
Please, please don't get her ankle weights. These are not the fitness accessories she will get any benefit from.
Best Resistance Bands
These bands have become the darlings of Instagram workouts this year, but for some reason are oddly hard to find!
Be the superhero who shows up with a pack that has a variety of resistance levels that can be used to strengthen our glutes, IT Band and so much more! Especially great for the runner who is always on the go!
Best Adjustable Dumbbells
Want to be the hero of the day? Get them some adjustable dumbbells for their home gym so they can become fitter, faster, and more injury-proof.
Dumbbells have been pricier the last two years, so 100% jump on any sale you might see. These are a great option because without taking up much space you can get up to 52.5lbs per dumbbell.
They're absolutely perfect and so versatile that whomever you gift them to will use them for years and years to come!
Best At-Home Strength Training Program
Strength Training for Runners ($20)
If you know anything about running and fitness, then you probably know just how important it is to incorporate strength training into your routine to stay strong and injury-free!
So if you have a special loved one in your life that's into all things fitness, then this is one of the best things you can gift them! It's the perfect at-home course featuring 4 weeks of strength training to make you strong, fit, and better than before!
It features two workouts per week for four weeks and includes strength workouts utilizing bodyweight as well as dumbbells. But that's not all, these training plans are repeatable so in essence, you'll gift them something they can use for months and months, if not years!
I highly recommend this home workout program, and at just $20 it's totally a steal and feels like you have a personal trainer in the comfort of your own home!
Best At-Home Strength Training System
This is such a fantastic at-home strength training tool because it can be used in a HUGE variety of ways and the body weight aspect often appeals more to runners than spending hours hefting weights.
I love that I have been able to take this with us each time we've moved, again without having a whole set of dumbbells to worry about. Plus, it's also great if you just want to have variety while going some home workouts.
Best Fitness Gifts for Yoga
We are not good at slowing down, which is exactly why we need to slow down. Yoga is restorative and therapeutic, but it can also be invigorating and challenging.
Whether you know someone who's been attending yoga classes since forever or someone who's just getting started, you're going to find the perfect gift for them here:
Best Grippy Socks for Yoga
One of the workouts I've fallen in love with this year is Pilates. While those classes might not be cheap, one piece of gear is…the socks!
Feel free to add these to our stocking along with a gift certificate to some fitness classes at your local yoga or Pilates studio, which will keep us working those hips for injury prevention!
Best Acupressure Mat
One of the things that all runners need is a reminder to SLOW down, but just telling us to do that rarely works. Instead, consider giving us a gift that will help us become better runners by releasing muscle tension, helping with pain, and giving us an energy boost.
While I am a huge fan of massage and acupuncture, sometimes you need to just take care of things at home and this is a nice addition to using the foam roller.
The pressure points hit through the weight of your body are reported to help reset nerve pathways, clear blocks, and reduce pain.
NOTE: These are not super relaxing, it's kind of painful! I mean it works in a great way, but know they aren't going to feel like getting a nice swedish massage.
Important to remember in any fitness gift for her what kind of personality she has. Does she like to GO HARD, DIG DEEP or is she trying to get started or enjoys just being in nature!
Best Fitness Gifts for Swimming
For all the swimmers out there, this section is absolutely perfect for each one of them! These are also great gifts for runners looking into cross-training by swimming!
Maybe we want to swim because it's amazing exercise or because we're getting ready for a triathlon. Or perhaps because we fall into that injured runner category and it's a great way to save our sanity.
Regardless of the reason, if you know someone who's into swimming, they'll definitely appreciate these great gifts:
Best Waterproof and Submersible Headphones
You might be considering gifting a friend some Apple AirPods, but those aren't the best for swimming. In fact, very few of us have earbuds that are truly made for swimming.
We might sweat in them A LOT, but that's different than being submerged. Luckily these will meet that demand and be great for running and biking!! The bone conduction means our ears aren't blocked, so we can always hear what's happening around us.
They are not however Bluetooth compatible! So I would probably only use them to swim as you have to load what you want to hear onto them.
But since they can be fully submerged and are waterproof, these are truly incredible and will make just about any swimmer super happy!
Bonus points because you can still wear them for running, biking and other activities!
Best Swim Cap
If you know a swimmer with long hair, you can trust me when I say she's probably always looking for the right swim cap that covers the head (and hair) properly but isn't too uncomfortable and tight.
It's a constant struggle many of us with long hair have been through, and if that's something a friend or loved one is experiencing you need to get them this TYR long hair swim cap! This cap is made with a silicone construction which gives it a truly custom fit.
Plus, if you've got an injured runner, they may very well be spending more time in the pool, so this is a great way to help them stay positive.
Best Lap Counter
Awesome for swim workouts where you constantly lose track of what lap you are on! Slips right over the finger and can easily be pressed as you flawless execute another flip turn.
This particular model also lets you track things like fastest and slowest laps, there is a cheaper version that does laps only.
Best Fitness Watch
You might be considering getting your favorite fitness lover an Apple Watch (especially since the launch Apple Watch Series 8 and the new Apple Watch Ultra) or a FitBit, but those just don't work right for true fitness lovers!
I often talk about wearing this watch for running, but truly it shines when being used for those training for triathlons.
I have the bike sensor on my bike so it picks up RPM which allows me to practice going at 90RPM to mimic the number of footfalls per minute we want when running.
And of course, it is totally waterproof, so you can head out in the pool or ocean with its tracking distance. A number of studies have found this GPS watch to be the most accurate.
Plus, it comes will all the other necessary features for any fitness junkie, including wrist based heart rate monitoring, and even other useful features to measure sleep quality. With incredible battery life and some great smartwatch features, it's truly one of the best watches you can gift anyone!
If you're looking for more of an entry level fitness watch, then checkout my review of the Garmin 55 >>
Best Fitness Gifts for Cycling
There's nothing quite like being able to go cycling, and if you have a friend like that then this section is for you! Whether they cycle outdoors or use an exercise bike at home, you'll find the perfect gift for them here:
Best Cycling Helmet
The Align is one of the best cycling helmets you can buy at this price and has been upgraded with new technology for added protection and safety that's suitable for the streets.
It features a low-friction liner that rotates independently and so provides increased impact protection for angled crashes. It comes with a glove-friendly, micro-adjustable dial so you can rest assured that it'll be a nice, snug fit on whomever you gift it to.
The helmet still feels lightweight, but you know you're well protected when you wear it. If you have a cyclist in your life, you need to get them one of these pronto! For the price, it's definitely a steal!
Best iPad or Book Caddy for Cyclists
When the weather drives a biker inside this can save the day!
First, you can put books on it to read OR you can put something like the waterproof Sony tablet on there to watch tv, stream videos, etc. Passing hours on the bike goes much quicker this way.
They do have an iPad-specific one but this is cheaper and more versatile! I know a number of people who have studied for exams while biking and I love that idea! Wish I'd known about this in college, so if you know anyone who'd be into something like this, you need to get them one!
Best Recovery Gifts
Fitness and recovery go hand in hand, and we all need something for when those sore muscles make it difficult for us to do what we love doing the most!
Although massage guns might be something that pops up in your mind first, consider these essentials as well as unique gifts that will make someone feel super special.
Here are some great recovery gifts your friends and family are going to love receiving:
Best Foam Roller
TriggerPoint is, by far, one of the most well-known brands for foam rollers. Its bright orange patterned surface leaves some to wonder if it's different from the regular foam roller. It is!
The TriggerPoint GRID's external foam is multi-density and is covered by a hollow, rigid core that helps it maintain its form even after heavy use.
The GRID has three different surface textures that are meant to resemble a massage therapist's hand. Each has a distinct function that I've covered in more detail in my foam rollers guide, but honestly, this is seriously one of the best foam rollers on the market and you won't regret gifting anyone this ever!
It'll help with sore muscles by releasing tension after a hard cardio session, but it's still portable enough to toss into your gym bag on the way out of the house. Definitely consider this one!
Best Leg Recovery System
Having this Normatec Leg Recovery System at home is like having a personal, massage therapist on demand. It's the priciest gift on the list, but also one of the absolute best ones for anyone who needs an extra something after a recent injury.
This system uses dynamic air pressure to give you a restorative massage that'll increase blood circulation, aid in recovery, and help you feel refreshed afterward.
It comes with 7 intensity settings, customizable time, pressure, and zone settings but it's still lightweight and comfortable, weight only 3.4 lbs. It's definitely worth the price and will make some fitness lovers out there feel extra spoiled if they receive it as a gift!
Best Motivational Gifts
We all need a little motivation boost from time to time, and these gifts are perfect for that. I love these types of gifts because it shows that you're thinking ahead and it means they think of you often!
Best Motivational Bracelets
Just because we're athletes doesn't mean we don't enjoy feeling a little girlie sometimes…and yet, of course, even our jewelry can speak to our personality!
I am loving these bangle bracelets which can be customized for the half marathon to the marathon, Disney runs, and so forth. Consider gifting these to a close friend or even your spouse and just watch them fall in love with them!
Fitness Books ($15)
Listen I read A LOT… like 100 books a year. And so my list of books grows frequently, but here are a few ideas for fitness gifts for her that will get her motivated to train hard or his those goals.
BONUS you can always do these as audiobooks or kindle from Amazon when you need that last minute gift!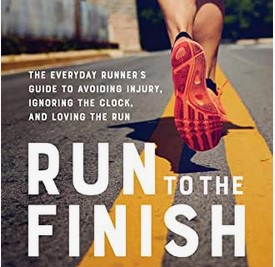 Fitness Gifts for Her Stocking
And finally don't forget that we also love some of the little things!
Honestly with a closet full of gear that I adore and use so often, I could go on and on with fitness gifts for her. But I tried to narrow it down to save you some time and get your shopping done!!
Finally if you're looking for a few other ideas:

Other ways to connect with Amanda
Instagram Daily Fun: RunToTheFinish
Facebook Community Chatter: RunToTheFinish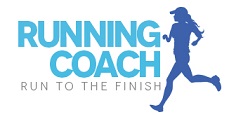 Sign Up to Receive a Weekly Newsletter with Top Running Tips and Laughs