When I'm asked about the best GPS watch for beginners, I almost always point to the most basic Garmin Forerunner. Currently that's the Garmin 55 (or it's predecessor the 45).
These new watches make my first Garmin look like a kid's toy! My age is starting to show😂 when I say I trained for all my races from 2002-2005 with an old school Timex.
Let's dive in to what you can expect from the newest Garmin Forerunner and how it compares to other models.
Garmin Forerunner 55 Review
Having tested out both their budget, middle range and high end watches I have a pretty good feel for the entire line up of Garmin watches, features and fit.
While the Forerunner 55 is packed with features, it looks and feels cheaper. Unlike the Fenix which comes in lovely white and rose gold, giving it a wear anytime look, the 55 feels almost plastic.
That's not to say I'm worried about durability, but something to consider.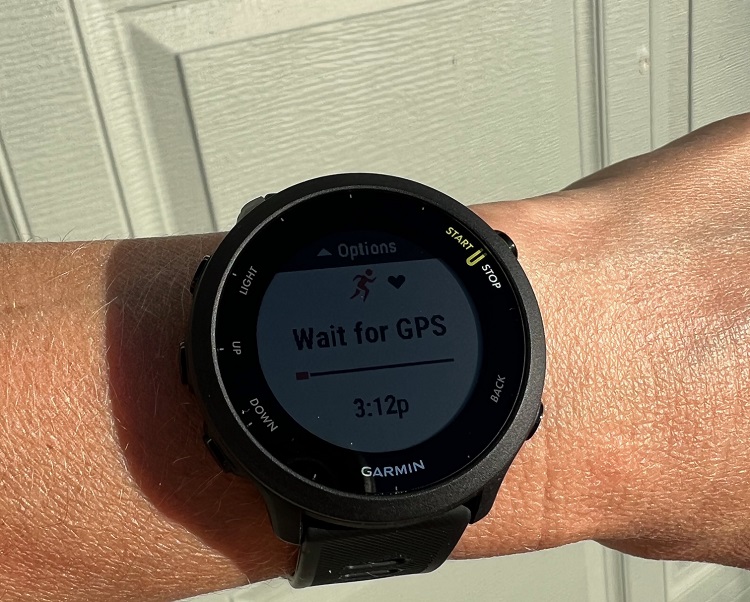 Standard Forerunner Features
Before jumping in to what's new on the Forerunner 55, a quick overview of all the bells and whistles that you will find in this watch.
GPS for run, bike, swim
Options to track other types of workouts
Ability to program workouts and HR Zones
Step tracking, sleep tracking
Safety contacts
Wrist based HR monitor
Music controls – not stored music
Body Battery – tracking stress and energy levels
Treadmill Calibration
Easily syncs to Garmin Connect to see all of your data
New Features
The 55 isn't a massive upgrade from previous entry level Forerunners, but they also didn't skimp on finding things to add. This low end model is quickly catching up to it's counter parts.
Track Runs – calibrated to be more accurate running the oval
Suggested Workouts – Yup, not just what you program, but it will create a plan for you. It will start with base workouts to get to know you and then adjust. Nice if you need an idea or aren't currently focused on a race.
Pacing Pro – Helping you come up with your race day pacing plan
Predicted Race times – Using your workouts it will help determine potential race times (this I'm not totally sold on, just VO2Max would have many of us believe we're elite runners)
Women's Health Tracking – taking tools from Garmin Connect and adding to watch (i.e. alerts that your cycle is going to start soon and what that might mean for your workout)
24×7 respiration rate tracking — They are using this to try and get at heart rate variability, I don't find that it's going to be super accurate. So I think this feature has room to grow.
Added sport modes for swimming, HIIT and Virtual Runs
Ability to customize more of your screens and add more widgets from Connect IQ
Garmin Training Features
Let's breakdown a few of the features to see if they're what you need or if you need to level up. The big thing that's missing for me in this watch is the altimeter.
Without that feature, you can't see elevation gain/loss on your watch.
I've also gotten spoiled with looking at hill incline % on the Polar Vantage V2, which has helped me train for different races or find good hills for repeats.
Wrist Based HR
This has been fairly accurate in my tests so far. I often find this declines over time and I'd still recommend wearing a chest strap until you know it's consistently accurate for you.
Sport Modes
Basically options for anything now from running to HIIT workouts to yoga, the list goes on.
EXCEPT ocean swimming and triathlon, this watch is not set up to be multisport mode.
Treadmill Mode
Let's start by saying your watch will NEVER be accurate on the treadmill. It can't use GPS and therefore is trying to rely on stride rate, but can only guess. Luckily, there is a calibrate feature so you can update the final total on your watch before saving.
Once you finish your run, instead of hitting save, you'll use the down button to select "Calibrate and Save". This will allow you to update the mileage total.
Overtime the watch should also use this to get closer to accurate with your treadmill runs.
Garmin Safety Features
Possibly one of the things I'm consistently excited to see as a standard feature now is safety.
Set up your emergency contacts via Garmin Connect
Decide who and how they should be contacted
Hold the Light Button for 3 seconds
It will alert your contacts with your name and GPS location
LIVE TRACKING – you can autostart this or manually start this to then provide a link that will show your contact exactly where you are while GPS is active
Incident Detection – this is automatically set up once you have emergency contacts. They aren't real clear on the specifics, but I can see this being useful when David is biking and suddenly it notices he's fallen off a cliff.
Customize Data Screens
As someone who likes to focus on Low Heart Rate training to keep easy days easy, I love being able to shift around the data on my watch.
It's super easy to change the data on your screens by different sports profiles.
Avg HR, current heart rate, HR Zone
Pace, Lap Pace, Avg Pace
Distance, Interval Distance
Cadence
Calories
Time, Lap Time
Respiration Rate
Steps
Stress
Timer
And when you finish a workout, you'll see your estimated VO2Max, before putting a lot of stock in that please read this on how to use VO2Max.
Additionally, I do love that it's always telling you that you have new personal bests for distance, mile, 5K, etc. A new watch gives you a fresh start!
You can easily see these on the watch after the workout is over.
Hold UP button
Go to History
Select Records
Who is the Garmin 55 Best For?
Truly I've recommended the Garmin 45 for a cost effective option for years and now the 55 has my vote. It's got a number of new features that are truly making it on par with many other watches.
My Garmin Forerunner review stance is it's a winning option for darn near ALL runners, except trail runners or those who truly want to see more data on the watch.
And it's a perfect upgrade from Apple or Fitbit to better track your running. The GPS accuracy is going to blow both of those away.
I found myself missing the elevation profiles on the watch itself and the feel of my upgraded watches, but honestly I could easily use it for all my training.
As noted above, I would not recommend it for those doing triathlon. At even the base option, I told David's boss to get the 245 for his upcoming training.
Where to buy the Garmin Forerunner 55?
Checkout the current prices on Amazon >> (starting at $200)
Checkout the current prices at REI and enjoy earning points for future running gear.
Or look at Kohl'shttps://rstyle.me/+uVMTHpIVYbx4zDDPd_VUiA to see if you can use any discounts.
🚨Reminder!! Checkout the discounted Garmin 245 and the discounted Garmin 45s.
Garmin 45 vs 55
The one thing not noted here is the 45s. It has all of the same features, but the S series is designed to be for smaller wrists. I felt the 55 was plenty small, but then I've also been testing the massive Garmin Enduro.
Both watches have most of the same features from GPS, wrist based HR, VO2Max, etc there are just a few small upgrades with the 55.
Garmin 45
GPS/GLONASS/GALILEO
1.04 inch display
7 days smartwatch mode
13 hours in GPS mode
$130 now on sale most days
Garmin 55
GPS/GLONASS/GALILEO
1.04 inch display
14 days smartwatch mode
20 hours in GPS mode
PacePro Pacing Strategies, Track Run, Race predicted times, women's health tracking
Customize watch faces
Cadence alerts, recommended workouts
$200
If you own the 45, I probably wouldn't rush out to upgrade to the 55.
Once you hit that point of wanting a new watch I'd look up the chain just a bit at the Garmin 645 or go crazy for that gorgeous Fenix.
Garmin 55 vs 245
Currently the 245 is only $25 more than the 55, which leads me to believe a new model must be coming. Otherwise these are simply too close for serving different audiences.
Both watches are roughly the same size with the same materials and fit.
The biggest difference is going to be for those who want some kind of maps or tools to help navigate back to start, which the 55 will not have.
Garmin 245
GPS/GLONASS/GALILEO
1.2 inch display
Gorilla Glass (better protection)
Compass, Pulse Oximeter
Point to Point Navigation, Breadcrumb tracking
LIVE Track feature
Stride, vertical oscillation
14 days smartwatch mode
24 hours in GPS mode
$225 now on sale most days
Garmin 55
GPS/GLONASS/GALILEO
1.04 inch display
14 days smartwatch mode
20 hours in GPS mode
$200
I hope this Garmin Forerunner 55 review helped you see what's changed and whether this is the watch for your training!
Still thinking through your options? A little more information: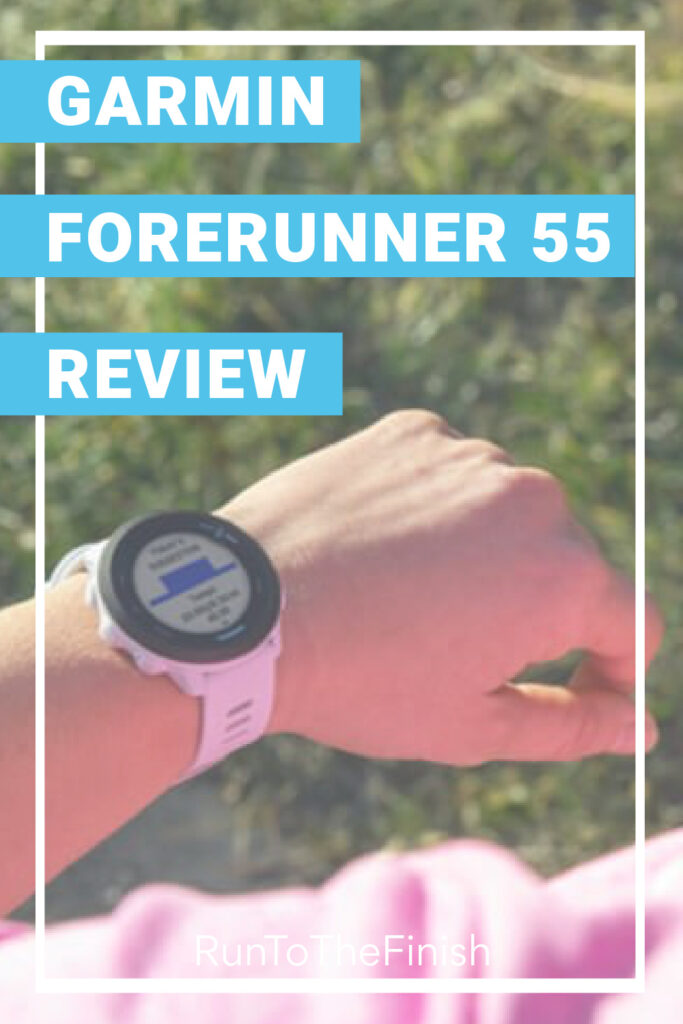 Other ways to connect with Coach Amanda
Instagram Daily Fun: RunToTheFinish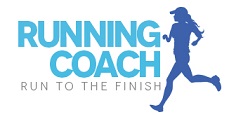 Facebook Community Chatter: RunToTheFinish
Sign Up to Receive a Weekly Newsletter with Top Running Tips and Laughs