The best gifts for runners aren't always what our friends and family assume.
While we do love a good GPS watch, sometimes the things that we're jonesing for just feel like too much to spend on ourselves on a regular basis…even if they aren't really that expensive!
Since many of you often ask me what new runners really want, I thought I'd share some of the super fancy gizmos we love alongside the surprisingly cheap and easy gifts that will have us leaping into your arms with a big sloppy kiss!
This complete guide to gifts for runners includes some great recommendations for your favorite runner! And these aren't just any recommendations, but ones by a runner and certified running coach so you can rest assured that you'll find the best gift options for runners here.
15 Best Gifts for Runners in 2022
Whether you have a marathon runner in the family, or a new runner looking to build their running gear, we have something that's perfect for everyone. Everything from fun essentials, to the fancy things your favorite runner will love!
Let's kick it off with the first surprising item…running socks! Seriously, read on to find out why and which ones.
While this might be targeted at new runners, the truth is these are all the basics that a lot of us need. I know because every time I poll my IG audience for what running gifts would make their day, these are the items repeated over and over.
gear to make training easier
tools to help us train
the gizmos we really want, but won't buy ourselves
Click any of the titles below for a link to a product, I've tried to think through both the high-end gifts we wouldn't buy ourselves and the littler items that still mean so much. I know your runner (eh hem you) will love these running gifts!
Let's check out our top picks for the best gifts for runners in 2022.
RunToTheFinish editors review and select each product mentioned in the article independently. If you buy through affiliate links, we may earn a commission which will help support our website. Learn more.
That's right we want socks. Good socks, ones that won't lead to any chafing or blisters, don't have weird seams, and those that can keep our feet dry and comfy!
This is definitely more expensive than the packs you can buy at Target, but one of the few investments that runners quickly learn is worth every single penny.
These moisture-wicking socks will keep their feet blister-free and provide them with one of the best running experiences ever.
If you have a new runner to buy for this might be something they haven't treated themselves to yet and you'll be, truly, changing their lives.
I run in the Performance Zero for that no show look, but I also like the Vibe Zero for just a smidge more cushion.
They are truly a gift of a kind for runners and wicks moisture away seamlessly!
And for the trail runners, you seriously CANNOT beat the Swiftwick National Parks socks! The designs are incredible and the slightly higher sock means less dirt in our shoes. I can safely say bikers love them, as David stole mine the moment they arrived.
Ok, maybe no surprise that all of us runners want a GPS watch to track all our shenanigans, but what might surprise you is that TONS of runners would be just fine with the for tracking miles/HR and they don't even want or know what to do with all the crazy features on the more advanced watches.
For those of your running friends, the basic Garmin Forerunner 55 comes in at $199 and is absolutely perfect! Not only is it cheaper than an Apple watch, but better than it too.
It's without a doubt the best starter watch for anyone just starting out in running. You can set up intervals, track your heart rate and pace on your wrist, and get the basics to help you train better.
But if you're looking for a higher-end model, then the Garmin Fenix 7 series is what you need to look into. So what's the big deal with the high-end model anyway?
the S version is smaller and looks nicer for women, especially the coveted rose gold
Color GPS maps, just like while you're driving
Music, incoming messages, credit card payment
Serious battery life
Tons of multisport options
Basically can track every bit of your lifestyle
The Garmin Fenix 7 is truly a smart GPS watch; it can tell if you're running inside, outside, on a road or trail, or on a treadmill. In fact, it can even tell if you are swimming in a pool or in open water!
3. Cotton Gloves – Race Day Necessity ($17 for a Pack)
It's true we'd give you a sideways look for buying a cotton running shirt now, but these cheap little gloves are lifesavers on race day!
They allow us to get to the start line feeling toasty, then rip them off as needed to toss in the donation pile without guilt.
Of course, you could also double up and get them both the cheap throw-away gloves alongside a nice pair of running gloves.
Yes, good running gloves are a coveted item! You have no idea how much they can improve our winter runs!
4. Winter Running Gear
Speaking of winter, this is another item that tops the I WANT IT list for runners: some good winter apparel! It's so much easier to get out in any weather when you have the right gear, but we aren't always willing to splurge on ourselves.
A great running jacket can make any temp or weather more bearable. They are investment pieces that will LAST many years. My guide shares some of the best picks for all types of runners, featuring lightweight fabrics that'll still keep them warm.
Winter running tights make those early morning temps not so bad, but we hate to splurge on winter-specific tights even if we need them! So thanks for doing it for us!
A hydration vest TOPS THE LIST when I ask what people want, but hate to buy for themselves! This one is more cost effective than many of them and I wore it for YEARS.
I like this particular model because it's snug to the body and the pocket placement makes it easy to grab my phone for those must-have Instagram moments.
We've mastered the art of locating water fountains or stashing water bottles, but nearly everyone I know who has finally caved to try a hydration vest simply can't go without it now.
Ensures easy hydration
Pockets for carrying phones, tissues, tucking away the too many layers we wore
Having extra food for trail runs or long runs
Currently I have upgraded to a model with two flasks in the front called the Nathan Pinncale. But you could do that with this vest too and again, way cheaper!
Chafing is something all of us runners suffer from at one point or the other, and trust me it's a big nuisance! So this is another small but non-trivial item we need to have in spades.
We need one in the car, one in our bag, one in our luggage, really we need them everywhere to ensure there's no chance we miss out on lubing up to avoid the dreaded rub.
If you're buying for a male runner, surprise them with nipple guards too. It's not only funny to watch them open the gift but extremely practical as it's a very common and painful issue for men running with a shirt!
Running is overall a pretty cheap sport compared to the gear needed for say skiing.
We don't need helmets or pads or clips or claps or clops…but our running shoes, well they have gone up in price, and to be honest, we need multiple pairs (yes read about shoe rotation).
So if you sneak into our closets and find a pair that looks well worn, chances are we'll just flip if a new pair of shoes up under the Christmas Tree.
I'm personally a huge fan of the Saucony Kinvara for those who like a lighter shoe with a little cushion
I recommend Hoka Clifton for those who want a lot of cushion
Brooks Cascadia is great for those looking to enjoy trail running
Honestly, there are a lot to choose from so if you can't find one, then get a gift certificate to a LOCAL running store. We'll have the added fun of talking about running when we go in to pick out our brand-new neon pair!
Turns out that not only do runners love to read about running, but we've learned that a great audiobook is a fun way to pass the miles!
So if you have a runner friend or one in the family that regularly goes for long-distance runs, then some long-run entertainment is what they need!
Almost all runners I know would jump at a membership subscription for Audible. You get to choose from thousands of books, and there's truly something out there for everyone!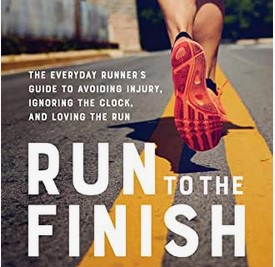 While compression pants may not be the most flattering pair of tights we'll ever tug on, they are one of the most beneficial.
The CW-X stabilityx is my top recommendation because they help with IT Band pain, knee support during long runs, and calf cramps. I'm on my third pair, I've worn them for so many things for so many years.
However, for the runner who ONLY wants to wear them after a run, I recommend the much thinner 2XU compression tights. I will also wear these to run in hotter temps, but love them for lounging or sleeping in after a really long run.
Trust me, their happy legs will mean a much happier you.
Not sure what the heck these even are, go read about compression gear here.
These little earbuds are a great option for anyone looking for a gift for a runner in their lives. They're completely sweat-proof workout earphones that don't cost an arm and leg, yet perform incredibly well!
I've done an entire video reviewing these, but they're truly my current favorites and are incredible for the price. I've had mine for years and they just keep on going.
The newer Vista 2 reportedly have a 24-hour battery life and includes Active Noise Cancellation for focus, as well as SurroundSense for spatial awareness and safety when running.
This makes these a great choice for any runner you know, since they can turn on the ANC feature in noisy areas like the gym, but have SurroundSense on when they need to be more aware of their surroundings, e.g., when running on the road.
Extra Thoughtful Gifts for a Runner
These aren't things you can always put under the tree, but under normal circumstances are highly appreciated.
11. Race Entry ($40-$200)
You got it, we'd love to have some of our race entries covered! Not only are you saying that our crazy choices are acceptable, but you're helping us to set some goals with that money on the line!
Triple extra bonus points if you also agree to come to cheer us on and make a big fat crazy race sign with our name on it.
It sounds silly, but at mile 14 when you're brain is questioning everything about why you've signed up there's a massive mental and emotional boost (better than any gels or snacks) from seeing you on the sidelines.
12. Massage Voucher or Foam Roller ($37+)
If you know a runner, you'll know that we frequently have sore muscles. So anything to relieve that is going to not only make your favorite runner feel special but also pampered!
Consider gifting them a gift card from a local spa, or for some self-massage, consider getting them one of these foam rollers!
The TriggerPoint GRID Foam Roller is a great choice that retails at only $36.95 and comes in a bunch of different colors.
13. Baby Sitting Services ($20-$200)
One of the gifts that I know has meant so much to many of my friends is someone thinking ahead for childcare!
They're dying for that Sunday morning time to run, but can't always make that work without a little bit of help. Maybe you pre-pay for 10 weeks of Sunday childcare leading up to their next big race or even just volunteer to help out once a month, I guarantee they'll be extremely appreciative.
So you've got a runner who struggles with staying injury free… has a goal to do strength, but really has so very little time!
Welcome to a 10 minute a day plan that just works. It's based on my decades as a certified running coach working with thousands of runners and physical therapists.
I highly recommend all runners work on their core to help with their running form and prevent injuries.
Unfortunately, we runners are notorious for neglecting our core, which subsequently leads to injuries. So, a great personalized gift would be to gift them a set of mini bands and a card saying here's your access to this great core challenge!
It's a unique and personal gift that's thoughtful and truly considerate!
**If you want to buy them a gift certificate to register on their own, just shoot me an email and we can set that up.
Sometimes all you need is that personalized program to reach your goals and beat your PR!
If you have a runner in your life that seems to have plateaued and can't find the motivation to run, or feel a bit lost, then one-on-one coaching is something that they're going to thank you for!
Many runners feel that just because they're not professional athletes, they probably don't deserve (or need) personalized, customized training programs. But, as a running coach, I'm here to tell you that's absolutely not true!
Every single runner at every stage of their journey can benefit from some one-on-one coaching.
So if you're truly looking to make the runner in your life feel special, gift them a month of 1-1 coaching, and don't forget to record their reaction when you gift it to them! A few years ago the husband of one of my now athletes emailed to say he knew she wanted it but would never sign up on her own, so we did it for her!
More great gift ideas?
Still not seeing exactly what you had in mind? Check out these other runner gift guides:
What makes a good running gift?
For the non-runner, I know it seems like a lot of weird or very pricey gear to go out and pound the pavement or through winter ice storms the treadmill.
But new runners start learning that high quality gear means less discomfort.
Less discomfort means enjoying it more.
Enjoying it more means sticking to it!
BOOM quality gear is worth it!
Meanwhile, long time runners go through things like shoes faster or simply love the sport and get really excited about new gizmos and gadgets.
Do we always need them? Heck no, but they motivate us and make us happy! Who doesn't want a happier runner in their life?
A good running gift:
Replaces something we've worn out (hello running shoes with holes that we still love)
Upgrades the quality of something we previously purchased (hello cheap socks)
Spoils us in ways we would feel guilty doing on our own (oh how we salivate over running belts and hydration packs)
Gear that other runners have approved
Gear that matches our personality (eh hem, I don't wear camo even if it was on sale)
Can be exchanged for the right size (it's not your fault our feet keep getting bigger the more we run
Other ways to connect with Amanda
Instagram Daily Fun: RunToTheFinish
Facebook Community Chatter: RunToTheFinish
Get more running tips: Pinterest