As a long time runner, I know there are some things we buy for ourselves because we need them, eh hem always new shoes, and somethings we REALLLLLLY want, but feel like we need a great reason to buy it. Gifts for runners might be one of my favorite lists to compile each year because I get to share ideas that often get overlooked.
Hellllllooooo holidays, birthdays and great big fat Personal Record celebrations.
I've been running since 2002, but I've been gear testing to officially review things for long runs, heart rate, custom fit and more since 2012!
I never share things with you that I truly disliked and if I thought it was a good tool, but not right for me, I'll tell you that too!
Gifts For Runners
Following are quick links to all the gift guides I've created for our running friends, the super special person in our life… or ok I totally use these to pick out running gear for myself as a post run reward.
What is a Good Gift for a Runner?
To save you time, I've divided up ideas in to sections based on who you're shopping for or budget!
You'll find stocking stuffer ideas for your running friend and big ticket goodies for your one favorite runner.
Don't get overwhelmed with possibilities, just cruise through the one's that sound most like your runner and you'll find a link to that product to check it out in more detail!
Runner Stocking Stuffer Ideas
Perfect for your running buddy, gift bags for the cross country team or well just those extra bonus gifts for your runner!
Price isn't what makes a great gift, it's the thought and being something we actually need (like body glide)!! Head down farther for tips on what makes a truly great gift.
See all the runner stocking stuffer ideas >>
Best Gifts for New Runners
Most new runners start out on the cheap not knowing if they'll stick to it…long time runners know that the right gear helps tremendously!
Every runner will appreciate running shoes, a running watch or a foam roller! The range is wide, but not nearly as wide as the smile you'll get.
See gift ides for new runners >>
Cross Training Gifts (Creative ideas!)
Sometimes you need to get creative because it feels like your runner has everything they could possibly need.
These are great runner gifts for the runner who needs to branch out or stay healthy. A great way to support them during injury.
Creative Runner Gifts and Triathlete Gift Ideas >>
Trail Runners Gift Guide
Does it seem like all runners should need the same things?
Well some of them are the same, like wireless headphones…but as I've learned there are different socks that keep rocks out and bigger hydration packs to haul more stuff…um like my ever increasing smart phone size.
Shoe me trail runner gift ideas >>
Ideas for the new runner, the trail runner, the injured runner!! Gift ideas from stockings to splurges so you nail it with less stress! #runchat #giftguide
Click To Tweet
Mens Fitness Gift Guide
Have a man in your life who refuses to give you a gift idea?! Yeah me too.
So I dug high and low to find some save and splurge ideas to keep him sweating. My guy happens to be in to biking so you'll see a few more of those things here, but likely find some ideas to get you thinking!
And he has indeed tested out the things I've listed, so they are pre-approved as the perfect gift.
Give me fitness gift ideas for men >>
Fitness Gadgets Worth the Price
I'm the first to admit that I get really excited to test out new things…but I'm not one who wants to spend a lot and find out it sucks.
I did the work for you to find out what's really worth the price tag when you're ready to splurge on that Garmin Forerunner or the fancy one with solar power. Because sometimes that extra special thing is enough to boost your motivation and that's a gift for life.
The one gadget not included is a jogging stroller because I can't test that, but do know it's a VALUABLE option.
Shoe me some super cool Fitness Gadget Gifts >>
Gift Exchange Ideas
Maybe you aren't looking for something as small as a stocking stuffer, but definitely no so big as a GPS watch.
This list will stay around $25 and still help you find some stellar ideas!
Ideas for running gifts under $25 >>
Gifts for Runners Who Have Everything
Honestly this is when you head to that fitness gadgets section or the wellness guide.
Remember we ALWAYS need more running shoes, so a gift certificate to a local shop is great.
We will rarely say no to Feetures or Swiftwick running socks. I mean we all know socks vanish, right?
A massage or a meal delivery service…ya super cool gifts as well! (checkout my healthy prepared meal delivery reviews)
A running coach – one of my long time runners was gifted working with me for Christmas and she was over the moon. It showed his support and was something she wouldn't have done for herself.
What makes a good running gift?
For the non-runner, I know it seems like a lot of weird or very pricey gear to go out and pound the pavement or through winter ice storms the treadmill.
But new runners start learning that high quality gear means less discomfort.
Less discomfort means enjoying it more.
Enjoying it more means sticking to it!
BOOM quality gear is worth it!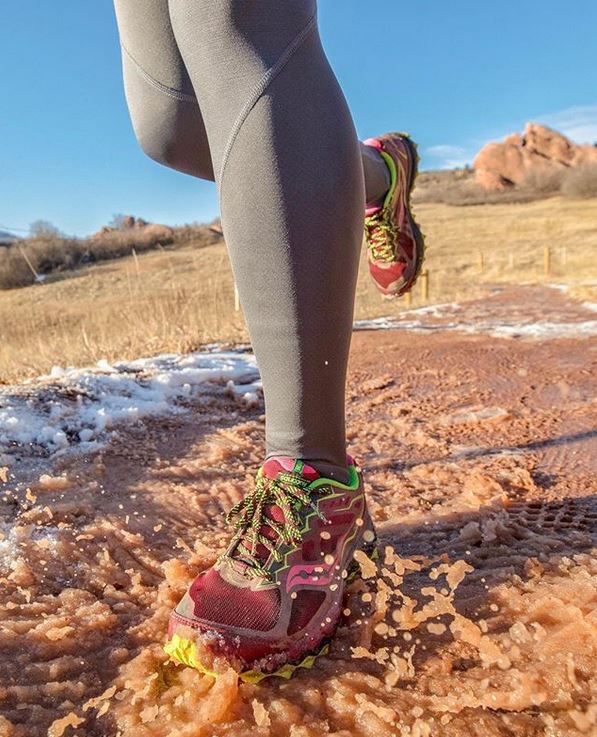 Meanwhile, long time runners go through things like shoes faster or simply love the sport and get really excited about new gizmos and gadgets.
Do we always need them? Heck no, but they motivate us and make us happy! Who doesn't want a happier runner in their life?
A good running gift:
Replaces something we've worn out (hello running shoes with holes that we still love)
Upgrades the quality of something we previously purchased (hello cheap socks)
Spoils us in ways we would feel guilty doing on our own (oh how we salivate over running belts and hydration packs)
Gear that other runners have approved
Gear that matches our personality (eh hem, I don't wear camo even if it was on sale)
Can be exchanged for the right size (it's not your fault our feet keep getting bigger the more we run)
While it's true that David and I for most of the last 18 years have forgone gift giving in favor of experiences like Iceland or tickets to a great show like Cirque de Solei.
I still really love that moment of surprise and joy when he unwraps something that took the time to pick out because it was perfect for him.
Any fitness lover gift ideas that you're still looking for, let me know?
Consider me your Amazon gift finder for runners, ha!! I love coming up with creative ideas!
Other ways to connect with Amanda
Instagram Daily Fun: RunToTheFinish
Facebook Community Chatter: RunToTheFinish
Get more running tips: Pinterest