When it comes to fitness gadgets and gizmos for running, I admit to being a sucker for them all. I want to test each little click, clack and whiz to find out IF the gear really produces results.
From a minimalist in all other areas of my life this is absolutely amusing to my husband.
But at a great benefit to you fellow athletes!
It means that I quickly dump the losers and keep only the things that work to share with you, saving you time and money! Because as my IG followers know, I'm too honest for my own good sometimes, but at least I know I'm never going to feel bad if you buy something I recommend.
Running Gadgets
Here are some top fitness gadgets and how they work to give you some ideas for creative gifts or maybe just to treat yourself. Because let's be honest…couldn't we all use a little pick me up lately!
In no particular order, you'll see details below for my top picks:
Safety bracelet
Wireless earbuds
Carbon Fiber Insoles
Massage gun
Alter G Alternative
Running Watch
Posture Corrector
At home services
RunToTheFinish editors review and select each product mentioned in the article independently. If you buy through affiliate links, we may earn a commission which will help support our website. Learn more.
1. InvisaWear Safety Bracelet ($149)
See current colors and pricing here >>
It looks like a beautiful bracelet (or you can get a necklace), but with a quick push of a button you're notifying people that you're in trouble and need help.
I like the band style designed for fitness. It's super soft, easily goes on the wrist and I'd wear it all the time. In testing it, the bracelet never bothered me on a run and I truly liked the comfort of knowing it was right there.
Alarm can be removed to wash the bracelet.
Band comes in multiple sizes to find what fits you.
Hitting the button twice will send a text to up to 5 people you have chosen, along with your GPS location
No charge needed, this battery will last at least a year
2. Jaybird Vista 2 Wireless Earbuds – ($149)
Checkout current colors and buying options (watch for sales!!)
I've done an entire post showcasing the different wireless headphones for running, like Aftershokz, but if I had to pick one right now it would be the Jaybird Vista 2 Wireless earbuds.
These are going to provide a snug fit and when in the gym doing that strength workout to block out the extra noise and go the distance for your runs.
Can run with just one earbud and still get great sound
Water-resistant and very sweatproof (I can vouch for that), but they still don't recommend them for swimming
FANTASTIC battery life. I forget to charge them frequently and can still go for a 4 hour trail run.
Portable charging case will give you even more life and is the reason I can forget to actually plug them in.
3. VKTRY – Carbon Fiber Insoles ($119-$199)
Checkout sizing and buying options >>
Does your runner have a shoe they LOVE, but they're dying to get the benefit of a carbon fiber plate?
Boom an insole that allows them to combine the two.
S Curve shape required for that slight rocker motion to propel us forward
Lightweight, providing the stiffness we want for maximum energy return
Has been shown to help prevent ankle issues, shin splints and plantar fasciitis!
GOLD is my recommendation for most running shoes
When ordering you'll put in details to make sure you get the best fit
4. InsideTracker ($499)
Blood work. I know it doesn't sound sexy, but ohhhh baby bring it on!
Knowing exactly where our levels are from Iron to Vitamin D to Cortisol can make a huge difference in our training. It allows us to prevent injuries, over training and eliminate fatigue.
Super easy to order
Results make sense and come with tons of FOOD first options to help fix anything that's not optimal
High or low levels based on athletic lifestyle – again comparing you to people similar, not the general population
Hormone deficits that might be from over training or nutrition – examples are high cortisol or high inflammation markers
App gives you an easy way to track new tools you want to implement
Order the test online from InsideTracker –Code RUNTOTHEFINISH gets you 20% off
Then you'll just schedule a blood draw near you or do the mobile blood draw and wait a week or so for the results!
5. Massage Gun – ($100+)
See my budget massage gun recommendations >>
Prying the massage gun out of the hands of van 1 during our Ragnar relay proved to be quite the task. They were in love and enjoying every minute of loosening up stiff muscles from sitting in the van, working on tight glutes and all form of other issues.
There are a variety of these on the market, the most common name is Hypervolt which runs about twice the price for the exact same features.
Click on that link above and I'll share with you all the one's I've tested that aren't so pricey and yet work just as well!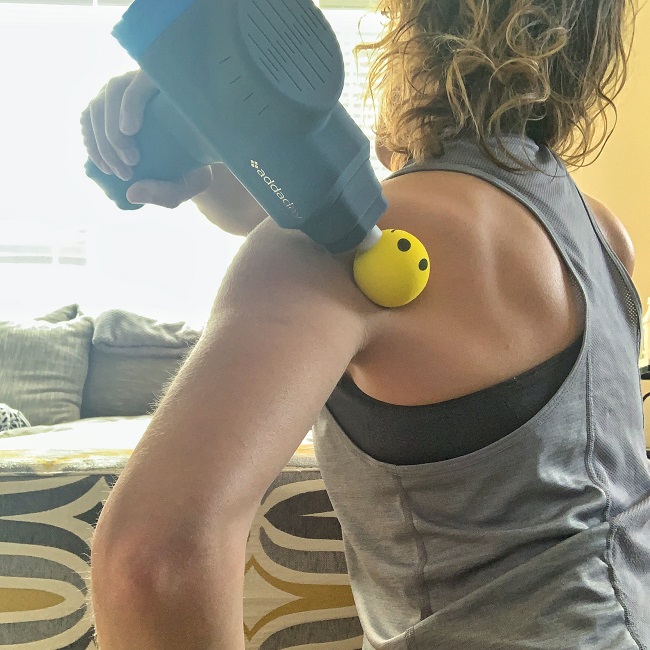 BONUS IDEA:
If they don't need a massage gun because they love a good foam roller, checkout the new vibrating foam roller from Hyperice.
I actually super love this product even at the higher price point. The action of vibration allows you to work a little deeper in to the muscles because it relaxes them.
Checkout it out on Amazon ($149)
6. UpRight Go Posture – ($79)
Checkout current pricing here >>
After recently sharing my own issues with my shoulders rolling forward due to all the computer and Instagram time, I was overwhelmed by how many of you felt the same!
That started an entire blog post and video with exercises to help all of us.
But in addition to that, you can't go wrong with that constant reminder.
Because honestly this one is a case where perfect practice makes it a habit! You'll start out with a daily training session and then use the device more as a reminder to hold that good form!
Ready to take your #running to the next level? Put these fitness gadgets on your #wishlist
Click To Tweet
7. Polar Vantage V2 – ($499)
Checkout current pricing on Amazon >>
Checkout current pricing straight from Polar (with chest strap) >>
Yes, I know most of you might be thinking about a Garmin.

But I'm slightly embarrassed to admit it, but about 1 year after getting the Garmin Fenix I was completely annoyed at the HR spikes it has all the time and switched to the Polar Vantage.
Having extensively tested the Fenix, Suunto, Coros, Garmin and Polar GPS watches….I'm telling you this one is a winner.
It's NOT as casual cute as the lusted after rose gold Garmin Fenix, but it's a stellar watch.
Most accurate wrist based heart rate sensor
Connects to smartphones to show notifications, weather and control your music
Super accurate GPS system
Will show altitude, elevation gain and loss
Optional HR strap – I do pull this out in winter when the blood flow in your wrist is much harder for any watch to read
What about FitBit fitness tracker??
I know they are cheaper and act very similar to an Apple Watch, so I did a deep dive to help you compare Garmin Vs FitBit.
Want to feel like you have access to an AlterG treadmill at home…well here is your chance! This company is actually based near me in Colorado, so I had the opportunity to install this device on my own treadmill for testing.
Take up to 45lbs of your body weight off
Allows for returning from an injury with less pressure
Allows you to practice speed work with less intensity (great for cadence)
Removable, so you only snap it on when needed
9. Bose Tempo Sunglasses with Audio ($249)
Checkout current prices and more details >>
You know I'm a fan of sunglasses for runners. It helps to reduce perceived effort, protects our eyes and in this case…they provide music!
When you want a one two punch in a great running gift.
David has been using these a ton while biking and LOVES them
Without a bud in your ear, you can still fully hear everything around you
Sunglasses still feel really light weight and you don't notice the added area for the music controls
Works with Bluetooth to stream from your phone, so you aren't loading music
Easy controls to start, stop, pause and forward
10. Prepared Healthy Meal Delivery ($65-$$$)
Besides getting regular massages, nothing has been more wonderful to my life in the past year than this.
It may not be directly TECHNOLOGY related, but whatever. I feel like having pre-made healthy meals delivered falls right in to the favorite gifts to help me run better category.
Frozen options that can quickly be heated
Filled with WHOLE foods
Gluten free, dairy free and still full of flavor
Eliminates stress during the week or after traveling
Ensures we get in good nutrition post run with some awesome smoothies
You can certainly set up a monthly subscription for them or just treat them with a one time box.
My top two picks (and yes I've tested a ton):
Running Gadgets Not To Buy
Since, I have tested and been asked about a few things that did not appear in the round up, I thought I'd give you just a little about why. And as always, you can decide for yourself!
Nuurv Insoles
I found them super hard to use with the large sensor on the side that is hard to remove and potential recommendations to change stride that are unnecessary.
Stryd Power Meter
While I think that it's an incredible tool, it's not necessary for 90% of the runners I know. The sensor gives you new metrics to train by power…so more data. If you haven't mastered perceived exertion or generally following heart rate I think it could be overwhelming.
Training Mask
Do you need to practice running in an oxygen deprived state. NOOOOOOOOO. It's not going to improve your running at altitude or make you faster, it's just going to make training harder.
Need more good fitness gift ideas?
Other ways to connect with Amanda
Instagram Daily Fun: RunToTheFinish
Facebook Community Chatter: RunToTheFinish
Sign Up to Receive a Weekly Newsletter with Top Running Tips and Laughs
This is not a sponsored post, but I have tested out lots of products for free because I love it all. It does contain affiliate links which are free to you and a way to throw some pennies at keeping RTTF going.