When it comes to fitness gadgets and gizmos for running, I admit to being a sucker for them all. I want to test each little click, clack and whiz to find out IF it really produces results.
From a minimalist in all other areas of my life this is absolutely amusing to my husband.
But at a great benefit to you! It means that I quickly dump the losers and keep only the things that work to share with you, saving you time and money! Because as my IG followers know, I'm too honest for my own good sometimes, but at least I know I'm never going to feel bad if you buy something I recommend.
Running Gadgets
Here are some top fitness gadgets and how they work to give you some ideas for creative gifts or maybe just to treat yourself. Because let's be honest…couldn't we all use a little pick me up lately!
In no particular order, you'll see details below for my top picks:
Safety bracelet
Wireless earbuds
Massage gun
Mattress topper for athletes
Insoles to improve your form
Alter G Alternative
Running Watch
Posture Corrector
It looks like a beautiful bracelet (or you can get a necklace), but with a quick push of a button you're notifying people that you're in trouble and need help.
I like the band style designed for fitness. It's super soft, easily goes on the wrist and I'd wear it all the time. In testing it, the bracelet never bothered me on a run and I truly liked the comfort of knowing it was right there.
Alarm can be removed to wash the bracelet.
Band comes in multiple sizes to find what fits you.
Hitting the button twice will send a text to up to 5 people you have chosen, along with your GPS location
No charge needed, this battery will last at least a year
I've done an entire post showcasing the different wireless headphone options for running, but if I had to pick one right now it would be the Jaybird Vista Wireless earbuds. These are going to provide a snug fit and when in the gym doing that strength workout to block out the extra noise and go the distance for your runs.
Can run with just one earbud and still get great sound
Waterproof and very sweatproof (I can vouch for that), but they still don't recommend them for swimming
FANTASTIC battery life. I forget to charge them frequently and can still go for a 4 hour trail run.
Portable charging case will give you even more life and is the reason I can forget to actually plug them in.
I love the features of this particular model because it allows you to adjust to your needs. This is by no means the old school idea that vibration will replace your workout, instead it's here to enhance!
Studies have shown it can increase bone density without increasing load
It allows you to increase the muscles contracting during an exercise for a great work load
Balance!! The thing we lose with age and the thing we need most as runners.
Sit with your feet up on it for a great post long run massage to shake things out!
This model gives you a ton of options because it will vibrate in different ways: up-and-down, side-to-side, massaging, and their 4D option that combines all three into one. It also comes with a remote for easy control, resistance bands to help you workout and even connects to your music to keep you going.
DISCOUNT!! Here's a 10% off code you can use on the link above as well! CQ5CGWT7 — is good through 11/25
Prying the massage gun out of the hands of van 1 during our Ragnar relay proved to be quite the task. They were in love and enjoying every minute of loosening up stiff muscles from sitting in the van, working on tight glutes and all form of other issues.
There are a variety of these on the market, the most common name is Hypervolt which runs about twice the price for the exact same features.
Click on that link above and I'll share with you all the one's I've tested that aren't so pricey and yet work just as well!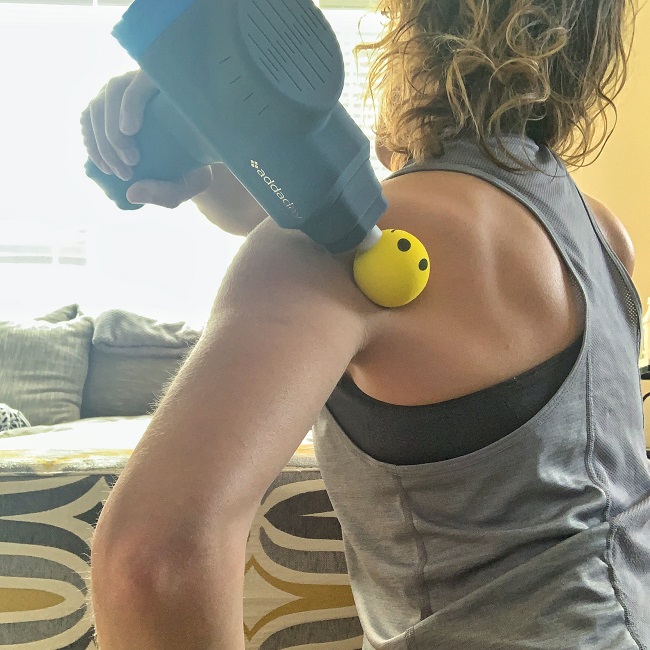 After recently sharing my own issues with my shoulders rolling forward due to all the computer and Instagram time, I was overwhelmed by how many of you felt the same! That started an entire blog post and video with exercises to help all of us.
But in addition to that, you can't go wrong with that constant reminder. Because honestly this one is a case where perfect practice makes it a habit! You'll start out with a daily training session and then use the device more as a reminder to hold that good form!
Ready to take your #running to the next level? Put these fitness gadgets on your #wishlist
Click To Tweet
Last year this was my big ask of Santa, who by the way did not pony up. However, in the Spring I received both the Fenix 5S and 945 to test, which means I've written a detailed review of them to help you figure what the best option is.

Honestly, the Fenix provides more lifestyle functions and looks like a watch you might wear more casually with everything you own. I have stuck with wearing it 90% of the time and while I still think it has more bells and whistles than I need, I do love the look of that rose gold.
And I'm slightly embarrassed to admit it, but about 1 year after getting the Fenix I was completely annoyed at the HR spikes it has all the time and switched to the Polar Vantage.
It's been far more accurate and that's due to some upgraded technology.
What about FitBit??
I know they are cheaper and act very similar to an Apple Watch, so I did a deep dive to help you compare Garmin Vs FitBit.
Want to feel like you have access to an AlterG treadmill at home…well here is your chance! This company is actually based near me in Colorado, so I had the opportunity to install this device on my own treadmill for testing.
Take up to 45lbs of your body weight off
Allows for returning from an injury with less pressure
Allows you to practice speed work with less intensity (great for cadence)
Removable, so you only snap it on when needed
I'm a little fanatical about sleep. The data proves it is our number one recovery tool and let's be honest we're all just a little nicer with enough of it.

I am HOT sleeper and as a runner things just hurt some days! So I decided a mattress topper was the first test our new home to help improve my sleep. Molecule is promoted by a ton of top athletes and I was will to fork over some dough to find out if it lives up to the hype.
So far…so good!
It keeps me cool (most toppers make me sweat)
It's soft, but in the right way.
It lessens pressure on those key areas like the hips
You can get $100 off with this link if you'd like to try it out! They also have a 30 day money back guarantee.
Sleep is so key for runners, read more about WHY we need it and how to get more.
This is one I say to keep on your WATCH next year list. It's got some great data, but I think a few things to work out based on my testing and from others I spoke to.
Ready to find out how to improve your running stride? Find out what your foot strike is doing without needing to go in to a lab?
Pictured in 3 in the graphic above they just look next level right? The insole slides in to your shoe and then a small pieces sits on the side of the shoe by your ankle to gather and transmit the data.
I've already tested these out and it's pretty cool to see exactly how my foot strike changes in different shoes. I was incredibly frustrated by taking the hard tracker piece off the sensor or the charger, and convinced I was going to break everything, so be ready for that. But otherwise pretty cool info.
Slips in to your current shoe
32 sensors then track your footfalls during the run
Using their paired app, you can analyze your technique
It also has a ton of other options to provide coaching and warnings if you're increasing load too much…all super cool, but for me the stride analysis is really where this shines.
Need more good fitness gift ideas?
What fitness gadget has been your favorite?
Do you like new gizmos?
Other ways to connect with Amanda
Instagram Daily Fun: RunToTheFinish
Facebook Community Chatter: RunToTheFinish
Sign Up to Receive a Weekly Newsletter with Top Running Tips and Laughs
This is not a sponsored post, but I have tested out lots of products for free because I love it all. It does contain affiliate links which are free to you and a way to throw some pennies at keeping RTTF going.