If you have a man in your life that's into fitness, then this complete guide to fitness gifts for men is going to come in real handy! It includes everything from small treats to splurges to make that special guy in your life happy.
The ladies get A LOT of attention around here, but that doesn't mean I'm not thinking about you gentlemen!
My husband has been a fantastic gear tester for many years with his time running, hiking and mountain biking, so lucky you we whipped up a great list of fitness gifts for men.
Part of our current lives is enjoying every outdoorsy, nook, cranny, and crag that Colorado has to offer, which has given him a wide range of gear to test over the years.
This is why I've only included absolutely tried and tested options so that you know your money won't go wasted.
13 Best Fitness Gifts for Men
This men's fitness gift guide is for those of you like me who have a man in your lives that may not need or ask for anything, but whom you sometimes just want to shower with goodies from small treats to splurges.
From cheaper options starting at $12 all the way up to higher-end products, this guide has something for everyone!
RunToTheFinish editors review and select each product mentioned in the article independently. If you buy through affiliate links, we may earn a commission which will help support our website. Learn more.
1. Neutral Running Shoes

Best Gift For: All Kinds of Runners
The OnCloud Monster is a great neutral running shoe with a nice amount of cushion! This makes it a great shoe for anyone who is starting to run or already running.
It's cushioned enough for great comfort, and although it's considered 'max cushioned' it's not so much that you lack stability when running.
However, in addition to the comfort provided by the cushion, it also features cutting-edge technology, a lightweight frame, and an energy-efficient springboard to ensure a steady and natural bounce with each step.
This Swiss brand has been getting better and better over the years, and this year in 2022 they released the OnCloud Monster in spring and it's been one of the best fitness shoes around since then!
Another interesting thing about these shoes is that the company claims the latest technology used in these shoes results in the perfect level of energy responsiveness and cushioning that can actually decrease the heart rate of runners!
So if you truly want to gift a runner some shoes in 2022, this option is great and they'll love trying these incredibly popular shoes!
2. Workout Socks
Best gift for: anyone who deals with blisters, trail runners or mountain bikers
Turns out David and I are both very picky sock people. I can't abide any seams along my toes and he can't stand socks that let pebbles in while he's on the trails. And that's where Injinji comes in!
Injinji is an incredible company based in California that has the best, most comfortable, and unique five-toe sock design on the market!
The five-toe design helps in many ways but the main benefit is that your toes can naturally spread out as a result, giving you stability and a sure footing on any uneven ground you come across.
David also discovered that these toe socks help to prevent blisters by putting a little more cushion between each toe.
So whether that special man in your life is a runner, hiker, or adventure enthusiast, they're going to absolutely love these socks!
3. Workout T-Shirt
Best gift for: all fitness enthusiasts
Women have so many options when it comes to workout t-shirts, but sometimes finding a good one to gift to a special man in your life can be tricky especially if you're not looking for the generic ones out there.
That's where this Rydell Ultimate Tee from Chubbies comes in! And although the fit can be a bit long, David absolutely loves how lightweight it is!
It's the perfect workout t-shirt for all kinds of activities, but is still casual enough to run errands in!
This shirt is antimicrobial, moisture-wicking, ultra-lightweight, and quick drying thanks to a proprietary Chubbies fabric. Perfect for going directly from the couch to the gym!
This perfectly sweat-wicking shirt is great for just about anyone into fitness, and trust me he'll thank you for it!
4. Workout Shorts
Best gift for: anyone needing to carry a phone while working out
Speaking out fitness apparel, every man who's into fitness needs a good pair of shorts that are reliable and comfortable. And when it comes to that, these Nathan Sports shorts are all of that and more!
These shorts are incredibly soft, stretchy, and comfortable making them the perfect option for just about everyone. David particularly loves these because of the handy phone pocket that he hasn't seen in any other shorts he's ever come across.
It even comes with a stay-put waistband which keeps it in place regardless of the exercise he'll be doing, making it perfect for running, cycling, or any other workout activities.
Checkout our full list of best men's running shorts >>
5. Waterproof Workout Jacket
Best gift for: Anyone into a lot of outdoor fitness activities
During a rainy trip this summer, I extolled the virtues of a rain jacket and David finally agreed this might be useful! Unfortunately, he started with one from Walmart and it was SO HOT.
That's where this jacket came in, it's such a massive upgrade for his mountain biking! When we think of waterproof jackets, we automatically imagine sweating profusely while wearing them.
But that's seriously not something you (or any man in your life) need to experience! This waterproof rain jacket from Nathan is breathable and lightweight while still protecting from the rain!
Plus it comes with plenty of pockets for storing your phone, keys, cards, and other valuables while out and about. The adjustable hood also comes in handy when David wears it, and I'll recommend it to just about anyone looking to get a waterproof jacket for the special man in their lives.
6. Fitness Tracker
Best gift for: Entry level runners and those starting a fitness routine
I'm sure you were wondering when a fitness tracker would pop up on the list because, of course, this truly is one of the most popular options when considering fitness gifts for men.
While many feel that an Apple Watch or Fitbit tracker might be a good option, consider the Garmin Forerunner 55 instead!
It's the perfect fitness gift for any fitness lover in your life, especially someone that's just starting out and needs to track things better.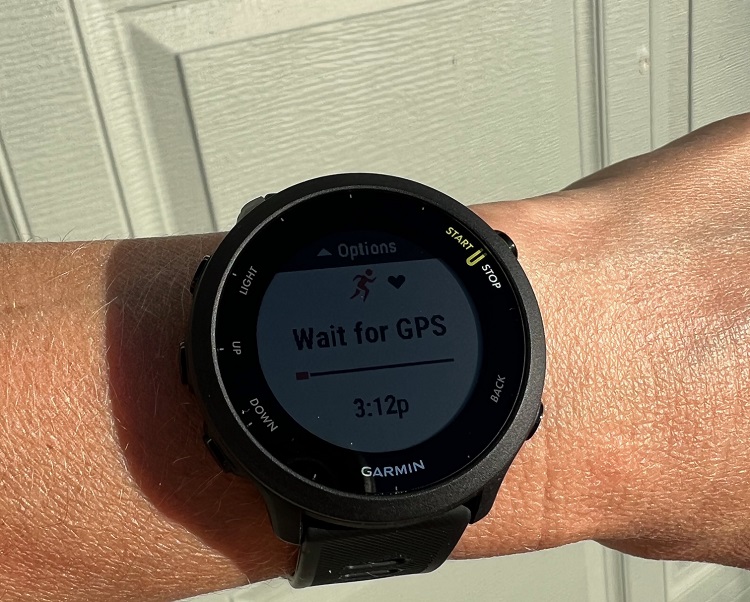 It is lightweight and also features a high-resolution color display, all at an incredibly good price. GPS is definitely one of the best features of this watch, as it allows you to monitor not only your pace but also your distance and intervals.
Even with sweaty palms, the simple button interface allows you to pause the timer or mark a lap during a run. Even better, the watch offers useful controls for your phone's music, allowing you to listen to music while running.
This watch also includes a number of wellness tracking features for tracking daily sleep, distance, calories burned, and steps. You can also calibrate your treadmill runs to ensure accurate results.
It's truly an incredible device featuring high-quality sensors and great battery life, making it the perfect watch that can help just about anyone track their fitness goals better.
It even comes with some handy smartwatch features like receiving notifications of incoming phone calls and texts right on your wrist while running. This is, seriously, one of the best gifts you can buy!
7. Hydration Pack
Best gift for: Spending long amount of time outdoors hiking, biking or running
If you know someone who's into fitness, then you know that they need to stay hydrated during those sweaty workout sessions. This is especially true for runners, cyclists, or anyone that's out and about for hours!
That's where a hydration pack comes in handy! And it's the perfect gift for any marathon runner you know.
This vest doesn't initially come with a hydration bladder, but any UD bladder works so after adding that it's made for a great day hiking pack. Instead, this one includes two hydration flasks which I like because you can put water in one and electrolytes in the other!
Just enough room for a couple of layers, the iPhone for Instagram sharing, Kind bars, Perky jerky, and any other essentials you'll ever need. This also has good holders for poles or ice picks for you more adventurous types.
Check out my complete list of hydration pack recommendations to find other options.
8. Hitch Mount Bike Rack
Best gift for: any cyclist
Know someone who loves cycling? Then they've probably mentioned to you how tricky it can be to transport your bike!
Our new SUV needed a rack so we could stop throwing the bike in the back and this one wins the day!
David did a ton of research and while this rack is more than others, it ensures that our bikes aren't banging into each other, it's stable and feels secure for long hauls to new trails.
We've now used it for a few years and it's held up extremely well and kept that very expensive mountain bike in good shape. So I'll highly recommend it as the perfect birthday or Christmas gift for the cyclist in your life.
9. Cycling Shoes
Best gift for: Mountain bikers
Speaking of cycling, for mountain bikers, these are absolutely the best clip-in shoes! Which means they can go faster, having more power in every pedal stroke.
The clips are level with the bottom of the shoe, making it easy to walk around in these, unlike a regular road cycling shoe.
David also isn't the spandex-wearing rider, so this is more in line with his personal style while still having all the functions of being lightweight, comfortable, and breathable.
10. Bike Computer
Best gift for: any cyclist
Easily mounting to the handle bars this cyclometer doesn't just show distance, it also allows you to import a map for navigation!!!
Since David is still learning the trails out here, we have a lot of hour long detours where I'm running around wondering where he's at…no more! Data can also be quickly synced to Strava for keeping track of rides and of course a little competition.
His favorite feature I was informed of at the moment is seeing the elevation, then he knows how much further he has to ride up before he gets to tear down!
SPLURGE ($299): If you're looking to go one step up, David got an upgrade to the Garmin 530 last year. It features color and touch screen, he was thrilled. It's come in so handy all year as we have tried new trails around Colorado where we can download a trail map in advance.
11. Adjustable Dumbbells
Best gift for: anyone working on building their strength
Can we be honest and say this is really a gift that I want us to have?? If you know any fitness lover that's looking to build a home gym, then this has got to be the best gift you can get them! Having tested out a few different brands, this is the one we recommend.
This particular set is really nice for a few reasons:
Each dumbbell can be adjusted from 5 to 52lbs
Saves a ton of space
I like the rubber in the middle of the handle
Currently includes a 1-year membership to their online platform to give you tons of workouts
They're really high-quality, making them a great gift even for Christmas. These adjustable dumbbells will truly be the perfect addition to anyone's home gym, especially those looking to do some strength training to build muscles.
12. Yoga Mat
Best for: anyone into yoga (or needing to stretch more!)
If you have a yogi in your life, then this is going to be one of the best gifts you can ever give them. Manduka is an incredible brand that's truly top-notch, making it a great option for gifts.
The yoga mat offers incredible traction and quality that will last for decades. It's truly something you invest in once and reap the rewards for years to come. It provides exceptional comfort and stability while doing yoga, making it a cult favorite.
Chances are that your yoga friend has heard of Manduka and probably has it on their wishlist already! It's
13. Bonus Gifts
A few EXTRA items that I'm starting to realize he thanks me for with each passing year because he never thought to buy these things on his own.
Yup, his first introduction to an actual system designed to help prevent dry skin, exfoliate that old skin (yes we need this more as we age), and some bars to really scrub away the dirt from the trails.
Dove Men's Care Face Lotion ($12)
This is the only way I've ever gotten him to consistently wear sunscreen! It's already in his lotion, which isn't too heavy and is made for men so he's happy to use it!
And last, but certainly not least, anyone at all into fitness is probably suffering from some sore muscles from time to time. That's when a foam roller is truly the ultimate gift!
This vibrating one comes with four vibration frequencies to help stimulate and loosen up muscles pre-workout, and then help reduce and release tension after a workout.
It's also portable enough to easily be stashed in a gym bag. Plus, TriggerPoint products last over the years, and it's a great gift that will keep on giving.
Do you put a lot of thought into gifts? Do you feel like we're harder to buy for as we age?
I say experiences are a top notch gift, but in this case he needs the goodies to have the experiences!
Still looking for more gift ideas?
Other ways to connect with Amanda
Instagram for daily motivation RunToTheFinish
Pinterest for more recipes and running RunToTheFinish
Facebook stay up to date with running news RunToTheFinish
Many items were provided free for testing, but no products are paid inclusion, all opinions are my own and that of testers like my husband.