I know, I know, I've already given you gift ideas for the new runner, the injured runner, the have everything runner, the guy in your life…but after spending the last three years in Denver, I now realize that my trail runner needs are different and it deserves a special trail running gifts guide!!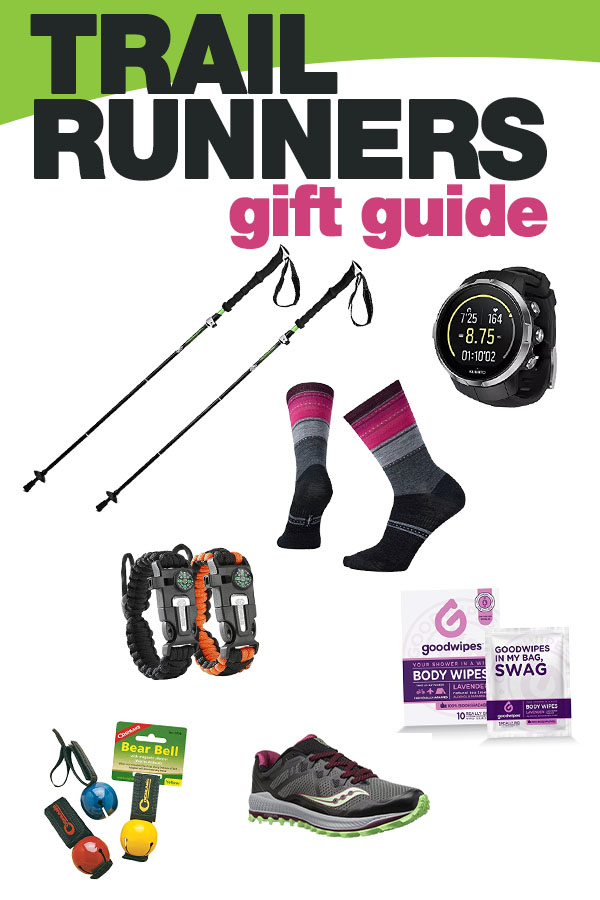 Now since a lot of the time, I feel like my runs are really more like big hikes, it's fair to say a lot of what I've picked out are perfect hiking gifts too! They're generally things that are going to make our time out in the wilderness easier or safer.
Collapsible Trekking Poles ($29)
I didn't realize what I was missing by not having poles until I finally borrowed a pair during my daredevil Costa Rica trail running trip. Suddenly I was much more confident going downhill, which is my major fear! Since then I've gotten my own pair for the Colorado trails and I LOVE having them to support me.
There is a HUGE variety in price point of poles based on weight and quality. I opted for a more basic set to start, ensuring that I was truly using them before I moved up to something that many ultrarunners in the Alps use.
Saucony Perigrine Trail Shoe ($120)
In running I quickly learned how important the right shoe was for my comfort and on the trails I swear it matters even more for blister prevention and stability. I love these for the cushion and grip, but also because I feel fine hiking in them as well as running so I don't always need to bust out the big hiking boots.
Smartwool Socks ($21)
Oh baby, I love talking about socks as gifts because they seem so silly…but are appreciated beyond belief because they tend to feel like an indulgence even though we know they keep our feet happy. These socks in particular are going to pull away the sweat keeping your feet dry, which means warmer in the winter or cooler in the summer.
Suunto Spartan Sport HR ($299)
You might think any old GPS watch will do…and to an extent of course you're right. But I love that the Suunto watches include an altimeter which means we can better track all the elevation gains. It also has a phenomenal battery life at 26 hours, so you can take it on weekend camping trips where you'll be running or hiking, without needing a recharge.
Good Wipes ($10)
Once you start using these, you'll wonder why you didn't have them sooner. We pilled these in our van during Ragnar and now nearly all of us travel with them in our purses, bags and to the trails! It's a quick way to clean off, without feeling sticky or leaving any kind of residue on the skin…no more stink on the drive home from your adventures!
Survival Paracord Bracelet ($10)
Talk about a small gift that packs a punch! The Nexfinity One Paracord is worn just like a normal bracelet, but can be used to start a fire, has a whistle, a compass, small tools and an SOS LED light. I've seen some dog collars that work this way, but love the idea of a bracelet I can simply slip on for trail runs that might save me if something goes wrong.
Bear Bell ($3)
A friend of mine picked one of these up and I thought it was genius. This little bell has a magnetic strip at the bottom, so instead of being like a cat tinkling around it holds the ball of the bell in place to stop the ringing while you run. When you are in a spot, like say my late night Ragnar where there were animals, you can allow it to ring!
Any fabulous hiking gifts or trail gifts you've received?
Other ways to connect with Amanda
Instagram Daily Fun: RunToTheFinish
Facebook Community Chatter: RunToTheFinish
Get more running tips: Pinterest