If you have a trail runner in your life, this complete guide to gifts for trail runners will give you everything you need to give them a thoughtful and useful gift!
The more years we spend in Colorado the more my gear closet has grown. This is also to say that my list of trail running gifts, wants, and needs expand with each season.
Trail runners need special gizmos and gadgets to make sure they not only have a good experience but an injury-free and safe one! I've gathered the best of all major categories of essentials and accessories every trail runner would love!
So read on for the ultimate gifts for trail runners of all ages and experience levels, from beginners to marathon runners.
Best Gifts for Trail Runners in 2022
If you're on the hunt for the perfect gift, here are my top picks (as a running coach) and someone with years of experience in running.
A lot of the time, our trail runs are really more like big hikes. So it's fair to say a lot of the run gear I've picked out will make the perfect hiking gifts too!
They're generally things that are going to make our time out in the wilderness easier or safer. And don't worry I've got you covered from some of the big splurge items like the pack to smaller equally great gift ideas like anti-chafe creams.
I've mentioned the prices and listed the best option by category so that it's super easy for you to find the right one for your favorite trail runner!
RunToTheFinish editors review and select each product mentioned in the article independently. If you buy through affiliate links, we may earn a commission which will help support our website. Learn more.
Best Collapsible Trekking Poles for Trail Runners
I didn't realize what I was missing by not having poles until I finally borrowed a pair during my daredevil Costa Rica trail running trip.
Suddenly I was much more confident going downhill, which is my major fear! Since then I've gotten my own pair for the Colorado trails and I LOVE having them to support me.
If the trail runner in your life doesn't have a collapsible pole yet, this is going to be a life-changing gift for them and they'll thank you for life!
There is a huge variety in price points of poles based on weight and quality. The key is they must be collapsible and then easy to put back together. I've got my top two picks that you should definitely check out:
Best Overall Trekking Pole: Black Diamond ($199)
This is definitely the best collapsible trekking pole on the market, especially for ultramarathon runners and technical trails. It's made of carbon, making it ultra lightweight but it still folds up easily and is quite portable!
It has a great grip, thanks to the nonslip EVA foam grips with extensions that it comes with. This makes it great while using it on steep inclines. The built quality is great, and whoever you gift it to will be using it for years to come!
Additionally, they're super light which is much appreciated the longer you go.
Best Inexpensive Collapsible Trekking Pole for Beginners – Trekkology ($42)
If you're looking for an inexpensive, but durable option instead, this one by Trekkology is exactly what you need! It comes in a set of 2 and also has a great cork-texture grip that's moisture wicking and helps keep the hands drier even when sweaty.
The firmer grip also comes in handy in muddy areas and other tricky terrains. It might not be built with carbon or ultra-lightweight, but it still weighs less than a standard umbrella and is a great collapsible trekking pole for beginners!
Best Hydration Vests for Trail Runners
If there is one piece of gear I am asked about more than any other, it's definitely running hydration vests!
They are an investment and so many runners want one, but won't always spoil themselves with one. So if you get one of us these, you know we're going to feel extra special!
For trail runners, you want to take into account how far they often go and how much gear they need to pack along. I've got two great options that should be perfect for your favorite trail runner:
This one is my personal favorite for the easy access to the front pockets it comes with. It has 2 flasks and can also carry a bladder. There is some room in the pack for a small wind jacket and gloves to be stashed, but not a ton of extra for a SUPER LONG mountain day. Plus, the vertical pocket is ideal for storing a trekking pole.
When it comes to running hydration, Nathan is a fantastic brand and among the biggest and most well-known. Their Pinnacle is regarded as one of the best on the market. It is available in two sizes: 4L and 12L.
The long fit of the pack guarantees that weight is well distributed and is concentrated on the back for a more comfortable run. It's quite simple to store away important items because of the 12 exterior pockets, including two water-resistant front pockets with zips.
The material chosen is soft and stretchy, with a focus on comfort and a bounce-free run. It's noted for fitting like a T-shirt and remaining comfortable even on long runs.
Best Hydration Vest for Long Trail Runs: Salomon Hydration Vest ($160)
This is the hydration vest I'd pick for a big hike or a super long trail day where you need to account for a variety of weather options. It also has 2 front flasks, but then has a much larger backpack.
It's not ideal for short easy trail days but will be a lifesaver on longer runs when you need to store more. What's best is that even it has an adaptable gear carrier for any equipment!
Best Trail Running Shoes
What gifts for trail runners list would overlook shoes?! The key is to ensure you know their size and buy from somewhere with an easy return policy!
As runners, we're either rotating our shoes, looking for better ones, or needing a replacement because we've worn out our old ones. So, if you decide to gift us a pair of new trail running shoes, you can rest assured you're going to make us really happy!
In running, I quickly learned how important the right shoe was for my comfort and on the trails! I swear it matters even more for blister prevention and stability.
I love these for the cushion and grip, but also because I feel fine hiking in them as well as running so I don't always need to bust out the big hiking boots. They come in a bunch of different colors, and I'm sure you'll find something that fits the trail running you're gifting!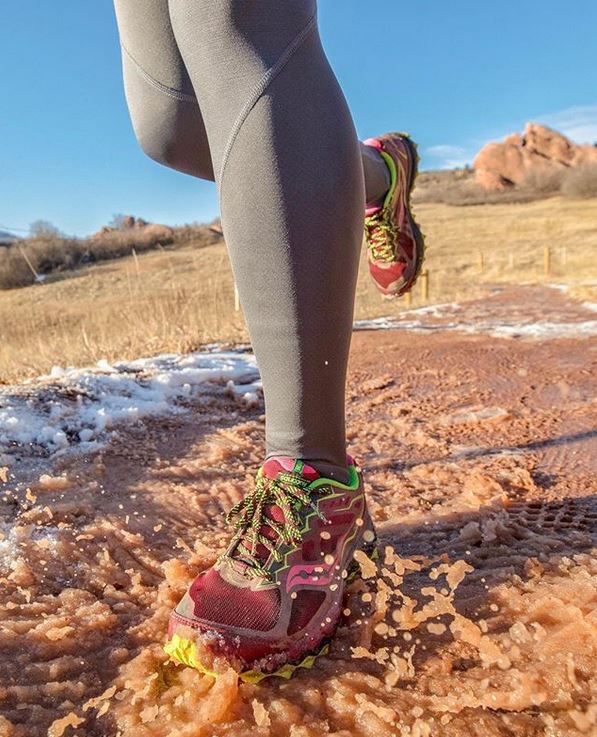 I absolutely love the cushion that these Hoka trail running shoes provide, especially since I'm often hitting the trails after a week on the roads!
These are great for less technical trails and those of us putting in a lot of mileage. They are another favorite of ultra runners, who appreciate the lower heel-toe drop and the built-in stability of the Hoka style.
Best Running Watch for Trail Runners
Nothing says I love you like gifting the trail runner in your life with a gadget that'll improve their runs in more than a dozen ways! It's something that, I promise you, is on every runner's wishlist and it's a great option if you're looking to splurge a bit on your loved one.
Best Overall Running Watch: Garmin Enduro ($499+)
This GPS watch from Garmin stands out from the crowd, thanks to its solar-charging capabilities! But even without it, the battery life is excellent with up to 70 hours in GPS mode, and 50 days in smartwatch mode!
It comes with all the standard features any trail runner would need for GPS accuracy, and other features such as VO2 max, blood oxygen, and everything in between.
It's also one of the highest price points, which might make you think twice. But it's a big hit with those spending long days on the trails.
Buying tip: Practically every single year, Garmin does a good sale around the holidays, so keep an eye out and grab a great deal!
Second Best Running Watch: Polar Vantage V2 ($410+)
If you're looking for a great GPS watch, but maybe not something as intense as the Garmin Enduro, then this Polar watch is the one you're looking for!
I can't say enough good things about this watch; in fact, I've even written a whole review on it. I love this watch because it's the one with the best wrist-based HR reading technology currently in any watch on the market!
It can also track heart rate based on 130+ different sports activities, including swimming and cycling too! This makes a great option if you know any triathletes as well!
It gives a comprehensive view of how your trail run went, including the strain it put on your body and how to recover afterward, including insights into your sleep too! This makes it a great watch to avoid injuries and overtraining.
If you're looking for more options, here is a full breakdown of the Best Trail Running Watches.
Best Budget Gifts for Trail Runners
If some of the products I've mentioned till now were a bit out of your budget, don't worry I've got your back! Here's a section with all the trail running accessories we runners need, but usually don't buy for ourselves.
All the gift ideas here are under $40, but will still make the trail runner in your life super happy!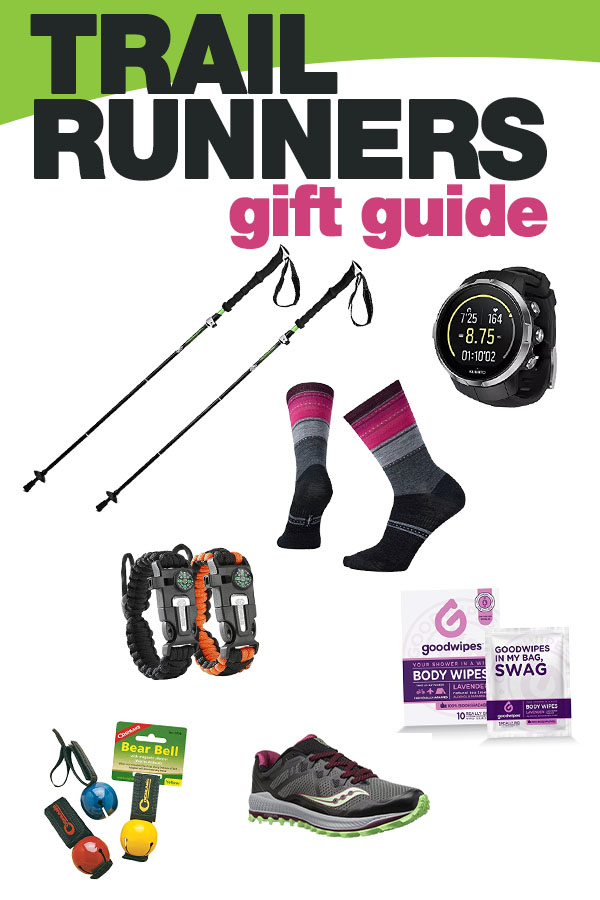 Best Trail Running Socks: Smartwool Socks ($21)
Oh baby, I love talking about running socks as gifts because they seem so silly…but are appreciated beyond belief. Because they tend to feel like an indulgence even though we know they keep our feet happy.
These merino wool socks in particular are going to pull away the sweat keeping your feet dry. Which means warmer in the winter or cooler in the summer.
Helllllloooo perfect winter running item. It's also just kind of hilarious.
Covering the head, with an optional ear flap, but still a spot for our ponytail to hang out! There's not back snap, it fits more like a beanie, which is perfect for keeping in that warmth.
Most trail runners I know aren't put off by the weather, which just means we need the right gear to keep on enjoying what we do! And Trailhead is a brand with a great guarantee and return policy, so you know it's an item to last.
Talk about a small gift that packs a punch! The Paracord is worn just like a normal bracelet, but can be used to start a fire, has a whistle, a compass, small tools, and an SOS LED light.
I've seen some dog collars that work this way. But love the idea of a bracelet I can simply slip on for trail runs that might save me if something goes wrong.
Best Wipes for Trail Runners: Good Wipes ($10)
Once you start using these, you'll wonder why you didn't have them sooner.
We pilled these in our van during Ragnar and now nearly all of us travel with them in our purses, bags, and to the trails!
It's a quick way to clean off, without feeling sticky or leaving any kind of residue on the skin…no more stink on the drive home from your adventures!
It's not what you think.
While packets of nut butter are 100% an amazing gift, we are talking about a balm to keep us from chafing. It just has a hilarious name.
But in all honesty, we runners definitely need our chafing creams to make our running experience enjoyable! It's a great gift that's under $10 but will still be super useful!
Best Fun Accessory Under $5: Bear Bell ($5)
A friend of mine picked one of these up and I thought it was genius. This little bell has a magnetic strip at the bottom. So instead of being like a cat tinkling around it holds the ball of the bell in place to stop the ringing while you run.
When you are in a spot, like say my late night Ragnar where there were animals, you can allow it to ring!
Best Training Gifts for Trail Runners
As runners, we're always trying to educate ourselves more to not only get the most out of running but to also keep ourselves free of injuries!
If you were to gift your favorite trail runner one of these, I'm sure it'll make a huge impact on their running journey.
If you know a trail runner that's about to take on their first trail race or ultramarathon, this course has everything they'll need to successfully tackle it!
It starts from the beginning and lays down everything they'd need from safety tips to how to run with poles, training plans, gear guide, and even one on one coaching access! For the price, it's a steal and it's the perfect gift for any occasion!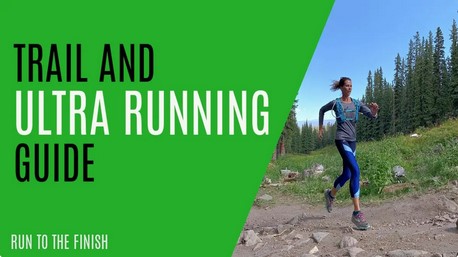 When it comes to staying injury-free, nothing is as important as strength training to stay strong, improve any muscle imbalances, and build strength to handle trails better.
It truly is the key to staying free of injuries, so if you know someone you care for, I'm sure they'll truly appreciate this great, thoughtful gift.
Still looking for more ideas?
Other ways to connect with Amanda
Instagram Daily Fun: RunToTheFinish
Facebook Community Chatter: RunToTheFinish
Get more running tips: Pinterest