The more years we spend in Colorado the more my gear closet has grown. Which is also to say that my list of trail running gifts, wants and needs expands with each season.
I know, I know, I've already given you gift ideas for the new runner, the injured runner, the have everything runner, the guy in your life…but we trail runners deserve our own specialized list of fun little toys, gadgets and gizmos.
Trail Running Gifts
A lot of the time, our trail runs are really more like big hikes. So it's fair to say a lot of the run gear I've picked out will make the perfect hiking gifts too!
They're generally things that are going to make our time out in the wilderness easier or safer. And don't worry I've got you covered from some of the big splurge items like the pack to smaller equally great gift ideas like anti chafe.
Collapsible Trekking Poles
I didn't realize what I was missing by not having poles until I finally borrowed a pair during my daredevil Costa Rica trail running trip.
Suddenly I was much more confident going downhill, which is my major fear! Since then I've gotten my own pair for the Colorado trails and I LOVE having them to support me.
There is a HUGE variety in price point of poles based on weight and quality. The key is they MUST be collapsible and then easy to put back together.
Cheap option for beginners – Trekkology ($39)
Super lightweight option for ultra runners and technical trails — Black Diamond ($199)
Hydration Vest
If there is one piece of gear I am asked about more than ANY OTHER it's running hydration vests.
They are an investment and so many runners want one, but won't always spoil themselves with one.
For trail runners, you want to take in to account how far they often go and how much gear they need to pack along.
Nathan Women's Hydration Vest – ($175) this one is my personal favorite for the easy pockets upfront. It has 2 flasks and can also carry a bladder. There is some room in the pack for a small wind jacket and gloves to be stashed, but not a ton of extra for a SUPER LONG mountain day.
Salmon Hydration Vest – ($160) this is the one I'd pick for a big hike or a super long trail day where you need to account for a variety of weather options. It also has 2 front flasks, but then has a much larger backpack. Not ideal for short easy trail days.
Trail Running Shoes
What gifts for trail runners list would over look shoes?!
The key is to ensure you know their size and buy from somewhere with an easy return policy!
Saucony Perigrine Trail Shoe ($120)
In running I quickly learned how important the right shoe was for my comfort and on the trails I swear it matters even more for blister prevention and stability. I love these for the cushion and grip, but also because I feel fine hiking in them as well as running so I don't always need to bust out the big hiking boots.
Hoka Speedgoat($145)
I LOVE the cushion that these provide. Especially since I'm often hitting the trails after a week on the roads.
These are great for less technical trails and those of us putting in a lot of mileage. They are another favorite of ultra runners, who appreciate the lower heel toe drop and the built in stability of the Hoka style.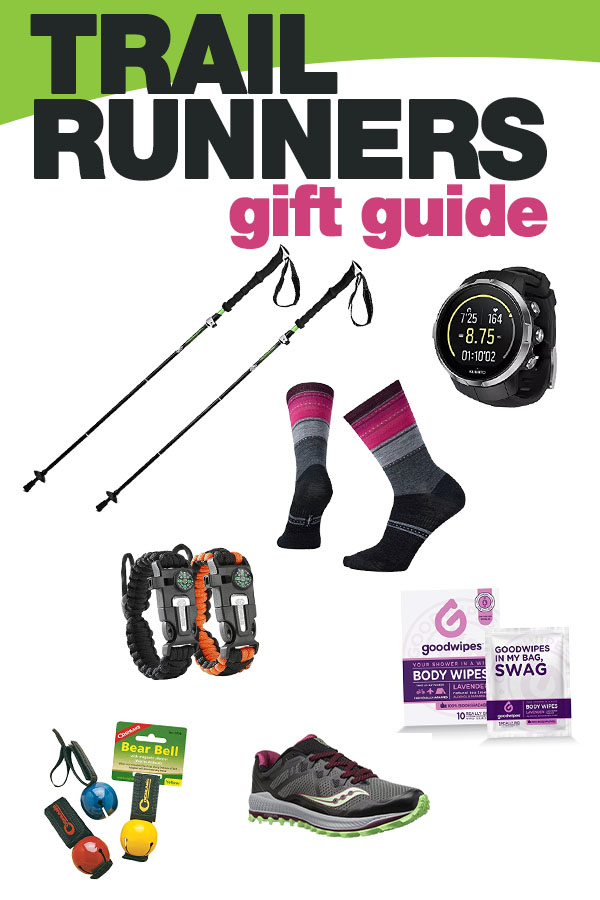 Running Watch
Nothing says I love you, like I want you to be able to track every teeny tiny bit of your data.
If battery is genuinely your biggest concern, then this solar charged running watch is going to have all the possible features you could need for GPS accuracy, VO2M max, blood oxygen and everything in between.
It's also one of the highest price points, which might make you think twice. But it's a big hit with those spending long days on the trails.
See the current best prices for Garmin Enduro >>
** hint: every.single.year. Garmin does a good sale around the holidays.
****secondary tip: if you don't need something that intense, I just cannot say enough good things about the Polar Vantage V 2.
Here is a full breakdown of the Best Trail Running Watches >>
Must Have Accessories
Welcome to our I've have a budget section of gift for the trail runner in your life.
Oh baby, I love talking about running socks as gifts because they seem so silly…but are appreciated beyond belief. Because they tend to feel like an indulgence even though we know they keep our feet happy.
These merino wool socks in particular are going to pull away the sweat keeping your feet dry. Which means warmer in the winter or cooler in the summer.
Helllllloooo perfect winter running item.
Covering the head, with an optional ear flap, but still a spot for our ponytail to hang out! There's not back snap, it fits more like a beanie, which is perfect for keeping in that warmth.
Most trail runners I know aren't put off by the weather, which just means we need the right gear to keep on enjoying what we do! And Trailhead is a brand with a great guarantee and return policy, so you know it's an item to last.
It's not what you think.
While packets of nut butter are 100% an amazing gift, we are talking about a balm to keep us from chafing. It just has a hilarious name.
Which means I guess they'll laugh and think of you as they're spreading it between their toes. Aweee.
Once you start using these, you'll wonder why you didn't have them sooner.
We pilled these in our van during Ragnar and now nearly all of us travel with them in our purses, bags and to the trails! It's a quick way to clean off, without feeling sticky or leaving any kind of residue on the skin…no more stink on the drive home from your adventures!
Talk about a small gift that packs a punch! The Nexfinity One Paracord is worn just like a normal bracelet, but can be used to start a fire, has a whistle, a compass, small tools and an SOS LED light.
I've seen some dog collars that work this way. But love the idea of a bracelet I can simply slip on for trail runs that might save me if something goes wrong.
A friend of mine picked one of these up and I thought it was genius. This little bell has a magnetic strip at the bottom. So instead of being like a cat tinkling around it holds the ball of the bell in place to stop the ringing while you run.
When you are in a spot, like say my late night Ragnar where there were animals, you can allow it to ring!
Run Gear
Let's talk about a few additional pieces of clothing that they will absolutely appreciate for a winter run.
✅ Long sleeve shirts come in a wide variety of weights, but are perfect for layering.
Brooks has some great technical tops in lightweight to thermal and you'll often find them on sale here!
Additionally, a running tights base layer is great to put under another layer of running tights to double up without the bulk.
Still looking for more ideas?
Any fabulous hiking gifts or trail gifts you've received?
Other ways to connect with Amanda
Instagram Daily Fun: RunToTheFinish
Facebook Community Chatter: RunToTheFinish
Get more running tips: Pinterest