Are you in search of the perfect wellness gift ideas? Do you have a friend or loved one in your life that loves that at-home spa feeling? Someone who is into self-care and wellness, but maybe spends more time taking care of others than they do for themselves?
Then look no further, because this is a complete guide to the best wellness gifts and self-care gifts that are perfect for the holiday season or maybe just to show your love and care for them.
And that person doesn't always have to be someone else. Maybe that person is you, and maybe you deserve to gift yourself the perfect gift this year.
Having something more physical in mind? Checkout these options too: fitness gifts for women or fitness gifts for men.
But if wellness gifts, self-care, focusing on mental health, and healthy habits are your thing (or your friend's), then this gift guide is all you'll ever need!
Whether you want to spoil someone silly or just add a little goodness to their year, we've got you covered here from $ to $$$. These gifts are all about reminding someone you love that they're worth being taken care of and giving them a chance to test out something they might not have on their own!
I've broken them down by category and type to give you loads of gift ideas and inspirations to choose from so that you can find the perfect wellness gift effortlessly.
Best Physical Wellness Gifts
Best Mental Health Wellness Gifts
Best Sleep Wellness Gifts
Best Self-Care Gifts
Best Mindset Wellness Gifts
Best Physical Wellness Gifts
First of all, let's start with wellness gift ideas that make the space around us good and make us physically feel good too. Here are my top gifts for health nuts ranging from $14 to $200.
#1 Best Plant Gift for Wellness – Spider Plant ($14)
Bring the outdoors inside with a beautiful indoor plant! One of the best (if not the best) indoor plants that are a great choice is spider plants!
The spider plant is a classic indoor plant that cleans the air. It has many benefits, so this beautiful plant with striped leaves is the perfect addition to, literally, every single home.
In addition to being an easy-to-grow favorite, this plant is powerful at eliminating formaldehyde, toluene, and xylene, which are all pollutants present in a variety of synthetic textiles, paints, and adhesives around the house. They have also been shown to reduce carbon monoxide levels.
Spider plants are one of the simplest and most resilient indoor plants you can grow. They prefer temperatures between 55 and 80°F, and can even grow in artificial light! Just keep them away from direct sunlight and you're good to go.
What's best is that they're also non-toxic to pets, unlike many other indoor plants. Whether you're buying this for yourself, or for a friend or loved one, this pretty plant will make anyone's day. When it comes to gift-giving, this is an easy choice for almost anyone.
Growing your own herbs and plants indoors can be incredibly therapeutic. But, unfortunately, for many of us, it can be pretty intimidating!
That's where this indoor smart garden comes in! You can grow up to 12 plants in this indoor system, and since it's hydroponics it requires no soil, which means no pests either!
And if you're always worried about when to water your plants, don't worry this system comes with a 4.5L indicated water tank that automatically waters your plants, thanks to its built-in water pump!
It's a full-fledged system with 2 growing modes via built-in LED lights and a fan to disperse heat and help stimulates the natural sunlight spectrum, giving you fresh, healthy herbs in the comfort of your own home.
Whether you decide to get this one for yourself or for someone special, it's the perfect gift for someone looking to grow plants indoors without the hassle!
#3 Best Overall Fitness Tracker –  Garmin Forerunner 55 ($199)
Garmin is the holy grail of fitness tracker for so many runners, but it's great for tracking all kinds of fitness activities. If you know someone who wants to up their running game, track their sleep for overall health improvements, and dive deeply into fitness stats, then they'll love the Garmin Forerunner smartwatch.
It's a great fitness device with a built-in GPS that tracks your pace through the PacePro™ GPS-based guidance feature, monitors heart rate, and and provides personalized workout guidance. With built-in activity profiles, it's really versatile and is great for different kinds of workouts.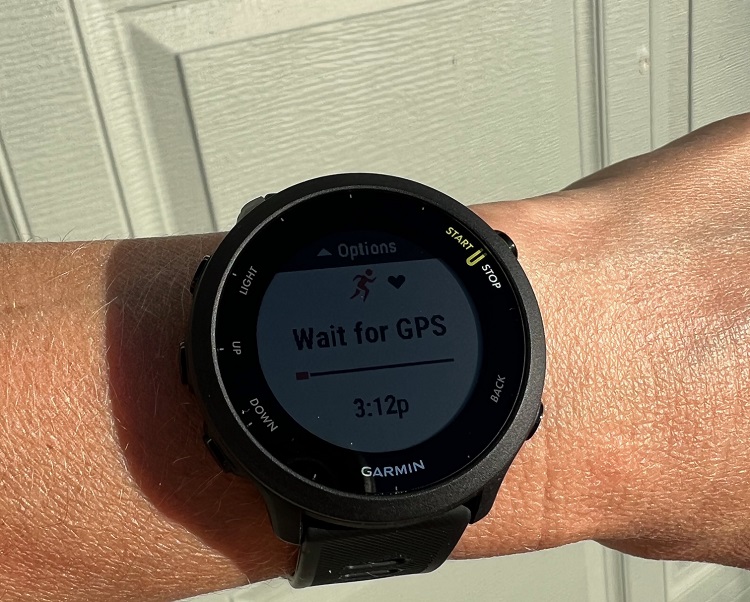 Garmin is known for having a much better battery life than Apple watches. This smartwatch has a battery life of up to 2 weeks in smartwatch mode and up to 20 hours in GPS mode, making it a favorite for marathoners, triathletes, and other endurance enthusiasts.
With other features like sleep tracking, an alarm, data fields, and customizable watch faces, it's great for everyday use, too.
GPS that tracks your pace, and distance, and allows you to set goals and check your stats. With 20+ exercise modes, it's really versatile and is great for different kinds of workouts.
#4 Best Fitness Tracker That Looks Like a Smartwatch – Fitbit Versa 4 ($200)
Some people are more drawn to the style of this tracker because it can be worn all day and looks more like a smartwatch than a fitness tracker.
It's a great fitness device with a built-in GPS that tracks your pace, and distance, and allows you to set goals and check your stats. With 20+ exercise modes, it's really versatile and is great for different kinds of workouts.
This smartwatch can also measure your heart rate and uses it to measure active zone minutes to gauge your exercise efforts. It can then alert you when you need to step it up to increase the intensity so you can make the most out of any workout you're doing.
You can even store and play music (including Spotify!) on your wrist, receive text and app notifications, or even get a call. Whoever will receive this as a gift is definitely going to feel loved and spoiled!
Whether they love yoga, long hikes or runs, phone pockets are the new must have!
Listen I have such a short torso that I don't generally love anything high waisted.  Which is why I like finding something that's a bit more mid-rise! But I will absolutely say that I love my full length Sweaty Betty tights, they look incredible thanks to their "bum sculpting"
They don't fall down and are just comfortable for the run.
Also available in full length
Absolutely found that they stayed put with the phone in the side
Bum sculpting is another of their big benefits
Great variety of colors
#6 Best Plant Based Meal Delivery Service – Splendid Spoon
When it comes to health and wellness gifts, a meal delivery service is one of the best gifts you can give. There's no way to take care of your wellness more than the food you eat. Splendid Spoon is an incredible meal delivery service that focuses on meals with plant-based ingredients that are absolutely delicious.
This has become of the best decisions of my year. Go here to get $60 off an on-demand box or set up a subscription if you want to spoil them for the year.
It's a complete time saver when it comes to prep and grocery shopping, and I've saved so much by having these meals instead of dining out.
You get a bunch more whole foods options that are fresh and healthy, without a lot of effort. In case you have any food allergies, e.g., or are vegan, this is one of the best options out there.
Adding variety to your weekly meals is a big one for me and, honestly, I absolutely loved everything I've eaten from here. So if you gift this to anyone, it'll truly help them make healthy eating an easy, convenient, and organized option throughout the week.
Nothing is more wonderful after a long run that a hot mug filled with a turmeric latte while I jump into my compression tights and grab a book. I mean you feel the zen already, right?
But alas that's just not how every day goes, so these packets are designed to make things FAST and EASY and DELICIOUS.
No more spending $7 a day and needing to stop at the coffee shop, they can enjoy this drink any time from home and it's dairy free!! Designed to help with things like joint pain, it's just another tasty recovery option that they can enjoy
What's better than being outdoors? Staying cozy, dry, and cozy while you're enjoying your favorite adventure! It's the perfect thing to take with you when you're out camping, going to a festival, or just having a picnic under the stars.
It has a 100% recycled polar fleece lining to keep you warm and a nylon exterior with a water-repellent finish to keep you dry on those damp days or nights. Plus, it's machine washable, making it super easy to care for.
As an added bonus, it has a mini-buckle that turns your blanket into a hands-free cape!
Personally, I like the ENO LED blanket because how cool to light up your beach nights!
Essential oils make such great gifts for health! A couple of essential oils have been game-changers for me.
Lemongrass helps with sore muscles, a nighttime blend definitely improves my sleep, and ohhhh the digestion for travel!
With the Saje set, I have small doses of some of the most common ones to use on the road. Taking care of digestion with all the new food, headaches from the travel, and well potential pain from adding in some extra runs to explore new places.
Best Mental Health Wellness Gifts
The next category is all about mental health! Let's look at the best wellness gifts you can get for mental health in 2023:
If you want the perfect wellness gift that helps build healthy habits with a focus on mental clarity, this is the gift you're looking for. When it comes to guided meditation, no app beats Headspace on the market.
Have a super stressed-out loved one in your life? I do. He has major sleep issues and that concerns me on so many levels, which is why this was such a great mental health gift for him.
Not only does it have guided meditations, but it has them for a variety of topics. Meditation has been proven to have a ton of health benefits, and I've found that from experience too.
I realize I simply feel more productive if I'm selecting one that's about work productivity or mental thoughts for athletic performance. And as noted they also have a number designed around sleep which can help when you wake up with that racing mind.
#11 Best For Avid Readers – Kindle Paperwhite ($140)
Not your typical wellness gift, or is it?? I mean personally, I'm hoping this is the one blog post that Santa reads because I want this!
As an avid book reader, I've stayed away from screens partially due to the blue light issue noted above! The Amazon Kindle Paper White helps to make things easier to read and eliminate those issues.
While I might still like the touch of a book at home, too many times now on trips I've finished my book and been stuck with nothing to read. With the Kindle, I can grab a free book from the library or download a book from Audible thanks to my prime membership and be on my way!
Bonus points if you get them an audible membership!
What better way to help combat the winter blues than with this sleek and portable light therapy lamp? Bright light therapy has been shown to fight off Seasonal Affective Disorder (SAD) by providing the light your body craves.
The UV-free, LED full spectrum light mimics natural sunlight, giving you a mood boost even when it's gray outside. Whether you're working from home or just don't get enough sunlight during those short winter days, the HappyLight Touch Plus adds a little boost to your day, making it the perfect addition to your daily wellness routine.
I bought this for my mom a few years ago and she's loved it through the long Mid-West winters.
#13 Best for Stress Relief and Recovery – CBD ($30-200)
CBD products are a powerful way to help the body recover.
Have a friend who always seems like their just a bit in the recovery hole? Not quite recovered from that last long run, but still dying to get in their next one….probably because it saves their sanity?!
Time to help them not only recover better but sleep better and get a little mood boost with this healthy gift from Beam.
Beam Revive Capsules – LOVE this at night to get in turmeric and some CBD for big relaxation and inflammation lowering
CBD Oil – I've long used Resilience CBD and AMANDARUN20 gets you 20% off. It is a lower dosage than Beam, which is great for those new to it and anyone worried about any THC.
CBD Bath Bomb– If you haven't napped in a while, let me introduce you to your new best friend. I tried the recovery bath bomb after a particularly hard long run and found myself curled up for a wonderful snooze shortly after.
I've shared how CBD helped me after knee surgery, but it's remained a key part of my endurance training.
Best Sleep Wellness Gifts
Sleep and wellness go hand in hand and here are some of the top wellness gifts to help your loved one sleep better:
When it comes to mental health, there's just something therapeutic and comforting about reading a book at night in bed before going to sleep.
In fact, research shows that reading before sleeping can actually improve the quality of your sleep by up to 22%. This reading light for books is perfect for people who love to read, and ones like me who still love a physical book over reading on a screen.
These sheets are perfect to help improve total sleep quality thanks to the smart fabric it's made of! It's a breathable, athletic-grade fabric that's specifically designed for maximum airflow and to wick away moisture and sweat.
They feature an incredible 1,500 thread count for the softest feel ever, and it just keeps feeling softer and softer with every wash. They're designed to help manage any moisture and wetness, and they dry ultra fast.
These sheets truly improve sleep quality and are especially great for women who often run hotter at night due to hormones.
A lavender mist is the perfect way to help wind down and improve sleep quality. This spray includes a combination of lavender, chamomile, witch hazel, and jojoba oil to help create a relaxing environment before hitting the sack.
Plus it can be used just about anywhere and you can spray it on your bed, pillows, bedsheets, towels, or on your yoga mat if you're a yogi! It'll help you relax and it's a great, light scent that's non-toxic and free of any parabens, sulfates, or formaldehyde.
For many of us, staring at a screen all day has become expected. Computers, phones, TVs, and tablets have become part of our daily lifestyle. Instead of trying to get rid of these devices, which just isn't possible any longer, let's make them less impactful.
These super cute glasses help to reduce eye strain, and tension headaches, and by filtering out the blue light, you won't need to worry about issues falling asleep.
One of the most cited tips for improving your sleep is to eliminate screen time before bed, and while some have to do with mental stimulation from returning emails, mostly it's about reducing your exposure to blue light which messes with our circadian rhythm.
So these are great glasses to gift that are pretty inexpensive for how much they can add to your wellness.
Imagine being gently embraced in a warm hug by your blanket every night. That's what the ZonLi Weighted Blanket does. The 20 lb weight provides a comforting, soothing pressure that's like a warm hug.
Weighted blankets are a great tool for managing anxiety, both for kids and adults. If you struggle with sleep, this blanket might be your sleep savior. The gentle pressure promotes a sense of security and relaxation, helping you drift into a deeper, more restful sleep.
If the 20 lb queen size isn't right for you, there are a number of other size options to find the right fit.
Best Self-Care Gifts
Beyond physical and mental wellness and sleep, here are some self care gifts that are bound to improve overall wellness and well-being:
Doing facial gua sha is a great way to increase blood circulation to the face and promote lymphatic drainage. Plus, it increases the production of collagen, elastic, and even anti-aging molecules.
Regular use has been known to help the face tone up more and the increased circulation helps detoxify the skin for a clearer complexion,
It's the perfect way to massage your face and this kit by BAIMEI even comes with a face roller. This is a great gift set for self-care and will encourage whoever receives this gift to take out time to care for themselves.
This nifty ice roller is perfect for when you just never feel like you're getting enough sleep, especially for new moms! It's also great for women experiencing hot flashes, thanks to its great cooling effect.
Speaking of cooling effects, the cold compress can help relieve puffiness around the eyes, and you can even use it on your temples if you're someone that suffers from migraines.
It's also ideal to use for any minor injuries here and there when you just want to roll something nice and cool on it. I've often rolled this on my neck in the summer and oh it feels great!
Light therapy for the win, again! If you're looking to splurge a little bit or spoil your loved one, then this Dr. Dennis Gross's Light Therapy mask is one of the best options out there.
It's inspired by Dr. Gross's in-office professional laser treatments, but you do it at home safely and it gives great results. It's an FDA-cleared device that featured red light as well as blue light therapy, or you can even use though simultaneously thanks to the three treatment options it comes with.
Red light helps stimulate collagen production naturally in the skin and improves elasticity to reduce wrinkles and fine lines, while blue light helps destroy bacteria to prevent future breakouts and leave you with beautiful, clear skin.
This was a personal splurge last year and it's been worth every penny. I get a lot of questions about keeping my skin tone even as I age and still spend so much time running in the sun. I've realized that this really helps and I'd highly recommend it.
When I started to learn about cleaner beauty, it was a game changer for me. I had no idea how impactful all the chemicals in our skincare were could be on things like hormones.
One of the first things I tested out was this Beautycounter Resurfacing Peel and unlike normal things which can leave you flaky or dry, it made my skin glow and within a few weeks, I started getting comments on how good my skin looked.
It features a multi-acid complex that includes AHA and BHA for a delicate, yet effective peel at home that clears away dead skin cells and helps give you a clean, healthy-looking complexion.
I've noticed it helps even out skin tone without making you sun sensitive, and it's great at eliminating dark spots. I also love how they have an incredible return policy, allowing you to really know if this is the right product for your skin without worrying about wasting money if it isn't a good match.
This overnight resurfacing peel is a great gift for just about everyone, and I'm sure whoever receives it will absolutely love it! And I combine it with the Vitamin C serum for a total knock out of those brown spots.
The secret to great skin is all about the SPF! If you're gifting this to an athlete (say, a runner) who spends a lot of time out and about in the sun, they're going to love this one!
It's oddly one thing that runners skip because we don't like to put a ton on our faces and in fact, I did a review of the best sunscreens for runners to help with this issue!
But this particular item I like because it works as your daily moisturizer, has SPF and you can opt for a very light tint if you want something with just a tiny amount of coverage. No more excuses!

It's a mattifying mineral formula that's perfect to help control shine, without the unsightly white residue many other sunscreens leave on your face. Plus, it also includes antioxidants like rosehip oil that help the skin rejuvenate and protects it from pollutants.
Be cool, calm, and protected with our Mineral Face SPF 30 Matte Tint Moisturizer. Your daytime lotion, antioxidants, and SPF in one, this sheer, mattifying formula delivers lightweight hydration, helps reduce shine, and gives your skin a fresh-looking hint of coverage.
It's a thoughtful gift that your loved one can easily pack in their gym bag, or have around to reapply as needed. Definitely consider this one, it's a great product!
Best Mindset Wellness Gifts
Another factor when it comes to wellness is all about mindset. Here are some great gift options when it comes to mindset-related wellness gifts:
This positive affirmations card set from Louise Hay is one of the best gifts you can get someone! She is one of my all-time favorite people for mindset shifts and I love the way she phrases things.
The deck comes in a beautiful gift box and includes 64 cards with unique powerful affirmations on one side and a visualization on the other to inspire you and make your day even better.
They are a great way to start your day, or to use right before meditation to set your mindset for the day! This will make anyone's day, and if for no one else I highly recommend you get it for yourself!
This daily inspiration journal by Commanding Life is designed to help anyone develop a new, positive habit that'll stick in 20+ weeks. It entirely focuses on well-being and how to develop a more optimistic approach to life.
For those who haven't ever gotten into journalling, it can be intimidating knowing where and how to start. But this 5-minute journal is perfect for that because it's designed to help you develop this habit (and others) in just a few minutes a day.
It helps people develop a new daily routine of self-affirming actions that'll support the life they envision for themselves, help set goals, and create a plan to achieve them. All of this while encouraging you to make happiness your top priority.
If you know someone who's been through a bit of a slump lately, or is looking for a renewed sense of vision and purpose, this is the best gift you can get them! It's all about working through the blocks that might be holding us back and helping us make time for that internal meditation.
I love this trend of the last few years! For those who maybe don't feel creative, but need something that will help them to sit and slow down these work like a charm. They're able to simply focus on the thing in front of them and stop obessessing about other worries.
Studies have shown this time may also help to improve sleep and our ability to concentrate!
Whether you're into the healing properties of crystals or not, this Chakra stone set is a great way to set intentions, tap into different emotions and help you focus on what you're wanting to achieve that day.
It comes with 7 different colorful gemstones with a certificate of authenticity so you know that they're real crystals, and not some knock-offs! The set also includes an information guide for all the crystals, including chakra meanings and colors.
These look beautiful and are truly a great way of setting intentions to really explore your inner self and understand what you're looking to achieve.
Wellness isn't just a trend; it's a way of life that encompasses physical, mental, and emotional health.
By selecting the perfect wellness gift, you have the power to make a positive impact on the people who matter most to you. Whether you're inspiring them to embark on a journey of self-discovery through mindfulness, supporting their fitness goals, encouraging relaxation and self-care, or helping them adopt a more eco-friendly lifestyle, your gesture speaks volumes about your love and concern.
Looking for more Gift Ideas?
Other ways to connect with Amanda
Instagram Daily Fun: RunToTheFinish
Facebook Community Chatter: RunToTheFinish
Sign Up to Receive a Weekly Newsletter with Top Running Tips and Laughs