Finding the best wireless running headphones is about more than sound quality. It's how do they fit? Can I use one to still hear things around me? Do they have enough battery life for a full marathon??
For years my iPod kept getting smaller, but my headphones remained pretty much the same with an annoying cord that hit me in the face or pulled. Seriously, it's an investment I waited FAR TOO LONG to make.
Bonus points because now running headphones even work with your GPS watch if you don't want to carry a phone!
In the last two years, I've seen a massive improvement in wireless headphones for running and thus was ready to really make some recommendations.
Types of Running Headphones
Before I jump into my recommendations, it's important for you to determine what type and style of running headphones you prefer the most.
I'll then give you my recommendation for each type and also what to expect from them in terms of performance.
There are four main types of wireless earphones, let's look at each of them in more detail.
1. Truly Wireless Earbuds
These are what probably pops into your mind when you first think of wireless headphones. These are usually earbuds that don't have a wire or hook that extends around your ear. All you have to do is push them into your ear and you're good to go.
The best truly wireless earbuds are the ones that fit snugly into your ear canal and don't pop out mid-run. These types of earbuds have a really compact style which makes them really lightweight.
Since they're so lightweight, they may have a smaller battery life than others, but they come with a charging case to charge them back up on the go. These also tend to usually be the most expensive type of headphones.
2. Truly Wireless Earbuds with Ear Hooks
These are truly wireless earbuds, but they come with an ear hook. These ear hooks take the pressure off the ear canal to hold these buds steady and the hook mechanism is what primarily keeps them in place.
This might help to make them fit better for many people, and if you've tried many different types of truly wireless earbuds but have had a fit issue, you might want to look into these instead.
Sometimes the hook also stores the battery which helps the earbuds to play for longer when compared to truly wireless earbuds.
While they're similar in price to their truly wireless counterparts, they might be marginally cheaper at times but not necessarily.
3. Neckband Earbuds
These types of earbuds are still wireless in terms of connecting to your phone, but they use a wire or band to connect buds together, store batteries and the microphone.
Some people prefer these over truly wireless earbuds (with or without hook) because they keep the earbuds together and you're less likely to 'lose them' (we all have one friend that's like that!).
In general, if you don't mind the wired connection then you'll probably enjoy the extra battery life that most of these earbuds offer, which is usually eight hours or more when compared to truly wireless ones that have four hours or more.
The price range for neckband earbuds is also a bit lower than its truly wireless counterparts. The earbuds themselves are usually smaller since the wire or band part houses the battery and microphone.
4. Bone Conduction Headphones
These types of headphones are a new innovation and are truly amazing. They use an acoustic approach to provide an innovative way to enjoy music, podcasts, or whatever you like to listen to during a run.
Instead of plugging your earbuds into your ear canals, bone conduction headphones sit on the outside of the ear. They transit sound through air to our eardrums but mainly through vibrations on the bones of the head and jaw (hence the name!).
The sounds from these devices bypass the eardrum and relay sound directly to the inner ear. This might sound like a bunch of nonsense to you, but this is actually the process through which we are able to hear our own voice.
Fun fact: this is also the way the famous composer Beethoven, who eventually went deaf, is noted as using as his means of hearing. Due to their open ear design, these are very helpful for anyone with hearing loss and who ears a hearing aid.
It'll also allow you to have a better situational awareness and to know what's happening around you, which can be really important on a run outside.
Can we throw it back for a minute to my first Garmin, my wired headphones, all wrapped around some old school radio on my arm?! Many we've got it easy now.
How I've Tested These Headphones to Find the Best Wireless Running Headphones
My process of finding the best wireless running headphones is a combination of not just my personal running experience as a running coach, but also of a couple of hundred runners on Instagram that sent in their recommendations.
These aren't just researched, they're real-world tested and approved earbuds for running that don't fall out.
If you've picked your favorite type and style of headphones already from what I explained above, then you'll find the best option within that category in this article here!
Many years ago I tested out one of the first mp3 headphones from Sony (which are also good for swimming) and I swear tons of people are still looking at that review, so apparently these headphones do stand the test of time.
And recently, Sony sent me another pair of their greatly updated wireless earbuds. I have done a full review of the Sony earbuds on YouTube, but am not including them here because I don't think they're the best.
So, you can rest assured that these top running headphones have been filtered to ONLY include the best of the best for all and any type of runner.
I've tested these in three main areas which are:
1. Headphone Fit and Ambient Sound
There are plenty of things to consider when picking the best pair of headphones for your run, but the most important one is fit. After all, what's the point of having the best quality sound, the best battery life, and the longest playtime when they just won't stay in your ears.
So, this is first and foremost what I concentrated on while using trying these earphones to find the best running headphones out there.
The next is ambient sound. Some runners prefer to have all outside sound cut off while running (especially indoors in the gym or on a treadmill at home), while others prefer to have some ambient sound to be able to have more situational awareness while running.
This is especially important when you're running outdoors to be aware of potential hazards around you and to have a better understanding of your surroundings.
I haven't 'rated' these on ambient sound, but you will find information related to it in my reviews so you can pick the best wireless headphones according to your own personal preference.
2. Water and Sweat Resistant
Let's face it, running can be sweaty – really sweaty, I mean I often look like I've showered when I finish. We need our headphones to still stay on, and be able to last through the days, weeks, and months of sweat and training.
It's difficult for someone to personally judge this factor based on just experience as it can become subjective given how much someone sweats or how much water the headphones encounter.
For this reason, I've included the Ingress Protection (IP) rating for each headphone. The IP Rating is based on a two-digit number established by the International Electro Technical Commission.
Each of the numbers gives a rating for different forms of environmental influences. For runners, the second one is more important which is protection against liquids (such as sweat and water). The first digit is for environmental elements such as dust.
I've mentioned details for each headphone in my review, so don't worry if numbers aren't your thing! They're mentioned to help you be more confident and aware of what you're purchasing, and I'll explain it more in each review!
Here are some quick pointers to understand the numbers better:
An X in any position means that there isn't any data (meaning it wasn't tested for that purpose).
1 to 2 in the second position (so for liquids such as sweat and water) means the headphones can withstand dripping water, so usually sweat or a very light drizzle.
3 to 6 in the second position means the headphones can withstand an increasing amount of rainfall for longer periods of time. This does NOT, however, mean that the earbuds can be immersed in water (think swimming).
7 to 9 in the third position is the gold standard when it comes to sweat and water resistance. This means that the headphones and earbuds can be submerged in varying depths of water without failing to work.
3. Battery Life and Overall Durability
The last most important thing for any runner is how long these headphones are going to last (durability) and how long you can expect them to play after one charging session (battery life).
I mean, who wants a headphone that will stop working in the middle of a run? Regardless, I've got you covered by including all the relevant details you need to make the right decision.
Want to know which ones are the best running headphones? Keep reading and don't forget to comment down below to tell me which one you picked!
Best Running Headphones
This list is a combo of my experiences and the top recommendations I received from a couple hundred runners on Instagram!
Jaybird Vista Wireless Earbuds (and Vista2)
Aftershokz Air
Airpods
JBL Wireless
Powerbeats Pro
These aren't just researched, they're real-world tested and approved earbuds for running that don't fall out.
Best Bone Conducting Headphones
Type: Bone Conduction Headphones
IP Rating: IP55 certified to repel sweat, dust, and moisture
Battery life: 8-hours
This is an interesting headphone option that uses bone conduction to eliminate the need for buds inside your ears and allows you to be more aware of what is happening around you.
Both David and I were shocked at how well we could hear using them!
The major downside was he can't wear them with his bike helmet and I run in to issues wearing them with my sunglasses because the ear hooks didn't allow me to comfortably get the stems alongside them on my ear.
Feel very lightweight and flexible
8 hour battery life
Sweat resistant (meaning not for swimming)
My friend Charlie of The Runner Beans wears them all the time and is a big fan because they're comfortable and she feels stay put well.
And if you find them cheaper than noted above, jump on it!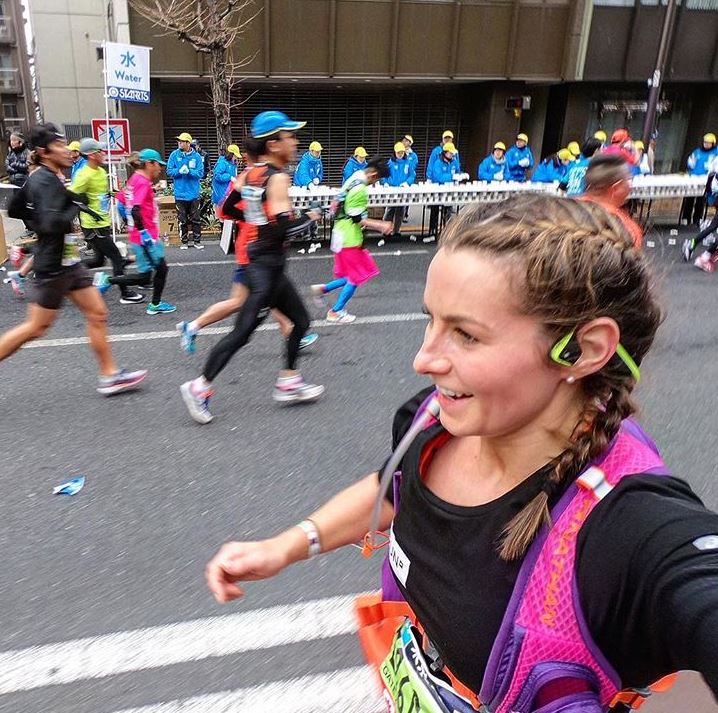 Best Earbuds for Running (my current fav)
Type: Truly Wireless Earbuds
IP Rating: IPX7 certified, designed to handle rain, mud, and outdoor adventures
Battery life: Up to 6 hours, at medium volume
When I was looking to change things up, these were the first one's I considered. They're designed for us sweaty runners and based on all the feedback I've received work incredibly well.
I was nervous about something that didn't curve over my ear (what I require in wired headphones), but everyone swore they would stay in…and guess what they absolutely do!
I have done a full video review of the Jaybird Vista if you want to see more details.
The one major thing I caution is they block out ALL NOISE. So I wear only 1 on a trail, I keep the volume low on the roads and love them in the gym. I will say however, if I try to use them for phone calls the other person tells me they pick up too much of the noise around me, especially wind.
BUTTTTTT the brand new JayBird Vista 2 has options for noise isolating.
You can now turn on ambient sound and to me this was exactly like wearing the Aftershokz.
You'll also notice that the JayBird Vista are not rated for dust protection, BUT the Jaybird Vista 2 have an IP rating of IP68 so not only are they fully protected against dust but they also have higher protection against sweat and water!
The charging case for JayBird Vista is not water-resistant, so please ensure your earbuds are completely dry before charging. The charging case for Vista 2, however, is water-resistant with an IPX4 rating and so is designed to handle rain and splashing but not submersion into water.
Both models come with charging cases that are small, so you can recharge on the go if needed
The Vista 2 reports a 24 hour battery life
Audio quality is great and you can find your preferred levels via the app
Jennifer wears them daily and swears they're one of the best things she's done.
Best Headphones for Calls
Type: Truly Wireless Earbuds
IP Rating: IPX4 certified, sweat and water-resistant for non-water sports and exercise (but not for rain or swimming)
Battery life: 4.5 hours playback time
After some consideration, initially I ended up buying these because I felt like I knew without a doubt they would work for phone calls…and if I'm spending $150 I just want one good thing.
The new Airpod Pros have sizeable ear tips, where the old ones were just hard plastic
I actually like the ways these fit in my ear canal
They are the best option for making phone calls as they better filter out ambient noise
Also, now has active noise canceling (not ideal for running, but good for planes)
4.5 hours playing time
5 minutes in the case will recharge for another 1 hour of play time
In fact, I've now used them enough that I did a full review on Running with Airpods >>
Do AirPods fall out while running?
While I could NEVER get the old wired apple headphones to stay in, I didn't have any issues keeping my Airpods in my ears. Maybe it's because there's no chord swinging and pulling them out, no idea.
I wore them for runs over 2+ hours and they stayed in just fine.
Unfortunately, I noticed with the original Airpods that as the runs got longer they started to hurt a little bit. I think that hard plastic inside the ear as you sweat just starts to cut a little bit.
Break free from the cord struggles on your next run with one of these wireless headphones tested and approved by runners! #runchat
Click To Tweet
Best Overear Headphones for Working Out
Type: Neckband Earbuds
IP Rating: IPX5
Battery life: 10 hours of playback time
These are not true wireless earbuds, as a cord connects them behind your neck.
But for many of you that's preferred to not lose an earbud.
David has stolen these from me and they are now his go-to. This is the downside to having fun gear …you have too much and then someone else uses it and you're like "hey I want that!"
10 hours of playtime
More secure fit for many with the little hook
Reflective cable
There is a newer version, but it has a wider strap that sits behind your head, which I'm not a fan of.
So this is basically your cheapest wireless running headphones option. And yes it still technically has a wire, but not connected to anything besides the earphones.
Best Sound Quality Running Headphones
Type: Truly Wireless Earbuds with Ear Hooks
IP Rating: IPX4 certified, designed to be sweat resistant and light water splashing (but not heavy rain).
Battery life: 9 hours of playback time
A sport earbud that's focused on both a secure fit and audio quality.
Beats by Dre is well known for their focus on audio, but many of their past ear headphones have been too bulky or just not an ideal fit for athletes.
The big issue is going to be if you like the fit of this style of earbud. After that it's a great ride.
9 hours of battery life
Ear hooks for more secure fit
Control all kinds of features of each earbud independently
A little bulkier and a little pricier than the other earbuds listed above
These are great if you want that a more secure fit and, sound quality really matters to you.
It has an IP rating of IPX4, so while it's definitely sweat-resistant it's not meant for heavy rain and definitely not for swimming. Keep this in mind while making the decision of which headphones to get.
Best Cheap Wireless Headphones for Running?
You probably noticed that most of these are $100 or over and honestly that's why these are in the best category.
As someone who is NOTORIOUSLY bad about spending money and wanting to save, I can just say in this case it's really worth getting a good pair.
Break the cost down over many years of running, many miles of running and many many hours not spent frustrated at the dead battery, poor fit or poor sound.
Add it to your runner gift list and tell Santa you've been extra good.
BUT 100% there are always options!
Running earbuds under $100:
Type: Truly Wireless Earbuds
IP Rating: IP55 certified, designed to be sweat-resistant and rain-proof.
Battery life: Up to 7 hours playback time
If you're looking for some good true wireless earbuds, but under $100 then these are the ones for you. It's by a great brand, has noise-canceling and the battery lasts up to 7 hours of playback time.
Type: Truly Wireless Earbuds with Ear Hooks
IP Rating: IPX7
Battery life: Up to 9 hours playback time
If you're looking for a similar ear hook design as the Powerbeats but can't justify the price just yet, then these are the ones for you! While the Powerbeats have a superior sound quality and built, these do have a better IP rating. They also feature up to 9 hours of playback time on a single charge!
Are headphones or earbuds better for running?
Both have benefits, so it depends upon your running style and needs.
Some runners like the wire better because it provides them with insurance that they won't lose a headphone and because the controls are often on that wired piece making it easier than remembering 1 tap or 2 to make a change with earbuds.
Earbuds are great for eliminating yet another thing hitting you on the neck or bothering you as the miles progress.
One drawback to earbuds that I've noticed is if I turn them off for too long during the run then they shut down to conserve battery.
That's great in theory, but sometimes when I try to reconnect them it's a fail. They sometimes need to go back in to their case to get them to reset and have both earbuds connect again.
Also, pay attention to ear pain after running. That can be a sign that earbuds are not the best option for you.
Are Wireless Headphones Good for Running?
I'd say they're the best.
But of course you can run into issues if for some reason it doesn't want to stay connected via Bluetooth or they run out of battery, not an issue with a traditional cord pair.
Most runners will be surprised to find that plenty of these wireless models are earbuds that don't fall out while running. It can take some adjustment with the rubber pieces provided and simply getting used to the feel.
Admittedly, at first I just wanted my old school over the ear sport headphones, but after a few runs without that cord slapping around I knew I needed to adjust.
Looking for more reviews to find the best things for your run?
Checkout our full page of my must have running gear reviews and guides to save you time searching and money! I share what's worked for me and fellow runners, along with what wasn't worth the price tag.
A few common requests:
Have you tested out any other wireless headphones you loved?
Other ways to connect with Amanda
Instagram Daily Fun: RunToTheFinish
Facebook Community Chatter: RunToTheFinish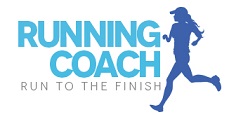 Sign Up to Receive a Weekly Newsletter with Top Running Tips and Laughs