Moving from Florida to Colorado in early December, confirmed I was going to have to learn all over again what to wear running at every temperature! No longer was it shorts weather year round, but instead time to layer up correctly for winter running (and shoot Fall and Spring temps too).
Colorado's winter weather is renowned for its capricious nature, oscillating between mild and temperate to bone-chilling cold winds within a day. The proper running attire can be your ally in the battle against the elements, ensuring that your runs remain safe, comfortable, and enjoyable.
Because I think we can all agree that getting the layers right makes it easier to convince ourselves it won't be so bad when we step out the door.
Though I will admit I do not subscribe to the idea that there is "no bad weather, only bad gear". If it's a blizzard, super high winds and sub 0 temps I will be happy as a clam on my treadmill.
In this comprehensive guide, I'll explore the intricacies of what to wear running in the winter, with a particular focus on what to wear running at different temperatures. All right, let's get on with finding you the right pieces for your adventure.
Quick links to help you find what you need:
Running Clothes By Temperature
A few things we have to cover before going in to specific gear for different days.
It's CRUCIAL to remember that how you feel at the start of a run (i.e. shivering) is not how you'll feel after awhile, especially when the sun is up and temperatures are rising.
The general rule of thumb is you will feel 20 degrees warmer than the air temperature as you start running.
My caveat to this list is I'm mostly talking about your easy runs. On race day, you tend to go with the lowest option listed because you'll be working very hard and heating up much faster.
And if you know it's going to be a soggy COLD day, then I highly recommend one of these rain running jackets. Truly more breathable than past options which means you won't feel so cold.
Humidity: High humidity in the cold can make it more bone chilling, you may need more layers. Or it could mean that it's raining or snowing and again you need that top layer now for protection.
Altitude: Being higher in altitude on a sunny day can make it feel way warmer (hence people skiing in short sleeves on 30 degree days)
Wind: High winds or even a breeze are going to make the temperature often feel cooler as well, so wind breakers become extra valuable
Sunlight: Running early before the run rises vs during the full sun of the day can impact how you feel. I swear some of it is psychological, but also sun is going to warm your gear.
Personal Comfort Levels: Everyone has different comfort thresholds. Experiment to find the gear and layering combinations that work best for you at different temperatures.
What to wear running in the winter has a lot of variables! Especially if you also need to know how to run in the snow!
Be prepared to use layers, to adjust your plan with the day and remember that if you keep going out day after day you'll also adapt to the temps so it doesn't feel quite so horrible as that first cool Fall day.
What to Wear Running in 50 Degree Weather (10 Celsius)
Can we even call this winter? I guess it depends because in Miami this would have been parka jacket weather, in Orlando we were chilly and in Colorado it's like a perfect early summer morning.
Some of you are likely still going shirtless at these temps, so again do what's best for you.
Top – Single Layer
Under Armour Heat Gear is a great budget friendly option that I recommend for men and women. It's always fit well and lasted me a long time.
Lululemon Shirts while more expensive, again I can say I've had most of my shirts last 5+ years and they are generally a more flattering fit.
Shorts or Capris
Capris eliminate the possible issue of shorts riding up to chafe and for many taking away that one potential snafu is the best possible reason to wear them over shorts.
Accessories
Swiftwick dri-fit socks – Please don't skimp on your socks, it's not worth the blisters. I have worn these for ages and love how thin they are for warmer days.
Running lights – It's probably starting to get darker on your runs, so be prepared and visible.
Electrolyte powder – This is going to apply to all different temps, so just be prepared to hydrate well even when you don't think you're sweating as much.
Rain
A running hat will help keep the water off your face, which helps with stress levels to keep the run enjoyable.
On Running Jacket  ($240) – Stick to a thin running jacket at these temps so you don't over heat. This one is good for a light rain, but not going to keep you dry from a downpour.  This jacket has been worn in every season by me for like 5 years now.
Stick with the shorts and short sleeves. While they might feel chilly in cooler temps, longer gear that's soaking wet will just make you colder and add weight to your run
Honestly, that's it!
Don't wear too much gear or any cotton gear.
You're going to warm up pretty quickly at this temp even if you have some moisture.
What to Wear Running in 40 Degree Weather (4.4 Celsius)
This range characterizes relatively comfortable conditions where it's chilly, but by no means bone-chilling. This is also the temperature range where so many of us tend to overdress.
When I start running at 45 degrees in September I almost always layer up too much, so try to do a good indoor warm up and then head out without that extra top.
You may however still want to start with gloves. The body is going to push blood to your core first, which is why your hands might be really cold to start.
Top Layers
Short sleeves are going to be fine for many of you, but this is the point where I'm reaching for long sleeves and/or a light jacket.
Rabbit EZ Tee Long-Sleeve T-Shirt ($55) – This is a thicker feeling shirt, but not yet getting in to thermal or merino wool, etc. Fans of this brand swear they can do no wrong.
Tracksmith Brighton Base Layer ($88)  – One that I really enjoy because merino helps to keep you warm and dry. Size up because things runs small, this is a more form fitting top and know this is better on that super cool day.
Nathan Stealth Jacket ($100) – A winner because it's lightweight so you can wear it with your short sleeves to get just a little extra warmth without over heating (or a thicker shirt if cooler), plus it's got reflective patches along the front that are going to keep you visible in the darker  months. I also have this jacket in white without the reflective…clearly I like this one.
Shorts or Tights
This is where some of us diverge. I tend to start pulling out my tights because it makes me feel better to start the run, but many of you may do great in shorts at these temps.
Sweaty Betty Power Tight ($100) – These aren't going to be too thick or warm, just a good fit that's going to be warmer than shorts. I love that these are basically sculpting the bum and have a phone pocket. Plus mine are actually long enough for these 5'9″ legs
Under Armour Men's Speedpocket Shorts ($39) – Lightweight and breathable with a large waist band that allows for you to place your phone in a front pocket.
Brooks Method ⅞ ($88) – Another cropped and thin style that many of you will like, definitely not going to cause you to overheat and a phone pocket in the back.
Accessories
If you do overdress at this temperature, I personally love having my hydration pack to stuff things in. I just can't stand tying things around my waist, I'd rather just keep sweating.
Rain
Nathan Sports Protector Rain Jacket ($150) – At 40 when I get wet I'm not terribly happy, so this jacket is going to actually keep you dry, but it will be warmer than a non-water repllant jacket. David has worn this on many rainy bike rides and loves.
Langham Waterproof Running Cap ($34) – My head gets so sweaty I often don't think about my hat being waterproof, but it's a nice bonus when chilly, especially because this one remains breathable.
Don't worry too much about your legs or your shoes, once wet it just is what it is at these temps. But do change immediately when you get home to prevent a chill and start to dry out your running shoes (NOT IN THE DRYER!)
What to Wear Running in 30 Degree Weather (-1 Celsius)
Now we're really starting to get in to what to wear running in the winter!
As noted, your body temperature will rise throughout the run, but because you're working hard you may find that your extremities don't warm up; which means your gloves take on extra importance.
Once it hit the 30's I'm busting out my real winter gear…again some of you may be like "nope I'm good in shorts, if I layer other things" and to you I say go get it. I'll be over here happily in my winter gear.
Reminder this cold weather indoor warm up is going to help you feel better in mile one because blood will ready be pumping.
Top Layers
Thin long sleeve shirt with a pullover, vest or jacket based on your preference level.
Fleece lined long sleeve shirt by itself or with a windbreaker.
NB Heat Grid Half Zip ($89)- The half zip is a go to for so many, I've just gotten to a weird place where I tend to go for jackets, entirely personal preference.  This one is a great warm option that's long enough in the sleeves and a great athletic fit.
Brooks Notch Thermal Long Sleeve ($90) – When you just don't want layers, this by itself is a great option thanks to the thermal soft brushed lining. Also going to be a good option under a jacket as it gets colder.
HOKA Coldsnap Vest – I don't do a lot of vests, but many of you swear by them. It makes sense that keeping your core warm is going to help you feel warmer without the rest of your body feeling to hot or bulky with gear.
Saucony Oyster Puff ($175) – This is a super warm jacket, so it maybe too much for some of you, but again add wind and dark, on a short easy run and it's great. It runs a bit large in size and has an anti-odor feature, wohoo.
Running Tights
It's now time to start pulling on the fleece or brushed tights to give you that extra bit of warmth. Again you may need less if running in the full sunshine on a day that's not windy, but I feel like cloudy or dark are so many of my runs at this temp.
Lululemon Fast and Free High-Rise Fleece Tight 28″ ($138) – I'm a fleece tight lover. They absolutely keep my legs feeling good and my bum doesn't go numb, so I find that to be  a win.
Lululemon Fast and Free Tight ($128) – Many of you however really hate for your legs to get warm so these are a great lighter tight that's going to have that ever sought out phone pocket and are a runner favorite.
Men's On Running Pants ($170) – David wears these almost every run in the winter and can layer another base under them if needed when colder. The lightweight feel and wind blocking panels are a big hit.
Accessories
Snow
Waterproof jacket
HOKA GTX Trail running shoes ($170) – These are going to help provide you more traction in the snow. You hopefully shouldn't be dealing with too much ice unless it's below 32.  Plus, the GTX is waterproof!
Shoe Gaiters ($39) – If you will be tromping through the snow this is going to keep it from going in to your socks, which trust me is very unpleasant.
What to Wear Running in 20 Degrees (-6 Celsius)
Now we're getting really serious about what to wear running in winter. Again sunlight, wind, precipitation are all going to be major factors in your choices here. But this is the time where I am absolutely going to be wearing my thickest leggings.
Is It OK to Run in 20 Degrees?
Running in 20-degree weather can be a safe and invigorating experience, provided you take the necessary precautions and are adequately prepared. I've done it many a time and am no worse for the wear (though when we are getting 20MPH winds, again…I'll be on the treadmill.)
Layering is key to retaining warmth, with a moisture-wicking base layer, an insulating layer for heat retention, and a windproof, waterproof outer layer for protection against the elements. Pay special attention to extremities like your hands, feet, and head by wearing insulated gloves, thermal socks, and a warm hat or headband.
Additionally, consider the wind chill factor, which can make the air feel even colder, and adjust your clothing accordingly.
AND don't forget to check the ground. Black ice is a common morning issue here.
Top Layers
Long sleeve base layer top with a pull over or jacket
Or a fleece shirt with windbreaker like the Brooks All Altitude Jacket
Or be like me and I went for my base layer and my warmest jacket, felt just fine for a 10 miler in a feels like of 18 degrees
Artilect Boulder 125 Crew Base Layer Top ($110) – This is a long base layer top really designed to keep you warm and be worn under a running jacket.
Women's Patagonia Capilene Air Base Layer Hoodie ($150) – Super soft this is designed to be worn against the skin and with the high neck is going to add extra protection. Some of you may run in this alone or put it under various levels of jacket depending on the day.
Men's All Season Merino Smartwool Top ($90) – Once again wool is on the list because it just works, that's why so many winter pieces are made of wool!
On Running Insulator Jacket ($299) – Another piece that's been in my wardrobe for many years now because they just last. I like that it's water-repellant, so I know that my snowy runs aren't going to get as cold, plus the hood will actually stay up with the toggle.
Tights
Accessories
Snow
Brooks Cascadia GTX  ($160) – Going to both help you keep traction in the snow and keep your feet dry!
Ice Cleats  ($9) – These will pull on over your trail shoes to help provide grip if you're going to be running on ice.
What to Wear Running at 10 Degrees? (-12 Celsius)
Truthfully, this temp can be quite doable, but the early miles are not my favorite. Here I'm wearing nearly everything I talked about at 20 degrees, but have made the addition of something to cover my face.
Often times I only want it for the first few miles, but if the wind is going then I'm glad to have it the entire run.
You can absolutely get just a regular Buff that you wear around your neck and pull up, I often found I just couldn't get many of them to stay put.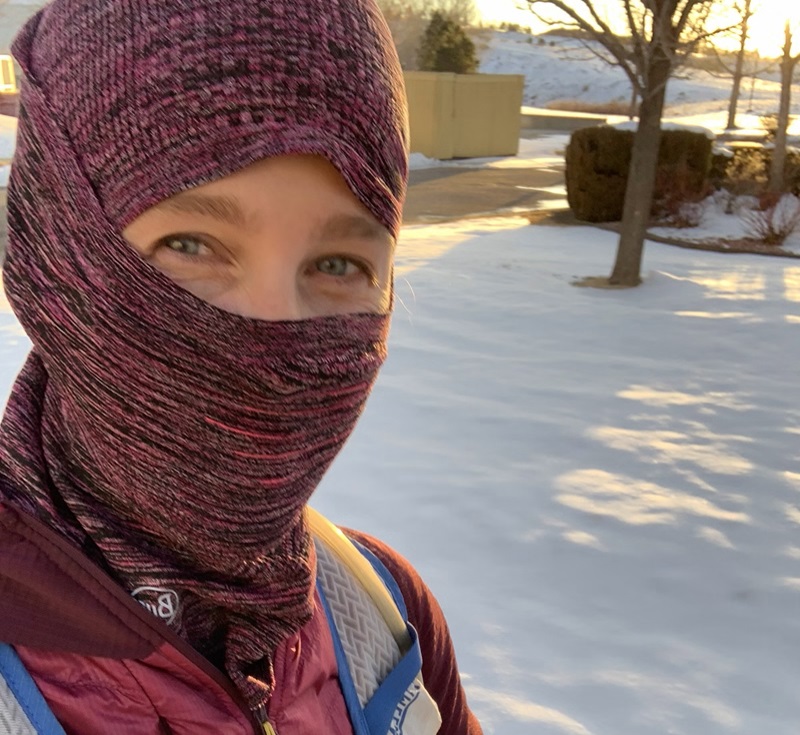 At What Temperature Is it Unsafe to Run Outside?
Running in extremely cold temperatures, typically below -20°F (-29°C), can be perilous due to the risk of frostbite and hypothermia. Exposed skin can freeze within minutes in such conditions, making it essential to exercise extreme caution.
Very cold temperatures, ranging from -10°F to -20°F (-23°C to -29°C), require rigorous preparation. Runners should don adequate clothing and gear, limit the duration of their outings, and ensure a quick return to warmth.
In the cold range of 0°F to -10°F (-18°C to -23°C), most runners can venture out safely with proper attire, but vigilance remains crucial.
Looking for more winter running tips?
Other ways to connect with Coach Amanda
Instagram Daily Fun: RunToTheFinish
Facebook Community Chatter: RunToTheFinish
Get more running tips: Pinterest
Get every new post delivered to your inbox