When it comes to running in low-light conditions, two of your main concerns should be can you see where you're going and can others, specifically drivers, see you. Your safety should be your highest priority. Running lights are one easy and key way to take charge of your night running safety.
There are a number of ways to ensure you have both the visibility to see where you're going and can be seen by those around you, be they other pedestrians, cyclists, or drivers. Everything from light colored clothing to reflective gear and lights can all make a difference.
I have a previous article highlighting some of the best running headlamps, which are great to both light up your path and make you more visible. I hope you'll check it out as headlamps are definitely one of the best accessories.
But what else can you do to increase visibility, both for you and for those who need to watch out for you? What running lights do the best job?
What other accessories can help keep you safe when running in the dark evenings and early morning? Let's dig in!
Why is Visibility Important?
As I've said, your safety as a runner should be your highest priority.
Drivers are often distracted, regardless of the time of day. The radio, cell phones and texting, passengers, and other vehicles all serve as distractions to drivers. Making sure they don't have a reason to say they didn't see you is imperative.
The other reason visibility is important is to prevent trips and falls, as well as so you can see who and what's around you. Whether you're in the woods trying to avoid roots and rocks on a trail or in your neighborhood trying to avoid uneven sidewalks, having light to see will help.
Trust me, I've tripped on the sidewalk and it could have been prevented if I'd just snagged my running light before heading out the door instead of thinking "ahhh it'll be fine".
Don't be me! Find an option that works for you, keep it next to your watch and just put it on so it becomes a habit.
13 Best Running Lights
For many of us, cooler temps for running often mean less daylight. We're then often running in low light conditions at dawn and dusk (or even all of you night runners). Running lights come in a variety of options to best fit your needs.
You may need more if you're running when it's super dark and not well lit, other times you may simply being trying to ensure that others can see you.
Running lights come in a variety of styles, so we'll provide recommendations for each below.
Common Types of Running Lights
Headlamps: Headlamps are worn on the head, providing a hands-free lighting solution. They are ideal for runners who want to see the path ahead while keeping their hands free for balance or carrying items. Headlamps come in various brightness levels and beam angles, allowing you to adjust the illumination according to your needs.
Clip-On Lights: Clip-on lights are small, lightweight lights that can be easily attached to your clothing, hat, or gear. They are versatile and can be placed wherever you need them for visibility. Clip-on lights often offer both steady and flashing modes.
Wearable Light Vests: Some running lights are integrated into high-visibility vests or belts. These wearable options combine illumination with reflective materials to maximize visibility from all angles. They are particularly useful for runners who want an all-in-one visibility solution.
Handheld Lights: Handheld lights are compact, portable lights that you can carry in your hand while running. They are useful for those who prefer to control the direction of the light manually. Handheld lights come in various sizes and may have different beam patterns.
Shoe Lights: Designed to attach to the front or back of your running shoes, shoe lights create eye-catching movement as you run. They are particularly effective for increasing visibility from the ground level, which can be crucial in low-light conditions.
Lighted Armbands and Wristbands: Armbands and wristbands with built-in LED lights are a popular choice for runners. They are comfortable to wear and provide 360-degree visibility. Many of these bands offer various lighting modes, including steady, flashing, and color-changing options.
Vest-Mounted Lights: Some running vests have built-in LED lights on the front and back. These lights offer both visibility and convenience, as you can simply put on the vest and be ready to run safely in low-light conditions.
Chest Lights: Chest lights are worn on the chest and provide a central source of illumination. They are designed to minimize shadows and improve depth perception, making them suitable for trail runners and those navigating uneven terrain.
#1 Headlamps
I've already mentioned my headlamp article so I'm not going to go too deep into this. However, when choosing a headlamp, you need to pay attention to a couple things, including lumens, comfort and fit, battery life or charging capabilities, and other features like different light settings and colors.
Headlamps kill two birds with one stone.
They both light your way and can make you more visible to drivers. Many provide the ability to change the light color so some runners will wear them facing backward with the red light on like a cyclist might have. Some also allow you to change the angle of the light so instead of lighting the ground ahead of you, the white light can be angled out toward passing drivers.
Headlamps clearly offer some versatility.
Another option to brighten your pathway are handheld lights. There are a number of options on the market from flashlight styles to something more unique. The specific features we're looking at as runners are how easy is this to hold!
Nathan focuses a lot of safety and has created something that you'll have no issue holding on to or seeing what's in front of you.
Grip-free
Rechargeable
400 lumen LED white light
8 lumen red strobe for visibility from behind
Price: $60
This was a favorite of my Ragnar teammates. Because of the strap, they just loved the way they sat on their hands and provided light with each step.
For me personally, I didn't love that as I swung my arms the light moved around so much. Which goes to say it's a personal preference, but they absolutely provide plenty of light and are comfy to use.
Set of 2, one for each hand
Ultra wide flood beams to illuminate entire path
Rechargeable via dock
Adjustable hand straps
Waterproof
3 power options (high, low, and blinking)
Price: $60
If you're looking for a hands-free running light, clip-on lights for your shoes are a great option. The Night Runner 270 Shoe Lights clip right into your shoelaces to light up the path ahead. I like that these are really lightweight and no worries about them getting wet.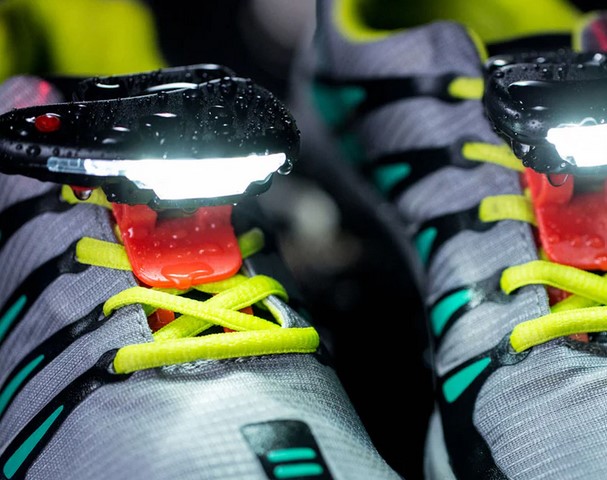 Weather-proof
150 lumens LED lights
Rechargeable via micro USB
Battery life: 2.5 hours on high, 4 hours on low
I like the way the straps are situated on this. It's going to provide a really snug fit and ensure things aren't bouncing all over while you're running!
And this is so great for all of my friends who have pups they walk all winter long. No worries about something in your hand and I like not having something on my head when I'm pulling on caps.
Hands-free, lightweight
Front white light (high, medium, low), rear red light (slow flash)
500 Lumens
Rechargeable
Adjustable beam angle
Reflective and adjustable strap
Price: $29
Designed to work with a FlipBelt by sliding in to a front or back opening. It's going to stay in place and if you already love your belt then you'll know this is a comfortable option for you.
Hands-free
500 Lumens
Rechargeable
Battery Life: 8-12 hours
Drop-resistant shell
Multiple lighting options
Price: $79
All right, I know there is a popular brand many of you have see on Instagram and while I like the product, I don't care for their business practices. I've seen them take advantage of folks and so…of course there are other options!
This one from Amphipod is a great option and at REI you have a superior return policy if you test and decide it's not for you.
This is all about BEING SEEN, not as much about providing you with light to see.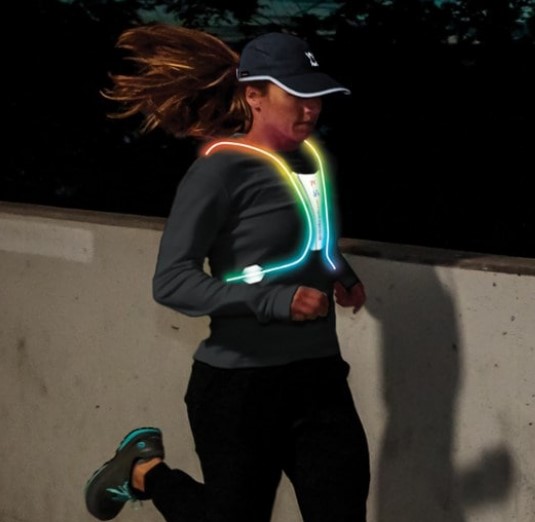 The lightweight (2.8 ounces) vest combines multi-color LED fiber optics with ultra-reflective patterning and fluorescence. This ensures that regardless of the weather and light conditions, you will be visible.
This newest model is rechargeable as opposed to past models that required batteries. It does take about 2 hours to charge, but then as 4 hours run time full on or 8 hours on flashing. The vest also has an adjustable chest strap and a clip system to keep the fiber optic cables bounce-free for XS to XL.
Wearing light or neon clothing can be helpful in some conditions, but to really up the safety factor, reflective clothing makes a world of difference.
Almost every running clothing and shoe company offers at least some reflectivity in their gear. There might be reflective striping on the shoes or reflective markings on the arms and legs of jackets, shirts, and pants, all of which do help make you more visible.
Proviz Sports uses REFLECT360, a material embedded with reflective glass beads that make you visible from all angles.
A few items that stand out for me are the Reflect360 running jacket and vest, and the Reflect360 long sleeve training top. See the whole line up >>
Check out this photo to get the full effect of how bright they appear at night in headlights. This was me wearing it for Ragnar!!
Men's and Women's-specific clothing
Sports: Running, cycling, outdoor activities
Clothing: Jackets, vests, shirts, shorts, leggings, gloves, socks, hats, and more
Accessories: Backpacks, covers, belts, arm bands, headlamps and lights
Price: Varies
If you're aiming to keep costs down, a good item to check out is the Nathan Hypernight Reflective Running Vest. These are also incredible if you are doing any kind of relay race where vest are required!
They are light, easy to put on, and you will quickly forget that you are wearing it.
Also available in black, if you just want the reflective parts.
Bounce-free and adjustable
1,200-foot visibility and 360-degree reflectivity
Two color options
Price: $24
There are some super basic options to help provide more reflection and then there are of course LED options now!
Reminder that these alone are probably not enough. You still need something on your back to make sure drivers from behind see you AND ideally something brighter in front.
Can be used on wrists, arms, or ankles
3 modes: fast or slow flash and full illumination
Battery-powered
Numerous color options
Price: $15.99 for 6
This is a go to for so many of us. I have lots of blinking lights, so that I can attach on to the back of hydration pack, one to the front and that means all winter long they are right there and I don't have to do anything but turn them on and start running.
Take the thinking out of your safety!
2-pack
Lightweight and compact
3 color options
5 lighting modes
Also comes with velcro straps to wear as armbands
4-12 hours of usage
Clips to pockets, backpack, belts, etc.
Price: $24
This is another one I got 4 or 5 years ago that I really like. Maybe because we all hate carrying things or adding more layers, it's easier to just having something on our shoes.
The Spur just hooks around the heel and then you turn it on, head on your way.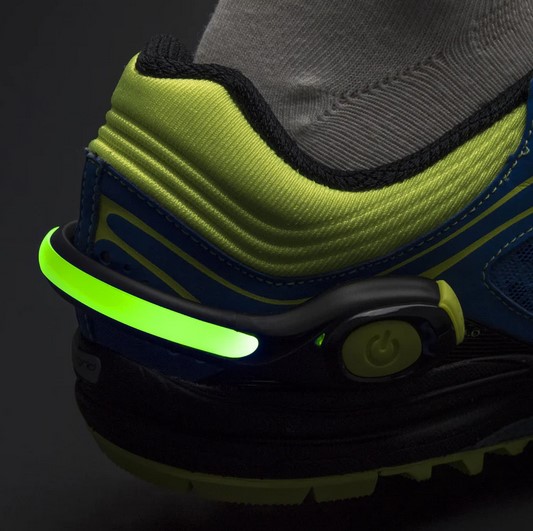 Sweat and waterproof
Rechargeable
Lasts up to 12 hours, so it's going to be good for multiple runs
Red, green, and blue LED lights – steady light
Price: $21
What Can You Do To Increase Visibility?
When it comes to running, especially in low-light conditions, ensuring your visibility to others is paramount for your safety. Whether you're a dedicated night runner or simply prefer early morning workouts, increasing your visibility not only helps you avoid accidents but also provides peace of mind during your runs.
Wear High-Visibility Clothing: The simplest way to increase visibility while running is by donning high-visibility clothing. Opt for garments that are designed with reflective or fluorescent materials, as they significantly amplify your presence in low-light conditions. Look for running apparel that features reflective strips, logos, or patterns to ensure you're easily spotted by drivers, cyclists, and pedestrians.
Choose Bright Colors: In addition to reflective materials, select brightly colored clothing for your runs. Colors like neon yellow, orange, and pink are excellent choices, as they naturally catch the eye even in dim lighting. These colors stand out against the typical urban or natural backgrounds you might encounter on your running route.
Use Reflective Accessories: Enhance your visibility by accessorizing with reflective items. While there is some on your clothing usually, you can find hats, gloves and other pieces with even more! These accessories are lightweight and easy to incorporate into your running attire. They create additional points of reflection, making you more visible from various angles.
Choose Well-Lit Routes: Plan your running routes carefully, favoring well-lit areas whenever possible. Stick to roads with streetlights, well-maintained paths, or popular running trails that are illuminated during the night. A well-lit environment can reduce the reliance on artificial lighting.
Run Against Traffic: When running on roads without dedicated running paths, it's safer to run against the flow of traffic. This gives oncoming vehicles a better chance to see you and react accordingly, reducing the risk of accidents.
Maintain Eye Contact: When crossing streets or intersections, make eye contact with drivers to ensure they acknowledge your presence. This simple gesture can prevent misunderstandings and ensure your safety.
As you can see, there are a ton of options out there that will basically make you look like a runaway Christmas tree (hint hint: that's what you want!). The more visible you are, the safer you'll arguably be.
Like I mentioned, you may find that it may take a combination of items to both light up your path and make you more visible. Please do remember though to never assume a driver can see or has seen you. Err on the side of caution, always.
I hope this list will help shorten your search so you can hit the road or trails feeling good about what you've chosen. Stay safe out there!
Other ways to connect with Amanda
Instagram Daily Fun: RunToTheFinish
Facebook Community Chatter: RunToTheFinish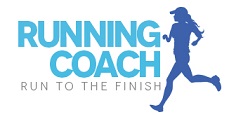 Sign Up to Receive a Weekly Newsletter with Top Running Tips and Laughs