There's something magical about embracing a dark, cold winter morning running on snow. But it's less magical when you end up on your bum because you didn't realize there was ice or are wearing the wrong shoes.
As a morning runner, my first thought is usually how many layers do I need? But after a frosty night or a snow storm, I'm on the lookout for ice…especially black ice.
Is it safe to run in the snow?
Absolutely with the right gear and the right attitude. It can be some seriously fun running when you embrace that it's not going to be the same as a hard effort on a sunny spring day.
Running on Snow Tips
When it comes to snow running shoes, you may be surprised to find that your trail running shoes are a perfect fit.
Until you start getting in to potentially icy conditions, they will provide enough traction and are often waterproof as well!
A few additional tips:
Shift The Time of Your Run
It's not the time to head out for strides and sprints, instead remember that slowing down or turning corners is more difficult, so you'll need to slow down. It's time to be cautious, not set any personal bests, unless they're snow personal bests.
"The prime times for the development of this ice are around dawn and in the late evening, when temperatures are typically the lowest. The ground temperature causes the precipitation to freeze upon impact, thus creating ice." – Accuweather
Embrace the Trails
Because trails haven't been scooped, you are more likely to find snow than ice in most places, which means better traction and less chance of slipping.
Running in fresh snow means a little more work, since it's softer. Treat that like running on the beach and keep your run shorter, knowing it will engage new muscles.
When the trail has started to become packed down, any of the spikes listed below or trail shoes will give you better traction than on a slick sidewalk.
Trails can also be a good option to simply remind you to relax and enjoy the run.
Winter running is usually a base building time, so embrace the obstacle as a way to improve your preconception and enjoy some easier miles.
Will running on snow make you faster?
Having just told you not to do your speed sessions in the snow, you might assume no. But just like beach running, you'll be engaging a lot of new muscles and forced to think about picking your feet up, so it could very well lead to some stronger leg muscles and therefore faster running.
What to wear to run in the snow?
Depending on the day you might find long sleeves and tights are plenty! That's what makes Colorado winters so crazy. Other days it feels like full on winter, in which case:
The second part of running on snow, is being prepared for the idea that you might find some ice.
Top Running On Ice Tips
Beyond don't fall, what can actually help you get through a run on the ice while remaining up right? Let's be real, I can trip on a perfectly flat clear sidewalk, so I had to do some research and reach out to more experienced winter runners.
But I can now vouch for these techniques!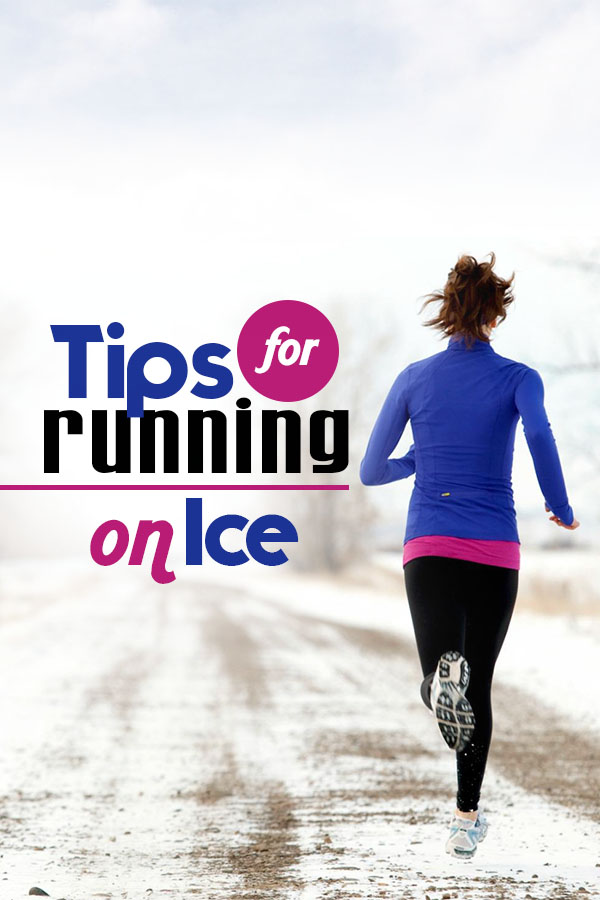 Just Don't Do It
Well seriously, we know the potential for risk is higher so if you can find a clear path take it.
Be a Little Type A
Sounds ridiculous, but just like trail running you'll only feel more comfortable with the change underfoot the more you do it. So practice, practice, practice and let your inner Type A flag fly.
Year-round Boulder run, Nicklaus Combs says "Short stride and quick cadence" can make a big difference because the less time you are in contact with the ice, the less time you have to slip! Plus it means you are taking a lighter step, place less force on the ice. Short steps doesn't mean faster, it just means increasing your foot turnover.
Don't forget with winter running your warm up is even more important, and it's important to know how to run with the wind, so add those to your Type A check list.
Nervous about running on the snow and ice? Checkout these great tips #runchat #winter
Click To Tweet
Get Winterized
Just like you need chains on your tires for the mountains (yeah things I learn in Colorado), you need to winterize those shoes.
Adding a spike or other gripping tool to your shoes is a great way to enhance traction.
There are a lot of options depending on your budget:
My new friend Kate who lives, runs and enjoys the outdoors year round in Alaska had this advice:
"To run on ice I use a waterproof shoe and slip my Khatoola Nano Spikes over the top to protect me from slipping and sliding. We also sell a shoe called "IceBugs" that have carbon spikes in the bottom of the shoe that are placed correctly as to not affect your gate when you run.
Sometimes when running stores "stud" shoes for runners (or put screws in tennis shoes) they can put them in crooked or in the wrong place and over time can cause injury for the runners. If spikes are not an option for any reason – I always… always recommended padded shorts." Ok I really love that last piece of advice.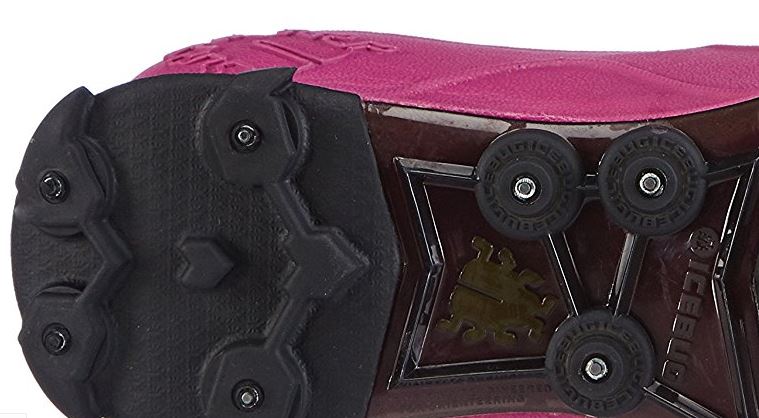 There you have it, everything you wanted to know about running on snow and ice.
It's been an adventure the last 5 years transitioning from Florida runs to Colorado winter. I was hesitant at first, but now enjoy this season just as much as the others.
Do you have any snow and ice tips?
Do you avoid it or embrace it?
Other ways to connect with Amanda
Instagram Daily Fun: RunToTheFinish
Facebook Community Chatter: RunToTheFinish
Sign Up to Receive a Weekly Newsletter with Top Running Tips