The On Cloudeclispe is once again shaking up the On Running shoe line up. This mega stack height shoe is bringing more cushion and a change to their long standing pods. Let's dive in to the review of this daily trainer and find out if it's a good fit for you.
Over the last 10+ years, I have run in a bunch of On Cloud shoes and always come away with the feeling that what they labeled as "cushioned" was not. But the last two years they've made some big changes with first the Cloudmonster and then the Cloudsurfer.
When the On Running Cloudeclipse arrived, I was both excited to try it and positive it was a more maximal shoe than the Cloudmonster…so would I like it? So many brands have pushed their shoe stack higher this year and I found a lot of those shoes just felt unwieldy.
I was one of the first to jump on the HOKA Running Shoes bandwagon. I was impressed by how light and stable those chunky shoes were. Now it seems every shoe brand is along for the ride, so let's find out how well On did it this time.
As you know I'm always honest in my running shoe reviews with what I like, dislike and what might work for you that wasn't a fit for me! Which is why when someone asks about On Running shoes I've always said I think they're good, but their everyday run shoes didn't feel great to my foot.
I've only had the chance for a few runs in the On Cloudeclipse, so more updates coming. But I wanted to give you some insights in case you've been hearing about  this new shoe.
Technically the brand is simply, On. But maybe you, like me, noticed that trying to just search ON or On running never quite got you where you wanted to go, so that's why you may see them referred to as On, On Running, or On Cloud.
There is no one perfect running shoe for all runners, so I'm going to share my findings. But as always I encourage you to head in to a running store and put them on! Run around the shop and see what you think.
On Cloudeclipse Overview
This is their newest shoe and for me a slight increase in cushion from the On Cloudmonster, which is likely due to the stack height (36.5mm now from 34mm). As noted, I've spent a lot of miles in the Cloudmonster, so this seems like the shoe that would be in line for recovery days or perhaps super long runs.
While there is a double layer of CloudTec Phase® cushioning, I don't feel like the shoe is plush. Meaning you don't sink in to it and lose your ability to actually push off the ground. I think is because of the speedboard which is providing both that needed firmness and a light touch of stability.
My initial impression is of a go to recovery run shoe. It's slightly heavier than the Cloudmonster and just a bit more shoe, so that makes sense to me.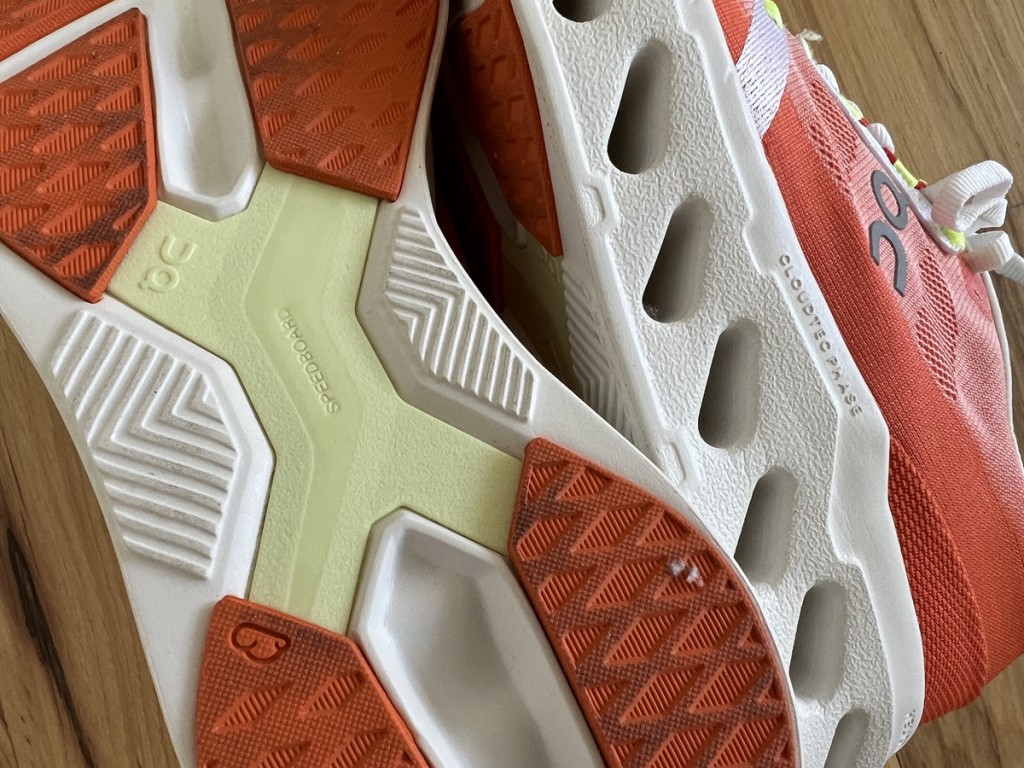 Cloudeclipse Specifications
Heel toe drop: 6mm
Weight: 8.4 oz women's, 10 oz men's
Style: Max cushioned, neutral shoe
Usage: Easy runs,  recovery runs
Available in three colors for women and two for men
Available at On Running and retail stores for $179
According to Podiatrist Richard Blake, "Running in maximalist shoes can help alleviate the pain with conditions and injuries like metatarsalgia, capsulitis, neuromas, sesamoid injuries and hallux limitus/rigidus symptoms." This is further amplified by the lower heel toe drop and the rocker design of the Cloudeclipse, simply helping to move you off the ball of foot quicker.
The Cloudeclipse pods are slightly larger than other and obviously doubled up, then combined with their Helion Superfoam to create their most cushioned shoe yet. In a super plush shoe, you lose the spring off the ground and that's a component that On is not willing to sacrifice.
And to my great joy the bottom is NOT going to collect rockets between pods, but the speedboard does feel like plastic and I'm curious if I'd break it on any big rocks.
Since all of us are concerned about having a healthy planet to keep running on, I appreciate that On made some sustainable choices. The dye used 90% less water than standard dyeing techniques and the yarn is 100% recycled polyester.
On Cloudeclipse Fit
In general, On Running shoes are a little more narrow than some brands. The Cloudboom Echo 3 Carbon Fiber shoe is one I enjoy, but it runs so small I would need to go up a full size to use it for more than a mile or two.
However, this shoe doesn't have that same feel. Instead, I would say now it's more on par with the width of ASICS or Mizuno running shoes.
The tongue is thin, but not sharp, which was an issue other brands had in trying to cut weight.
I've found these shoes are pretty comfortable on most easy runs. I know that maximal shoes are often thought of for ultramarathon distances, so that's a possibility here, but as of yet I can't see myself using them beyond a 6 mile run.
On 90% of my running shoes, I use a heel lock lacing and these have enough laces to make that easily doable.
Prefer a quick video review? And a better look at the shoe? Here ya go:

On Cloudeclipse vs On Cloudmonster
In the video above I give you some visuals to help understand how these two shoes are similar and different. Both are now labeled as their max cushion shoes, but don't get that confused with being their softest shoe.
Their softest shoe remains the Cloudsurfer, which is lovely, but I think a better On Cloud Walking Shoe than running shoe.
Key Differences:
Cloudeclipse is 2mm higher stack height
Same heel to toe drop
Cloudeclipse is slightly heavier
Both are cushioned, but the Cloudeclipse is slightly softer
Tongue on the Cloudeclipse feels like an improvement
Cloudmonster has a bit more rocker effect
Both have the Speedboard for stability (needed with the big height)
What You Need to Know About On Running Shoes
On started in 2010 in Switzerland, when yet again another runner thought "I could do this better."
This time it was three retired professional athletes, who decided there needed to be a shoe that had more firmness to create that bounce off the ground, along with cushion.
On uses CloudTec technology which is what makes their shoe look and feel different.
The pods (or clouds) compress both horizontally and vertically and then rapidly expand, helping to propel you faster off the ground.
And in fact, those clouds are different sizes based on the shoe and the goal for that shoe.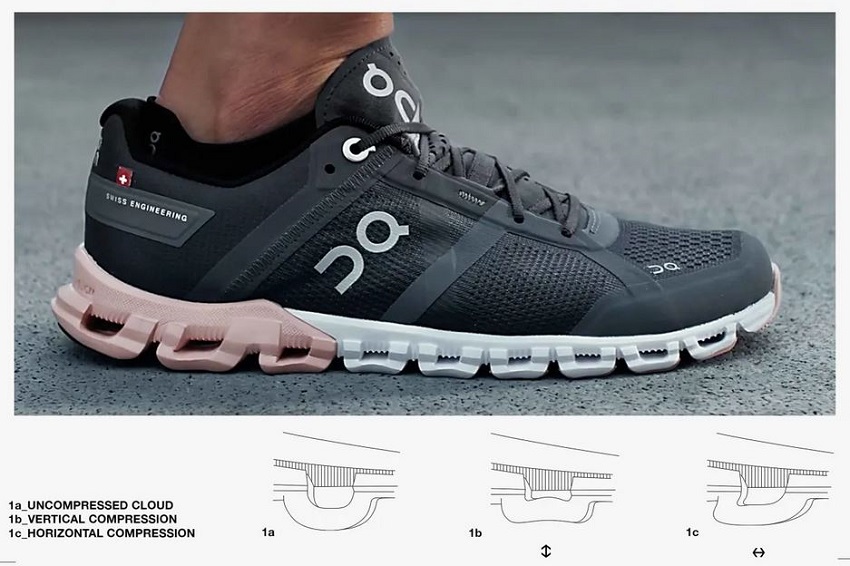 Is it like running on clouds?
No. Not cloudlike in that plush fluffy kind of way.

So for me, no…not at all like a cloud. And that's not all bad.

In my On Running Shoes Review, I go in to all the reasons that there are benefits to the pod design and why other runners have loved them from the start. So checkout that if you're curious to learn more.
Drawbacks to On Running Shoes
As noted, every runner has a preference, so there are just a couple of things from my experience.
They are not ideal for those with high arches or a high mid-foot
Most On Cloud shoes run narrow, and the toebox is not wide (they have started created specific wide models!)
Rocks stuck in between the pods make them not ideal on trails or gravel running.
I ran in to trouble with the thick toebox creasing in weird spots on the top of my foot in some models
Not much traction to these shoes
I found the Carbon fiber shoe to run small, but otherwise I have found them to run true to size.
See current colors and pricing on all models >>
All right I hope this On Cloudeclipse review gave you some info to help you make a shoe decision! If  there's more you want to see in a review let me know!
Looking for other running shoes??
Other ways to connect with Amanda
Instagram Daily Fun: RunToTheFinish
Facebook Community Chatter: RunToTheFinish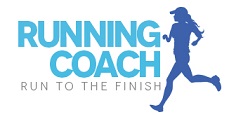 Sign Up to Receive a Weekly Newsletter with Top Running Tips and Laughs