Maybe your running partner has started raving out this shoe with bubbles or you've just seem them on more feet and started to wonder… what's the deal. Let's talk about On Cloud running shoes, what sets them apart and what to know before you buy.
Over the last 10+ years, I have run in a bunch of On Cloud models.
There is no one perfect running shoe for all runners, so I'm going to share my findings. But as always I encourage you to head in to a running store and put them on! Run around the shop and see what you think.
Or make sure you read ON's return policy, which is going to make it easy to test out running shoes and return if it's not the right fit.
On Cloud Running Shoes
Technically the brand is simply, On.
But maybe you, like me, noticed that trying to just search ON or On running never quite got you where you wanted to go. Hence referencing them as On Cloud.
To break in to the shoe scene now, you need something new.
HOKA came in with their high stack shoe
Altra came in with the cushioned zero drop
ON has the recognizable pods
And just like those other brands, it might take a few runs with the pods to get used to the different feel.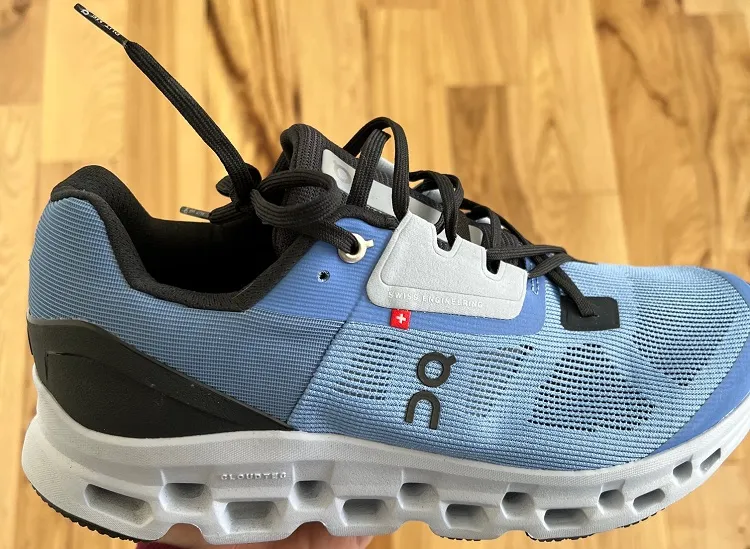 On Running is the official name of the company, which was founded in 2010. Former triathlete and six-time Ironman champion Olivier Bernhard founded the Swiss company.
He collaborated with an engineer to develop a prototype of the ideal shoe because he was frustrated about his inability to find shoes that suited him. He hired two close friends who were both runners, Caspar Coppetti and David Allemann, after the design had been completed.
They debuted their prototype one month later, and won the prestigious ISPO BrandNew Award for their creative design. This boosted their popularity, and within a few months, they were available in all major running stores.
Now, twelve years later, they continue to design and manufacture footwear for a variety of sports. On Clouds is favored by a number of high-profile athletes, and the company is still growing.
On Running Shoes Technology
They use CloudTec technology which is what makes their shoe look and feel different. They have little pods on the sole that compress with each step to absorb impact and in their words feel like a cloud.
And in fact, those clouds are different sizes based on the shoe and the goal for that shoe.
Here's what else is inside these running shoes:
Cloud Elements: Running shoes from On have special pods underneath that absorb both vertical and horizontal forces for easy landings and explosive takeoffs
Zero-Gravity foam: On's running shoes have ultralight cushioning that provides maximum comfort.
Rebound-Rubber: The open Cloud elements are made of On's durable, responsive rubber compound.
Grip-Rubber Outsole: The sticky rubber outsole found in On trail running shoes provides extra grip to keep you upright on the trail.
Speedboard: A springy board sandwiched between the soles of running shoes and Cloud elements work together to support the natural rolling motion of the foot from landing to takeoff.
Helion foam: On created Helion for its superior performance. The thick EVA foam is lightweight but strong, and it withstands extreme temperatures. This results in less compression over time and greater long-term comfort.
Is it like running on clouds?
I would say they are cushioned, but not plush.
So for me, no…not at all like a cloud. And that's not all bad.
Why Use On Cloud Shoes?
What is it about the design of On Running shoes that makes them different? The bottom of the shoe is the main focus of what they claim their technology does.
Shoe technologies are always going to promise A LOT. Our job is not to believe all the hype and spend some time really paying attention to what works for our body.
1. Reduces Muscle Fatigue
They talk a lot about a study showing how their shoes are better, so let's break this down.
It was a study of 37 trained male runners, doing their daily runs. The On running shoes were found to be similar to standard running shoes in terms of ground force and running economy.
But there were two areas where it faired better than standard:
Average 1.3% lower heart rate – hence the more efficient claim
Average 5.5% lower blood lactate – hence the less muscle fatigue claim
2. Improves Speed Off Ground
The pods (or clouds) compress both horizontally and vertically and then rapidly expand, helping to propel you faster off the ground.
Instead of losing energy in your foot strike, it's being harnessed and pushed right back out.
This is part of their Speedboard technology.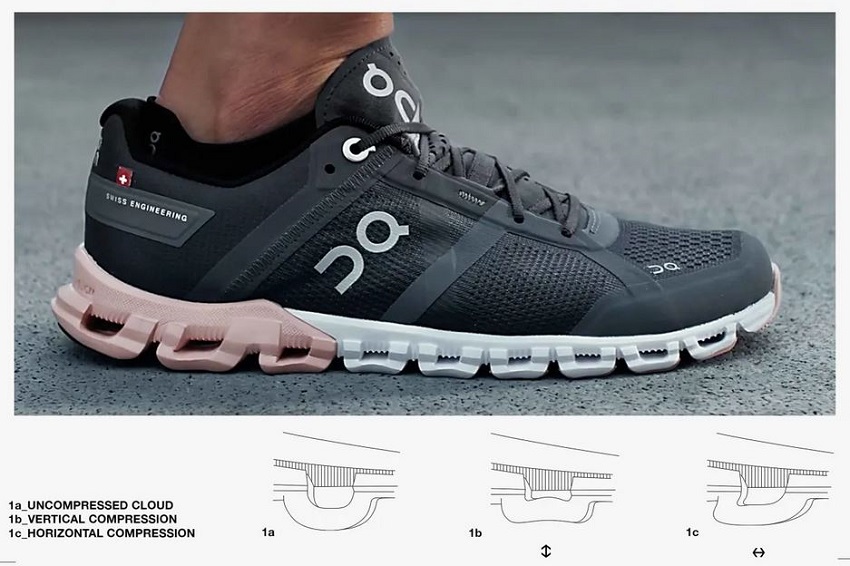 3. Reduces Injuries
Additionally, the way the clouds react helps to reduce injuries from that braking force that comes through poor form.
Due to the individual pods, the sole is able to adapt to your stride. Where a standard shoe is only going to move one way from toe to heel. This gives you better shock absorption and cushion, no matter how you land.
Again, I haven't seen a specific study on this so it's more anecdotal from runners.
4. You Like the Way they Feel
Honestly, this is the only one that I'm personally sold on when it comes to any running shoe. If they are a good fit for you, you like your gait, how your knees and ankles feel…then rock on.
How does it feel when you put it on? How do your legs feel when you finish runs?
Bonus points for a company that is working really hard on sustainability. Like using a lot of recycled materials in the upper and many other features.
Drawbacks to On Running Shoes
As noted, every runner has a preference, so there are just a couple of things from my experience.
Rocks stuck in between the pods.
Most don't feel like a truly soft cushion.
I ran in to trouble with the thick upper creasing in weird spots on the top of my foot. I tried different lacing techniques on multiple models with no luck on improving shoe fit.
Most On Cloud shoes run narrow (they have started created specific wide models!).
The average heel drop is 9mm, which is higher than many runners like.
I found the Carbon fiber shoe to run small, but otherwise I have found On running shoes to run true to size.
It's also worth noting that On doesn't ever have sales on their newest collection, and that means not even a sale on black friday. But you can get heavy discounts on their On Classics discount page.
Best On Running Shoes Review in 2023
As with any running shoe brand, they have a solid line up of different models based on your goals and preferences. The brand is also committed to improving styles, rather than always adding new.
All shoe info is specific to the women's models, as that's what I've tested. The men's models share heel drop, but are usually about .5 to 1 oz heavier.
As you might notice, they look similar across all models…but so do all shoe brands. The differences are visible in the double cushion on the outsole of the Cloudstratus and in the way the technology is used for each shoe.
See current colors and pricing on all models >>
Overall Best On Running Shoe: Cloudmonster
This is their newest shoe and the first one I would truly say feels cushioned. I am really enjoying running in these and would compare it to a Hoka Clifton. It's my overall pick for best On Running Shoe!
The Cloudmonster has On's biggest ever CloudTec and a lot of springy Helion super foam cushioning underfoot without sacrificing energy return, while simultaneously providing performance boost.
These ultra-cushioned shoes combine a radical rocker profile with a snappy Speedboard to deliver a delightfully offbeat experience during your run.
The soft sock lining wraps around your foot for a supportive fit, and the large toe box will keep your feet comfy as they expand during your run and the shoes also come with a breathable fabric for a comfortable ride.
The Cloudmonster is a lightweight, robust, and temperature-resistant shoe that will maximize your running performance.
Best On Running Shoes for Long Speedwork: Cloudstratus 3
Considered their max cushion shoe because of the double layer of clouds, it's going to absorb more impact. Again remember cushion, is not the same as feeling plush. The only shoe I would describe as feeling softish is the Monster!
On's Cloudstratus is their most cushioned running shoe to date that also contains a nylon speedboard! Meaning that it's not quite up to the carbon fiber racing shoe, but is a great slightly cheaper way to get that spring.
This shoe is springy enough to kick up the pace when you're feeling fresh, thanks to double the Cloud components for double the cushion.
Since this wasn't a winner for me, I'm going to tell you why other folks love it!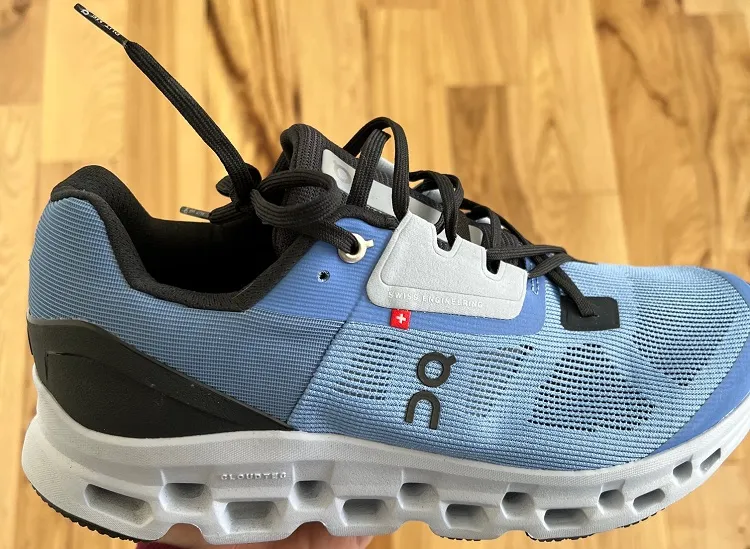 Built to give you a smooth and stable ride on the road, On's running shoes come with a snappy Speedboard that is sandwiched between soft and responsive Helion foam cushioning. This gives each step an extra layer of performance.
These are considred high-cushioned running shoes for both superior comfort and performance. It has a slight rocker style that will help you more quickly roll the foot forward, as a result, the Cloudstratus is an excellent choice for long-distance runs and marathon training.
6mm heel drop
8.75 oz
4 colors
$179
Best On Running Shoe for Stability: Cloudflyer 4
The On Cloudflyer 4 is a lightweight, fully cushioned running shoe with enhanced stability.
Designed as your every day trainer with a little bit more support, this shoe also has a good amount of cushion. I actually really enjoy the way this shoe feels and some of you may recognize it from my Forrest Gump running.
To make the shoe more stable, fewer Cloud elements were used under the foot when designing these shoes compared to other On running shoes. It does not have a medial post like so many brands, including the popular Brooks Adrenaline GTS.
The parts beneath the shoe are wider than in previous models, and they're designed to aid limit inward rotation, making the Cloudflyer ideal for persons with flexible arches, overpronation, or who want a little extra support.
For more support, the latest version also has a molded sockliner and a heel counter on the outside.
The On Cloudflyer is a fantastic shoe for both seasoned marathon runners and beginner runners because it features On's patented star-lacing system, which increases flexibility and effectively distributes pressure.
Personally, I actually like the lacing on this better than many of the new designs which cross from just the big toe.
11 mm heel drop
9.75 oz
$169
Best On Running Shoes with Carbon Plate: On Clouldboom Echo 3
This was one of the earliest carbon fiber shoes I tested and it's very different from the Vaporfly. Instead of high cushion, this is more like the feeling you might get in your daily trainer.
The lack of cushion isn't a bad thing, just different. That being said, with each iteration of the Echo, they are adding more cushion to keep up with other brands, just not that super bouncy feeling. For many runners, I think this is a good thing and might strike that balance of speed and cushion, without the worry about Achilles injuries that are popping up.
I was truly impressed with the updates in the Echo 3 from the original Cloudboom. BIG win for me is not having the pods that trap rocks on the bottom! This shoe also fits better than the original. That being said, the HOKA Rocket is still going to be a bit wider fit.
10 mm heel drop
7.6 oz men's and women's
This is their carbon fiber model. I really enjoy running it it, but it's super narrow and runs a bit small in size.
The On Cloudboom, which was designed for racing, will quickly get you to the finish line.
Carbon fiber is incorporated into On's iconic Speedboard to generate speed and explosive force. With two layers of On's Helion foam, the Speedboard is cushioned enough according to On running for a half or full marathon run.
As with any carbon fiber shoe, it's going to be stiffer and designed for speed work. Unlike the Saucony Endorphin Pro or the Hoka BondiX, these are not a carbon shoe I'd personally wear for over a 10K or half marathon although they are meant for marathon running as well.
Best On Running Shoe for Speedwork: Cloudflow
The On Cloudflow is the best On running shoe for ramping up the pace because it is lightweight and speedy. It's not going to be anywhere near as cushioned as the Stratus mentioned above, which is why I like it for shorter, snappier speed.
Once again the cushioning of the Cloudflow incorporates On's Cloud elements and premium Helion foam. Cloud elements and Helion foam work with an On Speedboard implanted in the midsole to promote a quick turnover and responsive stride.
The Cloudflow is light and quick, with a minimal engineered mesh upper that On re-engineered to make it fit even better. The shoe is finished off with little touches like an elastic band to contain extra laces and an outsole rubber pattern that provides traction on wet pavement.
This is a truly super light minimal shoe, for those speedy road and track days! This is very low in cushion for more of a ground contact feel. And this is another of their shoes moving in to that recycled material zone, which is pretty cool.
9mm heel drop
6.98 oz women's, 8.2 oz men's
$159
Best On Running Shoe for Road Running: Cloudsurfer
Previously I wasn't a super fan of this shoe, but with the massive overhaul to the midfoot and sole, now it's a winner. Finally a super lightweight running shoe, with the right amount of cushion to be a daily trainer.
I would say this is more of a middle distance and not a long run shoe.
It's also a shoe you could wear for those speed days because it's so lightweight.
It's made with a Helion foam midsole so that it has everything you need and is one of the best road-running shoes out there. On's premium foam is lightweight and cushioned to withstand miles of walking on sidewalks and streets.
The Cloudsurfers's midsole, is a departure from all original On running shoes, which was into individual Cloud components. Instead the speedboard is removed, which is part of why it feels softer and the pods now have a thing cushion layer below them which eliminates the rock issue!
As with all On running shoes, the Cloudsurfer features a sleek, minimalist design, delivering superior performance and the ideal aesthetic for urban runs.
Best On Running Shoes for Pronation: Cloudrunner
The Cloudrunner is the one of the few shoes to have the company's signature sole in the moderate stability category, offering support through a solid midfoot and responsive protection underfoot. The upper fit locks the foot down, most noticeably in the heel.
The shoe's responsiveness comes from collapsible forefoot pods in the sole, which also act as a late-stage counter to an exaggerated foot roll.
These will feel stronger than other models, but they have changed the way the pods are made to make up for any stiffness. It's softer like the Cloudsurfer.
This is their most stable shoe to help with pronation. For those who have done all the work on hips and glutes, sometimes getting good stability shoes is the final straw.
9mm heel drop
9.42oz
$149
Best On Running Shoes for Trail Running: Cloudultra 2
Welcome to their trail shoe with the highest amount of cushioning. The flip release on the shoe laces, also makes it easy to adjust the tigthness of the shoes. Which as we know is often needed during ultras when feet swell.
The On Cloudultra is one of On Running's newest trail running shoes and an excellent addition to the ultramarathon and endurance trail running market.
Partially because they shifted the pod set up, so you will catch less rocks than with the road shoes!! They add lugs for more grip and took the pods way, way down.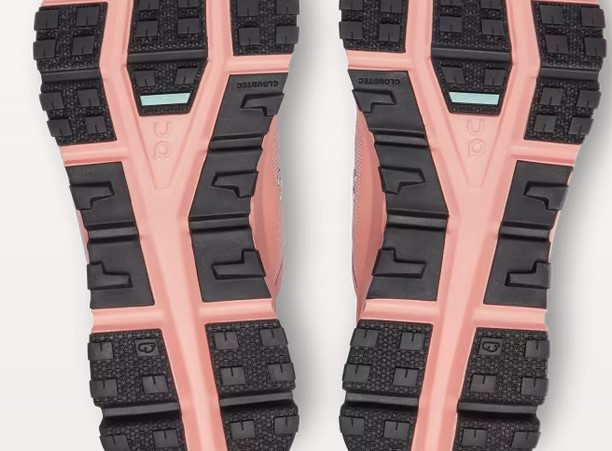 On has satisfied the request of thousands of trail runners with this shoe, thanks to its ability to tackle tricky terrain effectively and remain comfortable over long distances on trails and highways with its Helion midsole foam.
These are excellent trail running footwear for all distances up to and including the marathon.
6 mm heel drop
8.64 oz
$179
Best On Running Waterproof Trail Running Shoe: Cloudventure
Their next trail running shoe, which also has a waterproof model. This is another shoe that runs narrow, so know that before hopping in to them. These have also been improved since I first tested them, at that time the tongue had no padding and wasn't my favorite.
Remember that a 100% waterproof shoe is AMAZING when getting wet, but also hot. Your foot can't dissipate heat very well either. And they often feel a bit stiffer than other running shoes.
As you glide over rocks and roots, On's Cloudtec cushioning responds to your particular stride and let you to feel the trail.
On adds a layer of their Helion foam to the Cloudventure to make it more comfortable for long runs and days spent on the trail. This is done to make the ride softer and more comfortable.
Following feedback from athletes and trail runners, On incorporated a split-design Speedboard to keep the Cloudventure agile while also acting as a protective rock plate.
The On Cloudventure is a versatile trail running shoe that may also serve as a replacement for your hiking boots. Because honestly I'd just rather always be in my running shoes!
10 mm heel drop
9.3 oz, 11.4 oz men's
$169
See current colors and pricing on all models from On Running >>
Checkout Backcountry for sales >>
What about On Running Apparel?
Ok, now that I've told you all about On Shoes… let's talk about what I really and truly love.
I am a BIG fan of their clothing. The quality, durability and functionality are top notch.
In fact, every time you ask me about a running jacket the one I recommend is from On! Their apparel is pricey, but as noted I've found it to truly last and actually do what it says.
A couple of my must have pieces:
A lightweight jacket that actually keeps you dry. It's great from spring to a top layer in winter! The hood also stays up and that's spectacular. Have worn this with packs and solo, no issues. The front chest pocket also fits an iPhone.
Honestly, I also have their winter Insulator jacket have used it weekly this year with all the snow.
David loves his On running pants and has worn them a ton this winter. I think because they aren't tights, but a slightly looser fit.  Also great for some added wind protection!
All right there you have it, my breakdown of On Cloud and all the different ways they're different from other brands, plus what to expect from each model!
A few other articles you might enjoy:
Other ways to connect with Amanda
Instagram Daily Fun: RunToTheFinish
Facebook Community Chatter: RunToTheFinish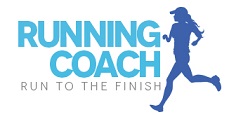 Sign Up to Receive a Weekly Newsletter with Top Running Tips and Laughs