For this episode of which running shoe is right for you we are pitting two of the biggest names in the shoe world against each other: Nike vs Adidas Running Shoes.
Perhaps like me you think of Adidas first for soccer or even fashion. But they've been a long time player in the running industry as well.
Both brands have things people love and things people dislike.
And like every running shoe brand they tend to have moments where they seem to be the dominant running shoe. This has a lot to do with marketing or getting lucky with a superstar athlete wearing their gear on a main stage performance (Olympics, NYC marathon, etc).
When it comes to these two brands, I think it's key to know that both have continued to change an adapt. So if you've tried one previously without luck, you might need to be willing to test a new model.
Main Differences Adidas vs Nike

Nike and Adidas have a similar range of shoes, but a very different fit and feel. Maybe some of the difference is simply in the way that they market, which makes you feel differently about the gear.
I break down the differences in more detail below, but here's a quick overview:
Adidas Running Shoes

Shoes tend to run true to size, not wide
Huge line up of shoes can be confusing
Frequently able to find good sales (hey that matters!)
Shoes for a wide variety of sports
Very well known for casual shoes and athletic wear
Nike Running Shoes

More narrow fit, especially in the heel and midsole
Tend to run smaller in width and length than many other brands
A larger focus on newest and trendiest technology to "improve running economy"
Known across a wide variety of sports and highly visible in competition
Has a large brand loyal following
Is Nike Better Than Adidas?
Nike has been dominating the elite running world for many years, so the question is do they have shoes for the rest of us?
100% they have a variety of shoes for different runners. And while you might see far more elite runners in Nike gear, New Balance is an equally great running shoe for most of us. The shoes worn by elite runners are often custom made, specific to a team or sponsored.
But Adidas is also huge in the sponsorship game. You may have noticed them at the Track World Championships or on the Tin Man Elite training group.
It's really a matter of fit and slightly different technology from each brand as to which you'll like better.
For many years I was not a fan of Nike, but about 5 years ago I discovered a Nike shoe that has become one of my go-to shoes. I've had 8 pairs now, you'll see it listed in the comparisons! Same can be said of Adidas running shoes which previously lacked the cushion I like in distance shoes.
I've worn both brands and will add some personal thoughts, along with comparable models from each brand at the end.
Adidas vs Nike Running Shoe Feature Comparison
Both brands have been around for a very long time and are leaders in running shoe design. They both offer various technologies to aid with comfort, support, stability, and cushion.
They differ in both fit and technology.
Here is a breakdown of each shoe based on the components buyers need to consider when purchasing a running shoe.
It's gonna get a little TECHY…so you can just skip on down to the specific model comparison if you want, but personally if I'm shelling out $150 for shoes, I kinda want to know why.
Durability
The lifespan of shoes from both companies is fairly comparable. Though I kind of dislike that they give a 200 mile range, that's massive. Assume that for heavier runners shoes breakdown faster and those running on the treadmill may get more life.
Adidas shoes have a life expectancy ranging from 300 to 500 miles, or three to six months, depending on your monthly mileage.
Nike's Vapor Fly is only going to give you about 200 miles, but most shoes are in the 300-500 mile range
Determining when to replace running shoes, of course, all depends on your gait, weight, and whether you run mostly on trail or road.
Breathability
Adidas focuses on a mesh upper for ventilation. In general, you want to avoid a Knit Upper if you'll be wearing your running shoes in super hot weather as it will trap more heat.
Nike has transitioned to FlyKnit for many of its shoes. It's a more form fitted style, which means some areas are designed to be thinner and breathable while others are thicker for support. But as noted above they may not be quiet as breezy.
Across MOST running shoes, the only time you now won't find them to be breathable is if you get to Gore-Tex shoes that are designed to be water repellent or water resistant.
Fit
Nike running shoes are often reported to run small.
Adidas shoes are generally reported to run true to size.
But NEITHER brand is good for a wider foot. They do have some wide models, but the average shoe is going to be a little slimmer fit. Which also means they do not have a large toe box like an Altra Running shoe.
This is an older, yet still very USEFUL graphic from the Huffington Post.
I forget we may not all know the lingo when talking about different components of the shoe and why they matter.
Cushioning
Adidas is now well known for their Boost cushioning, which is in the name of so many shoes. Their goal was to improve upon traditional EVA foam, by creating something that provided both cushion and responsiveness.
Meaning that you don't sink in to the shoe losing the forward momentum. Since 2013 Boost foam has been their primary cushion.
Nike started putting air in their shoes back in 1977 to improve cushioning.
"Nike Air technology consists of pressurized air inside a tough yet flexible bag and provides more spring without compromising the structure."
And since the 90's they've been recycling waste material from production in to new shoes. They continue to look at this sustainability in developing new shoes.
Currently the React Foam is their big winner. It's truly a great soft and light cushion.
Stability
Adidas utilizes a denser midsole and more heel lock to help keep your foot from overpronating.
Nike does say their stability shoes are slightly wider and also designed with a curve that will help with heel to toe transitions.
As you may know, I'm not a huge fan of stability shoes for most runners. I am not finding a big difference in brands, they are all focused on preventing that foot roll and often feel more rigid, even with a decent cushion.
Affordability
Adidas prices range between $100 to $140, while Nike start at a slightly higher price at $120 to $180.
The most popular models for both brands are priced toward the higher range. Carbon fiber shoes and often trail shoes will go beyond those rates, like the Vapor Fly which is over $200.
You'll notice that every brand offers a range and this is indeed due to a difference in technology and where they sell the shoe. They know that the big box store can sell the shoe with less in it, while the local running store needs to be best for dedicated runners.
Nike Vs Adidas Running Shoe Models
Now that you know more about each brand, let's look at their top models in each of the main categories. There's no winner declared here because all are great shoes, it's just about which one is best for your foot.
Did you notice I even said the brands in reverse order this time…seriously no favorites, I have run in both brands many different times over the years.
Quick note, I absolutely encourage you to checkout Nike's return policy! It makes it much easier to test out a shoe and return if it doesn't feel right.
Stability Running Shoe
Oddly from both brands this is one of the most affordable running shoes at under $100. As a reminder these shoes tend to be a little stiffer, so if you like the price know they may not feel as amazing on long runs.
Another shoe utilizing their great react cushion and the wrap around feel of the flyknit upper.
It has a slightly higher arch and more room in the toebox than most Nike running shoes.
This is what they call a stability neutral shoe, which is probably more in line with what I'd recommend. It's not a firm and will not be over correcting your foot strike. It has guiderails as most stability shoes do, but without losing the softness.
10mm drop
10 oz women's, 9.9 oz men's
$100
I couldn't finish the stability shoe section without mentioning the newer style that Nike has started promoting. The Nike Invincible!
I recently tested version 3 and I've honestly never found a stability shoe with so much bounce. It's definitely benefiting from using the same foam as the Vaporfly racing shoes.
While the shoe is still narrow, per normal Nike, it has a much wider base and therefore offers a lot of stability with that cushion. Plus an outsole with grip for going from road to trail.
Utilizing their stable frame, you'll find your foot less likely to fall inward. While you will still enjoy the benefit of Boost foam to provide both responsiveness and cushion.
This is not a plush cushion due to the nature of a stability shoe, but it's comfortable. With a padded tongue and collar, you shouldn't have any issues with rubbing.
A shoe that's made with a number of recycled materials is always an extra win.
10 mm drop
9.8 oz women's, 11.2 oz men's
$130
Neutral Running Shoe
The Nike Pegasus has all the bells and whistles that a runner could ask for: just the right amount of cushion in midsole for maximum comfort, durable rubber outsole to withstand, and a breathable mesh upper to keep your feet feeling fresh and dry.
But let's get real for a second. The Nike Pegasus isn't just a pretty shoe. It's got substance too, with a firm heel counter that keeps your foot locked in place and a molded foam insole that provides extra support for those long runs.
I'm shocked it took me until version 40 to test out this shoe. It's so clear why it's a long time favorite for many.
This is a good option for your easy weekday runs or for the support of a marathon training run.
This is definitely a shoe that I like for those weekday training runs. Not over built, just enough cushion and a little roomier than other Nike's.
10mm drop
10.9 oz men's, 8.5 oz women's
$135
The Nike ZoomX might be the most cushioned shoe they have, but it's also a higher price point and a model I don't know that will stick around as long. It's never fun to find the shoe we love and then have it taken away.

Is it their flashiest shoe, no. But I like the simple look! This is often listed as one of their best long distance training shoes because it provides some great cushion with stability. The massive stack height is part of what creates the wider base for stability, but the shoe also has a stiffness to it from the "energy rods".
The Adidas Adizero Boston features a Lightstrike pro midsole that provides excellent energy return and responsiveness. It definitely doesn't have the same bounce and pop as the Boost midsole, so if you're really looking for cushion head on to the next shoe.
Some runners dislike the lack of cushion in the heel and tongue. I haven't had an issue with that, but it's important to know if you like or dislike that fit and feel.
It has a very grippy outsole as well, so these would make for a little road trail mixed use easily (just nothing technical).
8.5 mm drop
8.8 oz women's, 9.6 oz men's
$160
Cushioned Running Shoe
Another shoe utilizing their great react cushion and the wrap around feel of the flyknit upper. It's super similar to the Epic React that I loved running in for many years, except it's a stability shoe.
It has a slightly higher arch and more room in the toebox than most Nike running shoes.
This is what they call a stability neutral shoe, which is probably more in line with what I'd recommend. It's not a firm and will not be over correcting your foot strike. It has guiderails as most stability shoes do, but without losing the softness.
8mm drop
9.2 oz women's, 10.7 oz men's
$165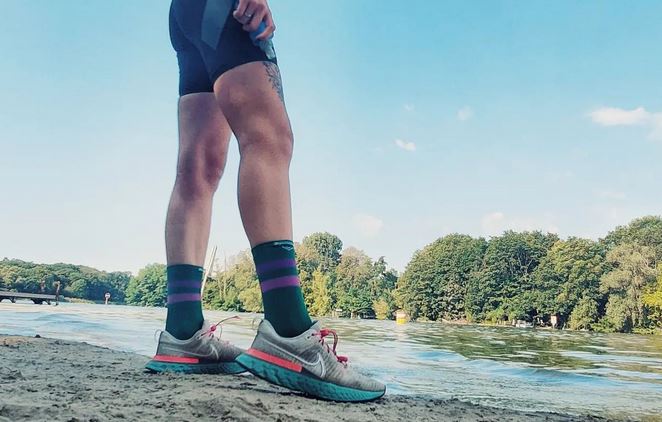 Rave reviews, that's how I feel about this shoe. So many of you have told me it's your must have. It's a great everyday trainer for up to half marathon distances.
I just started running in this shoe and the heel definitely has that bounce! The forefoot for me is lacking a little bit of cushion, but overall I can see why you all have loved this shoe for so many models. Though it's not one that will be in my rotation much.
Utilizing the Boost foam means thermoplastic polyurethane particles (TPU) expanding across small pockets of air. Very sciency way of saying they keep off the weight, provide cushion and allow the shoe to remain responsive to not slow you down.
It also has that slight rocker feel, which is designed to also help propel you forward.
10 mm drop
10 oz women's, 11.7 oz men's
$190
Carbon Fiber Plate Shoes
Are they cool new technology, yes. Do they last as long as your other shoes nope.
So if you want to test these out use them for speed work and then race day! I don't usually do a full write up on these shoes, but with Adidas and Nike running shoes they've become a HUGE part of the brand.
All right, having seen this shoe in Boston, I too was intrigued to test it out. My first run it in reminded me a lot of the Nike Alphafly. You've got that spring and bounce off the ground, but with a wide platform that allows you to also feel stable in the shoe.
The fit is MUCH wider than Nike, which for most will be a good thing. I did find that I had to work a bit on the lacing to stop the shoe from breaking across the top of my foot.
This is a personal preference for the enjoyment of maximum cushion shoe that also has the carbon fiber to help propel you forward…and honestly there's a reason this is what the pro's are racing in. It works!
Great breathable shoe that's designed for race day from the 10K to marathon.
10mm drop
7.7 oz women's, 8.3 oz men's
$250
Similar to the AdiPro this is another max cushioned carbon fiber plate. For me it just makes the shoe more accessible to the everyday runner who enjoys cushion. Though maybe at $250 accessible is the wrong word?!
This is one of the lightest shoes with cushion I've seen. This absolutely matters over the course of 26.2 miles where every second adds up to hit or miss your PR.
You will absolutely feel the bounce in this shoe, it's dreamy. While the debate rages on who will benefit, I can say in my tests that I found my HR lower and thus was able to run faster.
8mm drop
5.8 oz women's, 6.6 oz men's
$250
Read my full review of the Nike Vaporfly (hint…I love it).
And more importantly a comparison of the Nike Alphafly vs Vaporfly. Which is the right race shoe for you?
Trail Running Shoes
Compared to many of the trail shoes I've run in this is a bit more minimal on the cushion side, and yet it's a shoe I really like and have used for quite awhile.
While this shoe has a rockplate, I'd still relegate it to my mid-distance or faster trail style running, not my super big rock kind of days. I'm a big fan of the lower profile and the Epic react cushioning (see info below).
Some noted that they didn't like the feel of the shoe on hard packed trails, but I can't say I minded. Again simply knowing upfront that this is trail running shoe that's going to be moderately cushioned and responsive.
The grip felt good in most places, though
the lugs are not huge or varied on the forefoot, so for more technical terrain you might choose another option. I've heard it doesn't grip well when wet, but I wasn't on anything slick enough to find that as an issue.
Weight: 10.5 oz men's, 8.8 oz women's
Heel drop: 4mm
Neutral trail running shoe
Seamless, no shoe tongue sliding around
This is a shoe with really mixed reviews. Out of the box it feels really stiff and I've run in to this with past trail shoes, so I personally don't give them a whole lot of time. That being said, it also means they are really durable and keep your foot secure!
Over 50% of the shoe is made from recycled materials, which is always a bonus when adding to our collection and reducing our footprint. Having used many shoes with recycled materials that is not why this shoe is stiff, it's simply the way they've chosen to design it.
Underfoot you'll be getting the foam similar to the Ultralight boost and of course some great lugs for plenty of traction.
Weight: 10.5 oz men's, 9 oz women's
Heel drop: 8mm
Neutral trail running shoe
More About Adidas Running
Did you know Adidas was formed by one brother…and the other created Puma?! Look out for those family feuds!
The iconic 3 stripes appeared in 1949. On what is now considered a classic casual Adidas shoe, pretty impressive that a style has lasted so long and is still used by many soccer players.
In the 60's Adidas started to get some attention in the running world. But again in the 80's Adidas introduced a soccer cleat that is still used today!
The 2000's are when they really started to hit their stride and have continued developing new technologies to make their running shoes some of the most loved.
More About Nike Running
Is there anyone who doesn't know the story of Nike yet?? The brand actually started in 1964 as Blue Ribbon Sports and didn't take on the name of Nike the Greek Goddess until 1971.
If you haven't read Shoe Dog by Phil Knight, it's a wonderful book that gives you so much insight to the building of a company and a brand.
I fully understand not everyone loves Nike due to many of the practices we've seen with their athletes. I'm just here to provide details about the gear, you make those judgements.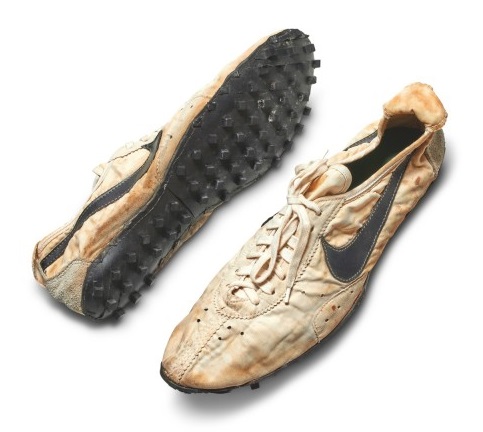 In 1972, the Nike Waffle Racer was handed out at the Olympics and things really started to take off. One of these original pairs of shoes recently sold for almost $500,000!
From there they have continued to inovate and consistently produce new models of shoes for a variety of sports.
Nike has also dominated the marketing game.
How to Choose Nike or Adidas?

Nike and Adidas are two extremely well known running shoe brands, but more important than brand is the fit of the shoe.
Your gait and feet will change over time and you may need to change shoes.
This is also why I recommend rotating through several pairs of shoes at once.
And remember, just because these are two of the most well known brands on the market, there are still plenty of other shoe brands to select from if neither New Balance nor Nike has the right shoe for you.
Keep in mind that shoe design can change, even with the same model, so always assess how the shoe fits every time you replace a pair.
For more help selecting the right shoe for you, don't worry, I've got you:
Other ways to connect with Amanda
Instagram Daily Fun: RunToTheFinish
Facebook Community Chatter: RunToTheFinish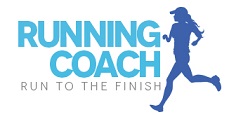 Sign Up to Receive a Weekly Newsletter with Top Running Tips and Laughs