As a distance runner, since 2002, I've tried many different brands of running shoes. One brand that has consistently impressed me is HOKA One One. And since you often have questions about this funky looking brand, I wanted to introduce you to the best HOKA Running shoes.
With their focus on cushioning and comfort, HOKA One One has established itself as one of the top brands in the running shoe market.
While they may be newer to the game, they're no longer the new kid on the block with brands like Altra, Topo and even Tracksmith and Lululemon jumping in to the game.
Hoka running shoes are designed to provide superior cushioning and enhanced stability, making them a great option for runners of all levels and abilities. Whether you're a beginner or an experienced runner, Hoka shoes provide the protection and comfort you need to get the most out of your run.
In this article, I will be reviewing some of the best HOKA One One running shoes available and providing a description of each shoe and what type of runner would enjoy that shoe.
What Sets HOKA Apart?
There are a few key features that you're going to find across all or most of their lineup. So let's review those here and then we'll dive in to the specific models!
Maximal Shoe
This is the trademark characteristic of HOKA, so it's important to understand what it actually means.
We are talking about the stack height of the shoe, which is the height of that beautiful midsole cushion. It does NOT mean the same thing as heel-to-toe drop.
Heel toe drop is the amount of height change from the heel of the shoe to the forefoot. To visualize that just think about a high heel, running shoes are just not as extreme.
The benefits of the HOKA platform is that it creates natural stability. Instead of putting in hard rods or hard arches to control the foot this wider base does it naturally.
Podiatrist recommended
Yup, they actually have a seal from American Podiatric Medical Association on a number of their shoes. That means a group of poditrists have reviewed them and recommend them for good foot health!
Best HOKA Running Shoes
Having run in so many of these, I'm always excited to tell people more about HOKA. If you've been around here long, you know that I'm not a brand purist. I run in and test a TON of different brands.
But HOKA was one that took me by surprise.
Let's be honest the first time I saw that huge stack height and heard the word Maximal shoe, I thought "not for me". And then like any good researcher, I decided just to give it a shot.
It wasn't heavy or clunky. It felt good. Hmmm this was intriguing!
The first shoe that must be mentioned is the Clifton as their flagship shoe and the one that started it all. I've now tested 6 different models of this shoe and it's true there were a few that I just didn't love.
But they have come back around and I'm definitely logging miles in the 8.
This shoe is designed for neutral runners looking for the perfect balance of cushioning and responsiveness.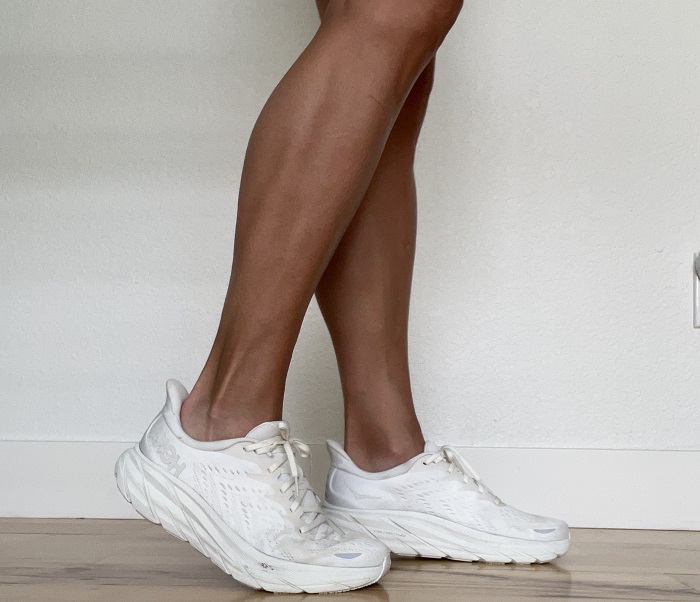 The Clifton features an updated midsole that provides a softer and smoother ride, making it perfect for long-distance runs. The shoe also has a lightweight design, which makes it ideal for those who are looking for a shoe that won't weigh them down during their runs. Truly not always easy to find a combination of cushion and low weight!
The Clifton 8 also has a breathable upper, which helps to keep the feet cool and dry, making it a good option for running in hot and humid conditions.
For the runner who wants to feel clouds under their feet, I give you the HOKA Bondi. In over 20 years of running, I still believe this is the plushiest shoe that I've ever run in.
The upper is designed to be lightweight and breathable, while the outsole is engineered for maximum durability and grip. The Bondi is perfect for long runs for newer runners whose body will benefit from the added reduction of ground impact. Or for those who want a fabulous recovery day running shoe.

While this is not a stability shoe, you will hear people mention that it provides great stability. This goes back to the wider platform that we talked about at the beginning.
The Bondi also comes in the BondiX which is a carbon fiber shoe. I've tried it, and what a treat for a shoe company to say why can't the everyday runner have a carbon fiber running shoe?? Meaning just because you aren't aiming for a 2 hour marathon doesn't mean you can't enjoy the benefits in your 5 hour marathon!
As you can see the trade off for gaining that extra super plush feeling is a few more oz in weight. And yet this is still lighter than so many moderately cushioned shoes from other brands.
When you're ready to turn on the speed, the Mach is your HOKA of choice. It's not a carbon fiber shoe, instead it's a super lightweight shoe designed to spring off the ground and help you find that quick turnover.
This shoe is best for experienced runners who are looking for a fast and responsive shoe to take on long-distance races or interval training. The Mach features a lightweight foam midsole that provides a quick, lively feel, while the meta-rocker design helps to encourage a more natural gait.
While many shoes promote something like a meta-rocker to help propel you from heel to forefoot, I will say I did actually notice it a bit in the Mach. That's super unusual, normally I'm wondering what on Earth they mean.
For the speedster who wants that carbon fiber push off, it's time to checkout the Carbon X.
The HOKA CarbonX is a high-performance, lightweight running shoe that is designed for speed and agility. It features a carbon fiber plate in the midsole that provides a responsive, energy-returning ride. The shoe is also equipped with a cushioned midsole and a lightweight, breathable upper that delivers comfort and support to the feet.
I admit that while I loved the feel underfoot, I struggled with the tongue.
The shoe has that Nike Flyknit feel which wraps around the foot. It feels like and lovely, but also means that the tongue has no padding. Unfortunately it broke right on my ankle and left me constantly with an irritation.
That being said, one of my athletes wore the shoe for the NYC marathon and didn't have a single issue! So worth trying on to see how it fits on your foot!
The other thing you're going to notice immediately in the design is the extended heel. They used to call this a hubble heel and in theory it helps you to make a faster transition from heel to toe with each stride. I can't say that I noticed it too much, but I've also found I don't particularly love extended heels for the average heel striker.
Again, I'd give this a similar feel to the Clifton, but you'll absolutely notice the responsiveness.
I like to say the Speedgoat is the Clifton with extra traction. While that's not 100% true, it's pretty close! So if you love the feel of their classic neutral trainer then the Speedgoat is going to be a winner for you as well.
It's absolutely become one of my go to trail running shoes.
You might think with the stack height that it makes trails harder and it HOKA is one of the preferred shoes for ultramarathon runners. Which I believe is due to the good combination of cushion and stability.
The Speedgoat 5 features a durable design that provides a comfortable and stable ride on any terrain. The shoe also features a breathable upper, which helps to keep the feet cool and dry during runs.
The Arahi is a stability running shoe designed for runners who need support for overpronation.
This shoe features a J-Frame technology that helps to guide the foot and reduce overpronation, while the foam midsole provides a cushioned and responsive ride. Truly it's not often you find a shoe with this amount of cushion that's also designed with stability in mind.
The mesh upper is breathable and flexible, and the shoe features a wide base for added stability. The Arahi is a great choice for runners who need support and stability, and who want a comfortable, cushioned shoe for their daily training.
Since I am not a stability shoe runner, this and the Gaviota have not graced my feet. I'm sharing with you feedback from other runners who have used them!
The Gaviota 4 is the highest level stability shoe offered by HOKA, right along side that plush cushioning feel from the Bondi! All of that combined does make it their heaviest shoe.
The Gaviota is a maximum cushioning running shoe that provides a smooth, cushioned ride with some stability for long distances. This shoe is best for runners who need extra cushioning for their feet, especially for those who suffer from joint pain or who are looking for a shoe that will help them to recover after a long race.
The Gaviota features a thick foam midsole that provides a cushioned ride, while the wide base and stability features help to reduce overpronation. The breathable mesh upper is lightweight and flexible, making this shoe a comfortable choice for long runs.
The Challenger is designed to be a road-to-trail running shoe, similar to the Nike Terra Kiger...but with more cushion.
This makes sense from the lug design, which would easily handle trails or crushed gravel paths. I tend to prefer to keep my shoes with lugs off the pavement, but that's what they designed this one to do. It's not designed for super technical trails and may feel a bit more narrow than other models based on tester feedback.
The shoe offers plenty of cushioning and support, making it great for those looking for a comfortable ride when hitting those local trails, crushed gravel paths or dirt roads.
The breathable upper helps keep your feet cool and dry, and the outsole provides excellent traction on a variety of surfaces. I also like the extended heel, less issues with my foot slipping out.
The Torrent is a versatile, lightweight trail running shoe that provides a cushioned and responsive ride on a variety of terrain types. This shoe is best for runners who like to tackle challenging trails, wants to think about speed and who need a shoe that can handle a variety of conditions.
The Torrent features a aggressive outsole with multi-directional lugs that provide traction and grip on a variety of surfaces. The foam midsole provides a cushioned and responsive ride, while the breathable mesh upper is durable and flexible.
The Meta–Rocker design helps to create a smooth transition from heel to toe, making it a great choice for long–distance runs.
The Torrent is a great choice for runners who want a trail shoe that can handle anything they throw at it. With the stripped down cushioning, it's a shoe that's going to allow you to feel more of the ground, which many runners love for better proprioception.
There you have it! A break down of the best Hoka running shoes! As you can see HOKA One One offers a variety of running shoes designed for different types of runners and running styles.
Whether you're looking for a lightweight and responsive racing shoe, a stability shoe for overpronation, a maximum cushioning shoe for long distances, a trail running shoe, or a versatile road running shoe, HOKA One One has a shoe that will meet your needs.
Take some time to consider your running goals and needs, and try on a few pairs of HOKA One One shoes to find the best fit for you.
In the last few years, they've slimmed down the overall product line, which is why the best HOKA running shoes isn't 50 models long! I appreciate this as it means they're focused on what works.
In fact, I even recommend them as great walking shoes! Checkout the best HOKA walking shoes (for those on their feet all day!).
Since I know part of buying a new pair of running shoes is figuring out how they might feel compared to what you currently run in, I've done a ton of side by side comparisons. Pitting different brands and models against HOKA to help you find the right shoe:
Other ways to connect with Amanda
Instagram Daily Fun: RunToTheFinish
Facebook Community Chatter: RunToTheFinish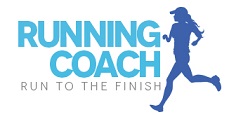 Sign Up to Receive a Weekly Newsletter with Top Running Tips and Laughs