Since I started wearing HOKA's many of you have asked "what do you think?" or "I've been considering them, should I?" "Can you give me a Hoka running shoes review??"
I wanted to wait until I'd been wearing them a significant amount of time before providing any feedback. That way I can ensure it's not just marketing speak, but my feet, my legs, and my knees telling the whole story!
In fact, I've now been able to test out a variety of models over the last 8 years and I'm going to give you a run down on many of those! This started as just a review of the Hoka Cliftons, but has evolved since I've tried more models.
Hoka Running Shoes
Switching running shoes is a TERRIFYING prospect, but I was in need of a change. My knees had been aching for months and my chiropractor had started to point out how my foot was rolling in pretty hard on my old shoes.
Sooo the idea of some extra cushion and a little more support sounded like a good thing, but would I really like them?
They were so big!! They were so different!
Maximal running shoes vs minimal is a whole topic that required a specific post, so read that to figure out if it's right for you.
Here we're just diving in to some of the different models of Hoka running shoes.
Hoka Clifton
Hoka Bondi
Hoka Speedgoat
Hoka Cavu
Hoka Huaka
HOKA ONE ONE CLIFTON REVIEW
What I noticed right away was that they did feel different, but they weren't awkward or heavy.
In fact, they were so light I was absolutely shocked. And when I tried to go back to my old shoes they felt like rocks. I've now run in the Hoka Clifton 1, 2 and 5. The 2 went a little off track, but by 5 I was in love again and will be buying 6.
Injury
The knee pain that I had been battling in 2013 quickly got better as I transitioned to the HOKA Cliftons.
Of course I was also doing all of the PT hip and IT band exercises that I continually recommend for all of my runners as well. So I can't credit the shoes 100%, but I believe they have played a factor by likely helping to improve my stride or slightly correcting an inward foot roll.
Maximal shoe
I'll did separate detailed post comparing maximal and minimal shoes in the future, but for now here is what HOKA has to say about their shoes:
"maximum cushioning material is designed for excellent shock absorption and an inherently stable ride."
Fit
Fit is the one thing that has bothered me a little as I have a more narrow foot and so sometimes my foot has felt a bit like it was too small for the shoe. However, I have read many other reviews that state it's a very average fit, so this you'll need to test out for yourself.
I wear the same size 11 in these as I have in all other running shoes for many years.
I would consider these a Hoka Neutral Running Shoe.
Weight/Heel Drop (women's):
Clifton 8oz, 5mm
If you have been wearing a shoe with a larger heel drop you may notice more of a difference. My personal preference is towards less of a heel drop as I think it gets our foot in better alignment, it also mimics the idea of a minimal shoe, but with the cushion!

Clifton original in pink and Clifton 2 in purple.
Usage
I have worn them for long runs, speed work, a 9 mile race and a half marathon. I have put in over 300+ miles in the HOKA Cliftons and I'm ready to keep on running in them.
Replacement
The standard saying is replace your shoes every 500 miles and these shoes are the same. Whatever you have found to be your sweet spot in the past will be roughly the same here. I.e. larger runners, big men, etc often find they need to replace shoes quicker due to breakdown, others find that more treadmill runs means maybe their shoes are good for 800 miles.
Hoka Bondi Review
I swear I had tried this shoe previously without much love, but this time the first run and I knew we were going to be long term buddies. It goes to shoe sometimes a shoe update is for the better.
Maybe it's because they went back to their 2011 model and started from there (noting that the original Clifton was also my fav). The Hoka Bondi is now going to be making more appearances here!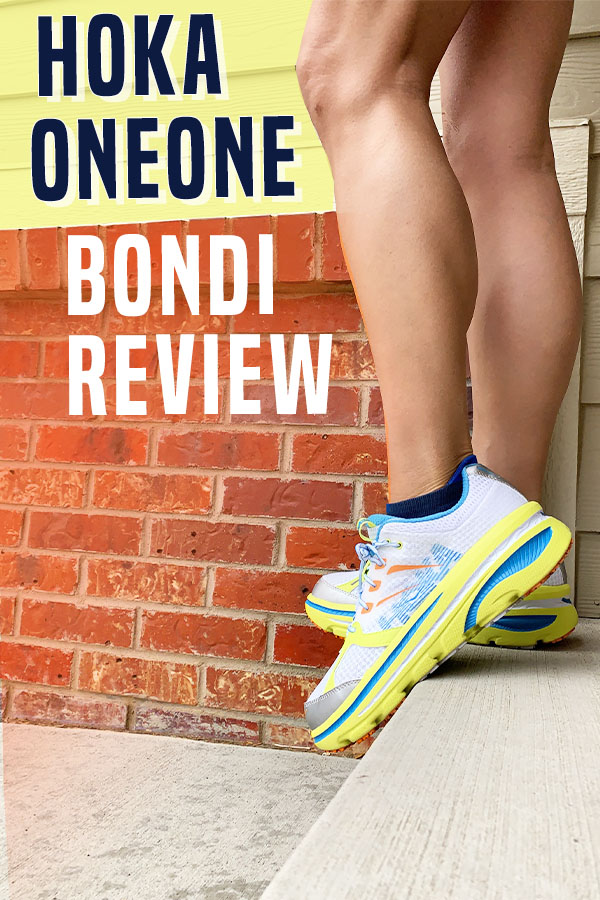 The first comment I received on social was that they looked heavy and the follow 4 were OMG I love how cushioned these shoes are! I admit when I first considered Hoka's weight was on my mind, but looks are definitely deceiving in this case.
Fit
These shoes felt fabulous thanks to the huge amount of cushion and yet not too heavy for a nice long run either at just 8.6 oz for the women's. While they're also listed as a neutral shoe, I was thrilled to see my foot didn't drop in one bit when I put them on which is common in other shoes without as much support.
Heel drop
4.5mm which means they're my perfect idea of a low profile shoe combined with cushion!
UsageI used these for everything from a short recovery day run to a long run of 18 miles. They became a staple in my weekly shoe rotation.
Hoka Clifton vs Bondi
My experience would be that the Bondi was an even softer shoe than the Clifton. And while that feeling is AMAZING, for some runners a shoe that is overly plush leads them to sink a little while running long distances and leads to low back pain.
It just means there is less stability and you really need to ensure you are maintaining great form and posture.
Both are a neutral shoe
Both are similar in weight and heel drop
The Bondi is just a plusher feel. You won't question if it's a cushioned shoe.
Having run in both, I like both. But my most recent new pair was back to the Clifton.
NOTE – I also shared this tip on IG and many found it helpful. While a plusher shoe may FEEL better, it's not always the best option. You may find that sinking in to it starts creating lower back pain.
I now use these on recovery days and shorter days, but no longer on long run days.
Hoka Speed Goat Review
After asking for opinions on the best trail running shoe, this one came up so much that I decided I needed a pair.
The masses were right, I love it.
The Speedgoat has all of the cushion that I have come to love from my Hoka Cliftons and has all the grip and varied lugs I need to maintain traction on the trails.
Weight/Heel Drop
9.2 oz with a 4mm drop — perfect low profile shoe
Usage
I've now run easy trails, technical trails and up to 18 miles in the Speedgoat. Loving how this neutral shoe feels on my foot and with a slightly wider toe box than many it's meant no issues with blisters from downhill running.
Hoka Cavu Review
A maximal shoe doesn't have to be heavy or overly cushioned, which is proven out by the Camu.
These shoes are designed to be VERY light, which reduced the total cushioning (though they are listed at 6.6 oz, they feel lighter). And let's be honest, I've come to really like that soft ride.
These aren't hard by any means, but they aren't a cushioned shoe.
They're a light, fast maximal running shoe for those who have found that style works best for them.
I opted for the Fly By Night all black, which are super fun because when the light hits them they become completely reflective! These never quite felt like the shoe for me, so I appreciate them, but you probably won't see me in them a ton.
Hupana I tested in their more casual slip on shoe and it's absolutely love at first slip!! These are cute enough to wear on those long walks we take on vacation and yet I also know I could probably run a couple miles in them, which just makes me happy! And in fact, that's exactly the need they were trying to fill with this shoe!
Huaka 2 is the lowest profile shoe, with a 2mm offset and a more narrow fit and tread that makes is suitable for road or trail (which is what has my attention!). This style also has a full RMAT midsole, which is a firmer and responsive ride compared to single density EVA, which is used in a majority of HOKA shoes.
It wasn't my favorite and I think the fact that they aren't making more models means others felt the same.
Wondering how HOKA stacks up against other traditional running shoes?
Checkout these match ups:
Looking for more reviews to find the best things for your run?
Checkout our full page of my must have running gear reviews and guides to save you time searching and money! I share what's worked for me and fellow runners, along with what wasn't worth the price tag.
A few common requests:
Other ways to connect with Amanda
Instagram Daily Fun: RunToTheFinish
Facebook Community Chatter: RunToTheFinish
Get more running tips: Pinterest
This is not a sponsored post, though I have received Hoka's free over the years for testing.