If you love a neutral daily trainer that can handle some mileage, I think the Brooks Ghost 15 is going to make you very happy. Though the heel drop is higher than I typically use, I found it less noticeable than in other running shoes.
There's a reason this is one of their most popular models and I'm happy to have spent a month logging some miles to give it a serious test. I also reached out to a few other runners who've been in them for years to find out what makes the Brooks Ghost such a winner.
Plus, you're getting something added now as Brooks works towards being more carbon neutral! A good thing for those of us who so love our time outside pounding the pavement. I'll share more details below.
As you know I'm always honest in my running shoe reviews with what I like, dislike and what might work for you that wasn't a fit for me! So hopefully, once again I can provide you with some insights on if this is a running shoe you'll enjoy.
There is no one perfect running shoe for all runners, so I'm going to share my findings. But as always I encourage you to head in to a running store and put them on! Run around the shop and see what you think.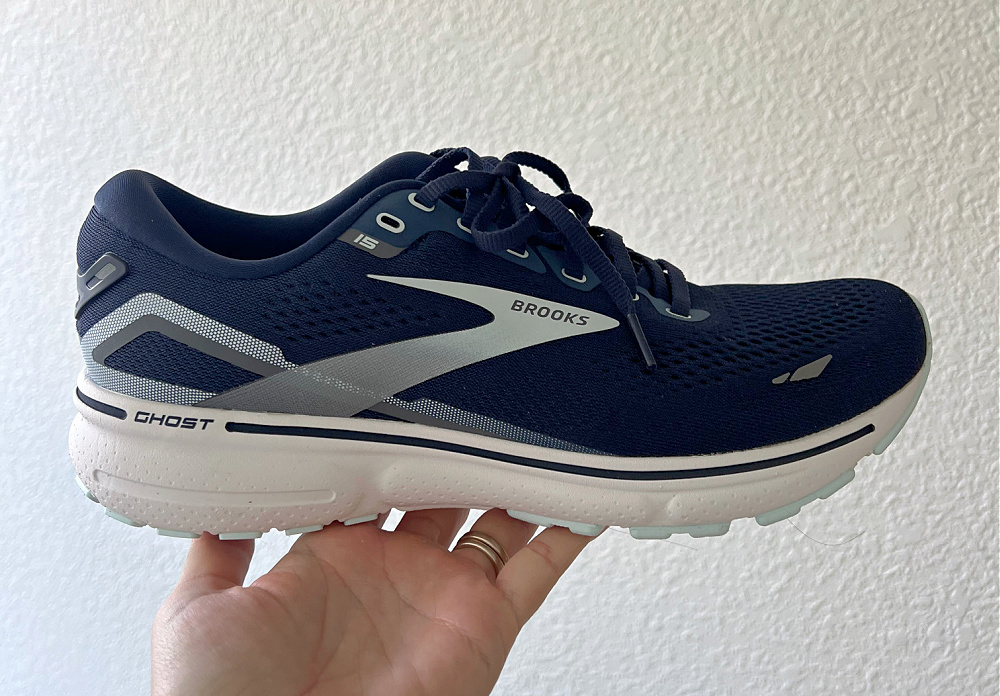 A 12mm heel drop is a really standard running shoe style and yet one that many of us have moved away from because we found something lower simply felt better on the IT Band or calves. That being said it's still one of Brooks' top selling shoes, so clearly a lot of folks still love the feel.
It's not the lightest shoe, which is why I say is a great training shoe, but not generally what I'd pick out for a PR race day. For example, the Saucony Endorphin Shift is actually a full 1 oz lighter. However, it's also a more maximal shoe and not everyone enjoys that style.
A great pick for cushioned neutral Brooks shoe for daily easy runs with a higher heel drop.

Higher heel drop can be useful if you have Achilles pain while running or potentially for heel strikers. I'm not sure I always agree with that second point because maybe the shoe is contributing to the heel strike rather than just softening the landing…but chicken or egg my friends.
I found this shoe to be right in the middle in terms of cushion. Not so plush that I'm sinking in and not so thin on cushion that my legs are noticing it by the end of a run.
12 mm heel drop
9.1 oz women's
10.1 oz men's
Moderate
Available in 8 colors
Available in Wide
Brooks Ghost 14 is going to be majorly discounted and for me an equally good shoe.
If you are looking for their max cushion shoe, that's going to be the Brooks Glycerin. Interestingly it's only a 10 mm drop and slightly lighter! I think that's a good sign that the Ghost is a model that works for people, so they aren't making major changes.
Hurray! A shoe that doesn't feel different with every single new model.
Brooks Ghost Fit
I find Brooks running shoes to have a pretty standard fit. Unlike Nike's which can feel a little narrow or short, Brooks always seems pretty comfortable on the first run. I always get the same shoe size (11)in them as I would in New Balance, Hoka or Asics.
Padded tongue, which is probably the one place they'll try to cut weight in the future. That's become a common trend among other shoe lines. But the tongue and collar padding make for a really comfortable snug fit.

I've found these shoes are comfortable on most easy runs. I could probably wear them up to the half marathon distance for easy training. For those running a first race distance, you could absolutely still wear them on race day. They are the shoe you're used to and that's more important than trying to cut a few ounces!!

On 90% of my running shoes, I use a heel lock lacing and these have enough laces to make that easily doable. I noticed someone mentioning issues with the heel pulling out. I didn't find that, but again used that lacing technique.
Who Should Not Get the Brooks Ghost 15?
If you have a tendency to overstride and heel strike, we know the higher heel drop can add to that. Additionally, if you tend to have issues with your calves being really tight or IT Band issues, I have found going down to a 4-8mm drop helps a lot of runners.
Those looking for a super cushioned shoe are going to want something more like the HOKA Bondi or ALTRA Olympus.
Carbon Neutral Running Shoes
Brooks has stated they are aiming to achieve net carbon zero by 2040. Which means that they are taking out of the atmosphere anything they put in, to result in a net zero of greenhouse gases.
That's pretty cool.
In the Ghost 15 they are up to 24% of the total shoe being made from recycled materials in the tongue, upper, and collar lining. They've also gotten another 6% drop in manufacturing emissions and are buying carbon credits to offset the remainder of the shoe.
What You Need to Know About Brooks Running Shoes
Believe it or not, Brooks started out in 1914 making ballet slippers and bathing shoes. Since then, they have made everything from baseball and football cleats to roller skates.
It wasn't until Frank Shorter won the marathon at the 1972 Munich Olympics that Brooks considered limiting its focus. The first running shoe debuted in 1974 and their most popular running shoe, the Adrenaline GTS first hit the market in 1999.
In 2001, Brooks decided to focus solely on running.
They introduced the Transcend in 2013, a shoe that used new biomechanics technology to create a GuideRails technology, allowing runners to run naturally without trying to correct their gait.
The Seattle-based company is also well known for its commitment to sustainability and giving back. Brooks donates time, gear, and money to companies that align with their values around diversity, equity, and inclusion and staff receive paid annual volunteer time.
Am I Related?
Since I used to get this question a ton, let me help you out.
Sadly, I am not related to the folks who started Brooks running. But maybe there is something to the name because here I am writing about running, coaching and loving every mile I get to put in to a running shoe.
Drawbacks to Brooks Running Shoes
As noted, every runner has a preference, so there are just a couple of things from my experience.
They are not ideal for those with high arches or a high mid-foot
Most of them run a bit more narrow than other brands
Still a very traditional looking run shoe, not fashion forward
Bright colors or white dominate the selections
Limited wide selection
Looking for other running shoes??
Other ways to connect with Amanda
Instagram Daily Fun: RunToTheFinish
Facebook Community Chatter: RunToTheFinish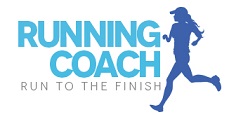 Sign Up to Receive a Weekly Newsletter with Top Running Tips and Laughs