Cardio equipment can be quite the investment, particularly from a financial perspective. Does that mean if you don't have or want to spend a few thousand dollars that you have to write off having your own treadmill at home?
Not at all! If you're looking to add a treadmill to your home, there are plenty of options on the market now to fit a wide range of budgets and you don't necessarily have to compromise on quality and features.
Over the years I have tested a ton of treadmills and often provided my recommendations for the best running home treadmills. BUT many of those are $1700 – $3000 and trust me, I remember buying my first treadmill in 2005 for $800!!
So I wanted to take a look a what's out there and see, can we really find some good treadmills under $1000?
The answer is yes! But they do have limitations compared to more expensive options, so I'm going to help you understand what features to look for and give you some give you a list of some of the best budget treadmills to add to your home gym arsenal.
You don't have to break the bank or pay gym membership fees to ensure you always have a way to get your run done.
Is it Ok to Buy a Cheap Treadmill?
Of course. Overspending for features you don't need is a waste. And spending money you don't have means less for running shoes, so we just need to make smart choices with treadmills under $1000.
As I've mentioned in previous articles on treadmills, there are a number of things to consider when adding a treadmill to your home gym. Three of the most important are budget, space, and functionality.
In Nordictrack vs ProForm treadmills I help you better understand why one is more pricey and what the comparable cheaper model is.
Budget
I'm focusing on affordable treadmills for this article so all but one on my list are under $1,000. That takes care of the budget factor. Just to be clear, just because these are budget-friendly treadmills, doesn't mean they're not high-quality.
These are a few of the potential drawbacks to cheaper treadmills:
Cheaper treadmills are often going to have lower power motors, which means it takes longer to ramp up to speed. That's not ideal if you are doing a ton of fast interval work.
Cheaper treadmills may also be a little bit louder. In apartments this becomes a big issue, but for your basement just rock some headphones and get on with your sweat!
The budget treadmills often feel a little less sturdy. The higher priced options are going to feel more like a gym treadmill that never wobbles or anything else.
Again, these aren't deal breakers, but features to think about and that will be noted below.
Consider Your Space
When it comes to space, treadmills aren't exactly tiny. Make sure you've evaluated your space to figure out what size treadmill will fit, even if it's one you can fold up for space saving storage, which is actually a common feature.
You still need space for the treadmill when you have it set up. Also consider that being able to put it away may lead you to use it less or let it become a drying rack for your laundry.
Additionally, you have to take in to account headspace! I've definitely seen this overlooked and folks then fear using the treadmill because their head is so close to the ceiling.
Functionality
Finally, consider functionality, which includes any features or extras it may or may not have. The more fancy features it has, the higher the price tends to be.
However, a lot of even budget model treadmills have some decent add-ons, including bluetooth speakers, fans, USB ports, workout programs, and app connectivity, among others.
Other things you want to consider when looking at budget treadmills include:
Warranty – Warranties can vary based on parts, labor, and more.
Deck size – Make sure it will work with your gait both in length and width.
Motor Power – You want at least a 2.5 CHP motor if you plan to run. Smaller motors may be better for walking.
Weight capacity – These may be lower on budget treadmills, so make sure you pick a model that will work for any user in your household.
Durability – Treadmills take a lot of pounding. Read reviews to learn how they have held up for other owners.
Incline Range – How steep do you need it to go for the types of workouts you want to do
Top 7 Treadmills Under $1000
Like with my Under Desk Treadmill recommendations, I opted not to place each budget treadmill in a particular category, but I did order them from lowest priced to highest and aimed to point out a key aspect of each one for clear organization.
From there, you'll notice I've highlighted each of their specs, any special features, and then given an overall summary of the model. Please note that many come with things like iFit free for a certain time, but you do NOT have to use those services to use the treadmill.
Unfortunately, many of the models I would have previously recommended have had sharp price increases over the last couple of years.
I am confident this list will help you in your search for the best budget-friendly treadmill for your home workouts.
Best for Cheap Treadmill for Walking –ProForm City L6 – $599
The ProForm City L6 is the most affordable treadmill on this list at less than $600. It boasts several great features, including being foldable with wheels for rollaway storage.
With the ability to go up to 8 mph, it can be used for a light jog but with its smaller motor and shorter belt, it would be more ideal for walks. Another positive regarding the motor is it is pretty quiet. While the compact size is a plus, it may be too small for those with a longer gait.
Truly walking to lose weight is something most of us can do for our health and doesn't require the fanciest treadmill.
The ProForm City L6 is iFit enabled, which offers live and on-demand training programs, and there is a slot for your phone or tablet to display workout programs. A 30-day subscription to iFit is included with treadmill purchase, but is a monthly fee thereafter.
Dimensions (entire treadmill): 29"W x 70.25"L x 44.5" H
Dimensions (belt area): 17.5" x 45"
Weight Capacity: 250 lb
Speed: 0-8 mph
Incline: N/A
Display: Bluetooth enabled
Machine Weight: 125 lb
Motor: 1.6 CHP
Warranty: 10 year (frame), 1 year (parts and labor)
Best Overall Budget Treadmill –Horizon T101 – $649
According to the Horizon Fitness website, this is their best-selling treadmill. It's quick to set up, boasts bluetooth speakers, a device holder to let you watch your favorite shows or take part in your favorite fitness classes, and a rapid-charge USB port.
The treadmill has dial-style controls to manage speed and incline changes and a larger motor than the Proform City L6 making it a solid option for both running and walking. You can monitor stats like time, calories, speed and incline, distance, and heart rate on the display.
It has a 3-zone variable response cushioning system for increased comfort and workout longevity and has a sturdy frame with hydraulic folding to save space when not working out. You also can't beat the lifetime frame warranty.
Dimensions (entire treadmill): 34"W x 71"L x 57" H
Dimensions (belt area): 20" x 55"
Weight Capacity: 300 lb
Speed: 0.5-10 mph
Incline: 0-10%
Display: 3 Blue LED Windows
Machine Weight: 180 lb
Motor: 2.5 CHP
Warranty: Lifetime (frame and motor), 1 year (parts and labor)
The NordicTrack T Series is a popular treadmill from a well known company. While no longer available through the NordicTrack website, it's still a great find on Amazon. Truly it's hard to find any treadmill under $1000 from them, as they continue to move to higher end and higher tech products.
They have replaced it with the EXP 7I, which is $1199. I recently saw this model on sale for $999 and 100% would recommend going for it if you have a little more money. You are going to get an big upgrade.
While larger than the two previous models listed here, the Nordictrack treadmill is still a more compact machine than more expensive models. It has decent incline and speed ranges to diversify your workouts and you can easily monitor everything on the LCD display screen. Like the ProForm, it comes iFit enabled with a 30-day membership included.
This treadmill also boasts 20 built-in workout programs and folds up for easy storage.
Dimensions (entire treadmill): 36"W x 73.5"L x 54" H
Dimensions (belt area): 20" x 55"
Weight Capacity: 300 lb
Speed: 0.5-10 mph
Incline: 0-10%
Display: LCD screen
Machine Weight: 203 lb
Motor: 3.0 HP
Warranty: 10 year (frame), 2 year (parts), 1 year (labor)
With a name like SpaceFlex, you know it's going to be among the best when it comes to space, design, and ease of storage. This treadmill is slim and relatively light by comparison.
While it doesn't have a fancy console display, it has 6 separate LED windows to keep track of your workout data.
It also has a tablet holder where you can place your phone or iPad to do your favorite workouts, listen to music or watch movies. Built-in speakers and AUX cable let you play music and a USB port keeps your device charged while you work out.
The SpaceFlex folds flat, stores upright, and rolls away easily with non-marking wheels.
Dimensions (entire treadmill): 28"W x 57"L x 48" H
Dimensions (belt area): 19" x 51"
Weight Capacity: 220 lb
Speed: 0.6-8.0 mph
Incline: 12 levels, 5.5-10.5%
Display: LCD screen
Machine Weight: 127 lb
Motor: 2.5 HP
Warranty: 5 year (frame), 180 days (parts and components)
While getting towards the top of the budget, the Schwinn Fitness 810 still comes in at just under $900. The treadmill has 16 workout programs built in and allows for two user profiles.
The 810 has their trademark Softrak deck cushioning system with a nice wide belt. It also has some other helpful features like water bottle holders, a shelf for your device, USB charging port, and in-console speakers. You can also use the "Explore the World" app when using the machine.
Like most others on this list, the 810 is a folding treadmill that is easy to roll out of the way.
Dimensions (entire treadmill): 36"W x 69"L x 57" H
Dimensions (belt area): 20" x 55"
Weight Capacity: 275 lb
Speed: 0-12 mph
Incline: 0-10%
Display: LCD
Machine Weight: 155 lb
Motor: 2.0 HP
Warranty: 10 year (frame and motor), 1 year (parts and labor)
One of my favorite features on this treadmill is the 7" HD touchscreen display. While other treadmills on this list have you providing your own screen through a personal device, this has a beautiful screen built right in.
The Carbon T7 boasts bluetooth connectivity, ProShox cushioning for comfort, and a foldable and space-saving design, this treadmill is a great pick.
Like the ProForm City, it comes iFit enabled, but if ordered through ProForm directly, it includes a 3-year family membership. A 30-day membership is included when purchased from Dick's Sporting Goods.
Dimensions (entire treadmill): 33.5"W x 66"L x 57" H
Dimensions (belt area): 20" x 55"
Weight Capacity: 300 lb
Speed: 0-10 mph
Incline: 0-10%
Display: 7" HD touchscreen
Machine Weight: 205 lb
Motor: 2.6 CHP
Warranty: 10 year (frame), 2 year (parts), 1 year (labor)
Top Budget Treadmill for Running – Sole F63 – $1199
Ok, ok, I know this was supposed to be under $1,000 but I couldn't leave this treadmill off the list so it's on here as the "Best Budget Splurge" at just a little over $1,000. Sole makes quality cardio machines and often at lower price points. This is no exception.
In fact, a Sole was the first treadmill I ever purchased!! It was a fabulous treadmill for the price, which at the time was around $850. If this looks a little more old school treadmill, that's because it is! Less bells and whistles, more running.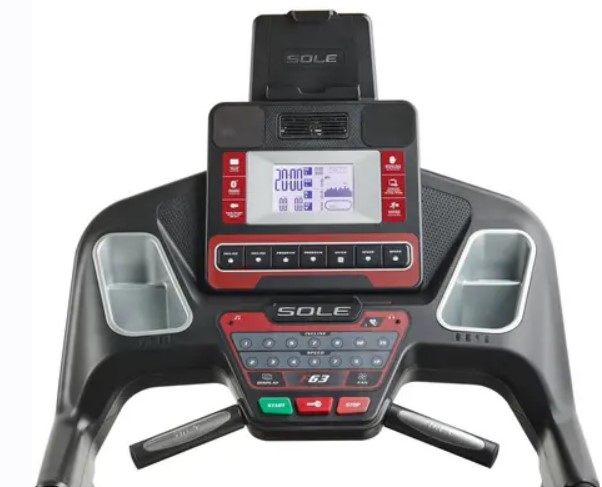 This is one of the largest treadmills on this list, making it feel much more stable and the best treadmill for distnace runners. It can still be folded up and put out of the way. The lifetime warranty for the frame and motor is also a plus.
It boasts a number of great features from built-in programs, cooling fans, bluetooth capability, USB device charging, device holder, and sound system. The F63 comes with a chest strap and also has pulse grip sensors, and speed and incline controls on the arms.
Dimensions (entire treadmill): 35"W x 82"L x 66" H
Dimensions (belt area): 20" x 60
Weight Capacity: 325 lb
Speed: 0.5-12.0 mph
Incline: 15 levels
Display: 6.5" LCD screen
Machine Weight: 254 lb
Motor: 3.0 HP
Warranty: Lifetime (frame and motor), 3 year (deck, electronics, parts), 1 year (labor)
All right, I've given you the best breakdown I can for treadmills under $1000.
The truth is it's becoming harder and harder to find budget treadmills for runners. But it's worth it, if you know that means better training or simply giving you an option to move more throughout the day!
Looking for more tips to enjoy your treadmill?
Other ways to connect with Amanda
Instagram Daily Fun: RunToTheFinish
Facebook Community Chatter: RunToTheFinish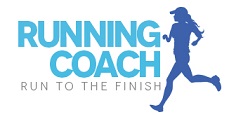 Sign Up to Receive a Weekly Newsletter with Top Running Tips and Laughs