Running insoles vs orthotics? Insoles vs no insoles? Physical therapist vs running shoe store recommendations?
There are a lot of opinions when it comes to our runners' feet. At first it seems limited to the appropriate shoe, But oh so quickly we learn there's a whole world of very expensive orthotics and affordable insoles, but do we need them?
Running insoles are a great TOOL, but should be the secondary piece to resolving any aches, pains or ongoing injuries.
What does that mean? It means after you jump on the treadmill and the super helpful folks at the running store have stared at JUST your feet and ankles while you run to determine you need a stability shoe or an insole, you've only been given part of the picture.
Maybe your foot is rolling inward because your hip strength is lacking.
Maybe your foot is collapsing in because your knee is collapsing in because you're out of alignment.
In fact, those are both highly likely and super common in tons of runners, which means that an insole or stability shoe is like putting a band-aid on something that needs stitches. It's not gonna go the distance.
Once you've taken care of those issues however insoles can be a fantastic tool!!!
When I first started marathon running, I loved putting a super cushioned insole into every single shoe because it just felt wonderful and allowed my body to work up to absorb the impact of those longer runs.
Post knee surgery, I did physical therapy like it was my job, but we found my foot still wanted to collapse in just a tad. Instead of going for a shoe that would inhibit the natural motion of my other foot, an insole was the perfect solution.
In this article learn why insoles might be a great option for you, which ones are the best running insoles on the market, why you should buy them, and a complete guide to picking the right ones for your feet.
Why Insoles Can be Good for Athletes?
We spend a lot of time thinking about the power in our glutes, stretching our hamstrings and working on our stride. Meanwhile our feet are slapping the ground over and over absorbing 2.5 times our body weight, whewwww.
Why wouldn't we try to give them the best support possible?
I mean, why give up getting out to enjoy these views just because you aren't taking care of your feet!One of the most common foot issues for runners is Plantar Fasciitis, an inflammation of the ligament connecting the heel to the toes.
Checkout these planatar fasciitis stretches to help prevent it and my recommended insole below to help keep you running.
Benefits of Running Insoles
But beyond that, there are other good reasons to consider an insole:
You're having pain in your knees from the foot rolling inward (pronation) or flat arches
If you're building mileage and want a little extra cushion as the body adapts
Consistently dealing with foot pain (like a strained tendon) and this will lessen the load
A good insole can help to distribute the load of your step more evenly
The right insole can make running feel better, which means you'll stick with it
Correcting a foot imbalance will improve your alignment and posture to prevent injuries up the chain (i.e. knees, hips).
Running with flat feet and need arch support.
Running with high arches and need arch support.
Once you've traced your root issue and started to work on it, using insoles can be a great part of the process to changing your mechanics or supporting the body as you get stronger.
What To Look For In Running Insoles
Insoles come in a wide range of options for different types of feet. You'll notice different ones for overpronation, particular injuries, flat feet, and a variety of other arch types.
For this reason, there are a few things to consider when picking the right running insoles for you. The 5 main things you want to consider are:
#1 Purpose
When looking for insoles, consider why you need them. You'll need strong arch support if you have flat feet or are prone to foot problems like plantar fasciitis.
Runners who suffer from shin splints or who run a lot on concrete and pavements may benefit from additional cushioning.
Check that the insoles you select are appropriate for your foot, running gait, and any potential injury risk.
#2 Cushioning
Take note of the padding. Will that be suitable when you've run for 10 miles straight?  Your insoles may feel comfy right now, but you'll want them to stay that way for the entire duration of your run.
Additionally, when you first start running some added cushioning could help to reduce the soreness of joints and muscles as you adapt to the work.
#3 Arch or Heel Stability
By keeping your heel in place, the right shape can help you avoid some serious injuries later on. Look for heel cups and a comfortable design for added stability.
#4 Support Level
Everyone's foot has a unique arch. Some have absolutely flat arches, others have medium or neutral arches, and yet others have high arches.
Because of these distinctions, there are some things to keep an eye out for in order to reduce your risk of injury. Choosing a supportive insole helps guarantee that your shoes are suited to you.
#5 Fit and Comfort
Insoles, like running shoes, may require some time to adjust before they fully settle.  But they should be comfortable from the start. Regardless of the insoles you choose, make sure they are the correct size and shape.
Bring your soles with you when shopping for new shoes to ensure they fit properly inside the new ones. You can always trim them down, but if the shoes are designed to provide arch support on their own, they may fit awkwardly.
#6 Material Options for Running Insoles
Insoles are comprised of foam compounds or gel for cushioning. Gel can be quite effective at reducing impact and relieving stress on your foot and leg muscles.
However, in terms of stability, they are not always the best option. For support, they may also be made of other materials such as cork, carbon fiber, or plastic. As an added bonus, many also include an anti-odor treatment.
What are the Best Insoles for Running?
Well it's always going to depend on what you need to resolve! Just like there are running shoes for different styles and different needs, the same goes for insoles. That means not to just grab the first pair you see.
All of these are over the counter options, so you don't need a visit to the podiatrist or a custom fit to try them.
My friends with Plantar Fasciitis will be psyched by this Dr Scholl's insole designed just for them.
They're designed specifically to fight inflammation and the burning or aching pain in the heel associated with plantar fasciitis. These insoles include a patented arch designed with a high enough arch to support the fascia and redistribute the weight away from your heel.
The insoles' gel cushioning heel insert absorbs shock and provides added heel protection. The deep heel cup provides support and stability that helps distribute the weight while running.
A great very budget friendly option geared toward plantar fasciitis. I would highly recommend them.
If you run with flat feet, you'll benefit a great deal from trying out these SOLE Active insoles. This is a firmer insole to really support those low arches while molding to the foot for your best fit.
This is what I have gotten my husband to start wearing and he's found with his flat feet that it's really helped prevent knee pain.
These insoles are the best insoles for helping remedy foot pain due to pronation. The most common pronation issues are overpronation and underpronation.
With overpronation, the natural inward rolling of the foot on impact rolls too much and with underpronation it rolls too little. Both these conditions put pressure on specific areas instead of distributing force evenly throughout the foot.
The SOLE Active insoles help keep the feet from over or under pronating with their zero drop, deep heel cup that aids with natural alignment and pressure distribution.
The included meta pads add support by keeping metatarsal bones in their natural resting position as well. The Polygiene coating provides active odor control using recycled silver salt.
It's also similar to what I've been using since knee surgery as I continue to build back the full strength of that leg. Without it, my foot collapsing down means that my knee drifts inward…and we know where that leads us, right? Pain.
I literally used to put these in every single pair of running shoes I got for many of my first years training for marathons! I've got a pair currently just begging to be put in another shoe because I do love the cushion they provide!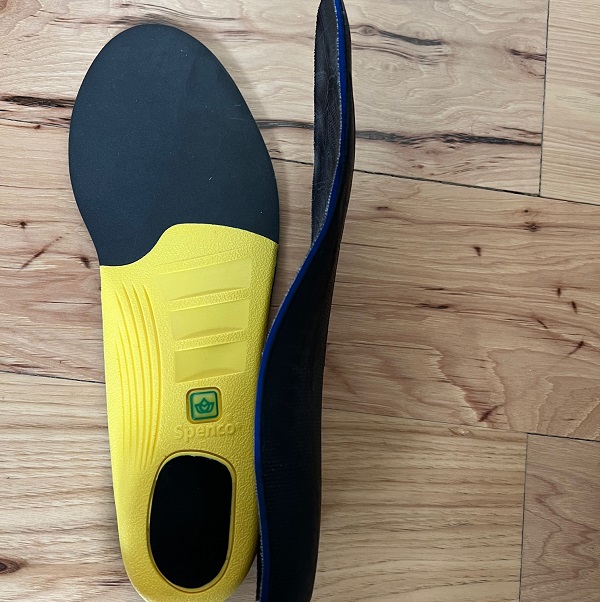 For those of you like me, who spend a lot of time on the roads, it can be beneficial to find an insole that doesn't change your arch or gate, but instead simply provides more cushion to absorb the impact of the concrete jungle.
The neutral arch support provides is super comfy and actively promotes your natural gait. The dual-layer cushioning optimizes energy throughout your run by distributing pressure from heel to toe.
The one thing I will note is they may feel slightly bigger than other insoles because they are thicker to provide cushion. You'll easily be able to trim the length to fit, but may need to loosen the laces on your shoes to make sure that fit remains comfy.
Blumaka Insoles are designed to provide the ultimate comfort and support for your feet, while also feeling good about the environment!
They collect the trimmings and left overs in the factories from shoes and then turn them in to these cushioned insoles!
The result is a lightweight foam that absorbs shock and provides cushioning, while also helping to evenly distribute your weight to reduce fatigue. The arch support is minimal compared to others, so I'd say look to this for cushion to reduce strain on the feet and legs, while the anti–slip technology helps to keep your feet secure in your shoes. The insoles are designed to fit any shoe, and are suitable for both everyday wear and for running, walking and sports activities.
Another popular option is the Physix Gear Sport Inserts. They're ergonomically designed to provide the right type of support and cushioning for road runners. While they list flat feet as someone they support, I find these are better for high arches because it may feel too intense of an arch for those not used to it.
They're made with high-quality, medical-grade EVA foam that delivers maximum shock absorption and assists with injury protection. It also reduces overall foot fatigue.
The semi-rigid arch support and heel cup work together to provide additional stability for your runs. And the non-slip heel fabric holds the insole in place so that it doesn't slide around during a run.
These insoles have a low profile and are quite lightweight, allowing for more room in the toe box to ensure a comfier fit.
#6 VKTRY Insoles – Best Carbon Fiber Insoles for Speedwork
If you've heard of carbon fiber insoles and are looking for the best insoles made with these then the VKTRY insoles are the ones for you.
Carbon fiber insoles are stiffer, more lightweight, and more durable compared to insoles made using other materials.
When you land while using these stiffer insoles, there is more shock absorption and there is more energy return into your legs. Our feet and ankles store and return energy, which increases their efficiency.
The stiffness carbon fiber insoles provide our feet helps them spring off efficiently during a run. Studies show it's possible to have a 1 to 4% pace improvement with carbon fiber insoles. This might not seem like a lot, but helps a great deal when you're aiming for that PR.
They're a great option for speed work and shorter races such as 5K and 10Ks.
Another insole that is quite popular is the Superfeet green insoles. Superfeet is a well-known and trusted brand. I have tried these insoles but have simply found them to be too firm, so they felt uncomfortable for me to use.
BUT, I am very intrigued by some of their new offerings, particularly the Copper Insoles.
Generally you need to go through a custom fit process or you do some work at home to get a true orthotic. So while they claim these are in that category due to the memory foam, know that they're still slightly different. And also significantly cheaper to test and see if they will help you!
Insoles vs Orthotics?
While both serve the same purpose, one is markedly more expensive. Orthotics are custom made to fit your foot and specifically address any known issues from flat feet to pronation.
Custom orthotics range anywhere from $300 to $600, and they're not always covered by insurance.
There are lots of ready-made options available if you aren't ready to make that commitment. A good way to go about it is to get one or two insoles, see whether they're truly the best fit for you, and then explore custom insoles later on.
Orthotics are a fantastic solution for many people and they can last up to 5 years, whereas the typical insole will need to be replaced every 5-6 months.
But you can also get multiple insoles to plop in lots of shoes for less than the cost of 1 orthotic which you need to move from shoe to shoe…because you are totally rotating your running shoes right?!
Ever wondered if you should get those pricey orthotics or use insoles? The info you need! #runchat
Click To Tweet
Can I Wash My Running Insoles?
The majority of running insoles may be washed. Hand washing in warm water with a small amount of gentle laundry detergent is recommended. Allow them to air dry after rinsing with cold water.
Don't wash them in a machine or use a dryer to dry them either. The harsh tumbling and high heat will easily distort them out of shape. This will put you at risk of injury and can throw the arch support out of alignment. So, I don't recommend doing this at all!
All right, now you know all the in's and out's, the who's and why's of insoles so that you can make an informed decision for your feet.
Have you ever tried insoles? What worked for you?
Looking for more reviews to find the best things for your run?
Checkout our full page of my must have running gear reviews and guides to save you time searching and money! I share what's worked for me and fellow runners, along with what wasn't worth the price tag.
A few common requests:
Other ways to connect with Amanda
Instagram Daily Fun: RunToTheFinish
Facebook Community Chatter: RunToTheFinish
Sign Up to Receive a Weekly Newsletter with Top Running Tips