If you're a distance runner, you're bound to experience some level of discomfort in your feet at one point or another. Most of the time it goes away on its own, but other times it either manifests as sudden, sharp pain or develops slowly over time.
Unfortunately, it's not always immediately clear WHY we're dealing with foot pain from running. Which means we need to eliminate some obvious issues and then work our way down the list.
 Running should not be painful. So don't simply accept it and keep going or worse quit!
After over a decade as a running coach and working with tons of Physical Therapists, I want to help you learn how to prevent running foot pain from ever occurring.
In this article, I'll share with you the most common types and causes of running foot pain, along with actionable tips on how to prevent it.
Identifying Foot Pain When Running
To alleviate foot pain, you need to know where it originates (time off doesn't work if there is an underlying cause or weakness!). Identifying the exact location of the pain and the activities that trigger it can help you find the right treatment.
Common symptoms include pain, swelling, redness, and stiffness. If you're unsure about the cause of your foot pain, it's best to consult a healthcare professional.
It's important to note that foot pain can also be caused by underlying medical conditions, such as arthritis or diabetes. If you have a medical condition that affects your feet, it's especially important to take care of them and seek medical advice if you experience any pain or discomfort.
11 Common Causes of Running Foot Pain
Here are the 11 most common causes of running foot pain, along with their main causes and what you should do if you suspect your foot pain is caused by any of them.
1. Blisters
Blisters don't sound like a serious running injury, and they're not but they can be very painful.
When we run, our body temperature rises, causing our feet to swell, which then causes repetitive friction between the shoe, sock, and skin.
When the skin is damaged by friction, a clear fluid bubble forms on the skin's outermost layer to protect the bottom layers from infection.
What Causes Blisters When Running?
There are a few reasons why you might start getting blisters when running. Let's look at what these are:
Friction caused by improper shoe fit
Wet environments
Hot spots
The most common locations of running blisters include the heels, arches, in between toes, and on top of the toes.
If blisters are the reason why you're experiencing running foot pain, then I've got the guide you need to read!
👉Read the article I've written on preventing running blisters which also includes how you can treat them as well as whether or not it's okay to run if you have blisters.
2. Runner's Toe
A runner's toe (also known as runner's toenail or jogger's toenail) is what happens to runners when their toenail turns black from a repetitive activity such as running. Medically, this condition is known as subungual hematoma.
The area under or around the toenail begins to turn dark purple or black and can happen when your toe repeatedly slams into your shoe or rubs against it.
These repetitive microtraumas, from the impact of the toe hitting the soft interior of the shoe, cause a microscopic amount of damage each time.
The bleeding can sometimes lead to an overall increase in blood flow to the area, which then results in your foot starting to swell. This makes your toe rub against your shoe even more.
You'll experience symptoms such as throbbing pain in the toenail, notice discoloration under some or all of the nail, and even experience redness or swelling around the head of the toe.
What Causes Runner's Toe?
The repetitive motions of running can contribute to Runner's Toe when your toenail repeatedly slams into your shoes or rubs against them. It causes repetitive microtraumas. A few things can contribute to it which include:
A shoe with a toe box that's too tight
A shoe that's too big
Downhill running which causes the foot to press forward.
If you suspect this the cause of your running foot pain, then don't worry I've got you covered.
👉I've written an extensive guide on Runner's Toe, including the 5 ways you can treat it and the 7 ways to prevent it.
3. Stress Fractures
If you're new to running or have recently increased your mileage or intensity and start experiencing a sharp, localized foot pain you may have a stress fracture. A stress fracture is a small crack or severe bruising in a bone.
They're most commonly found in the metatarsal bones, which are the middle bones of your foot. They may also occur in the heel, ankle, ankle joint, and the top-middle foot bone (navicular).
What Causes Stress Fractures?
They're a common injury for runners that occur as a result of overuse. A stress fracture usually occurs when muscles become fatigued and are unable to absorb added shock or a sudden increase in mileage.
During this time, muscle soreness and stiffness may worsen, and a pinpoint pain in the area of the sore bone may emerge.
If you've experienced a sharp pain, it might be a stress fracture. It's important to see an orthopedic foot specialist to get diagnosed.
👉Interested in knowing how to return to running after a stress fracture? Then read my guide which includes not only that but also how to prevent another stress fracture from happening.
4. Plantar Fasciitis
If you're experiencing heel pain when running, it could be Plantar Fasciitis.
The plantar fascia is a fibrous tissue band that extends from your heel to your toes. Its primary role is to support the arch of your foot and keep it from collapsing when you put weight on it.
Plantar fasciitis is essentially an overuse injury that occurs when the plantar fascia is strained where it joins to the heel bone. It might be extremely painful and prevent you from running or walking.
Some symptoms of it include:
sharp stabbing or aching pain in the heel or in the arch
trouble walking after getting out of the bed in the morning
experiencing this all after sitting for long periods
pain dissipates with movement (as the muscles warm up and loosen)
What Causes Plantar Fasciitis?
There are many potential causes of Plantar Fasciitis. A few of the most common ones for runners include:
Sharp increase in mileage
Big increase in speedwork
Improper shoes for your strike and foot (pronation)
If you suspect it's Plantar Fasciitis that's causing your running foot pain, then don't worry I've got another guide for you.
👉Checkout Plantar Fasciitis – Treating Heel Pain from Running  for more symptoms, different causes, as well as treatment and rehabilitation.
5. Achilles Tendonitis
Achilles tendinitis is an overuse injury to the Achilles tendon, which connects the calf muscles at the rear of your lower leg to your heel bone. It is most common in runners who have increased the intensity or duration of their runs suddenly.
Runners are prone to Achilles tendon injuries because of the constant pushing off we do with each stride.
The more and faster we run, the more susceptible we are to injury. Because of the added strain exerted on the tendon, speed and uphill training can aggravate the Achilles.
If untreated, it can lead to an Achilles tendon rupture, so it's important to get it diagnosed and treated as soon as possible.
Symptoms of Achilles Tendonitis include stiffness that goes away as you warm up, pain and swelling close to the heel, limited ankle flexibility, redness along the tendon, and a cracking or popping sound with ankle movement.
What Causes Achilles Tendonitis?
There are quite a few causes of Achilles Tendonitis. Let's look at some of the main ones for runners:
Tight or fatigued calf muscles which transfer too much of the burned to the Achilles
Not stretching the calves properly
Increasing mileage too quickly
Excessive hill running or speedwork
Stiff running shoes
If you suspect that you might have Achilles Tendonitis, then it's important to get treatment for it.
👉I've written a guide on Achilles Tendonitis that goes into much more detail about the injury, including whether or not you can run with Achilles pain, and when and how to return back to running.
6. Metatarsalgia (Ball of Foot Pain)
Ball of foot pain can be a nuisance for many people, especially runners. The medical term for pain in the ball of the foot is metatarsal pain or metatarsalgia. It's an umbrella term for a symptom that can have many possible causes.
People who experience ball of foot pain feel aching pain and inflammation in the padding directly below the toes. This also happens to be the post where we place the most pressure when moving and standing.
This aching sensation is usually present in what's known as the metatarsal heads, the joint that is just under our toes.
The condition is common among runners due to the stress running places on the balls of the feet. The good news is that it's a relatively common and treatable condition, but it's important to try and identify the exact cause of it.
The symptoms of metatarsalgia include sharp or burning pain in the ball of your foot, pain that worsens when you stand, run or flex your week and the sensation of having a pebble in your shoe.
What Causes Metatarsalgia?
There are various possible causes of ball of foot pain.
Sometimes it's due to one single factor, while other times it might be several issues that are compounding together to cause this condition. Here are some of the common causes:
Ill-Fitting Shoes
Intense Training
Certain Foot Shapes
As I mentioned above, it's an umbrella term for a symptom that may have many causes and it's important to narrow down what that cause is to treat it right.
The good news is that it's usually treatable without the need for surgery. But it is, nonetheless, important to know why it's occurring in the first place to treat and prevent it.
👉I've written a full guide on resolving ball of foot pain while running, including all the main causes in much more detail as well as details on how to get it diagnosed and what the treatment options are.
7. Morton's Neuroma
If you're feeling pain in the ball of your foot, but don't believe it's metatarsalgia, then it may be Morton's Neuroma. It's a painful condition that affects the ball of your foot, most commonly between the third and fourth toes.
It's painful because a nerve in the area between the toes thickens or becomes enlarged due to scar tissue. This condition is more prevalent in women who wear ill-fitting running shoes for long periods of time.
This condition may sound scary, but it can be easily treated. Head to the doctor or podiatrist who may then prescribe metatarsal pads to wear inside your shoes. This will help lift and separate metatarsal heads and take the pressure off of the nerve.
The symptoms are similar to those of metatarsalgia, but they also include burning or tingling feelings, numbness, and/or acute, stabbing, or shooting pains.
👉If you're experiencing numbing in the feet, then it may be a good idea to check out my guide on numb feet when running which includes 10 other potential causes of the numbness you may be feeling. I've also mentioned what you can do to treat each of those conditions.
8. Top of Foot Pain
If you're experiencing pain along the top of your foot, it's important to first rule out a metatarsal stress fracture. Once you've confirmed it's not a sharp lasting pain or one that seems to only happen while running, not walking we can look at other causes.
The most common issue is a shoe that is laced too tightly. In fact, this was an issue I had during my first marathon training cycle.
Feet swell the longer you run or in the heat
Try loosening the lacing along the top to give your foot more room
Ensure you are wearing thin light socks, again to provide more room
Try rubbing Biofreeze on the area of pain daily for awhile to give some relief
Remember that just like all the other running foot pains we've listed, running too much too soon is going to cause muscles to become inflamed or irritated.
There are other potential issues, but these are 100% the most common causes.
9. Athlete's Foot
Athlete's Foot, also known as tinea pedis, is a fungal infection that commonly occurs between the toes of runners.
When this happens, you'll probably have a scaly rash that itch, stings, or burns. You might also experience blisters, ulcers, and cracking and peeling skin.
It is most common in runners whose feet have become very sweaty while being constrained within tight-fitting shoes and without good running socks.
If you're experiencing running foot pain as a result of an Athlete's foot, then it's important to get treatment for it as it's unlikely to go away by itself.
Fortunately, many treatments for it are available without a prescription. Begin with a topical antifungal medication, which can be purchased at any pharmacy. If the problem persists, consult a doctor for a stronger prescription.
It's important to prevent Athlete's foot from occurring in the first place.
I recommend:
wearing socks made for comfort and dryness (wicking fabrics)
washing and drying feet thoroughly after workouts or after a long time in your shoes
changing out sweaty socks immediately after your run
allowing shoes to dry completely after a run (another good reason to rotate running shoes)
try putting ant-fungal powder in your shoes as well
10. Tibialis Posterior Tendonitis
If you're experiencing arch pain in the inside of the foot between the arch and the ankle, then this running foot pain might be a result of Tibialis Posterior Tendonitis.
One of the key muscles that support your arch and prevents your foot from rolling in or pronating excessively is the Tibialis Posterior. Tibialis Posterior Tendonitis is characterized by discomfort on the inside of the heel and along the arch of the foot.
What Causes Tibialis Posterior Tendonitis?
The tibialis posterior tendon can become inflamed due to overuse as it tries to support the foot during heel strikes and push off.
This will make you experience throbbing or burning pain along your arch during or after running. You may also notice swelling or pain that extends to your ankles.
It's important to note that this pain is more common in runners that excessively pronate because they are running with flat feet.  I've detailed flat feet running shoes previously to help you find ones that will give you more support to lessen pronation and reduce ankle pain.
👉This is common enough that I worked on another guide with a Physical Therapist to give you additional details. Find some common ways to relieve Posterior Tibial Tendonitis.
Head to a doctor to confirm your diagnosis, who can then recommend stretches for your treatment plan with the help of a physical therapist. You can also look into orthotics for it. Or you may find relief with a good ankle support for running.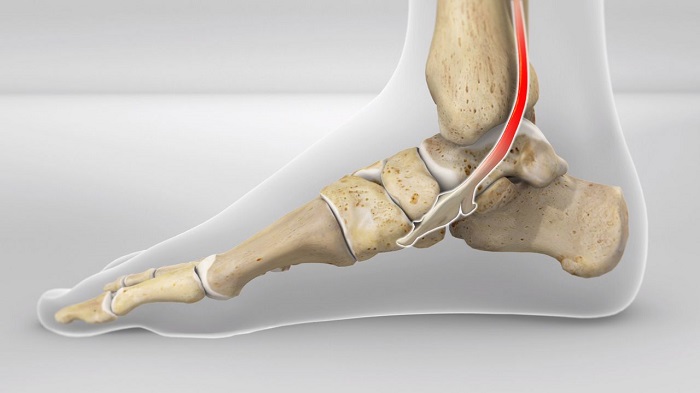 11. Bunions
A bunion is a bony bump that develops at the base of your big toe's joint. It happens when some of the bones in the front part of your foot move out of place.
This pulls the tip of your big toe toward the smaller toes, causing the joint at the base of your big toe to protrude. The skin over the bunion may be red and inflamed.
Bunions can be incredibly painful for runners. The pressure and impact of this strenuous activity can cause severe swelling and discomfort around your toes and the front pad of your foot.
What Causes Bunions?
There is a wide range of causes for bunions. Let's look at some of these:
Low arches
Flat feet
Loose joints and tendons
Weak foot muscles
Wearing tight, narrow shoes
Shape of your foot
Arthritis
👉If your running foot pain is as a result of bunions, check out my article on how to treat and prevent bunions.
12. Hallux Rigidus
Hallux Rigidus, often known as turf toe or stiff big toe, is a condition that causes pain in the big toe. Walking or even standing can be difficult due to the pain. It literally means 'stiff big toe' which is the main symptom of the disorder.
The condition is characterized as a degenerative arthritis in which bone spurs form and hinder the big toe from extending or toeing up normally. When pushing off and climbing hills, having full and painless big toe extension is critical.
Symptoms of Hallux Rigidus include:
pain and stiffness in the big toe during use
pain and stiffness aggravated by cold, damp weather
difficulty with certain activities such as running
swelling and inflammation around the joints
If you suspect your running foot pain is a result of Hallux Rigidus, head to the doctor right away as the sooner this condition is diagnosed, the easier it is to treat it.
When you first experience symptoms, you should see a foot and ankle surgeon. If you wait until bone spurs form, your condition will almost certainly become more difficult to manage.
How to Prevent Running Foot Pain
Whether you're treating an existing injury or attempting to avoid one in the first place, taking preventative measures can go a long way toward caring for your feet. Here are some tips on how to prevent running foot pain:
#1 Wear Shoes That Fit Well
The first step in taking care of your feet is to wear running shoes that fit properly and feel comfortable on your feet. Running shoes should be picked by considering your running dynamics, performance level, and the terrain you're going to run on.
In order to have the best fit, it is important to know what type of foot you have.
A flat foot, for example, generally requires a shoe that is wide enough at the ball of the foot and has support in the midsole or arch of the foot to prevent the arch from collapsing.
A high-arched foot, on the other hand, usually requires a shoe with at least a small heel elevation and cushioning beneath the toes to relieve pressure under the ball of the foot.
Additionally, learn how to lace your running shoes for the best fit! You can add room to the toebox, make them feel wider or more snug.
#2 Consider Orthotics or Running Insoles
Orthotics place the foot in neutral by providing the correct tilt in the heel as well as arch support.
Although over-the-counter orthotics and foot insoles may help, many people don't buy the right ones. Orthotics made of flexible material, for example, provide limited support.
Custom orthotics, if made correctly, can provide the support needed for multiple activities and performance levels without problems.
However, they can cost anywhere from $300 to $500 and aren't always covered by insurance. If you're not sure about getting these yet, but want to prevent future foot injuries and pain, consider getting running insoles for now instead.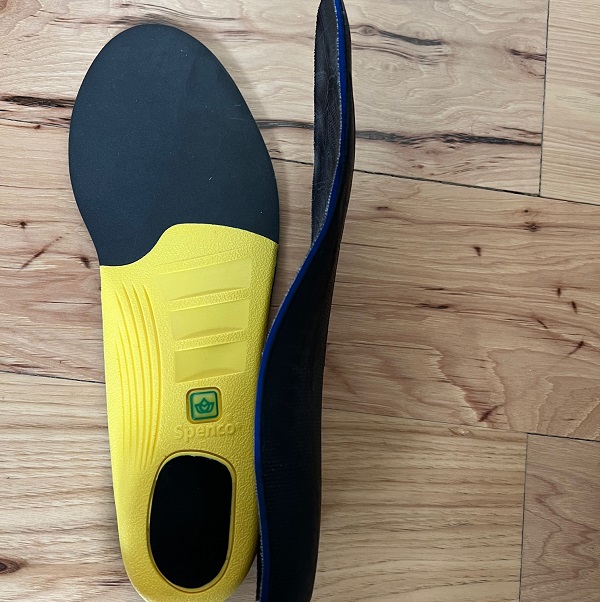 #3 Check Your Running Form
Proper running form reduces risk of injury. It also improves your running efficiency and reduces the risk of fatigue including overuse injuries.
Check out my guide on how to improve your running form.
As a certified running coach, I've seen thousands of runners make mistakes that slow them down and cause injuries. Having a proper running form is crucial for every runner and something that's worth investing in.
All the running lingo that's required to have a good running form can be intimidating and overwhelming.
👉That's why I've created a complete solution for you in the Running Technique Program. It only takes 10 minutes a week to get the correct running form when you follow along with it!
#4 Stretch Before and After Runs
Stretching is another method to keep running injuries at bay. It stimulates the muscles and tendons by increasing blood flow to those areas and raising the heart rate.
Warming up and waking up these muscles helps prevent overuse problems when running, such as tendonitis, sprains, and tears.
Try dynamic stretching before a run because it causes the muscles and tendons to move and warm up in ways that static stretching cannot.
Dynamic stretches mirror all of the actions of running, whereas static stretches increase range of motion after the body has already warmed up. Stretching for around 15 minutes before a run is good enough.
Spend at least 5 to 10 minutes during your cool-down by performing static running stretches that target the quadriceps, glutes, hamstrings, calves, and hip flexors.
#5 Try Foot and Ankle Strengthening Exercises
One of the best ways to prevent foot pain is to strengthen the muscles in your feet and ankles. This can help improve your balance and stability, reduce your risk of injury, and make it easier to perform everyday activities like walking and running.
Here's my full video of ankle strength exercises >>
Here are some exercises you can do to strengthen your feet and ankles:
Toe raises: Stand with your feet flat on the ground and slowly lift your toes off the ground, keeping your heels on the ground. Hold for a few seconds, then lower your toes back down. Repeat for 10-15 reps.
Ankle circles: Sit with your legs out in front of you and your feet flat on the ground. Slowly rotate your ankles in a circular motion, first in one direction and then in the other. Repeat for 10-15 reps in each direction.
Heel raises: Stand with your feet flat on the ground and slowly lift your heels off the ground, keeping your toes on the ground. Hold for a few seconds, then lower your heels back down. Repeat for 10-15 reps.
Resistance band exercises: Wrap a resistance band around your foot and hold onto the other end with your hand. Flex your foot forward against the resistance of the band, then point your foot back against the resistance. Repeat for 10-15 reps on each foot.
#6 Get Proper Rest
Rest days are crucial for preventing foot pain. When you exercise, your muscles and joints undergo stress and strain, which can lead to micro-tears and inflammation. Rest days allow your body to repair and recover from this damage, reducing the risk of overuse injuries.
Plus, rest days give your mind a break from the stress of training, helping you stay motivated and focused in the long run.
It's important to note that rest days don't necessarily mean complete inactivity. In fact, low-impact activities such as yoga, swimming, or cycling can still be beneficial for recovery. I've written an in-depth article on active recovery that I highly recommend you check out!
#7 Use Compression Socks and Orthotics
Compression socks and orthotics can provide additional support and reduce foot pain. Compression socks work by applying pressure to the feet and legs, which helps to improve circulation and reduce swelling.
Orthotics are custom-made shoe inserts that provide additional support and cushioning to the feet.
When choosing compression socks or orthotics, it's important to consult with a healthcare professional or a trained specialist to ensure that you are getting the right fit and level of support for your needs.
Plus, it's important to gradually break in new orthotics to avoid causing additional foot pain.
#8 Don't Wait to See a Specialist
Don't ever disregard pain, especially when it comes to your feet. And so, you shouldn't ever put off seeing a specialist about your foot pain.
The longer you wait, the more advanced the injury may become, increasing the likelihood that you may have to stop running for an extended length of time.
The good news is that physical therapy and orthotics are both effective treatments for many common running problems. They may also be useful in preventing future running injuries.
All right I know this was a ton of information, but I hope it helped you to find a potential cause and solution. If you're still not seeing what you listed, let me know! I want to make sure this list helps everyone.
Other ways to connect with Amanda
Instagram Daily Fun: RunToTheFinish
Facebook Community Chatter: RunToTheFinish