Dealing with knee pain while running is no fun, but not required to be a runner! We're going to look at some of the things that can help, along with the best running shoes for knee pain.
Knee pain can happen to anyone, runner or not. We all know the favorite question from non-runners is, "Don't your knees hurt?" Or they like to say they could never run because their knees ALREADY hurt.
But the reality is, running itself is not inherently bad for our knees. Usually it's our poor choices. Doing too much too quickly, wearing the wrong shoes, and weak muscles from refusing to strength train are some of the most common reasons runners may experience knee pain.
In most cases, knee pain doesn't mean you have bad knees and it's not permanent. It's important to find the cause and then a solution to get you back on the road and trails quickly.
However, while you are building up your mileage or dealing with any pain, why wouldn't we take advantage of gear to make things feel better?!
I've compiled a list of some of the best running shoes out there to help those dealing with knee problems. Stick with me as we look at some of the causes of knee pain, how much cushion may be too much, how to pick the right shoes, and my recommendations for shoes you might want to check out.
Why Do Your Knees Hurt While Running?
I've done a huge article on 7 causes of knee pain while running to help you see exactly what might be happening and resolve it. But for a quick overview:
Weak hips and glutes. They may not be able to help you maintain proper alignment.
Overstriding. You may be reaching when you run with your feet landing in front of your body.
Overpronation. Your feet are rolling inward.
Supination. Your feet are rolling outward.
Wrong running shoe fit. Yes, you may be in the wrong shoes for your body and feet
Worn out shoes. Wearing shoes that have seen too many miles means the shoe is broken down and breaks down your form.
It's important that you determine the cause of your knee pain before going any further.
Shoes aren't cheap and while you can often return them if they aren't the right shoe for you, you don't want to have to do that numerous times because changing shoes is simply masking the problem and not solving it.
If your knee pain stems from weak hips and glutes, changing shoes isn't going to help. You'll first need to strengthen those muscles to help you maintain proper alignment when running. I've done several posts about strengthening these muscles and they're great rehab and prehab exercises for all runners.
If you are overstriding, it's time to take a look at your form overall. Again, you're in luck because I have a post highlighting 4 ways you can improve your running form that touches on overstriding.
When it comes to pronation, be it overpronation and supination, sometimes this is a biomechanical issue and sometimes it's being in the wrong shoes.
Regardless, they can cause pain in knee joints and other issues with the lower legs, including ankle, foot, and hip pain, shin splints, IT Band Syndrome, and the dreaded plantar fasciitis. And you can always try a knee brace for running to provide some additional support.
How to Find the Right Shoes for Knee Pain
Once you've determined the cause of your knee pain and a solution, it's time to find appropriate shoes. You want to consider a number of factors, including your feet and arches, comfort, support, cushion, materials used, and sizing options.
How Much Cushion is Too Much?
You might think the more cushion the better. After all, runners' knees, feet, and other joints have to absorb a lot when we run. And there are lots of shoes with plenty of cushioning on the market! But max cushion isn't always a good option.
Some studies have shown that too much padding does not lessen injury risk and may lead to more injuries instead of fewer.
For example, a 2018 study found that maximalist shoes can "alter spring-like running mechanics and amplify rather than attenuate impact loading." The increased impact loading was attributed to a stiffer leg during each landing. This was compared to a standard running shoe.
That doesn't mean extra cushion is a bad thing for everyone. We're all individuals so you have to find the right shoe for you!
8 Best Running Shoes for Knee Pain
Below are our top picks for the best running shoes when dealing with knee pain. Remember, there are a lot of factors to consider so keep those in mind when picking a shoe. Maybe your next pair will be one of the ones reviewed below.
The Hoka One One Bondi is great for everyday running and walking. With its max cushioning, it's almost guaranteed to provide max comfort too.
The newest model has a mesh construction, lighter foams, and an extended heel that offers a soft but balanced roll-through from heel strike to push-off. Just remember as we mentioned before that more cushion isn't always better.
So this for me is one of the shoes in my rotation for recovery runs, but not for everyday.
Neutral
4mm heel drop
Maximum cushion
8.9 oz (womens)
$165
Another great option, but particularly for those with flat feet or who overpronate, is the Asics Gel Kayano. The shoe offers excellent heel cushioning for impact absorption, but still allows for a great toe-off.
The Kayano also provides some stability at the midsole to keep feet from rolling inward during each stride. It's known for its durability too and will be there for you, literally, for the long run.
The Kayano, with its mesh upper, comes in varying widths, sizes, and color combos.
Neutral/Overpronation
10mm heel drop
Maximum cushion
9.5 oz (womens)
$160
The Triumph is Saucony's most cushioned shoe. It promises extra cushion and a springy feel enabling you to push off with strength but land quietly and softly.
Whether you're heading out for a 5k or your 20-mile long run, this shoe provides the comfort and support you need, especially on the days when your legs are feeling it a bit more than usual.
Another bonus? It comes in 13 colors!
Neutral
8mm heel drop
Maximum cushion
9.1 oz (womens)
$159
Absolutely feel free to buy older models for less! It's one that I think has stayed similar and you'll enjoy.
Among stability shoes, the Brooks Adrenaline GTS is a great option. It's been a runners favorite for more than 20 years, if that tells you anything.
It's great for everyday runs or those long runs on the weekends. It has a nice solid structure with flexibility offering support for people with high arches, but can also be a solid option for flat feet with a special insert. Its GuideRails support system helps your foot move more naturally in each step.
Support
12mm heel drop
Maximum cushion
9.0 oz (womens)
$140
Of the shoes listed here, these are by far the lightest weight but may also appear to have the thickest soles. In this shoe, On Cloud has expanded their "clouds" maximizing cushion.
A unique feature of the shoes is the upward angle of the toe box area. This feature helps prevent the sensation of sinking into the cushiony clouds and helps the shoe provide a bouncy push-off.
Neutral
6mm heel drop
Maximum cushion
8.11oz (womens)
$169
Best for Carbon Fiber Plan – Hoka BondiX
Carbon fiber plates can actually provide some beneficial lower leg stability that results in less pain. Surprised? Most folks only think of them for speed, but like an insole they provide support that prevents the foot from rolling too much.
This particular model is one I certainly enjoy running in. You get the cushion of the Bondi, but with more response. It can certainly make some long runs feel even better.
Neutral
5 mm heel drop
Max cushion
9.0 oz (womens)
$215
They also have a Carbon X if you want less cushion. Checkout Bondi X vs Carbon X >>
While these may be the heaviest shoes on this list, the Fresh Foam through the midsole provides the comfort you want without you feeling the bulk. I can't say I've noticed the weight in these at all.
The most recent version 12 of the shoe is slightly lighter and has the knit upper, which makes the shoe simply feel like it's hugging your foot a bit more.
It's another really breathable shoe, that comes in a wide variety of colors.
I specifically noted New Balance for wide feet because you can order most shoes in a variety of widths! I just happen to really enjoy running in this model.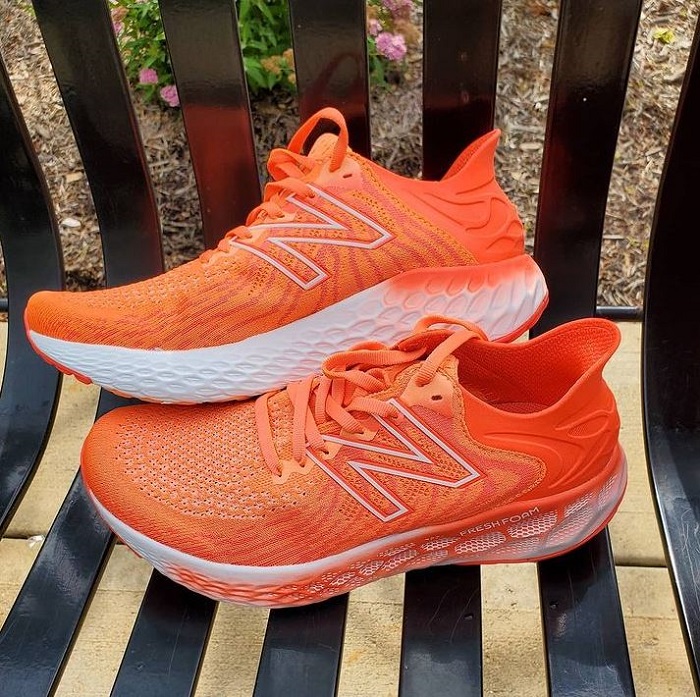 Neutral
12mm heel drop
Medium cushion
10.3 oz (womens)
$160
A million percent buy old models to pay less! They still feel great.
The Hoka Challenger is an all-terrain shoe allowing you to go from street to trails without a hitch. While not as cushy as its sibling the Bondi, its padding provides the shock absorption you need while remaining light enough for the demands of trail running.
Again this isn't not a stability shoe, but by default HOKA shoes provide more stability than most.
The sole boasts 4mm lugs ensuring good grip on the trails, but they're small enough that they won't feel wonky on the road.
Neutral
5mm heel drop
Medium cushion
8.1 oz (womens)
$140
The sheer amount of trainers on the market these days can make shoe shopping overwhelming, especially when trying to deal with a specific issue such as knee pain. Obviously, this isn't an all-encompassing list, but hopefully it provides you with, at the very least, a place to start your search.
For more help selecting the right shoe for you, don't worry, I've got you:
Other ways to connect with Amanda
Instagram Daily Fun: RunToTheFinish
Facebook Community Chatter: RunToTheFinish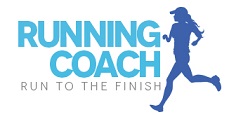 Sign Up to Receive a Weekly Newsletter with Top Running Tips and Laughs