Experiencing Achilles pain while running goes right along side IT Band pain and knee pain in terms of common issues from "too much, too fast and too soon"—the cardinal sins of any runner.
Fortunately, just like the other two injuries it can be resolved with a little bit of knowledge and a few changes to your routine (and possibly gear!).
What is Achilles Tendonitis?
Achilles tendonitis is a condition characterized by the inflammation of the Achilles tendon, which runs from the calf muscles to the back of the heel bone. This crucial tendon allows us to perform activities like walking, jumping, and running.
When it becomes inflamed, it can cause pain, swelling, and stiffness in the back of the lower leg. It is important to understand the symptoms and seek proper treatment to avoid further complications.
The Achilles tendon is the largest and strongest tendon in the human body. It's responsible for transmitting the force generated by the calf muscles to the heel bone, enabling us to move efficiently. However, due to its constant use and repetitive stress, it is prone to injuries and inflammation.
Achilles tendonitis is commonly seen in athletes, especially those involved in sports that require repetitive jumping or running motions. It can also occur in individuals who suddenly increase the intensity or duration of their physical activities, such as weekend warriors or beginners starting a new exercise routine.
What Causes Achilles Pain While Running (Tendonitis)?
Runners are prone to Achilles tendon injuries because of the constant pushing off we do with each stride. The more and faster we run, the more susceptible we are to injury. Speed and uphill training can aggravate the Achilles thanks to the additional strain placed on the tendon.
When the Achilles is overworked, the tendon tightens and causes inflammation, voila la Achilles tendinitis.
Signs of Achilles tendonitis include:
A stiffness which goes away as you warm up
Pain and swelling close to the heel
Limited ankle flexibility
Redness along the tendon
A burning sensation along the tendon
Scar tissue build up (this will feel like lumps)
A cracking or popping sound with ankle movement
With rest and proper care (which I get into below) most runners can usually recover from Achilles tendinitis fairly quickly. Left untreated, however, it will lead to more severe injuries, such as tearing or rupturing.If you hear a pop followed by intense pain in the back of the ankle and lower leg then you've pushed this inflammation too far and now have a major injury to recover from, a torn Achilles.
You likely won't be able to walk normally after this occurs.
Often, Achilles tendon ruptures require surgery, but this is not always the case. None the less, we're not going in to that here because you're going to be a SMART runner and stop pushing through pain.
Can You Keep Running with Achilles Pain?
Errr maybe, but should you…well let's consider what's happening here.
Every time we push off the ground during a run, the force can amount to 500-600 pounds of pressure. The Achilles tendon takes the brunt of that force, meaning like our knees or IT Band, tightness, poor form and overuse are going to quickly take their toll.
The Achilles tendon is the largest tendon in our body and comprised of a thick band of tissue that connects the calf muscles to the heel bone.
This tendon is responsible for every step we take, whether walking or running.
It also permits us to point our toes, push off our feet, jump up and down, and stand on our tip toes.
Basically anything we do with movement can be credited to the Achilles tendon.
No wonder it can get so cranky so easily. A sore Achilles in the morning is often the first sign that you need to hold up and pay attention before it becomes something more.
If you're already experiencing Achilles pain, then stop running until you can complete the toe raise exercise listed in step 3 without pain.
Returning to Running After Achilles Injury
Whether you want to prevent an Achilles injury or are trying to comeback to running after tendonitis, these are the tips that will get you there.
Following is a three step plan to help prevent Achilles tendon pain from running, meaning you won't resolve it once only to have it reappear on you again later.
Step 1: Reduce Swelling and Inflammation
If you're in the midst of a major flare, then DO NOT run.
You need to first allow the swelling to subside and help your body to cull the inflammation. As recently reported, do not ice the area, unless you're in pain and need some numbness!
Try these tips for reducing inflammation, which I used after knee surgery and I remain a big fan of compression socks. If the medical community loves them for healing, why wouldn't we take advantage too!
And like those other common injuries I mentioned, once you've reduced swelling get moving and start with step 2 and 3. Continued rest won't resolve the issue.
Graphic from Road Runner Sports
Step 2: Implement Smart Training
First up is to stop the things which got you in to a mess.
Jumping mileage too quickly, adding in too much speed work or skipping out on rest days which is when our body truly rebuilds from the hard work. After that, make sure you're doing these things as well:
No barefoot time for you. You want to keep everything supported while you fully recover.
Warm up. Exercising on tight, cold, or fatigued calf muscles transfer too much of the load onto the Achilles. A quick dynamic warm up will get that muscle ready to run with less risk of injury.
Cross train with lower impact activities while returning to running.
Vary running surfaces. Hard surfaces can aggravate it more, so consider more trails – but do not run on the treadmill as one study showed this actually required a 12% higher load on the Achilles.
Regular foam rolling will help keep your muscles flexible and supple, which means less pulling on tendons!
Rotate your running shoes to help eliminate muscle imbalances which can affect your stride and cause pain.
While we're on the topic of shoes, there are some things to consider if you're running in to Achilles issues.
In general, I'm a fan of the lower heel drop for most runners, but the best running shoes for Achilles pain are actually those with a slightly higher heel drop because it reduces stress.
Running Shoes to Help Achilles Pain
Additionally, you may benefit from a stability shoe if your foot is falling inward as that will further stress the Achilles.
10-12mm heel drop
Or try adding a heel lift to your existing shoes if you love the fit
Stability shoe
Cushioned heel collar
Brooks Ravena and Asics Gel Nimbus are often recommended (skip down to see all my recommendations and find the best option for you)
Once you've resolved your issue and are completing all the things below, I recommend moving to a lower heel drop as you can. There's enough research to show it's key to good running form, preventing heel striking and other injuries.
Step 3: Achilles Stretch and Strengthening Exercises
Now that you've culled the initial pain, it's time to keep working on your Achilles. We want to keep this injury from recurring with my favorite thing PRE-HAB…though if you're currently injured this is re-hab, but keep doing it long after the pain goes away!
Achilles Stretches
To stretch or not to stretch? While some experts recommend stretching to help heal an Achilles injury, other sources suggest that the pull on the muscles can worsen the injury. This for me is a two pronged issue:
See what feels good to you. If stretching hurts, STOP.
Remember that often what we need to do is loosen the muscles AROUND the tight one.
Use a foam roller to loosen those calf muscles and a massage ball to loosen the plantar fascia in your feet. Notice we aren't rolling right on the injury, but instead working the muscles around it to ensure that nothing else is pulling on it.
Eccentric Strength Training
This is a form of exercise that lengthens certain muscles under weight load. They are often slowed down movements which will train the muscles and tendons differently.
Heel Drops
Stand on a step with your heels hanging off and switch the weight to one leg. Slowly lower your body and then use your other leg to help you return to the starting position. The help is especially important on the injured side. Do three sets of 15 on each leg twice daily, incorporating both the straight leg and bent knee versions.
Heel Raises
Creating a stronger calf is going to help as well, so once the drops cause no pain it's time to start with raises.
Standing flat footed raise up on to the ball of your feet and hold for a few seconds before lowering back down. As always three sets of 15 reps is a good baseline.
Alphabet
Drawing the alphabet with your foot is another great way to increase total ankle strength and flexibility, which is going to help prevent injury.
Skaters
Once you've eliminated pain while doing the heel drops and calf raises, you can start to up the ante a bit. Try doing skaters to help improve your total foot, ankle and leg strength. These can be a great warm up or addition to your strength day.
Get additional ankle exercises for runners here >>
Step 4: Return to Running
Now that you're starting to move through a full range of motion and are no longer dealing with sharp pain you can start running again. That does not mean pick up where you left off.
In fact, it means doing what I call test runs and utilizing tools like Lever to reduce the impact of your running.
Lever Running
When elite athletes return to workouts after an injury, Achilles or otherwise, they often utilize tools that reduce their body weight. In the past this meant an AlterG which is insanely expensive and only available in Dr's office, but now we have Lever Movement system for at home.
I use this and a large number of athletes from the everyday to elite have started using it at home as well. Specifically for Achilles recovery this is going to reduce the amount of force the tendon needs to absorb with each stride.
By reducing this amount, you can ease your body back in to running with less chance of re-aggravating the Achilles.
Too many runners try to jump back in to normal training and quickly end up in pain again. Whether you feel in a hurry because you have a race or simply can't wait to get going, this is a smart way to get started.
Checkout the full Lever Movement System >>
Lever Movement Discount Code: Runtothefinish for 20% off
Good news, you'll continue to get usage out of this even after injury. It's great for increasing mileage or even getting in a few more speedy miles to help the legs feel the turnover without a big jump in HR.
If you've been off running for more than a month, you might choose to start with all Lever runs. Take off the maximum amount of weight and then each week take off less weight.
If you're just trying to avoid a full blown injury you might try substituting Lever for a couple of runs each week. Play with the weightload to find what gives you the most relief while still being a good workout.
Test Runs
Along with the Lever runs, you'll want to start seeing how outdoor runs feel. The goal in these runs is to really dial in to how things feel and STOP before you're in any pain.
For most runners this means starting back with a run/walk. Use those intervals to allow the body to adapt to the force again and take the pressure off any expectations.
You can over time continue to increase the run intervals based on signals from your body, most notably lack of pain or soreness.
7 Best Running Shoes for Achilles Tendonitis
Many runners don't realize that having the right shoes and footwear can make all the difference to help you prevent and even recover from Achilles Tendonitis.
Let's look at the top 7 running shoes for Achilles Tendonitis in 2023:
The Brooks Adrenaline GTS is a popular stability shoe that offers excellent arch support and cushioning. It features a progressive diagonal rollbar that helps correct overpronation, reducing stress on the Achilles tendon.
The combination of stability and comfort makes it a reliable choice for runners dealing with tendonitis.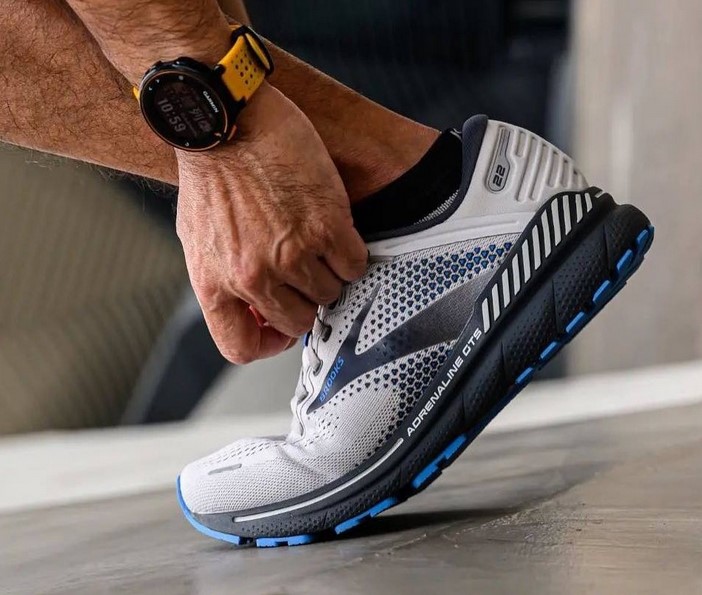 Moreover, the Brooks Adrenaline GTS incorporates a BioMoGo DNA midsole, which adapts to the runner's stride and provides personalized cushioning.
This adaptive feature ensures optimal shock absorption and reduces the risk of further Achilles tendon irritation. The shoe's breathable mesh upper also promotes airflow, keeping your feet cool and dry during your runs.
Stability shoe
12 mm heel drop
9 oz women's, 10.2 oz men's
Moderate cushion
Available in 20 colors
Available in Wide
Available on BrooksRunning.com, Amazon, Zappos and retail stores for $140
The Mizuno Wave Rider is a reliable neutral running shoe that combines cushioning and stability. Its Wave Plate technology disperses impact forces evenly throughout the midsole, reducing stress on the Achilles tendon. The shoe's breathable mesh upper and supportive fit make it an excellent choice for runners seeking relief from tendonitis.
Moreover, the Mizuno Wave Rider features a U4icX heel wedge, which provides additional cushioning and shock absorption. This feature helps alleviate pressure on the Achilles tendon and enhances overall comfort during your runs.
The shoe's X10 carbon rubber outsole also offers excellent durability and traction, ensuring a smooth and reliable running experience.
12 mm heel drop
8.6 oz women, 10 oz men
$140
The Brooks Ghost is a versatile neutral shoe that offers a perfect balance of cushioning and responsiveness.
With its BioMoGo DNA and DNA Loft midsole technologies, it provides softness underfoot while maintaining a lightweight design. The shoe's segmented crash pad helps absorb impact on the heel, reducing stress on the Achilles tendon.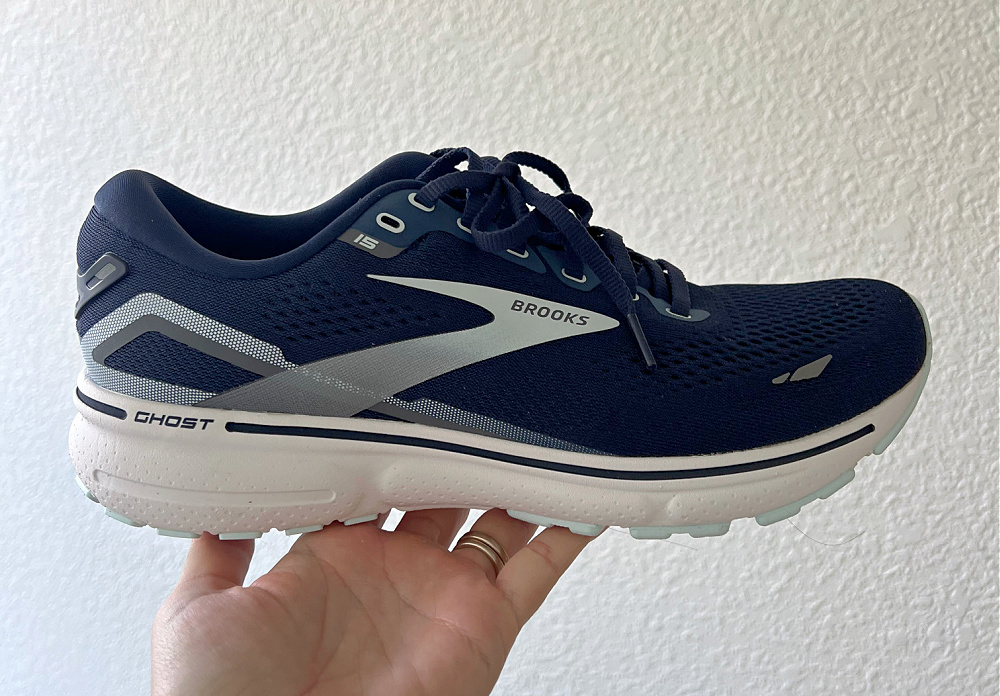 Plus, the Brooks Ghost features a 3D Fit Print upper, which provides a seamless and secure fit. This engineered mesh upper enhances overall comfort and reduces the risk of friction and irritation around the Achilles tendon area.
The heel counter, along with the padding in the tongue and collar, perfectly fits the ankle and provides a soft step-in feel.
The shoe's Omega Flex Grooves also promote flexibility and natural foot movement, allowing for a more comfortable and efficient stride.
12 mm heel drop
9.1 oz women's
10.1 oz men's
Moderate
Available in 8 colors
Available in Wide
The Nike Air Zoom Pegasus is a highly popular running shoe loved for its responsive and comfortable ride. It features a Zoom Air unit in the heel, providing excellent cushioning and shock absorption.
The Pegasus also offers a supportive fit and a breathable upper, ensuring a secure and comfortable running experience for Achilles tendonitis sufferers.
In addition to its cushioning and support, the Nike Air Zoom Pegasus incorporates a Flywire system. This system uses strategically placed cables to provide a secure and adaptive fit, reducing the risk of Achilles tendon strain.
The shoe's waffle outsole also enhances traction and durability, allowing for confident strides on various surfaces.
Neutral running shoe
Moderate cushion
Weight: 10.9 oz men's, 8.5 oz women's
Heel drop: 10mm
7 colors
Not available in wide
Previous Model: Nike Pegasus 39
$130
This shoe will appeal to most runners looking for a neutral fit. The inclusion of ASICS technologies like the Flytefoam and the GEL offers cushioned support with a responsive fit. Whether you're a casual runner or a hard core marathoner, this shoe is a great choice.
They feel very light, which is what you'll definitely notice first. Plus, the uppers are mesh for breathability and ventilation of your feet during your runs.
The cushioning is also excellent. The entire shoe, from the midsoles to the outsoles, is bouncy in order to provide you with maximum comfort and support.
Finally with the 24 they made some additional changes to be more gender specific because yes we do have differences in our feet.
If you're looking for similar performance with a lighter environmental footprint, take a look at the GEL Nimbus Lite.
8mm drop
8.7 oz women's, 10.5 oz men's
Available in 6 colors
$160
The Hoka One One Bondi is known for its exceptional cushioning and shock absorption. This shoe features a plush EVA-coated midsole that reduces the impact on the Achilles tendon, making it an excellent choice for runners with tendonitis.
The Bondi's wide toe box also provides ample room for toe splay, reducing pressure and potential irritation.
In addition to its cushioning and toe box design, the Hoka One One Bondi incorporates a meta-rocker technology. This unique feature promotes a smooth and efficient gait cycle, reducing strain on the Achilles tendon.
The shoe's lightweight construction further enhances comfort and allows for a more effortless running experience.
Max-cushioned neutral shoe
10.8 oz men's, 8.90 oz women's
4 mm drop
15 colors
Available in wide and extra wide
$165
The New Balance 990v5 is a classic shoe known for its superior cushioning and stability. Its ENCAP midsole technology provides ample support to reduce strain on the Achilles tendon.
These can be a great option for when you are walking around a lot or as you are easing back in to running and doing some light workouts.
The shoe's durable construction ensures long-lasting comfort and performance, making it a great option for runners seeking relief from tendonitis.
In addition to its cushioning and stability features, the New Balance 990v5 incorporates a dual-density collar foam. This foam provides extra cushioning and support around the ankle, further reducing the risk of Achilles tendon discomfort.
The shoe's blown rubber outsole also enhances traction and durability, ensuring a smooth and reliable running experience.
When choosing running shoes for Achilles tendonitis, it's important to consider your individual needs, foot type, and running style. What works for one runner may not work for another, so it's important to try on different shoes and seek expert advice when necessary.
Remember, finding the right shoes can make a significant difference in your comfort and running performance while managing Achilles tendonitis. Lace up, hit the road, and enjoy a pain-free running experience!
Bonus: Taping an Achilles Injury
K Tape, or Kinesiology Tape can be kinda magical for injuries, including Achilles tendinitis (I mean it's the only thing that allowed me to run after my knee injury!).
The tendon notoriously has poor blood flow, which is one reason it is so susceptible to overuse and stress injuries. Kinesio Tape lifts the skin away from the muscle, stimulating circulation and helping alleviate pain.
There are a few different ways you can tape for Achilles pain.
Aresports provides a few examples of how to tape!
Example Achilles Taping
Sit in a chair and cross the injured leg over the other, resting it just above the heel.
With your heel flexed, anchor the tape starting in the bottom center of your foot and stretch the tape over the back of the heel, stopping about a ⅓ of the way up your calf.
Rub the tape to create a strong bond.
Fold a second strip in half and round the corners and cut it at the fold so you have two pieces.
Take the first piece and tape it around the point of pain.
If you have pain higher up in the calf, apply the second strip at that point in the same manner.
You can also try out some of these ankle braces for runners. Sometimes that can provide a little additional support and relief.
Features to Look for When Choosing Shoes for Achilles Tendonitis
When selecting running shoes for Achilles tendonitis, certain features can help alleviate pain and provide the necessary support and cushioning for a more comfortable running experience. Here are some factors to consider:
Heel Cushioning
One important feature to consider when selecting shoes for Achilles tendonitis is heel cushioning. The Achilles tendon absorbs a significant amount of impact during running, and shoes with ample heel cushioning can help reduce the stress placed on the tendon.
Look for shoes that have a soft and cushioned heel to provide optimal shock absorption and minimize discomfort.
Arch Support
Opt for shoes that provide good arch support to prevent overpronation or excessive rolling of the foot. The arch of the foot plays a vital role in maintaining proper foot alignment and distributing forces evenly during running.
Shoes with good arch support can help prevent overpronation, which is when the foot rolls excessively inward, placing additional strain on the Achilles tendon. And so, if you have high arches or flat feet, you'll also want to take that into account when looking for the shoe that's right for you.
Look for shoes that have a supportive arch design to promote a more natural and stable foot motion.
Flexible Forefoot
Shoes with a flexible forefoot can help reduce strain on the Achilles tendon during the push-off phase of running. During the push-off phase of running, the Achilles tendon is under increased tension.
Shoes with a flexible forefoot can help reduce strain on the tendon by allowing for a more natural range of motion. Flexible shoes also allow for a smoother transition from one end of your foot to the other.
And so, look for shoes that have a flexible sole in the forefoot area to promote a smoother and more comfortable running experience.
Heel Drop
Consider the heel-to-toe drop, which refers to the height difference between the heel and forefoot. A high heel-to-toe drop can help reduce stress on the Achilles tendon and that's what I recommend for any runner with this condition.
Consider choosing shoes with a high heel drop to minimize the risk of exacerbating Achilles tendonitis.
By focusing on these key features, you can find running shoes that offer the stability and support needed to ease the discomfort caused by Achilles tendonitis.
How Does the Achilles Tendon Get its Name?
As the Greek mythology goes, Achilles' mother, Thetis wanted to make her son immortal, so she dipped him in the River Styx. However, the strong current meant that she held onto him by his heels, so his feet never touched the water. Thus his feet remained the one weak part of his body.
Achilles grew to be a strong warrior, defeating the leaders of nearby kingdoms. Paris, the brother of a man killed by Achilles set out for revenge, directing a poisoned arrow right into his heel, killing Achilles shortly after.
The first recorded connection with Achilles to the tendon occurred in 1693 by Dutch anatomist Philip Verheyen.
Other ways to connect with Amanda
Instagram Daily Fun: RunToTheFinish
Facebook Community Chatter: RunToTheFinish
Sign Up to Receive a Weekly Newsletter with Top Running Tips