You know a big part of my philosophy is that you need to rotate your running shoes, which means having shoes for different kinds of runs. Today we're talking about marathon running shoes.
What's going to have enough cushion, enough structure and enough life to get you through training.
More than that, there's something that gives you a mental boost when you find the right shoe. It just feels good to put it on, it carries you through the miles and come race day you're confident in that running shoe.
Lucky for you I've run in all of these models, but more importantly have over 3000 of you participating in weekly Instagram Polls giving me additional feedback on what you love and has helped fellow runners complete 26.2 with happy feet.
Why It's Important to Find the Right Marathon Running Shoes
The right running shoe matters so much because over the miles it's really easy to have issues like ankle pain while running or knee pain while running.
Not simply from weak hips and glutes, but from shoes that aren't right for you! In fact, wearing the wrong type of running shoes is the top cause of foot pain when running.
At the base level, you'll want to find a shoe that:
has enough room in the toe box for your feet to spread and potentially swell over the miles
allows you to change the lacing to provide more room or lock in your heel
keeps your arch from dropping in which places pressure on knees and ankles
There are, still, other things to consider when picking the right marathon shoe for yourself. Let's look at what these are in more detail.
What To Look For In Marathon Running Shoes?
When considering a pair of running shoes to cover all the training miles to over 26.2 there are a few key areas that you want to examine. The goal is to find a shoe that can take you through most of training, so then you can grab a new pair and flow easily in to race day.
Comfort
Your marathon running shoes should be, first and foremost, comfortable. Running for 26.2 miles is no joke, and it's important to prioritize comfort. This is where a lot of personal preferences may come into play.
An uncomfortable shoe is often a sign that it's forcing your body to move in ways it doesn't like or that are going to create issues like blisters.
Cushioning
How cushioned your marathon shoes play a big part in not only how comfortable they'll be, but also how good your form is while running.
Remember that more is not always better. A super plush shoe like the Hoka Bondi could lead you to sink in a little bit as the run goes on and lead to lower back pain while running. Surprising, but not uncommon. Which is why I love that shoe for my recovery days.
The flipside is going with minimal cushion can be really hard on the feet and joints with endurance events.
In general, I recommend moderate cushioning for everyone. Heavier runners or those with a larger frame (hello my very tall male friends) may want a more cushioned shoe.
Some Flexibility
Speaking of support, it's an incredibly important aspect when picking the right distance running shoes.
As we run over long distances, our muscles eventually become fatigued, and this causes our form to deteriorate. When you're tired, wearing supportive shoes can help you run longer and with better form and that's exactly what we need during a marathon.
What I am NOT implying is that you should buy a stability shoe. I don't want to force your foot in to any particular direction.
Instead, we like shoes with a slightly wider base that provide natural elements of stability.
Durable Outer Sole
When it comes to durability, it's important to look for a solid rubber outsole rather than one made of blown rubber. This will ensure your shoes survive for more than a few long-distance runs.
Even though a rougher outsole could add weight, it's worthwhile to take that into account, especially if running in the summer on extremely hot concrete or asphalt.
Breathability
I recommend running shoes with good breathability. Because we naturally have sweaty feet while running and our feet swell, we want to dissipate as much heat as possible. This will again prevent blisters or hotspots from forming.
That extra breathability will make all the difference in terms of comfort come race day when you're running for 26.2 miles!
When looking for shoes with a lot of breathability, look for styles that have mesh uppers. This will also serve the function of reducing skin friction which can result in blisters.
Type of Feet
Another really important thing to consider is the shape of your foot and specifically the height of your arch.
This is because your arch affects your gait, or how your foot strikes the ground when you run.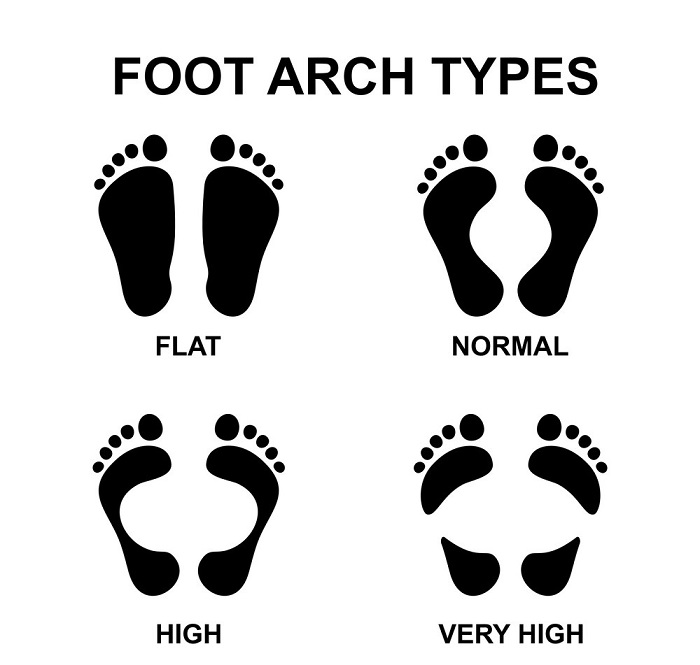 Different types of gaits determine which areas of the foot require the most support and this will affect how much arch support to look for in your shoes.
When running, people with flat feet or low arches frequently notice that their feet roll inward which is called overpronation.
Such runners should consider stability shoes which provide additional support through the midsole and into the heel preventing injuries.
However, neutral shoes are best for runners with high arches since they need a lot of cushioning, particularly in the midfoot.
Ample Space in the Toe box
You'll want to look for a shoe with ample space in the toe box.
In general, the longest toe should have a thumb's distance from the shoe box. This prevents the toe from repeatedly striking the toe box, which can cause problems like runner's toes.
We also want to ensure there is plenty of room for our toes to move as our foot swells during the race. If you're getting numb feet while running, then your shoe is too small.
However, a shoe that is too wide may also cause your foot to move about inside it and your toes to rub against the toe box, which could result in blisters or other issues.
Fits the Terrain
The type of terrain you'll be running in during the marathon will also affect which marathon shoes are best for you.
For example, the shoes you'll need for trail marathons will be very different from the ones you'll need for road marathons.
Road runners will need plenty of cushioning while trail runners will need outsoles with a good grip.
Other Things to Consider
While one pair could get you through all of training, it might be run down enough that you don't want to wear it for race day.
If you've found a pair that you love during training, then grab a new pair about a month before the race.
And of course, it's important to know when to replace your running shoes!
Other questions to ask yourself when considering which marathon shoes to buy are:
Do you have pronation issues that you can't correct with strengthening exercises?
Do you want a pair specifically for race day that is lighter? (consider them your race shoes)
Do you need a wide shoe? (feet swell the farther we run and in heat, so know your foot)
A major factor is understanding how running shoes should fit.
Go through those key pieces before selecting any shoe from the list of ideas that follow.
7 Best Marathon Running Shoes
I'll be sharing one from each of the major running shoe brands. Each brand has a slightly different fit and feel, so if you've tried a shoe from them previously now you'll know which model will go the distance.
Click on any marathon shoe name below to see complete details.
Best Marathon Shoes for Overall Cushioning + Speed
The original Bondi is a super plush running shoe, which I personally love for a good recovery day. But the addition of the carbon fiber plate, makes this shoe more responsive and a really wonderful ride for those long run days.
The wider toe box feels really wonderful as your feet swell on the run and the very slight meta rocker helps roll your foot forward. This is especially noticeable on any downhill and I loved it!
"We asked ourselves why every carbon-plated shoe on the market had to be created with an eye on only the elite runner. Everyone deserves to fly and everyone can level up.
What better way to pose the idea than on a super plush HOKA platform with forgiving geometry plus a carbon plate? The Bondi X was born!"
Cushioned shoe with carbon fiber plate
Wider platform provides stability without over correcting stride
5mm heel drop
9 oz women's
Best Marathon Shoes Overall for Neutral Cushion
Fresh Foam is every bit as lovely as it sounds. These shoes feel fabulous when you slip them on and yet maintain good responsiveness. Unlike the super plush Bondi that you can sink in to, you'll remain quick off the ground in these shoes.
These shoes do not have a padded collar which some runners may dislike, but I didn't notice any issues with that. I did the normal heel lock lacing as will all my shoes and they felt great.
I'd say these shoes run not wide or narrow, but directly in the middle. However, New Balance is known for offering wide sizes in most models!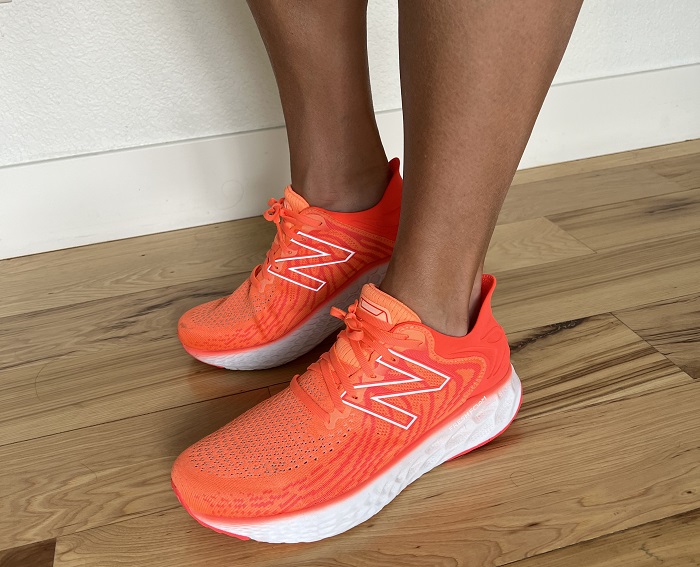 Current model is the 12
Neutral running shoe
8mm heel drop
Cushioned and responsive
8.3 oz women's
Best Marathon Shoes Overall for Stability
You're in luck because I recently tested out this shoe and did a full review! It's been a long running favorite for many, which is why they're up to the 28th model.
It's a more structured and cushioned shoe that for many strikes the balance of cushion, is fairly light, and has enough structure to keep their foot strike in line.
The shoe has been designed to be a stability shoe for overpronators, but it's highly popular for high-mileage neutral runners as well.
The 3D Space Construction under the forefoot and heel accounts for the variances in men's and women's strides, resulting in a more tailored fit and feel for each gender.
Current model is the 28
Stability running shoe
12mm heel drop is much higher than most need
Long time favorite to many runners
Cushioned, but not overly soft
10.8 oz
Stability Shoe Runner Up: Brooks Ghost
I'm starting to get embarrassed by how many of these shoes I have currently or have run in, but the Ghost is also on the list! In fact, this is my exact shoe in the photo!
The Brooks Ghost's impressive cushioning, lightweight feel, and support make it a great choice for marathon runners thanks to the DNA loft cushioning it uses.
These feel like a shoe with a lot more structure and while cushioned, they don't have the plush feel of some shoes.
This is useful to many runners who end up with lower back pain while running in a too cushioned shoe.
Neutral runners like this shoe as it gives a good energy return while being able to handle the pounding of longer runs. It's a great and responsive pair of shoes that propels the foot through each stride.
The lightweight, breathable engineered mesh upper provides a secure fit that will prevent blisters on your feet.
Current model is Ghost 14
Listed as neutral running shoe now, but still known for stability
12 mm heel drop
9 oz
Do you need to buy the most current model of running shoe? What if an older model is cheaper??
Assuming the shoes have been stored correctly (i.e. not a boiling hot warehouse) then I'm a fan of saving $50 whenever possible, knowing that I'll need to keep buying more shoes.
Just checkout the reviews to see if anything major changed between models. As we all know we may love one version and not so much the next in the very same shoe.
Best Neutral Marathon Running Shoes
I ran in the very first model of this shoe and was surprised just how much I loved the maximal shoe.
It was cushioned without being heavy and and feeling clunky. But a real bonus of Hoka shoes is that the maximal style while being a neutral shoe with a lower heel drop, is by default more stable!
Yes, that means it could make your knees and hips feel better
The Clifton 8 was designed with a new EVA foam compound. The new midsole is one of HOKA's lightest and most responsive foams to date, providing a cushioned but feathery ride.
The updated engineered mesh upper is comfortable, supportive, and enhances breathability while the outsole's strategically placed rubber provides exceptional grip on concrete without adding any more weight.
Plus, the foam padding around the ankle collar and behind the tongue contributes to the overall comfort and tailored feel.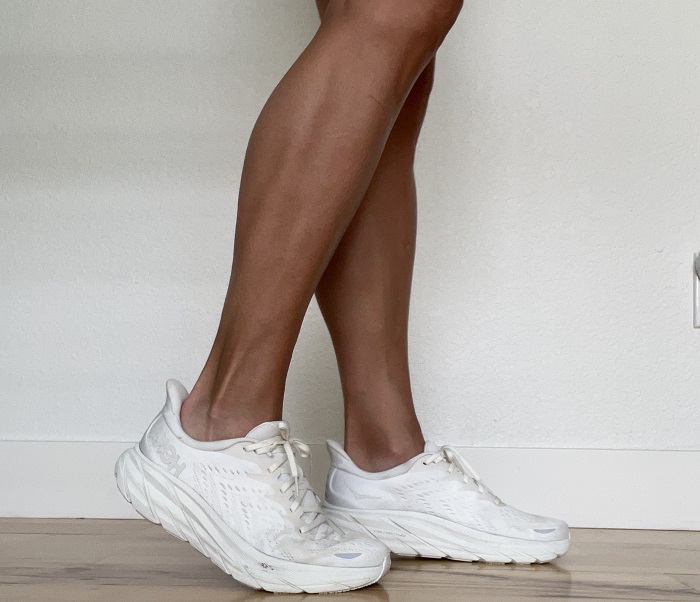 I've now tested about 5 or so models of the Clifton, including the 8 which I liked. You can see how the Hoka running shoes comparison in this post.
Suffice to say that if you are looking for a marathon training shoe, this would be my pick for getting cushion without it being too soft.
Current model is the Clifton 8
Neutral running shoe
5mm heel to toe
Great cushioning
7 oz
In fact, since then I've tested out and compared Hoka models many times over the years.
Best Marathon Shoes for Cushion + Style
A lot has been said about the Vaporfly 4%, but they aren't the shoe I'd recommend for most runners.
It uses the Nike React foam midsoles that are not only lightweight but also springy and durable. The breathable mesh upper provides a great neutral fit that will be good for many runners.
The Pegasus also features a wider toe box for more room while its curved collars help reduce irritation to the Achilles tendons.
The Pegasus is a long time shoe for Nike, which to me is always a signal of a great model.
Current model is 37
Neutral shoe
Improved cushioning
10mm heel drop
10 oz
Best Carbon Fiber Marathon Running Shoes
Those looking for speed are often drawn to the carbon fiber shoes for that extra boost. I certainly was for the Chicago marathon! It's important however that you not run in them too much to breakdown the shoe, so just enough to break them in!
While the BondiX mentioned above is a great option, I find that for those really looking to hit faster times (anything Sub 4) the Saucony Endorphin Pro can be a good option.
I've always liked the moderate cushion of Saucony shoes, so this felt fantastic to me. It's in line with something like a Kinvara, but so phenomenally light. And the higher outsole seems to provide a little extra stability.
Current model 2
Moderate Cushion with Carbon Fiber Plate
Narrow fit
Lightweight and very breathable
8mm heel drop
6.3 oz
Learn more about how carbon fiber plates work >>
How Long Before the Marathon To Buy New Shoes?
If you've found a pair of shoes that you love during training, then get a new pair about a month before the race.
This gives you a chance to wear them on a few shorter runs and one long run.
Remember the NOTHING NEW on race day mantra. You want to take your race day shoes out for a few runs just to make sure there are absolutely no issues with blisters or the shoe fitting slightly different.
However, if you're not feeling good about the model you've been using then two months before the race I'd be on the hunt for something that feels good. This gives you a chance to take it on multiple long runs and the shoe will still have plenty of life left in it for race day.
How Many Running Shoes Should You have?
I cover in depth why you need to rotate running shoes, but for the sake of time say a minimum of two pairs of shoes for marathon training.
And yes, that's two different styles for during training and then a new pair coming up on race day.
If you've only done a 12 week training plan, then maybe you won't need a new pair for race day. But most of us start training in an older pair and pile on the miles.
Those fresh shoes will have better structure and cushion, which we absolutely want when running 26.2 miles.
How Do You Tell When Your Running Shoes Are Worn Out?
If you train over longer distances, your shoes will likely wear out sooner.
If your running shoes are worn out, the upper may be worn or torn, the outsole may be smoothing out, the midsole foam may appear compressed, and you may be getting foot or knee pain when you run if you weren't before.
These are the classic signs that your shoes are worn out, so head on over to get a new pair to be ready before the race!
If this is your first marathon, don't forget to check out these beginner marathon training tips and my new Couch to Marathon Training Plan.
Looking for more reviews to find the best things for your run?
Checkout our full page of my must have running gear reviews and guides to save you time searching and money! I share what's worked for me and fellow runners, along with what wasn't worth the price tag.
A few common requests:
Other ways to connect with Amanda
Instagram Daily Fun: RunToTheFinish
Facebook Community Chatter: RunToTheFinish
Get more running tips: Pinterest
Get every new post delivered to your inbox