Whether you're just starting out or trying to figure out how to maintain fitness between races, the inevitable question arises about how often should I run? How many days for strength training, rest and what's best.
As a running coach, I'm able to dive deep in to the answer for those in our group program or with custom training plans and of course that's my preferred way to answer because it's PERSONALIZED to you.
But alas, I'll give you my best thoughts….
How Often Should I Run?
The answer is going to depend, but if you want to run your first 5K, you might easily get by with just 3 days of running per week. Meanwhile if you're wanting to run your first marathon it's ideal to work up to 5 days per week.
This is just one example, so you're going to want to consider
One thing, I will say up front is I do NOT love running streaks or running every day. You can click that to read all about why, but for today let's say it's overkill most of the time.
Current goals:
If you want to run your first 5K, you might easily get by with just 3 days of running per week, meanwhile if you're wanting to run your first marathon it's ideal to work up to 5 days per week.
Injury history:
Do you get shin splints every time you start running? Then you're likely diving in too fast. The same can be said for most running injuries. So knowing your body, be smart about starting slow with just 2 days per week and spend another few days walking or cycling, giving your body plenty of time to adapt to the stress of running.
Time:
The biggest excuse from any runner about why they skip the warm up or don't do the injury preventing hip work is time….it's also the main reason a new runner might find themselves swearing to run every morning at 6AM and instead only making it happen once a week.
How much should new runners run?
Let's breakdown a few of the most common scenarios to help you figure out what's best for you and your body.
Once a week could be the perfect place to start if you're brand new to running! Don't forget that showing up to walk other days will help to build your fitness, get you used to being on your feet and then allow you to run additional days.
Beyond that it's HUGE to know that the run/walk method is ideal for all new runners.
Think you need to run everyday? Find out why that's not the case and how many days should you run? #running
Click To Tweet
How much should I run to maintain fitness?
If you're a long time runner who is currently between races or just trying to maintain your endurance while you enjoy other sports then again there are a few options. I always ask a few questions to help these runners find the right schedule:
Depending upon these answers we can put together a solid plan of attack that will ensure both enjoyment of the run (because that is SO IMPORTANT) and maintaining fitness.
From a high level, many long time runners could use a schedule like this:
Monday: Active recovery day
Tuesday: Mid-distance easy run
Wednesday: Speed workout + 20 minute full body strength
Thursday: mid-distance easy run
Friday: Full body strength workout
Saturday: Long run
Sunday: Optional short easy run + upper body/core workout
If however you are feeling burned out or just really enjoying some new classes, then DO NOT WORRY about cutting your running down to 3 days per week. Triathletes, obviously, mix in a variety of cardio and are often less injury prone and very fast runners thanks to those other disciplines.
How many days per week to run isn't a one size fits all answer because we all have different goals and different bodies. But hopefully this helps to give you a starting point with your current fitness goals!
📣BONUS – We know that tracking is a great way to create habits and consistency. KEEP IT simple.
Checkout my new printable running log, to track your progress and have a log to easily look back on come race da to remind yourself of all the hard work that you have done!
Looking for detailed training plans? Here are a few:
I've got a ton of other resources for new runners, so don't hesitate to look around or ask! I'm happy to help.
Other ways to connect with Amanda
Instagram Daily Fun: RunToTheFinish
Facebook Community Chatter: RunToTheFinish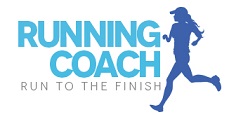 Sign Up to Receive a Weekly Newsletter with Top Running Tips and Laughs