The New Balance 1080 V13 is a continued shift in the structure and style of this shoe from where it started. It's now become much more cushioned and has moved away from being a speedier shoe. This review will dive in to all the details to help you decide if it's your next go to daily trainer.
For the last 4 years, I have been an uber fan of the 1080. It's appeared in so many of my best of lists, which is why I was salivating to try out the newest New Balance 1080v13.
It's the same, but not the same.
You know what I mean if you've been running for any amount of time. They've changed something about a shoe that you loved and it's just different.
So whether you have previously loved this shoe or are looking to add it to your best long run shoes, let's talk about the details, the fit and a comparison of the NB 1080 v13 vs NB 1080 V12. Will you like the upgrade?
New Balance Fresh Foam X 1080V13 Review
Let's start from the top with the specs, then we can get in to what's changed and what's the remained the same in this daily trainer. Looking at the shoe it immediately seems bigger and this is from a couple of changes.
One the stack height did increase from 37mm to 38mm. Nothing massive, but the overall shoe feels a bit more like looking at a marshmallow. The heel collar and tongue are puffier.
The result of all of that is an extremely comfortable shoe, that feels even softer than before. If you disliked the minimal heel collar of versions gone by (that I liked), no worries it has been put to bed and your foot shall be fully enveloped in cushion.
I would say now this shoe reminds me a lot of the Saucony Triumph 21, which has also become a max cushion daily trainer. That's another shoe I recommend for that 80% of your mileage that's supposed to be easy!!
NB 1080 V13 Specs
Weight: 9.2oz Men's 9, 7.3oz Women's
Stack Height:  38mm
Heel Drop: 6mm
Available in 6 Colors
Available in Wide and Extra Wide
Available on NewBalance.com for $165
PSSSTTTT v12 is discounted and truly a good shoe as well
Even with the increased padding, I don't feel that you would need to size up or change your normal selection in this shoe.
1080V13 vs 1080V12
Pictured above is the V13 vs the V12 on the right to give you an idea of how the shoe seems to have puffed up per my description above.
I had some immediate initial impressions about what was different and felt validated to see one of my running coaches, Alison Staples, post her similar thoughts as well.
V13 feels bouncier
V13 feels even softer
V13 toebox might be slightly bigger
V12 was an 8mm drop, so I am actually a fan of moving to the 6mm heel toe drop
V12 was 1mm shorter in stack height
For me, I'm torn on whether I like that the shoe feels softer. While cushion is a wonderful thing, there is a thing as too much cushion and we're starting to see this everywhere in running shoes.
The original NB 1080 that I fell in love with was a little more paired back.
For those who deal with Plantar Fasciitis, Achilles issues or lower back pain while running, these super cushioned shoes could be making matters worse.
Here's the New Balance 1080V10 – as you can see the stack height was less, total cushion less and different heel collar.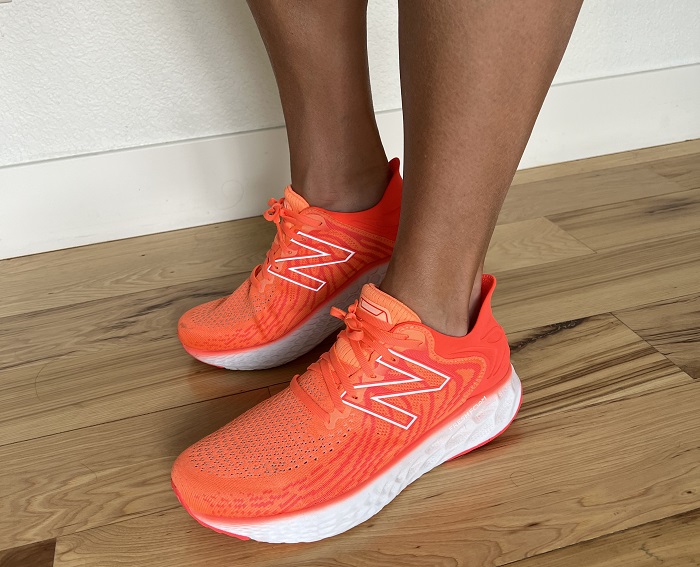 I used to feel like this was a shoe I could include in my lightweight speed workout running shoes.
And while it absolutely has managed to remain light, it doesn't feel like a fast shoe anymore. When you begin to add a lot more cushion, you lose some of that quick rebound off the ground. So now I would definitely file this under a long run daily trainer.
I really like seeing how this shoe has changed because it's pretty reflective of what we are seeing across the industry right  now. So I assume that in another few years, we'll start moving back the other way.
What Are the New Balance 1080 Best For?
All of my thoughts above on how it's changed don't change the fact that you'll absolutely see this in my running shoe rotation!!! But as noted, based on the increased foam and cushion it's going to a shoe I turn to for daily easy runs or even long runs.
I'll opt for something like the Saucony Kinvara for faster days or the Nike Vaporfly for race days.
Want a better look at the shoe or my thoughts, checkout my quick video review. As always let me know if you prefer videos, text, what else you'd like to know and I'll make sure it's updated in future reviews!

What is Fresh Foam X?
New Balance Fresh Foam X is an innovative cushioning technology developed by New Balance. It is designed to provide a responsive, comfortable, and lightweight running experience. Fresh Foam X is an evolution of the original Fresh Foam, offering enhanced performance and improved energy return.
And let me just tell you I am a BIG fan of Fresh Foam X.  For me, it really does have that nice blend of cushion without sinking in to the shoe.
Sneaker Freaker does a great job breaking down what it means that every brand has their own midsole:
"In its most basic form, EVA is made by combining two different plastics. It's then expanded – that is, made into a foam – to produce the squishy stuff that makes soles. Each step of the process can be tweaked to give the final product slightly different properties.
For example, one manufacturer might use different ratios of the two primary ingredients while another might mix in some additives. Then there are all kinds of ways to mould the plastic and expand it into foam, each of which produces a slightly different product."
I can absolutely verify that they've continued to drop weight over the years. I loved the 980 when I first tried it, but this is lighter though maybe less springy.
Looking for some more New Balance talk?
Other ways to connect with Amanda
Instagram Daily Fun: RunToTheFinish
Facebook Community Chatter: RunToTheFinish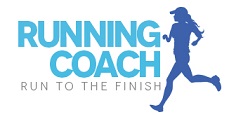 Sign Up to Receive a Weekly Newsletter with Top Running Tips and Laughs