Comparing Saucony vs New Balance really comes down to a lot of personal preference. And of course some proprietary technologies, fit, and feel.  They're easily among the most recognizable brands and for good reason; both make exceptional running shoes for various running styles and body types.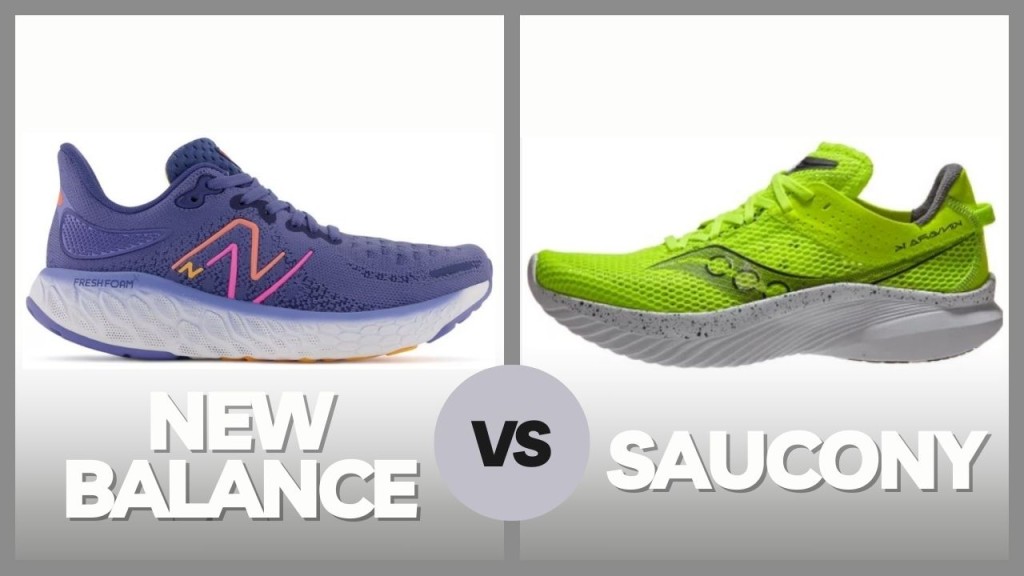 Both brands are known for their quality and offer a variety of models to suit different needs like overpronation, cushioning, and various styles of running.
And don't worry, just because I share a last name with one brand doesn't mean my opinion is biased. ;)
New Balance's top models are the 1080 and the 860, which are designed for neutral to mild overpronators. Saucony's most recognizable shoes are the Kinvara, Triumph and now the Endorphin line. So what does all of that mean?
Let's look at some key differences between the shoe brands, then we'll compare features and go head to head with individual shoes to help you find the best fit.
The Main Differences Saucony vs ASICS
Saucony and ASICS offer similar features and models for all kinds of runners, from the casual runner to extreme marathoner to the flat-footed or high-arched.
I break down the differences in more detail below, but here's a quick overview of each brand:
Saucony Running Shoes

Often noted as fitting a more narrow foot, with a smaller toebox
Wide range of heel drops from traditional 12mm to lower 4mm
Well known for the casual shoes as well as their running shoes
Focus is on lighter shoes that provide maximum comfort
Has an ongoing Fit Tester program to continually update shoes
New Balance Running Shoes

Offers wider shoes than most brands
Thicker midsole provides more stability
Makes more shoes in the US than any other brand
Also big in the athleisure market
I've worn both brands and will add some personal thoughts, along with links to detailed reviews.
If you're looking for other comparisons, checkout New Balance vs Brooks  or Saucony vs HOKA.
How do you say Saucony?
Since I used to get this question a ton wearing my Kinvaras, let me help you out.
Sock-a-knee.
It's actually named after a creek in Pennsylvania and their logo is to represent the flow of water! They really love places for shoe names. I got to visit the actual towns of Kinvara and Kilkenny in Ireland, just a few of their shoe names.
New Balance vs Saucony Feature Comparison
Both brands have been around for a very long time and are leaders in running shoe design. They both offer various technologies to aid with comfort, support, stability, and cushion. Where they differ most are in the fit.
The following breaks down each shoe based on the components buyers need to consider when purchasing a running shoe.
It's gonna get a little TECHY…so you can just skip on down to the specific model comparison if you want, but personally if I'm shelling out $150 for shoes, I kinda want to know why.
Durability 
The lifespan of shoes from both companies is fairly comparable.
Saucony states their shoes last around 400 miles, which is pretty average. The new Endorphin pro with the carbon fiber plate is  more like a racing shoe and therefore only expected to last around 200 miles.
New Balance shoes have a life expectancy ranging from 300 to 500 miles, or three to six months, depending on your monthly mileage.
Determining when to replace running shoes, of course, all depends on your gait, weight, and whether you run mostly on trail or road.
Saucony vs New Balance Sizing
Saucony has their own Shoe Advisor to help put you in the right model. I've always found them to run true to size, but some are for a more narrow foot.
Their often lower heel to toe drop and cushion make them a favorite of distance runners, who find the decreased drop helps with issues like IT Band Syndrome and ensures they are working on hip strength over a shoe correcting a weakness.
New Balance is one of the few running shoes that offer wide widths and go up to a lot more sizes. This is one reason they are so popular among workers.
Note, they also offer 2A which is extra narrow. And like most brands, they have a shoe finder to help you decide what might be the best fit.
Additionally, their shoe numbering system actually means something!! The last 2 digits tell you about the type of shoe.
40 (Optimal Control):
Shoes in this category provide superior control, stability, cushioning and support for biomechanical needs, such as pronation or low arches (e.g., 940, 1540).
50 (Fitness Running):
For training on roads or for indoor workouts, the 50 series offers the combination of visual attitude and innovation with the responsiveness and power athletes need.
60 (Stability):
Designs that offer industry-leading stability to reduce pronation while also providing unparalleled cushioning and comfort (e.g., 860).
70 (Light Stability):
The perfect combination of stability and speed, all in a lighter, sleek profile designed for runners who train at a faster pace (e.g., 770).
80 (Neutral):
For high-mileage runners who require light shoes and the protection of superior cushioning (e.g., 1080).
90 (Speed):
For faster runners who want every advantage, including a superior ride and fit. The choice styles for professional and nonprofessional speed and distance runners (e.g., 890).
Cushioning
Saucony has transitioned most of their shoes to PWRRUN technology, which they promote as a better than the standard EVA foam used by most brands.
PWRRUN+ midsole cushioning provides more flexibility, durability, and springiness in a foam that's 25% lighter
Again and again their focus comes back to lighter, flexible for more power in your take off and more energy return
New Balance utilizes Fresh Foam and FuelCell foam depending upon the shoe. Both are designed to provide a lot of cushion without the weight. FuelCell is a nitrogen infused foam which provides additional softness and responsiveness.
Stability
Saucony has been transitioning to less aggressive stability tools, ensuring the shoe is not over correcting or doing the work for you. They are doing this largely by increasing stack height.
They utilize a medial post (which is a device within the midsole that is firmer) to help provide control and a TPU heel plate which again makes the rides slightly firmer and adds control. Thanks to the cushioning, you don't so much notice the stiffness and reap the benefits.
New Balance utilizes a couple of tools to provide stability. The first is that similar to HOKA all of their shoes have a bigger platform, which naturally means more stability.
Then they have an S Curve to help with that side to side stability and a Ultra Heel that flares away from the ankle for comfort, while keeping your heel firmly in the shoe.
Affordability
The prices between the two brands are fairly comparable. Saucony prices range between $100 to $170, while New Balance start at a slightly lower price at $100 to $140.
The most popular models for both brands are priced toward the higher range. The Endorphin line being over $200 for carbon fiber.
You'll notice that every brand offers a range and this is indeed due to a difference in technology and where they sell the shoe. They know that the big box store can sell the shoe with less in it, while the local running store needs to be best for dedicated runners.
New Balance Vs Saucony Running Shoe Models
Now that you know more about each brand, let's look at their top models in each of the main categories. There's no winner declared here because all are great shoes, it's just about which one is best for your foot.
Did you notice I even said the brands in reverse order this time…seriously no favorites, I have run in both brands many different times over the years.
Stability Running Shoe
With their newest Fresh Foam X it makes for a lighter stability shoe, while still offering the motion control and responsiveness you need. When a shoe is too plush, it's hard to provide the stability in the arch that prevents your foot from falling inward.
The New Balance 860 is a stability shoe designed for runners with overpronation issues. The shoe comes with a medial post on the inside of the shoe, which helps to prevent excessive inward rolling of the foot, and provides added support to the arch. It also has a dual-density midsole that offers excellent cushioning and support to the feet, making it perfect for long-distance running.
The upper part of the shoe is made of engineered mesh, which ensures proper breathability and comfort. This shoe is suitable for runners who require additional support and stability to maintain proper foot alignment while running.
It also uses their Ultra Heel for additional locked and loaded feeling in the shoe.
10mm drop
8.6 oz women's, 10.9 oz men's
$140
In this model, Saucony not only paid attention to the support below, but uses the upper for additional stability. It wraps around your foot, helping you feel more secure in the shoe,.
And as noted their stability is there, but without being aggressive so you aren't feeling it…it's just working. Plus, the ride still feels cushioned which was something that many traditional stability shoes lacked. That's my kind of shoe.
Checkout my comparison of the Saucony Ride vs Guide – two of their most popular shoes that are often confused for each other because of the similarities in fit and feel.
8mm  drop
 7.8 oz women's, 8.8 oz men's
$140
Neutral Running Shoe
While some runners are flocking to carbon plated shoes, we simply don't want those as our every day trainers. We want something that is solid and dependable like this neutral shoe that also has a great wide toebox, allowing you to get full power out of those feet.
It's going to have enough cushion for long runs without being overly plush and still providing just a hint of stability with the bigger platform. I can concur from my running in fresh foam that you absolutely notice the cushion, but it's still a solid shoe. You'll see my absolute favorite NB shoe up next.
The upper part of the shoe is made of engineered mesh that ensures proper breathability and comfort. This shoe is suitable for runners who require moderate support and cushioning for their runs.
10mm drop
8.4 oz women's, 10.3 oz men's
$140
File this under your great every day trainer.
These two are the most popular neutral running shoes from Saucony. Both have been around for many years and continued to improve.
What's the difference in the Ride vs Kinvara?
Cushioning is thinner on the Kinvara making it often more suitable for half marathon and under
Kinvara is often seen as your tempo run or race shoe, the Ride your everyday training
The Ride is focused on cushioning and support, while the Kinvara is designed for a more natural and lightweight feel.
Saucony Ride
The ride is a great everyday trainer. I've used it a few times throughout the years.
It's a great option for those who want a little more support for those longer runs. While not a stability shoe, it's going to have the slightly higher heel drop and weigh just a bit more for the added cushion and support.
8mm drop
 7.8 oz women's, 8.8 oz men's
 $140
Saucony Kinvara
This has been one of my go to shoe's for many years. The newest model is starting to feel like a departure from what I loved in 2010, but it's still a shoe that I'll continue to wear.
The stack height has increased to add more cushion and stability to the run, but as you can see they are holding on to that lightweight and low drop. It's hard to find low heel to toe drop shoes, so this is a big time winner.
4mm drop
 6.2 oz women's, 7.2 oz men's
 $120
Cushioned Running Shoe
CONFESSION! Both of these shoes are in my weekly training rotation. They're also on my best marathon training shoes list because I love them so much.
Listen, I like a good cushioned shoe and this one fits the bill. It's become one of my go to long run shoes.
I've actually gone through 3 pairs of this shoe in the last few years. The rave reviews make complete sense to me as someone who likes a similar, but slightly less cushioned shoe with the the Nike Epic React that I wore on repeat for years.
The most recent version 13 of the shoe is slightly lighter (about 1 oz less) and has the knit upper, which makes the shoe simply feel like it's hugging your foot a bit more. The stack height has also increased, so we'll see if I continue to love it like I did the 11 and 12.
The Fresh Foam midsole provides excellent cushioning and shock absorption, making it perfect for runners who enjoy long-distance running. Remember this isn't a plush shoe, but cushion that still responds. The upper part of the shoe is made of Hypoknit, which is a soft and breathable material that provides a comfortable fit.
This super cushioned shoe is a favorite for many, though you are getting a touch more weight for all that cushion. Many say that it feels both like your foot is being hugged and like every step is a bit bouncy.
While I wouldn't call it bouncy after spending time in the Nike Vaporfly, I would say it's a shoe that I absolutely turn to for longer runs. I know that my feet and legs are going to feel great from getting just the right amount of cushion without losing a lot of energy to something too plush.
This is a great long run and everyday trainer.
8mm drop
 9.1 oz women's, 10.2 oz men's
 $150
Carbon Fiber Plate Shoes
Are they cool new technology, yes. Do they last as long as your other shoes, nope.
So if you want to test these out use them for speed work and then race day! Watch my detailed video on how Carbon Fiber Shoes work.
This shoe recently joined my rotation and I was obviously excited to try it as I've noted that i like the Fresh Foam. I've been testing it along side the Nike Vaporfly and let me say they are two VERY different experiences.
You're getting that foam with less weight and the addition of the carbon fiber plate, making it another shoe designed for speed workouts and race day. It fits like most New Balance shoes, which cannot be said for all carbon fiber racing shoes and thus might be more comfortable for many.
It's a firmer ride than many others who have gone with plusher foam.
Unisex
4 mm heel drop
6.3 oz women's, 8.1 oz men's
$230
I've run in the Endorphin pro for a few races, but the new Elite is taking carbon fiber to the next level for them. In modeling the success of Nike Alphafly, they are adding super lightweight foam and stack height. The goal is by combing the foam and the carbon fiber you get a ride that really propels you to go the distance with less fatigue.
So far this shoe is beloved, as is the ASICS META. I think it comes down to which brand you already wear and know fits you well.
I'm definitely loving this shoe for half to full marathon racing. They added a small bit of padding to the heel cup and I'm a BIG fan of this for preventing rubbing.
Unisex
8 mm heel drop
8.1 oz
$250
What about the Endorphin Line?
Because Saucony really shook things up introducing a whole new line of shoes, it feels like there needs to be at least some discussion here!
One of the big things they talk about is the Speed Roll to help roll your foot forward, which is actually pretty similar to the rocker that Skechers put in their running shoes from the start.
Endorphin Pro – Designed for speed with the carbon fiber plate, this is your race shoe
Endorphin Shift – This feels like a cushioned slightly stabilizing shoe, good for everyday training.
Endorphin Speed – Also designed to be a neutral, cushioned shoe you can take to the race, but without the carbon fiber plat
Watch my detailed video on how Carbon Fiber Shoes work.
More about Saucony
Like another well known running brand (New Balance), Saucony started it's first factory in 1898. And by 1910 they were making running spikes…but few people were running or even looking for running shoes, so it wasn't until the 1970's that they started to grow.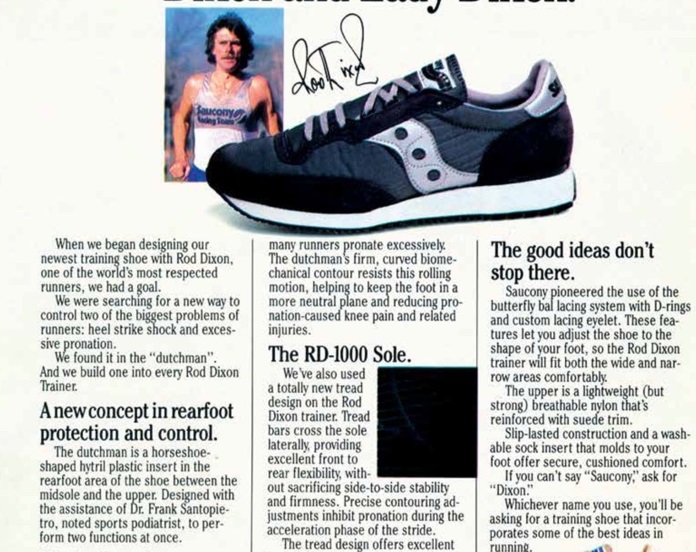 First they became known for their casual shoe with it's cool style and then, the big time hit.
Runner's World featured them in 1979 as a top 10 running shoe. By the 80's they were making shoes with a non-slip sole which was a big innovation.
Then came 2009 and the Saucony Kinvara – this one shoe changed many things about their design and philosophy. It was the more natural running shoe (yes during the barefoot trend).  The new goal became how to strip shoes down, without sacrificing cushion and comfort.
Good performance, good health and good community are their guiding principles.  You may have seen their hashtag #runforgood – which is really about doing good, giving back and finding sustainable practices.
More About New Balance
New Balance actually started in 1906 as an arch support company! But their focus on feet is one of the reasons they do offer more sizes and widths than most other brands.
And that's exactly what the Boston based company focused on until 1960. Athletes had begun using the arch supports and they decided it was time to venture in to sneakers.
The Trackster was the first shoe with a rippled outsole that provide additional traction. It caught on as a track and cross country shoe regionally.
But in 1976 the company released it's first shoe with the well known N logo on the side and it was a success. They stuck to their goal of providing shoes for a variety of feet and took advantage of the 80's running boom.
Which is Better New Balance or Saucony?

New Balance and Saucony are two incredibly trusted running shoe brands on the market, but more important than brand is the fit of the shoe.
Your gait and feet will likely change over time and you may need to change shoes.
This is also why I recommend rotating through several pairs of shoes at once.
Consider your foot width (more wides available in New Balance)
Preference for a lower heel drop (generally Saucony)
Stack height preference (Saucony is definitely going more maximal for more cushion)
And remember, just because these are two of the most well known brands on the market, there are still plenty of other shoe brands to select from if neither Saucony nor New Balance has the right shoe for you.
Keep in mind that shoe design can change, even with the same model, so always assess how the shoe fits every time you replace a pair.
For more help selecting the right shoe for you, don't worry, I've got you:
Other ways to connect with Amanda
Instagram Daily Fun: RunToTheFinish
Facebook Community Chatter: RunToTheFinish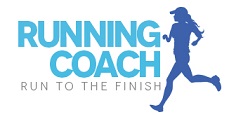 Sign Up to Receive a Weekly Newsletter with Top Running Tips and Laughs