With the sheer number and diversity of running shoes types and shoe brands, it can be really hard to find and decide on the right running shoes for narrow feet. Lucky for you, I've tested a ridiculous number of running shoes and feel really good in the options that tend to run more narrow, even if the shoe isn't a narrow width. Let's find you a great option too.
One thing that's important to remember is even though you wear narrow casual shoes, you might do fine with a standard shoe while running. This is because our feet swell the longer we run and we want to ensure there's plenty of space for that. Some brands have narrow shoes, but others simply have a more narrow fit.
If a shoe is specifically made on a Narrow shoe last for women it will be marked as A or AA and B for men. These shoes should be roughly 1/4″ less room than a standard medium width shoe.
But how do you know if you have narrow feet and need narrow running shoes?
Or how do you know if a shoe comes in narrow sizes or just has a standard snug fit? I'll answer all those questions and share my recommendations for the best running shoes for narrow feet. Keep reading!
How to Know if You Have Narrow Feet
There are a few key ways to determine if you have narrow feet.
First, you may just find it hard to find shoes that fit well. Maybe you have found that an average running shoe leaves extra space around your foot and your foot moves around a lot inside of the shoe.
If this is the case, you may often get blisters or have other discomfort.
Another way to determine if you have narrow feet is to measure them and use a shoe width chart to determine what width you need. However, it's important to keep in mind that there isn't necessarily a standard across shoe companies, so what may be narrow in one brand may not be in another.
Finally, it comes down to comfort. What feels good on your feet when running?
There could be a lot of trial and error with this method, but I often recommend going to a running shoe store where staff can help find the best fitting shoe for you without the back-and-forth hassle of online shopping.
They'll often watch you walk barefoot, examine your feet, ask about any issues you're currently having or have had in the past, and then bring out several shoes for you to try. They often have you run on a treadmill or outside to see how your feet and gait look and so you can provide feedback on how things feel.
All of this is great information for selecting the right shoes.
Do You Need Narrow Width Shoes?
If you determine that you have narrow feet, you may or may not need a narrow-sized running shoe.
Why?
Well, some shoe companies provide varying widths for their shoes, while others maybe only provide one or two. Sometimes companies may only provide varying widths in certain models. So remember that you can also control the fit of your shoes by changing your lacing style!
Checkout my running shoe lacing guide, for how to do this narrow foot lacing.
Another thing to consider is that some shoe companies are known for having snugger fit shoes overall. In that case, you may be able to buy an average width shoe simply because they run a bit tighter in width.
Regardless of whether you end up in what's labeled as a narrow shoe or just a shoe that runs more snug, it's still important that you're buying a shoe that's comfortable for you.
As we all know, running in the right shoes can prevent injuries, offer the right support for your biomechanics, and more. In addition, wearing the right size and width can prevent blisters and other discomfort, as I mentioned earlier.
10 Best Running Shoes for Narrow Feet
When it comes to selecting a new pair of shoes, there are a lot of things to consider. Below I've shared my recommendations for the best running shoes for narrow feet that are currently available.
With each, I've included information on support type, widths available, heel drop, cushion level, weight, and price.
I hope this will be a helpful guide in your search for the right shoes for your narrow feet.
When you're heading out for those weekly easy miles and are looking for a shoe that offers support, cushion, and a smooth ride, the Brooks Ghost is a great choice. And a popular one too!
I've found this shoe to be not too soft and not too firm, it's like that Goldilocks for getting in your daily miles in comfort. This is a great long run or easy week day miles shoe.
You can count on the Ghost for comfort, cushion, and smooth transitions from landing to toe-off. It's perfect for road running, and also makes a great walking shoe. Its new midsole features soft and light weight DNA LOFT v2 cushioning and the shoe boasts an engineered air mesh upper.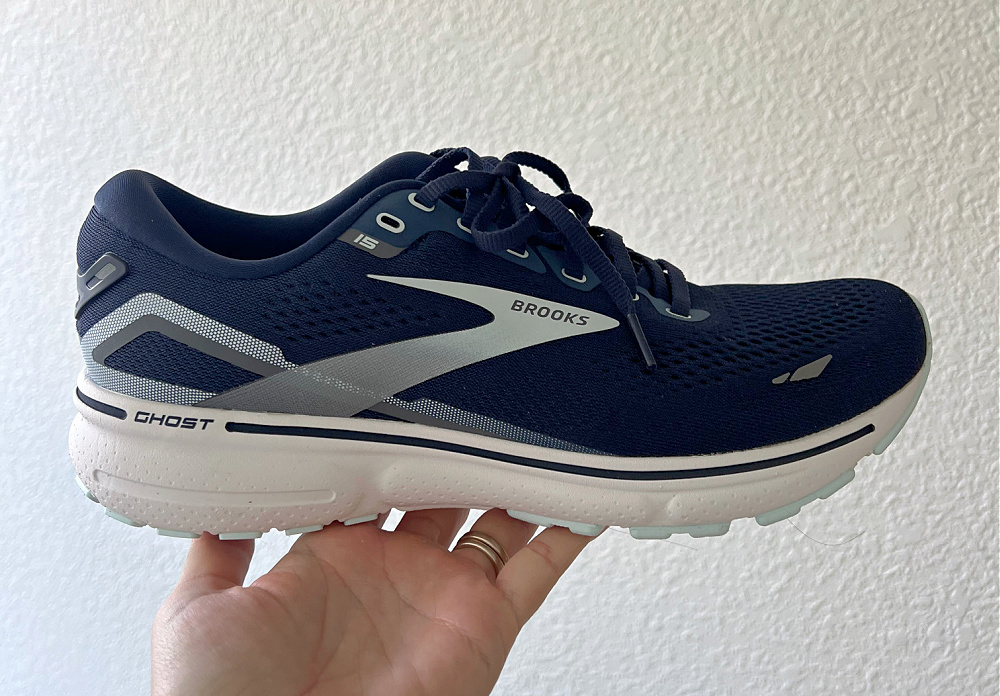 It also comes in a TON of colors and most importantly, 4 different widths from Narrow (2A) all the way to Extra Wide (2E).
In addition, there are 2 other models the Max and the GT that run a bit higher in price. The max has maximal cushioning and a lower drop than the regular and GT models.
The Nike Pegasus is a very popular shoe and has been for a long time. The latest model is no exception, boasting its familiar springy ride, neutral support, and comfort for your arches and toes.
Nike shoes tend to run narrow so even though these don't have multiple widths, they tend to provide a snug fit for runners. This is not the most narrow of Nike running shoes that I have tried over the years, but again I think that can be a good thing to not create blisters.
It's been the go-to shoe for many whether you're logging easy miles or running marathons. It's known for its responsiveness thanks to 2 Nike Air Zoom units for an energized feel with each step.
#3 Most Cushioned Narrow Running Shoe – Asics Novablast
When you're training for long distances, you may be looking for a shoe with maximum cushioning. A great option is the Asics Novablast. While this particular shoe only comes in standard width, it's one that is often recommended for those seeking a more narrow fit.
The Novablast has quickly become a favorite among runners thanks to the combination of cushion, responsiveness and pop off the ground. It's not always an easy combo to find in a cushioned shoe.  While this shoe does have a lot of stack height, the wider base ensures that it still feels really stable.
A thin tongue and a number of updates in recent years to help this shoe remain more eco friendly and keep shoe weight down.
Neutral
1 width
8 mm heel drop
Maximum cushioning
Weight: 7.6 oz women's, 9.4 oz men's
$140
Like the Ghosts, the Adrenaline GTS comes in 4 widths to help you find the perfect fit.
The "GTS" in Brooks Adrenaline GTS stands for "Go-To Shoe." It's a nod to the fact that the Adrenaline GTS has become a go-to shoe for many runners who prioritize stability, support, and comfort in their running shoes. It's simply gotten lighter and less rigid over the years!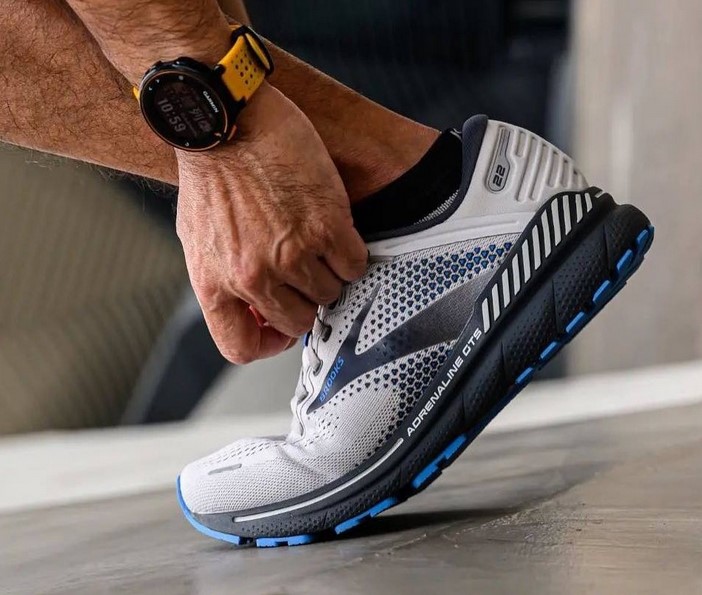 The Adrenaline is a support shoe offering GuideRails technology to prevent excess movement in your stride. They're another extremely popular shoe for daily runs and walking.
Similar to the Ghosts, they have a midsole with the soft and light weight DNA LOFT v2 cushioning and an engineered mesh upper for breathability.
The higher heel to toe drop is good for those who deal with Achilles issues, but not good for anyone who deals with things like Plantar Fasciitis. I tend to encourage runners to stick with 6-10mm when possible. But if you love a shoe, you love a shoe!
Support
4 widths
12 mm heel drop
Medium cushioning
Weight: 9 oz women's, 10.2 oz men's
$140
Available on BrooksRunning.com, Amazon, Zappos and retail stores for $140
#5 Best Speed Work Narrow Shoe – Endorphin Speed
When you want to feel fast, but don't want to spend on the pricey carbon plate shoe that won't last as long…welcome to the Speed 3. It has an s-curve nylon plate instead, which won't give you quite the same pop, but is going to give you that feeling of speed for $100 less than the Saucony Elite.
Again they've piled on the PWRRUN PB midsole for a big stack height. But the she remains incredibly light at 7.2 oz for the womens and sticks to that 8mm heel drop.
This is going to be a great option for those tempo runs and track workouts OR for race day when you don't feel the need to spend even more.
Neutral
2 widths
8 mm heel drop
Maximum cushioning, nylon plate
Weight: 7.2oz women's, 8.1oz men's
$170
While this shoe only comes in medium width, Saucony shoes tend to run a bit more snug width-wise so they may be a good option for those with narrow feet. In fact, it's one of the reason I generally like the fit of Saucony.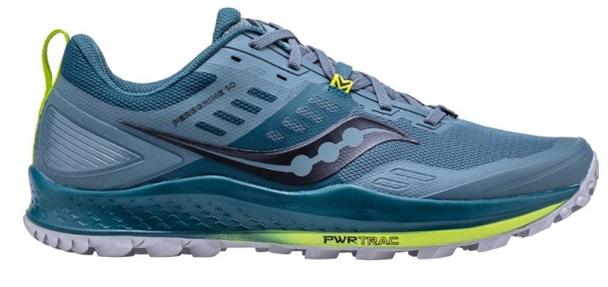 This is a stellar trail shoe, even if you don't need the GTX model. I have wonder it off an on over the years and found it to provide great grip, plus a nice feel under foot. It's not a maximum cushion shoe, which means you'll have more proprioception and feel light on your feet.
The Saucony Peregrine GTX is ready for whatever you throw at them out on the trails. It has waterproof GORE-TEX and a PWRTRAC rubber outsole and rock guard to ensure you have the grip you need on even the toughest terrain.
Neutral
1 width
4 mm heel drop
Weight: 8.1 oz women's, 9.2 oz men's
Medium cushioning
$160
Available on Saucony.com and Zappos
Because a lot of shoes on this list have a higher heel drop, I wanted to make sure I included something with a lower or zero drop.
What I like about Altra is their wider toe box, but also that they now have 3 Footshapes, the original, the standard, and the slim. The Escalante comes in the Slim Footshape, which makes for a more narrow shoe with a molded heel collar for security, but maintains a slightly wider toe box to allow your toes to spread naturally.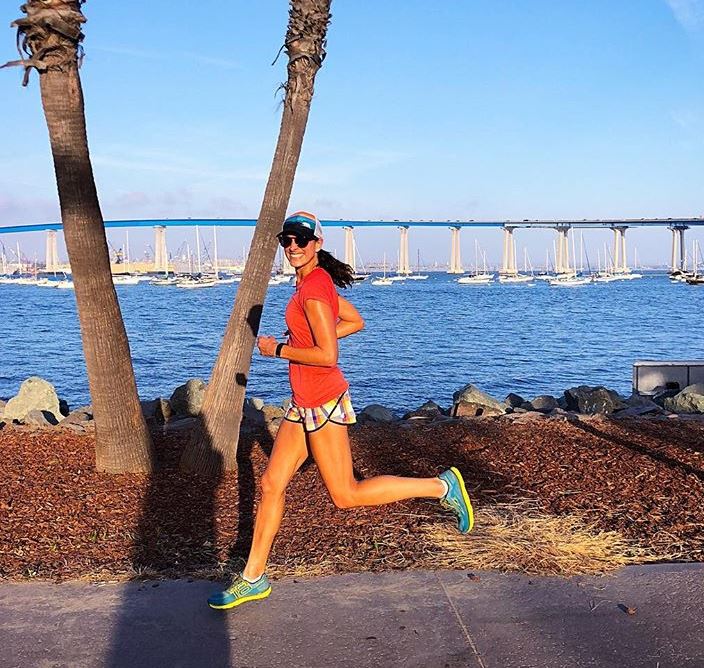 The shoe boasts Altra's EGO midsole foam for a light cushion and more responsive ride, plus a layered mesh upper for breathability. The shoe is great for your daily run, walking, and even a speedy 5k. For me it doesn't have enough cushion to be a great long run shoe, but others really like that ground feel.
Neutral
Slim Footshape
0 mm heel drop
Low cushioning
Weight 5 oz. Men's / 6.9 oz. Women's
$140
Checkout my review of all the Altra Running Shoes >>
#8 Best Carbon Plate Narrow Running Shoe – On Cloudboom Echo 3
While the newest version of this shoe doesn't run as small as the original it's definitely a more narrow fit than any other carbon plate running shoe I've tested.
This isn't one of the super squishy high stack carbon shoes, instead it's going to feel a bit closer to your daily trainer, but with the extra kick of that plate.
For many runners, I think this is a good thing and might strike that balance of speed and cushion, without the worry about Achilles injuries that are popping up.
I was truly impressed with the updates in the Echo 3 from the original Cloudboom. BIG win for me is not having the pods that trap rocks on the bottom!
Neutral
10 mm heel drop
7.6 oz men's and women's
Medium cushioning
Running shoe costs can certainly add up. After all, just looking at this list, most of the shoes are well over $100.
If you're in the market for new shoes, but looking for a more budget-friendly option, look no further than the Nike Winflo. These come in at just over $100, but throw in a coupon code and you've got an even better bargain.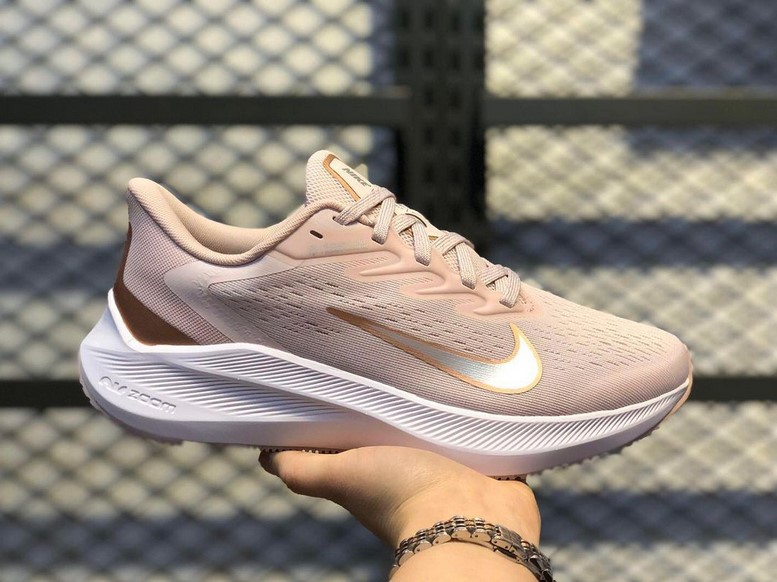 The Winflo is a great option for daily miles for both beginners and more advanced runners. The shoe has Nike Air cushioning for a soft, comfy, yet springy feel. Even at a lower price point, the shoe boasts great durability.
As mentioned, Nike shoes tend to run pretty narrow, but these shoes do have a little bit wider of a toe box, which might work well for folks with narrow heel, but wider forefoot.
Neutral
1 width
10 mm heel drop
Medium cushioning
Weight: 10 oz women's, 9.9 oz men's
$105
Nike has very good return policies
I've recommended this shoe in a lot of running round ups as a great cushioned option, so you could absolutely choose it for that. But it's also one of their most popular walking shoes.
I love that New Balance offers a great variety of widths in their shoes.
The Fresh Foam X is dreamy underfoot and one of the reasons I like these shoes so much.
The breathable mesh upper offers a snug fit for a second skin like feel. While a neutral shoe, it provides nice arch support. Finally the rubber soles offers a bit of stiffness, good for toe off. Overall I would consider this a great cushioned shoe for whatever miles you'll be putting in.
Running shoes have come a long way and there are seemingly endless options out there for any and all foot types. Whether you're looking for shoes for narrow feet, wide feet, lots of cushion, minimal cushion, speed work, trail, road, and more, you will have plenty of options to choose from.
Hopefully now you've got some ideas for testing out the right narrow foot running shoe.
I always recommend running around the block if you're at a running store or buying direct from the brands listed above where you have the opportunity to test it at home and return if it's not the right fit.
Looking for more running shoe info?
Other ways to connect with Amanda
Instagram Daily Fun: RunToTheFinish
Facebook Community Chatter: RunToTheFinish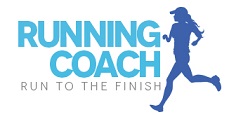 Sign Up to Receive a Weekly Newsletter with Top Running Tips