Among the myriad of brands in the running shoe market, Saucony been known for excellence and innovation, earning the trust of athletes and enthusiasts worldwide. In fact, I've been running in many of their shoes for over a decade!
In this comprehensive gear tester's guide, we'll delve deep into the world of Saucony running shoes, exploring the brand's rich history, cutting-edge technologies, and the top-performing models for every runner's needs.
As an avid running expert and gear enthusiast, I have put these shoes through their paces, testing them across various terrains, distances, and conditions to bring you an unbiased and insightful review.
Whether you're a seasoned marathoner aiming for a new personal best, an overpronator seeking stability and support, or an adventure-seeking trail runner, Saucony has a shoe tailored just for you. But choosing the perfect pair is no simple feat, as individual preferences and biomechanics play a crucial role in the decision-making process.
Let's checkout their top-performing models for neutral runners, those needing overpronation support, specialized trail running options, and how to ensure the perfect fit for your feet.
7 Best Saucony Running Shoes
All right, the Endorphine line is getting all the hype right now. And they are awesome, I'm going to tell you more about them below. But they just aren't the ONLY thing that Saucony is doing really well.
They have other shoes that have stood the test of time and and continue to be favorites of mine and many other runners.
Each brand has a variety of technology that sets them apart and right now for Saucony it consists of a few key elements. Since I don't want to repeatedly tell you about each of these in the shoe review, let's take a look!
Saucony Speed Roll
A bit like the metarocker you've heard of. It uses elevated cushioning and a stiff forefoot, which creates a more responsive shoe to help move you forward.
PWRRUN
PWRRUN is a midsole cushioning material that offers a perfect balance between softness and responsiveness. It is engineered to provide a plush underfoot feel, ensuring a smooth and comfortable ride throughout your run. The lightweight nature of PWRRUN helps to reduce the overall shoe weight, which is beneficial for longer distances, speed workouts, and race days. This cushioning technology aims to attenuate impact forces, reducing the strain on your legs and feet, while also delivering a more energetic toe-off for a snappier and efficient stride.
PWRRUN+
Building on the foundation of PWRRUN, Saucony introduced PWRRUN+ as an enhanced version of their cushioning technology. PWRRUN+ takes cushioning to the next level by being even softer and more responsive, making it ideal for runners who prioritize maximum comfort without compromising on performance.
The additional responsiveness of PWRRUN+ ensures that each stride feels more lively and energized, contributing to an improved running experience. This technology is often featured in Saucony's premium and high-performance running shoe models, catering to runners seeking an ultra-plush and bouncy feel during their runs.
All right with that out of the way, let's move on to finding you the best Saucony running shoe!
I've used the last few models of the Triumph for MANY training miles and definitely recommend.
The Saucony Triumph is known for its plush cushioning, which you can absolutely feel more than in the Saucony Ride. This provides a soft and comfortable ride for runners who prioritize cushioning and impact absorption. That being said, I still found the shoe to feel really stable on runs up to 16 miles (I wasn't marathon training so didn't go farther).
This is the shoe I would probably recommend for most distance runners as a go to trainer from Saucony.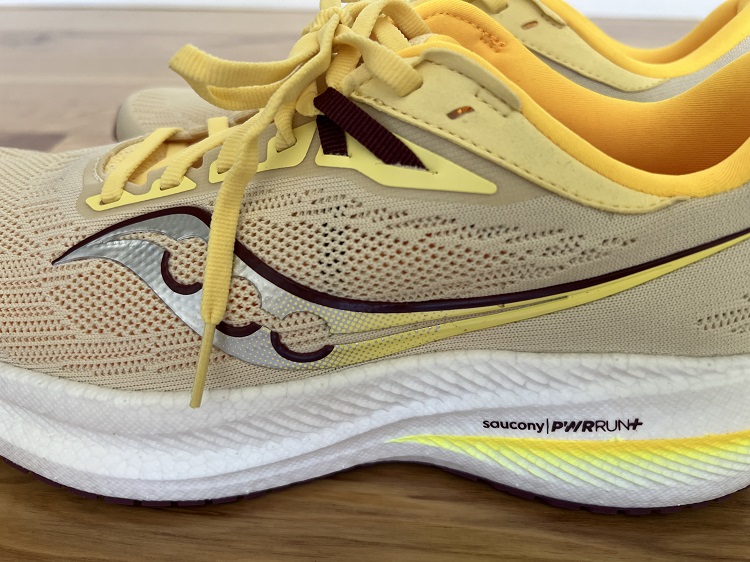 Whether you're heading out for a 5k or your 20-mile long run, this shoe provides the comfort and support you need, especially on the days when your legs are feeling it a bit more than usual.
Another bonus? It comes in 13 colors!
10 mm drop
8.8 oz women's, 9.8 oz men's
Available in wide
$150
Best Saucony Lightweight Daily Trainer: Saucony Kinvara 14
This has been one of my go to shoe models for nearly a decade. That being said, the Kinvara has changed over that time. It's now a slightly more cushioned shoe with a bit more stack height (because everything seems to be increasing in stack height).
That being said, I still love it.
It's my easy pick for what shoe I want to put miles on during vacation because I can use it for speed or easy runs.
The Saucony Kinvara14 is an excellent choice for runners who are looking for a lightweight and responsive shoe that provides enough cushioning and support for longer runs. The shoe is also suitable for runners who prefer a more natural running experience, though you won't have quite the same ground contact feeling as with older models.
The shoe's upper is made from a breathable mesh material that allows for maximum airflow and helps to keep feet cool and dry. This one has a bootie style fit, meaning that the tongue is attached. I LOVE this because it means it's not going to be moving all over while I run.
Neutral shoe
Moderate cushion
Weight: 6.8 oz men's, 6.2 oz women's
Heel drop: 4 mm
2 colors
Not available in wide
The Saucony Guide is a stability running shoe that is designed for runners who need more support and guidance. It features a medial post, which is a firmer foam that helps to prevent overpronation and provides stability.
That being said, it's not HUGELY structured. Compared to older stability shoes, this isn't going to be super firm or provide massive support. It's just providing a little bit of extra for those who find their arches dropping or have flat feet.
This shoe actually feels MORE cushioned than the Ride. Which makes sense because in the newest model, they intentionally increased the cushion.
A comparison of the Ride vs Guide guide (I don't really recommend the Ride).
The upper of the Saucony Guide is made of breathable mesh material that offers flexibility and a secure fit. Moving slightly away from past posts to provide stability is their new Hollow Tech medial support. The TPU medial support element placed in rear of the midsole provides support without the rigid and firm feeling of a medial post, seen in most shoes.
Structured cushion (light stability)
8mm heel toe drop
7.8 oz women's, 8.8 oz men's
Available in Wide
$140
I've used the original Endorphin pro as racing shoes, but the new Elite is taking carbon fiber to the next level for them. In modeling the success of Nike Alphafly, they are adding super lightweight foam and stack height. The goal is by combing the foam and the carbon fiber you get a ride that really propels you to go the distance with less fatigue.
Truly this shoe seems to have the most benefit for those hitting the sub 7 min mile in their races.
These shoes were high on my list of "want to try" because I'm a big fan of Saucony running shoes. They've traditionally felt really great to me and I've raced in everything from the Kinvara to the original Endorphin Pro.
The PWRRUN HG foam in this is going to be even bouncier than other Saucony shoes. I definitely put it on par with many of the other long distance carbon plate shoes I've tested and recommend. But added bonus because they put a small amount of padding on the heel to prevent blisters. An issue in these no padded lightweight shoes.
After 2 runs the outsole was peeling much like the Vaporfly 3. So just know that durablity maybe an issue with most carbon shoes trying to get in so much cushion.

8 mm heel drop
6.5 oz women's, 7.2 oz men's
3 colors
not available in wide
$275
Designed for speed with the carbon fiber plate, this is also a race day shoe. It's got the carbon plate for speed, the cushion for that energy return. You are going to find this shoe is even softer than the Elite and you feel the speedroll even more than in the elite.
It's going to feel more like the daily trainers that you love with a padded heel collar. Where the Elite is trying to cut weight in every possible way.
Personally, I kind of wish they wouldn't keep adding to the stack height. But that's how you get that perfect combo of the s curve plate and the cushion.
8 mm heel drop
6.2 oz women's, 7.2 oz men's
8 colors
not available in wide
$225
When you want to feel fast, but don't want to spend on the pricey carbon plate shoe that won't last as long…welcome to the Speed 3. It has an s-curve nylon plate instead, which won't give you quite the same pop, but is going to give you that feeling of speed for $100 less.
Again they've piled on the PWRRUN PB midsole for a big stack height. But the she remains incredibly light at 7.2 oz for the womens and sticks to that 8mm heel drop.
This is going to be a great option for those tempo runs and track workouts OR for race day when you don't feel the need to spend even more.
This feels like a cushioned slightly stabilizing shoe, good for everyday training. Admittedly I did not love the newest version which had a massive increase in stack height.
That's why I didn't break it out in the list as one of the best running shoes, but since it's part of the super popular Endorphin line I felt like it had to be mentioned.
At one time this was indeed my favorite trail running shoe. They made some adjustments around version 5 or 6 and I just didn't love it anymore, so I haven't gone back.
But that has been a few years and I'm hearing the ISO and 12/13 versions are back on par with what we all previously loved. So let's just say…there will probably be yet another purchase happening soon.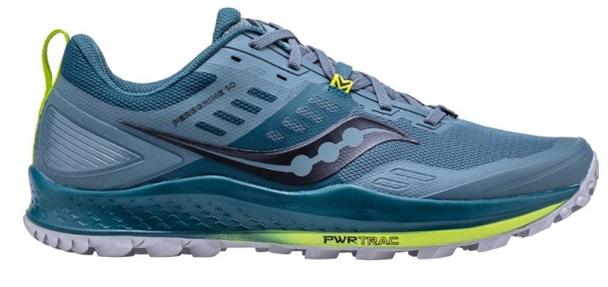 The Saucony Peregrine is a popular and versatile trail running shoe that has gained a strong reputation among trail runners and outdoor enthusiasts. Designed to handle a variety of terrains and conditions, the Peregrine combines responsiveness, durability, and traction to provide a reliable and enjoyable off-road running experience.
For me, I appreciate that it's not one of the overbuilt trail shoes and the traction is fabulous. They have also taken some weight out of the updated models!
4mm heel drop
8.1 oz women's, 9.2 oz men's
Neutral running shoe, not a ton of cushion in these more minimal styles
Deeper lugs to help with wet and muddy terrain, also multi-directional for more grip
There is also an ICE+ version which is really excellent for extra grip on winter runs!
More about Saucony
Like another well known running brand (New Balance), Saucony started it's first factory in 1898 in Kutztown, Pennsylvania near the Saucony Creek. And by 1910 they were making running spikes…but few people were running or even looking for running shoes, so it wasn't until the 1970's that they started to grow.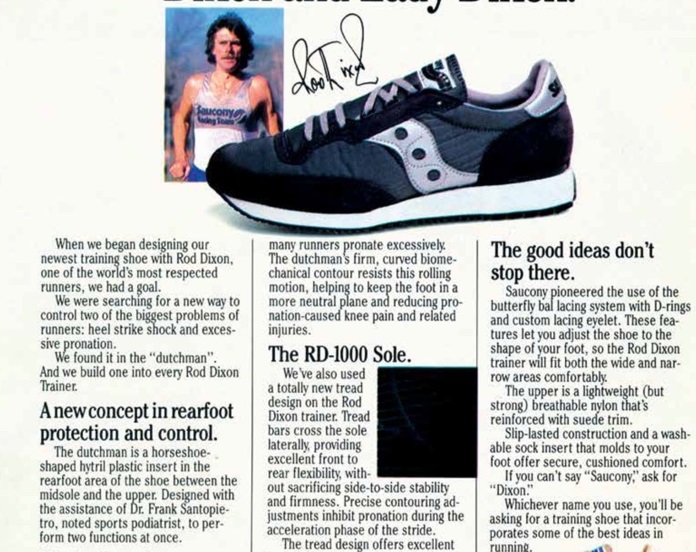 First they became known for their casual shoe with it's cool style and then, the big time hit.
Runner's World featured them in 1979 as a top 10 running shoe. By the 80's they were making shoes with a non-slip sole which was a big innovation.
Then came 2009 and the Saucony Kinvara – this one shoe changed many things about their design and philosophy. It was the more natural running shoe (yes during the barefoot trend). The new goal became how to strip shoes down, without sacrificing cushion and comfort.
Good performance, good health and good community are their guiding principles. You may have seen their hashtag #runforgood – which is really about doing good, giving back and finding sustainable practices.
Other ways to connect with Amanda
Instagram Daily Fun: RunToTheFinish
Facebook Community Chatter: RunToTheFinish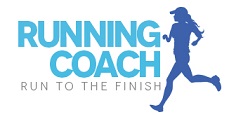 Sign Up to Receive a Weekly Newsletter with Top Running Tips and Laughs