Whether you do the majority of your runs on the treadmill or it's just a stopping point for bad weather days, it always helps to have the best treadmill running shoe. I've found that super high stack height shoes can be a problem for many folks and of course we all have brands that fit us best. From tons of testing, I've rounded up popular models from different brands to help you pick a winning shoe for your workouts.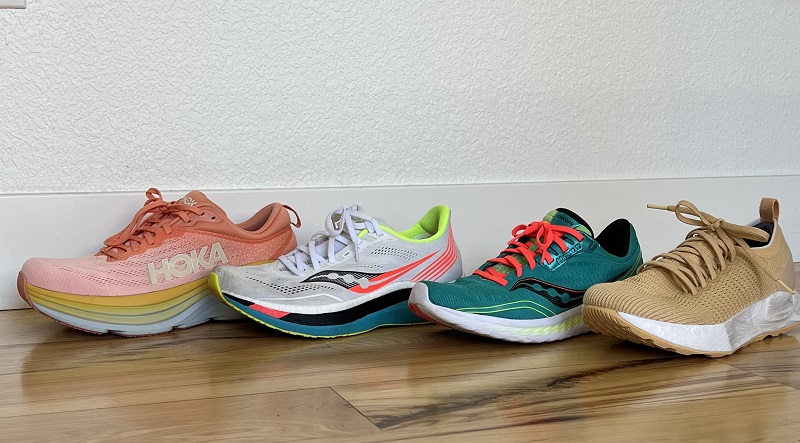 Treadmill running is an incredible way to stay on top of your fitness. It's often more convenient for mimicking a race course, helps avoid major weather issues and provides safety through many dark mornings. Regardless of the why, the best treadmill running shoes will help you make the most of your time.
As with any running shoe recommendations around here, they come from over two decades as a runner and running coach. Personally, I've always loved including the treadmill in my training so it's always been important to have a great treadmill shoe in my rotation.
Here we're going to dive in to a few key considerations for buying treadmill running shoes, followed up with my top recommendations. And we're off and running!
What to Look For In Treadmill Running Shoes?
The truth is much of what you're looking for applies to ALL road running shoes. Specifically around the treadmill we know that it's best to avoid the large tread of a trail shoe, as you'll simply wear down the shoe.
In general we want treadmill running shoes that are a comfortable fit, feel lightweight, breathable and protect your foot from the hard surface.
Overall Shoe Fit
Everyone's feet are different. There are many different factors that together make our feet unique compared to others. This includes the length of your feet, how wide they are, your arch type, foot strike, and more.
Ensure that you buy up a size from your normal shoes to allow for foot swelling as you run.
You should have a finger tip width in front of your toes to avoid getting a black toenail.
You'll want to know your arch type to ensure if you high arches or flat feet, you get a shoe with enough arch support.
Wider feet need to look at shoes with more room in the toebox for overall comfort.
Wear your running socks when trying on shoes to make sure you get the best fit. And go try on shoes late in the day when your feet are a little swollen.
Read more on how to choose the right running shoe >>
Cushion Level
You may find that you can enjoy a shoe with a little less cushion on the treadmill because it's providing some give with each step. You most certainly don't have to give up cushion, but there are benefits to not always running in the most plush shoe.
You change the level of impact and how your foot strikes by changing the level of cushion.
In fact, the treadmill is a great place to play with transitioning to a zero drop or lower heel drop shoe. You can always use it for part of the run and then switch to your normal shoe.
Type of Treadmill Run
Indeed you may want to have different shoes depending on the goal of your run.
Carbon fiber plate shoes have become the rage for marathon runners, but also for doing speed workouts. In most cases, we don't recommend using these for your everyday training run because the shoes breakdown so much faster.
Which means you might want to have:
a neutral pair of trainers for HIIT running workouts, jumping on and off the treadmill.
carbon fiber shoes for big speed workouts and a cushioned pair for long runs.
shoes for your long runs or everyday easy runs
Runner's who have issues with Achilles pain will want to pick a higher heel drop shoe (12mm) when running on the treadmill. This helps prevent some of the lengthening and prevents pain.
9 Best Treadmill Running Shoes
Now that we know what to look for in a treadmill shoe, let's jump in to some specific recommendations.  My current treadmill has over 14,000 miles, so I think it's safe to say I've put in a few testing miles to make these selections.
Best Overall Treadmill Running Shoe – Saucony Triumph 21
As someone who has run in the Saucony Kinvara a more minimal shoe for over a decade, I'm definitely a fan of this brand. Recently, I started running in the Saucony Triumph and believe it's a really excellent shoe for a lot of runners.
I like this because it's a neutral shoe with a solid amount of cushion. It feels really great on the foot and provides the comfort we need to put in a lot of miles in training. Whether you're walking, running or run/walking it's a good fit.
You're heel should stay in place and the padded tongue means no issues with rubbing.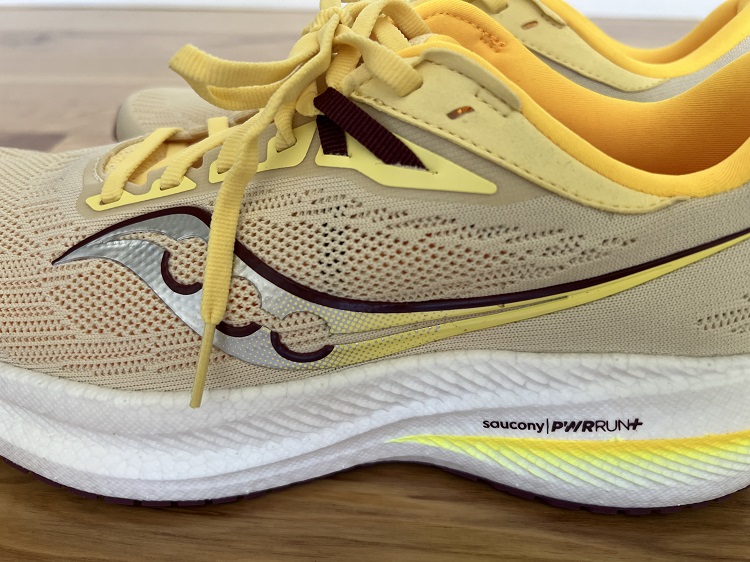 Neutral running shoe
10 mm heel drop
Max Cushioned
8.8 oz women's, 9.7oz men's
$160
Best Cushioned Treadmill Running Shoe – Hoka Bondi 8
This is another shoe that I've run in for multiple models, include the carbon fiber version. It's a winner for anyone who wants that truly plush feeling in a running.
I love this shoe for recovery runs or those days where you're running on tired legs and just need a little extra love. The only caution with a super plush shoe is not to let yourself sink in to it and let your running form go.
Otherwise this can be a great option for those getting back in to running and having some initial aches or when putting tons of miles.
Neutral plush cushioned shoe (truly softest shoe I've ever tried on)
Similar fit to the Clifton
4mm heel drop
8.90 oz for women
$165
Read my comparison of the HOKA Clifton vs Bondi
Best Cross Training Treadmill Shoe – On Cloud Flyer
When you want to do a HIIT workout or combine your strength and running workout, it's ideal to have a shoe with enough stability for both.
Cloudflyer running shoes are known for their comfort and style. They feel super nice on your feet, due to their soft cushioning, but they also have the stability you need. Having run in these, I'd label them as a firmer shoe providing more support and less of that plush cushion.
Great if you need some additional stability or arch support.
Admittedly, this is not my favorite On shoe. I am partial to the On Cloudmonster and it's what I use for indoor and treadmill runs because I like a bit more cushion.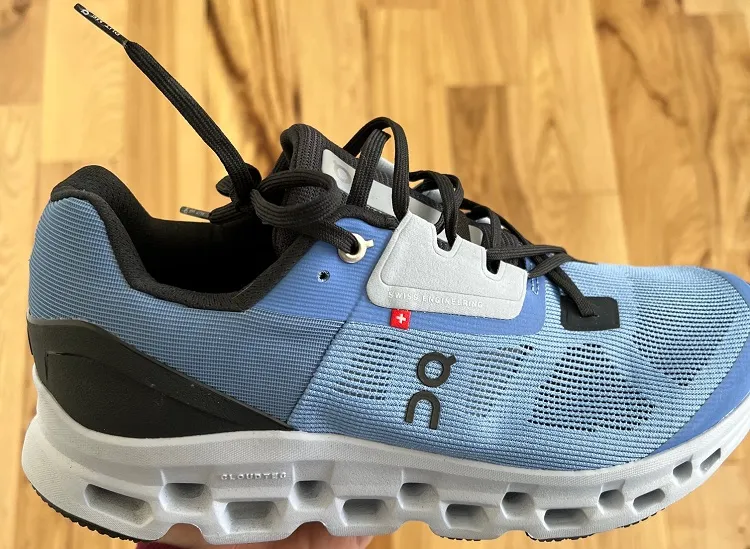 Stability running shoe
7mm heel drop
Moderate cushion
14.8 oz women's
 $159.99
Checkout the colors and wide options >>
Those looking for speed are often drawn to the carbon plate fiber shoes for that extra boost. The Speed is considered their training version, but remember that carbon fiber shoes wear out much faster. So you don't want to start using these for all of your runs.
Featured below is the Saucony Endorphin Pro which is still a version that I LOVE. It's the one I ran in and loved the feel, but it's a shoe that absolutely runs narrow. They will also say it's best for up to the half marathon, but it had everything I needed for 26.2 miles.
The Speed is saving you $200 by using a nylon plate instead of a carbon fiber plate. So it's a fast shoe with a lot of cushion, but not the top end Saucony.
I've always liked the moderate cushion of Saucony shoes, so this felt fantastic to me. It's in line with something like a Kinvara, but so phenomenally light. And the higher outsole seems to provide a little extra stability.
Current model 3
Moderate Cushion with Carbon Fiber Plate
Narrow fit
Lightweight and very breathable
8mm heel drop
7 oz
$170
Learn more about how carbon fiber plates work >>
Best Treadmill Shoe for Men's Flat Feet – Brooks Beast
Brooks has several running shoes that offer great stability including the super popular Brooks Adrenaline GTS, but specifically for flat feet, there's a lot of hype around the Brooks Beast.
The Brooks Beast GTS 23 provides maximum cushioning and motion control to keep your feet stable without limiting your natural gait.
It can be classified as a cushioned shoe with sufficient arch support, and a filled-up under-arch area or high midsole sidewall.
There is no medial post in these shoes. Instead, there is the Brook's GuideRails®, which are a set of raised barriers on either side of the midsole that support throughout to provide stability.
Its broad midsole provides plenty of support and the insole is thick enough to be replaced with a custom-made orthotic if that's something you're planning to do.
Its 12 mm heel drop makes it higher than others. I generally do not recommend shoes that are over 8mm because it leads to heel striking and IT Band issues. However, if you have Achilles issues it can be beneficial.
It's important to note that the Brooks Beast is probably not one of their most stylish shoes if that matters to you. Personally, I just want to stay injury-free, so I care very little about the look.
Stability shoe
Average to narrow fit
Lightweight and very breathable
12 mm heel drop
11.7 oz  – only available in men's
$160
See multiple models available on Amazon >>
I'm all about buying old models for less!
Best Treadmill Running Shoe for Arch Support – Asics Gel-Kayano 29
This is the only shoe on the list I haven't run in because I don't need this much arch support. I do however like the more neutral and cushioned Asics Novablast!
But back to this shoe!
The GEL Kayano is now in its 29th iteration and known as one of the best stability shoes on the market. Great for overpronators seeking stability, the GEL Kayano is an ideal shoe for marathons.
Read my in- depth review of the Kayano!
stability running shoe
moderate cushion
10 mm drop
9 oz women's
$160 (though you can find older models for $99!)
This shoe made my list of best long distance running shoes because I personal love training in it. Now you get the benefit of all these features simply in a wide size!
New Balance's Fresh Foam is every bit as lovely as it sounds. These shoes feel fabulous when you slip them on and yet maintain good responsiveness. Unlike the super plush HOKA Bondi that you can sink in to, you'll remain quick off the ground in these shoes.
These shoes do not have a padded collar which some runners may dislike, but I didn't notice any issues with that. I did the normal heel lock lacing as will all my shoes and they felt great.
Neutral running shoe
8 mm heel drop
Cushioned and responsive
8.3 oz for women's
$129.99
Read my full review of the NB 1080V13
Best High Arches Treadmill Running Shoe – Brooks Ghost
If you have high arches, you need the Brooks Ghost. These are a dream to wear. This shoe's cushioned feel has made it a runner's favorite for years, and the revised midsole features 100% DNA loft cushioning to enhance the shoe's smoothness.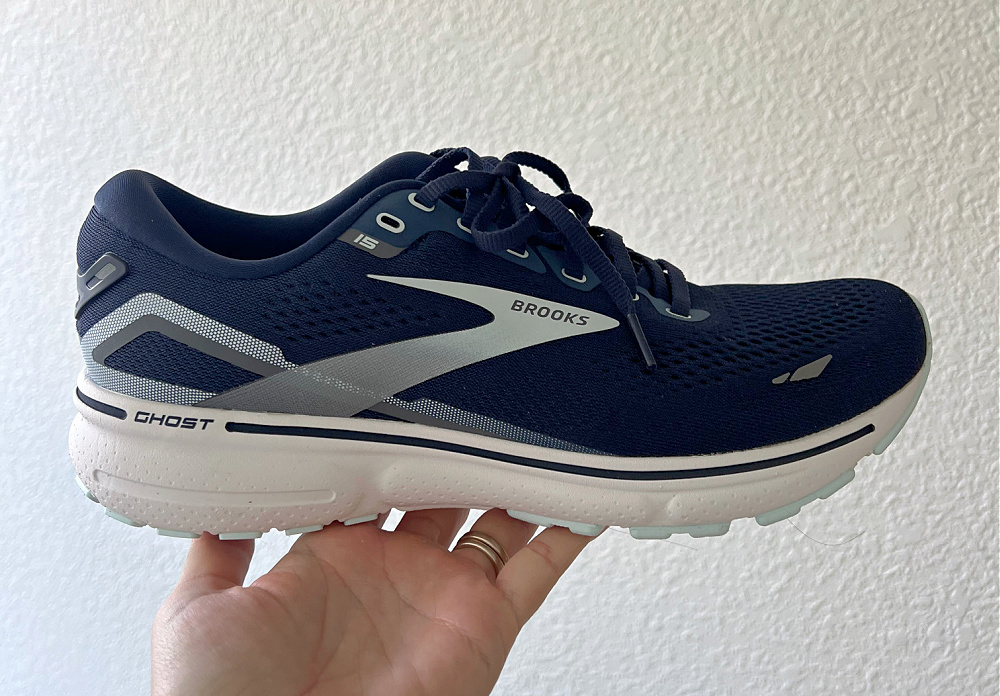 DNA loft foam provides plush support that now extends throughout the midsole, elevating the foot with a 12mm offset to prevent Achilles irritation, while the BioMoGo DNA cushion lines the arch profile for a soft and springy feel.
You can take advantage of the Ghost's responsiveness when running long distances every day, doing tempo training, or running faster. It has just the right amount of bounce to make your hips, knees, and arches feel good.
The Segmented Crash Pad and the cushier midsole work together to make it easier to move from landing to toe-off. Add in the 100% DNA loft foam and it does a great job of absorbing shock at the heel and forefoot.
Neutral running shoe
12mm drop
9.1 oz women's, 10.1 oz men's
$140
Ready my complete Brooks Ghost 15 review >>
A number of brands have started to add more recycled materials to their shoes, but none are as committed to it as Allbirds. While slightly heavier than some other models, I think many of you will appreciate these treadmill running shoes.
Not only do they look far more fashion forward, but they have a less plush feel. Many runners find that helps them better spring off the ground and get more power in their stride.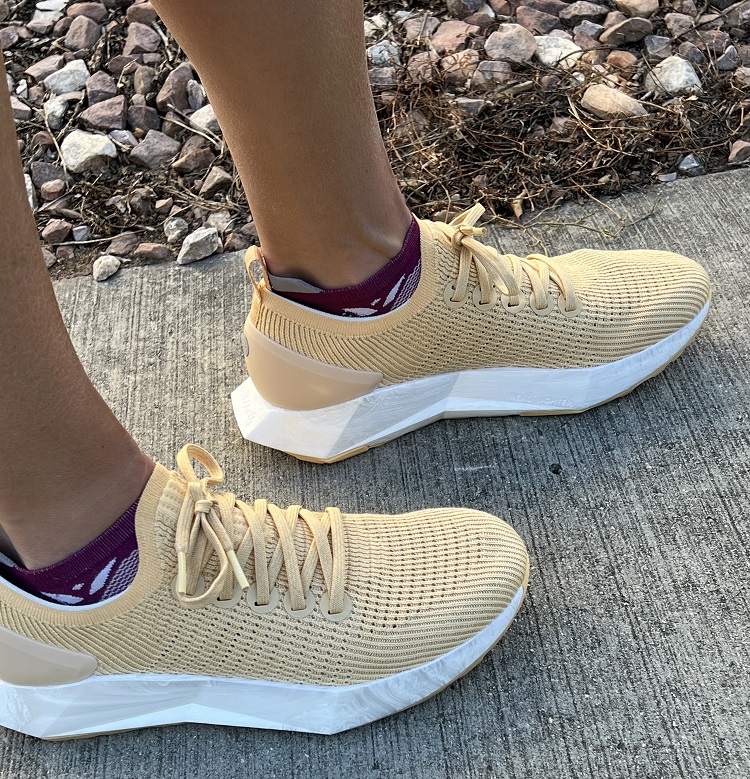 Neutral running shoe
7 mm heel drop
Light cushion
10.3 oz for women's
$135
Best Zero Drop Treadmill Running Shoe – Altra Torrin 7
Considered their most cushioned shoe, I'm going to say it doesn't feel wildly different than the Paradigm to me. The main difference here is it's a neutral shoe.
The Torrin is also one of their most popular models, so they have continued to create new versions or offer different styles from leather to waterproof. After taking the 7 out for some runs, I can see why this model has remained so popular.
It's that sweet spot of cushioning and makes it really easy to transition from your standard running shoes with the padded tongue and heel collar. I could easily see this being a favorite for long runs, once I've built up my body to do more zero drop miles.
0mm drop
8.3 oz women's, 9.9 oz men's
 $150
See my full review of the Altra Torin 7
If you want something with just a little stability, I also like the Altra Provision
Can You Wear Road Running Shoes On the Treadmill?
Absolutely.
In fact, we know that treadmill running may prolong the life of your shoes. The added absorption of the treadmill deck seems to help lessen the damage to the shoe cushion. So look at that, your indoor miles are saving you money!!
As noted initially, I have seen where some of the new high stack height shoes are a problem. I think this happens when people are heel striking and on the treadmill it just becomes more uncomfortable. Remember heel striking isn't really an issue, it's overstriding.
The only other thing to consider is the tread of the shoe. So while some people have recommended the Nike Pegasus for the treadmill, I disagree because it's a road to trail shoe with a lot of extra grip.
Like I said, I've tested A LOT of running shoes in the last decade of writing articles and more in the 20+ years I've been running. So it's always fun to put together a guide to help you find what's going to work best. Hopefully now you've got some treadmill running shoe ideas to save time and find the brand that works for you.
Looking for more running shoe tips?
Other ways to connect with Amanda
Instagram Daily Fun: RunToTheFinish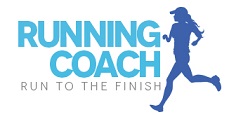 Facebook Community Chatter: RunToTheFinish
Sign Up to Receive a Weekly Newsletter with Top Running Tips and Laughs