Let's address the first thing that I know is going to bring around the trolls as I talk about running overweight.
Even though I've lost 35lbs, I've never been in the Athena or Clydesdale categories or classified as heavier. So what the h-e-double hockey sticks am I doing writing about this topic?
1. I get questions from lots of new runners who wonder about it. And I would hope with over 16 years of running, 11 years researching it and 5 years of coaching I've learned a few things.
2. I ASK questions! I get advice from other people who have been there, but may not have their own blog to spread the word!
3. My first marathon partner was a foot taller and 100 pounds heavier than me. I learned how it was different on his body to take the pounding and what that meant for training.
Great with that out of the way, I hope you can truly dive in to the information and make the most of it because on thing I ABSOLUTELY KNOW about running is that size doesn't matter.
Size isn't what makes you a runner.
Size isn't what determines how fast you can go.
Size isn't what says you're healthy or unhealthy.
That last one is so key. Weight isn't the gold standard for determining our health and why wouldn't you enjoy getting active if it's going to make you feel better, move better, and be healthier despite the scale?
Featured here is a runner I adore for her spirit and follow for her joy, regardless of size, Mirna Valerio.
Running is for Every BODY
You see the longer you run, the more you realize that this sport is for every body and damn that feels good. I routinely get passed on race day by people 30 years older, women with jogging strollers and yes people who might not have what Runner's World magazine features on the cover as a runner's body.
None the less, the reason I ran my first marathon was Jake.
6'3″ in the Clydesdale category Jake.
Jake who convinced me I was the only person crazy enough to train for and run 26.2 miles with him.
Throughout our training, he'd often comment on how certain things felt different due to his size. Like the added pressure on his joints or simply the strength needed to move more body mass. Over the years, I've learned a lot from him and many other fellow runners and wanted to share those tips for anyone who might need them.
Don't let size, shape, age or fear keep you from #running. Get started with these tips.
Click To Tweet
Tips for Heavier Runners
I've decided I don't like the term overweight because I don't really know that it's accurate in all cases. I've also decided that while The Mirnavorator embraces Fat Girl Running to create a killer tribe, it's not a word that everyone is quite there with yet….so we'll say heavy.
Then I shall follow this up by saying, really there's not a darn thing here that doesn't apply to every single runner under the sun.
If you are focused on running for weight loss, then I hope you'll join our virtual training group. Where we talk about how to do it RIGHT and HEALTHY.
1. You're like every other new runner
I basically feel like I could just push you on over to my beginner running tips and call it a day because the truth is you've got all the same issues everyone else does!
You need to build your endurance one step at a time.
You need to overcome the mental blocks like there is a runner's body or that people are watching you (they aren't).
You're going to feel like you can't breathe while running.
But I know that's not quite enough, so here are a few other tips, that go along with using the Couch 2 5K program.
2. Select Softer Surfaces
Anyone who has joint issues benefits from taking their runs to crushed gravel or the treadmill. Both surfaces provide more give, which isn't as hard on your body.
Boom, like I said, tips that really apply to all of us! I actually alternate between road running, trails and treadmill because it's made my knee feel so much better and that's going to keep me running for YEARS.
I could also throw in here that you need to get shoes which are going to support you and this may change as your body changes, your stride changes or how much you run changes. You want to ensure the pressure on your knees isn't ramped up from your foot rolling inward, which is super common when we start and lack hip/glute strength.
Example of knee drift!
3. Embrace the Walk
Nearly every new runner feels like it's a sin to walk and they give up on running because they need to walk. Walking is the BEST way to keep building your endurance for running, not just in your legs, but in your lungs.
The more time on your feet, the more you're training your body to get used to continuing onward. It's a great way to build endurance and to not overtax yourself. I love taking walks on my recovery days because I feel a little less lazy, though I'm really strolling along.
"My training schedule consisted of an interval run about 3-4 times per week. The days I didn't run I started to feel guilty. Like I was being lazy or would lose all the progress I made. But running while significantly overweight took a toll on my body.
My body NEEDED the break. I had to learn to tell the difference between real pain and basic soreness.
If I was a little sore, pushing through a run usually helped work out my tired muscles. I got shin splints often the first few weeks. So much so, that I considered stopping all together. But instead of stopping, I walked. If I had to repeat a training week because I couldn't run, I did. I made sure to listen to my body and take the breaks I needed." — Beauty and the Bench Press
4. Strength Train for Support
Give your body some extra support and you'll become a better runner in the process. Again, this applies to every runner, everywhere…but we all tend to skip it when starting out, which leads to results and slows our progress.
If your goal happens to be weight loss, then strength training in combination with your running is going to move the needle 10X's faster than just running alone. You'll actually be changing the shape of your body by building muscle and of course you'll be creating a stable foundation that allows you to run farther and to pick up the pace.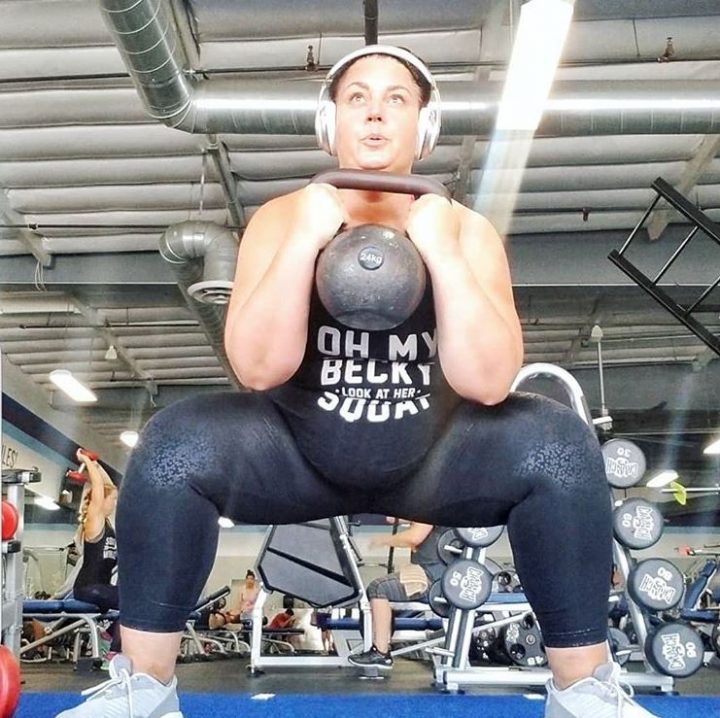 IamTulin is such a badass.
5. Gear Up
Oh ladies, I can't even imagine your world of two sports bras, but I do know that you need to get the ladies supported. And I absolutely know that gear is NOT what makes you a runner, but a few of the right pieces can go a long ways towards making it more enjoyable!
Put so well by Alexis Pundis, "Chub rub and painful feet do not have to be a consequence of being a fat runner – When i first started out, i was running in Hawaii in cotton baggie shorts and loose fitting Tshirts. I didn't know any better, I had just assumed that the chaffing and the chub rub was just a natural part of becoming a runner..."
As noted above, go to a running store and get the right shoes. They LOVE helping you because they want more runners in this world. No judgements.
A motion control sports bra: Moving Comfort and Enell are two of the best I'm told!
Inclusive sizing brands: Checkout Skirt Sports, Nike, Athleta, Lola Getts
High quality socks: checkout this whole post on finding them, it's worth every penny
Body Glide – rub it everywhere to help with chaffing!
Compression gear: this is a recommendation a few runners provided that it simply helped a bit like the sports bra to keep things feeling solid and in place for a more comfortable run!
6. There is No Perfect Runner
It's easy for anyone to be intimidated to start something new. We tend to look at those who have been doing it awhile as our goal posts, when in reality they had to start somewhere too.
Decide what you really want from running. Is it to feel healthier? Is it to finish a race?
Maybe it is to lose weight, but I can guarantee that will become an afterthought once you start enjoying the satisfaction of pushing yourself.
"A year later and I'm in the best shape of my life and look, tummy still has rolls and I feel unstopabble." – Candice Huffine, model/runner reflecting on some journal entries after she took up running.
As much as anything, I hope this post reminded us all that the beauty of running is the variety. We needn't be stick thin with wash board abs to enjoy this sport and what makes us a runner is basically the same regardless of the size of our shirt.
Other ways to connect with Amanda
Instagram Daily Fun: RunToTheFinish
Facebook Community Chatter: RunToTheFinish
Sign Up to Receive a Weekly Newsletter with Top Running Tips and Laughs