Comparing On Cloud vs Nike running shoes is another really interesting running shoe comparison. Nike is the long time behemoth with so much marketing and experience, while Cloud running is breaking the old school mold.
Over the years, I've tested models from both brands to give you some personal insight along with basic shoe details. Hopefully the combination of my trials, plus the info about different shoes will help you make a selection.
We've got details on construction, fit, feel, fabric and more. But ultimately it's really the feel on your foot that's going to make the decision.
Nike Vs On Cloud Key Differences
On Cloud and Nike offer a lot of similar features and models for all kinds of runners. There are options for moderate to max cushion and overpronation.
I would say neither brand is super high on the list of shoes that ultramarathon runners love, unlike the Hoka.
Nike has been around forever and is a long standing favorite of running stores and distance runners alike.
Meanwhile, On took hold in the triathlon market first and then quickly moved mainstream running.
I break down the differences in more detail below, but here's a quick overview:
Nike Running Shoes

More narrow fit, especially in the heel and midsole
Tend to run smaller in width and length than many other brands
A larger focus on newest and trendiest technology to "improve running economy"
Known across a wide variety of sports and highly visible in competition
Loves to be high fashion
Has a large brand loyal following
On Running Shoes

More narrow fit in older styles, some newer styles have a wider forefoot
Recognizable sole with the pods
Claims their CloudTec sole reduces muscle fatigue and lowers HR
Focus on improving speed off ground and reducing impact
Mostly running shoes, but now has incredible jackets, pants, etc as well
If you're looking for just a detailed look a On, checkout this full On Cloud Review >>
I've worn both brands and will add some personal thoughts, along with links to detailed reviews. Here you've got two of  my well worn models!
ON Running vs Nike Feature Comparison
While ON is newer to the running market, Nike has a long history that often makes it hard for many runners to switch to the newer style.
Both offer options to aid with comfort, support, stability, and cushion. Where they differ most are in the feel and fit of the shoe while running.
The following breaks down each shoe based on the components buyers need to consider when purchasing a running shoe.
It's gonna get a little TECHY…so you can just skip on down to the specific model comparison if you want, but personally if I'm shelling out $150 for shoes, I kinda want to know why.
Durability 
The lifespan of shoes from both companies is fairly comparable.
On recommends swapping out for new shoes every 310 to 465 miles, a bit more specific than most brands.
Nike's Vapor Fly is only going to give you about 200 miles, but most shoes are in the 300-500 mile range. (I will say some of my favorite Nike's are definitely on the lower end of lifespan compared to other shoes.)
Determining when to replace running shoes, of course, all depends on your gait, weight, and whether you run mostly on trail or road.
Shoe Fit
On shoes are a little hard for me to describe because I think they've changed over the last few years and are different with each model that I've tested.
While the length runs true to size, I would say some are a narrow fit and some have a little more room in the toebox.
I would not consider any of them a wide shoe. I've also run in to issues with the toebox being stiff and therefore feeling like it's creasing on my foot when I push off. This hasn't happen with newer models, so could have been growing pains in the brand or simply a shoe that wasn't the right fit for me.
Nike running shoes are often reported to run small. I would say this is hit or miss for me. Some shoes seem totally fine and others, I absolutely wish I had a half size up. No rhyme or reason to which shoe I notice it most in.

They do not offer the variety of widths that you'll see with New Balance. But if you like the fit, you'll find it fairly consistent across models.
Cushioning
On uses CloudTec technology which is entirely what makes their shoe look and feel different. They have little open pockets on the bottom of the shoe that compress with each step to absorb impact and in their words feel like a cloud.
I would say they are cushioned, but not plush.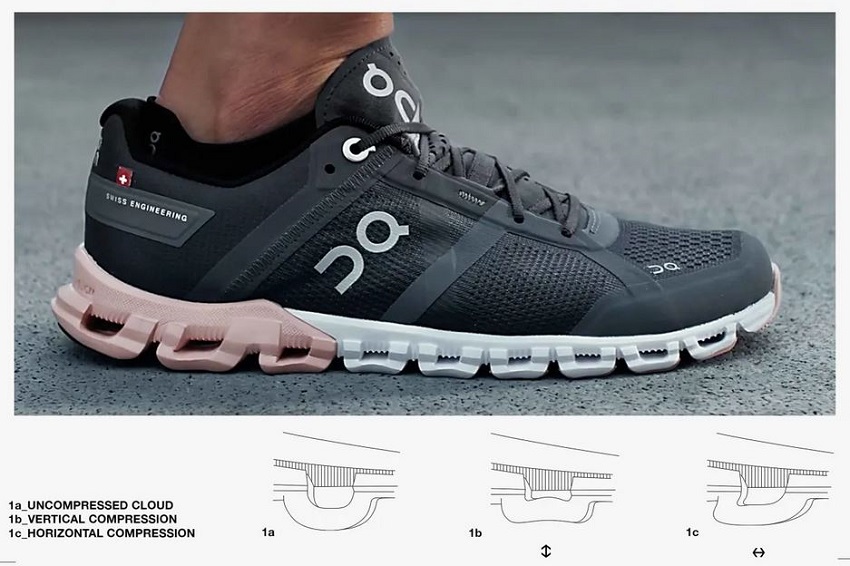 Nike started putting air in their shoes back in 1977 to improve cushioning.
"Nike Air technology consists of pressurized air inside a tough yet flexible bag and provides more spring without compromising the structure."
And since the 90's they've been recycling waste material from production in to new shoes. They continue to look at this sustainability in developing new shoes.
However now, their big thing is ZOOMX foam. I wrote about it in-depth on the Nike Invincible review.
Nike ZoomX cushioning is Nike's latest innovation in running technology.
It's a cushioning system that provides lightweight, responsive cushioning for a faster and more comfortable ride.
Made from a unique foam material that is 30% lighter than traditional foam and is designed to provide maximum energy return, allowing runners to go farther and faster. The foam also provides a softer landing and smoother transitions from heel to toe.
Stability
On goes against the grain of most stability shoes and works with your foots motion rather than trying to stop it. I appreciate this as it's one of the many reasons I steer folks away from most stability shoes.
Instead, they changed the shape and location of some of the pieces under the arch of the foot which allows all of your muscles to continue firing, but slows that inward roll.
Nike does say their stability shoes are slightly wider and also designed with a curve that will help with heel to toe transitions.
As you may know, I'm not a huge fan of stability shoes for most runners. I am not finding a big difference in brands, they are all focused on preventing that foot roll and often feel a little stiffer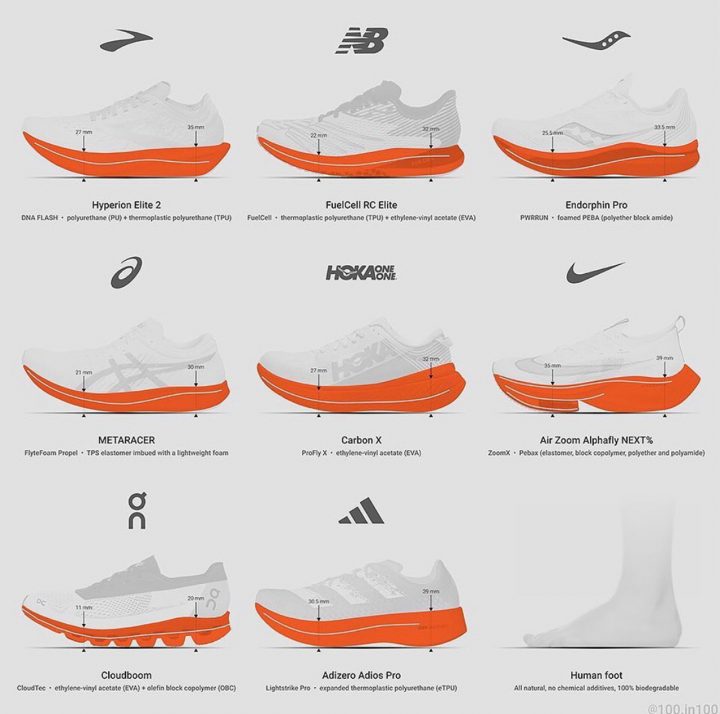 Overview of heel to toe drop and type of cushion in most shoe brands.
Affordability
The prices between the two brands are fairly comparable.
On prices range between $130 to $170
Nike start at $120 to $180
Specialty items with more features (like carbon plates) will increase price.
You'll notice that every brand offers a range and this is indeed due to a difference in technology and where they sell the shoe. They know that the big box store can sell the shoe with less in it, while the local running store needs to be best for dedicated runners.
Nike Vs On Cloud Running Shoes
Now that you know more about each brand, let's look at their top models in each of the main categories. There's no winner declared here because all are great shoes, it's just about which one is best for your foot.
With each of these, they are the top models so numbers are constantly changing as they make a little upgrade, but On doesn't keep adding numbers to the shoe name like most brands doe.
Quick note, I absolutely encourage you to checkout Nike's return policy! It makes it much easier to test out a shoe and return if it doesn't feel right.
Stability Running Shoe
When it comes to stability, On is trying not to force the foot in to any kind of rigid position. This means it's a  more natural feel that most stability running shoes.
It also has just that slight rocker effect, to help move you from heel to toe.
Considered a plush shoe, but as noted, their plush shoes are not in the same ballpark as Hoka plush…it's still a firmer ride with the focus being on that spring off the ground.  I will say this is changing with other models that you'll see me note below, so just know this a firmer ride due to the outsole.
Important to note this is a fairly high heel to toe drop and a heavier shoe than many. If you don't really need a stability shoe, I like a lot of other On Cloud shoes better.
11 mm drop (this is a big drop for many)
9 oz women's, 10.5 oz men's
$169
One of the ongoing issues I have with On shoes is this…rocks.
Another shoe utilizing their great react cushion and the wrap around feel of the flyknit upper.
It has a slightly higher arch and more room in the toebox than most Nike running shoes.
This is what they call a stability neutral shoe, which is probably more in line with what I'd recommend. It's not a firm and will not be over correcting your foot strike. It has guiderails as most stability shoes do, but without losing the softness.
10mm  drop
10 oz women's, 9.9 oz men's
$100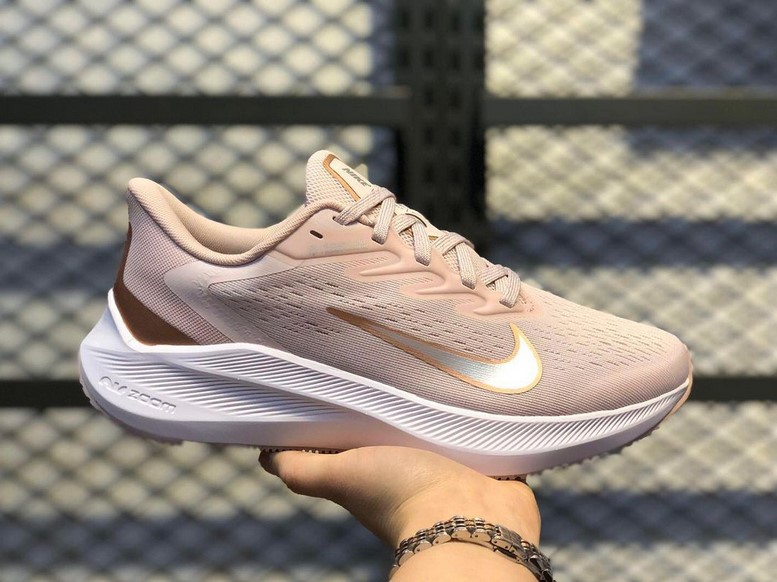 I couldn't finish the stability shoe section without mentioning the newer style that Nike has started promoting. The Nike Invincible!
I recently tested version 3 and I've honestly never found a stability shoe with so much bounce. It's definitely benefiting from using the same foam as the Vaporfly racing shoes.
While the shoe is still narrow, per normal Nike, it has a much wider base and therefore offers a lot of stability with that cushion. Plus an outsole with grip for going from road to trail.
Neutral Running Shoe
I've run in a few of the earlier models of this shoe, but as their most popular shoe it's one of the few that continues to get a number to note that it's new and improved!
We are currently up to model 7. Though it's simply listed as the new Cloudsurfer. This is absolutely far and away my favorite version of most On Running shoes!
I would look at this as a speed training or daily trainer shoe for 6-8 miles. It has a completely new midsole and outsole, that uses the pods, but turns them in to softer cushion and eliminates the issue of rocks getting stuck!!
This one is designed with moderate cushion for those medium distance runs (5K to half marathon). In other words, it doesn't have the extra padding or structure that we often like to see in a marathon shoe.
The Nike Pegasus has all the bells and whistles that a runner could ask for: just the right amount of cushion in midsole for maximum comfort, durable rubber outsole to withstand, and a breathable mesh upper to keep your feet feeling fresh and dry.
But let's get real for a second. The Nike Pegasus isn't just a pretty shoe. It's got substance too, with a firm heel counter that keeps your foot locked in place and a molded foam insole that provides extra support for those long runs.
This is a good option for your easy weekday runs or for the support of a marathon training run.
This is definitely a shoe that I like for those weekday training runs. Not over built, just enough cushion and a little roomier than other Nike's.
10mm drop
10.9 oz men's, 8.5 oz women's
$135
Cushioned Running Shoe
This was one of the first On shoes that immediately got me hooked. I have now been running in it for over a year and continue to like that this shoe isn't super squishy soft, but isn't hard like previous On Running shoes.
I always try to compare it to the HOKA Bondi, which feels like you put your foot in a cloud and this is not that kind of soft, it's also not the Vaporfly bouncy kind of soft. For On the cushion is more about the absorbing of impact, rather than what you might think of as traditional cushion. That's not a bad thing, just different expectations.
This absolutely felt like the most cushioned On running shoe I've tested. Not too soft, just a good cushion. Making it a good daily easy run trainer.
 6mm drop
8.11 oz women's, 9.7 oz men's
$169.99
See my full review of the On Cloudmonster >>
Another shoe utilizing their great react cushion and the wrap around feel of the flyknit upper. It's super similar to the Epic React that I loved running in for many years, except it's a stability shoe.
It has a slightly higher arch and more room in the toebox than most Nike running shoes.
This is what they call a stability neutral shoe, which is probably more in line with what I'd recommend. It's not a firm and will not be over correcting your foot strike. It has guiderails as most stability shoes do, but without losing the softness.
8mm drop
9.2 oz women's, 10.7 oz men's
$165
Carbon Fiber Plate Shoes
Are they cool new technology, yes.
Do they last as long as your other shoes, nope.
So if you want to test these out use them for speed work and then race day!
Similar to the AdiPro this is another max cushioned carbon fiber plate. For me it just makes the shoe more accessible to the everyday runner who enjoys cushion. Though maybe at $250 accessible is the wrong word?!
This is one of the lightest shoes with cushion I've seen. This absolutely matters over the course of 26.2 miles where every second adds up to hit or miss your PR.
You will absolutely feel the bounce in this shoe, it's dreamy. While the debate rages on who will benefit, I can say in my tests that I found my HR lower and thus was able to run faster.
8mm drop
 5.8 oz women's, 6.6 oz men's
$250
Read my full review of the Nike Vaporfly (hint…I love it).
And more importantly a comparison of the Nike Alphafly vs Vaporfly. Which is the right race shoe for you?
This was one of the earliest carbon fiber shoes I tested and it's very different from the Vaporfly. Instead of high cushion, this is more like the feeling you might get in your daily trainer.
The lack of cushion isn't a bad thing, just different.
That being said, with each iteration of the Echo, they are adding more cushion to keep up with other brands, just not that super bouncy feeling. For many runners, I think this is a good thing and might strike that balance of speed and cushion, without the worry about Achilles injuries that are popping up.
I was truly impressed with the updates in the Echo 3 from the original Cloudboom. BIG win for me is not having the pods that trap rocks on the bottom! This shoe also fits better than the original. That being said, the HOKA Rocket is still going to be a bit wider fit.
10 mm heel drop
7.6 oz men's and women's
Watch my detailed video on how Carbon Fiber Shoes work.
Trail Running Shoes
On is a little newer to the trail running shoe game, but if you already enjoy their road shoes then you'll find they've done a good job on the Ultra. Nike meanwhile actually has a pretty wide range of shoes here.
Consider this your lightweight, moderate cushion for shorter speed trail running.
While this shoe has a rockplate, I'd still relegate it to my mid-distance or faster trail style running, not my super big rock kind of days. I'm a big fan of the lower profile and the Epic react cushioning (see info below).
Some noted that they didn't like the feel of the shoe on hard packed trails, but I can't say I minded. Again simply knowing upfront that this is trail running shoe that's going to be moderately cushioned and responsive.
Weight: 10.1 oz men's, 8.3 oz women's
Heel drop: 3mm
Neutral trail running shoe
$150
Welcome to their trail shoe with the highest amount of cushioning. The flip release on the shoe laces, also makes it easy to adjust the tigthness of the shoes. Which as we know is often needed during ultras when feet swell.
The On Cloudultra is one of On Running's newest trail running shoes and an excellent addition to the ultramarathon and endurance trail running market.
Partially because they shifted the pod set up, so you will catch less rocks than with the road shoes!! They add lugs for more grip and took the pods way, way down.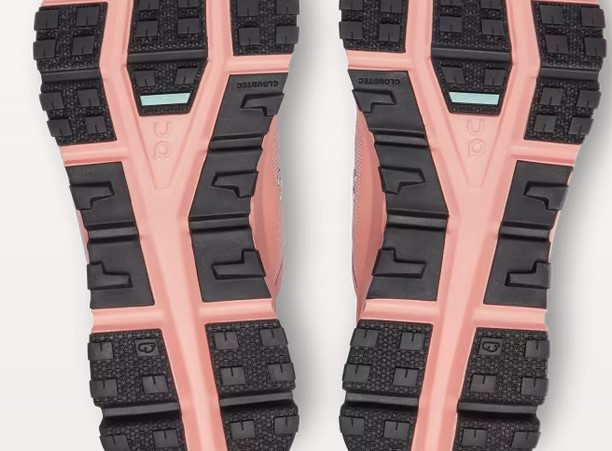 On has satisfied the request of thousands of trail runners with this shoe, thanks to its ability to tackle tricky terrain effectively and remain comfortable over long distances on trails and highways with its Helion midsole foam.
These are excellent trail running footwear for all distances up to and including the marathon.
6 mm heel drop
8.64 oz
$179
More About On Cloud Running

On started in 2010 in Switzerland, when yet again another runner thought "I could do this better."
This time it was three retired professional athletes, who decided there needed to be a shoe that had more firmness to create that bounce off the ground, along with cushion.
They went from their first prototype in January 2010, to having it sold in stories by June 2010! How insane is that timeline?!
By 2014 and 2015 professional athletes were wearing the shoes and winning races, creating even more buzz about these unique looking shoes.
More About Nike Running
Is there anyone who doesn't know the story of Nike yet?? The brand actually started in 1964 as Blue Ribbon Sports and didn't take on the name of Nike the Greek Goddess until 1971.
If you haven't read Shoe Dog by Phil Knight, it's a wonderful book that gives you so much insight to the building of a company and a brand.
I fully understand not everyone loves Nike due to many of the practices we've seen with their athletes. I'm just here to provide details about the gear, you make those judgements.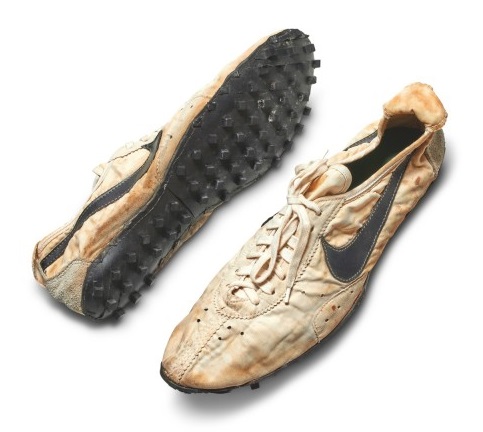 In 1972, the Nike Waffle Racer was handed out at the Olympics and things really started to take off. One of these original pairs of shoes recently sold for almost $500,000!
From there they have continued to inovate and consistently produce new models of shoes for a variety of sports.
Nike has also dominated the marketing game.
How to Choose On or Nike Running Shoes?
Now that we've gone through the different models, you have a better feeling for what sets each apart. I can't recommend enough that you buy knowing you can take them out for a few runs and return.
Seriously, return policies are pretty amazing.
And remember: Your gait and feet will likely change over time and you may need to change shoes.
This is also why I recommend rotating through several pairs of shoes at once.
Keep in mind that shoe design can change, even with the same model, so always assess how the shoe fits every time you replace a pair.
For more help selecting the right shoe for you, don't worry, I've got you:
Other ways to connect with Amanda
Instagram Daily Fun: RunToTheFinish
Facebook Community Chatter: RunToTheFinish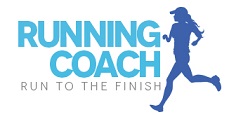 Sign Up to Receive a Weekly Newsletter with Top Running Tips and Laughs