Because I am a lifetime member of the itty bitty club, once upon a time I forgot to bring a running sports bra with me to a run…I thought, ehh I don't really need support, I shall simply run free.
Do. Not. Do. This.
There's a reason men often finish races with bloody nipples, it hurts.
Asked and answered.
Is a sports bra needed for running?
A million times yes.
My ladies have been firmly tucked away in every other run of my 20 years running and no my friends they are not saggier due to running…then again it would be very hard to tell in the itty bitty crew.
Which is why I chuckle every week when I'm asked about sports bras that are supportive. Maybe you're hoping I know of someone that will cheer you on or give you a high five when you finish, I don't know.
What I do know is a whole lot of female runners with opinions and bosoms in different sizes.
I reached out them, along with providing my own thoughts where possible to help answer your burning question: what's the best sports bra for running!
Best Running Sports Bras
Following are some places that have been tried, tested and fully approved by fellow runners. What makes for a supportive sports bra? Like shoes, some of it depends on you.
Racerbacks can ensure less movement due to the pull in to the back
Wide straps however can be more comfortable to spread out the weight for my larger boosomed friends
Seamless compression bras are generally better for the itty bitty club that doesn't need a great deal of movement support
High impact bras are designed for running
Wicking fabric is key to keeping you comfortable (don't try to make your regular bra do double duty)
Honestly, this is the majority of what I wear. Comfy, no issues with chafe, stays put….but as noted not exactly designed to support anyone over a B cup. These are one of the few sports bras that you can still find without padding inserts, but I really love using the merino to wick sweat and prevent any issues with smell!
Some women love those to help prevent laser beams, but there were many of you like me who said you didn't always want that. Sometimes you just want a plan, no frills sports bra.
Anyhow, on to the mores supportive sports bras you've asked about!
This compression style is slightly different than the above options. It offers individual cups, light padding and a compression fit to keep you locked in place. It's available up to a 42E and I think the biggest benefit is you might be able to try on similar styles at a place like Dick's Sporting Goods before ordering online.

I don't know about you, but I totally need to test out things to see if the arm holes or bands are going to chafe. Bonus if you order from Nike.com they have a fabulous and easy return policy.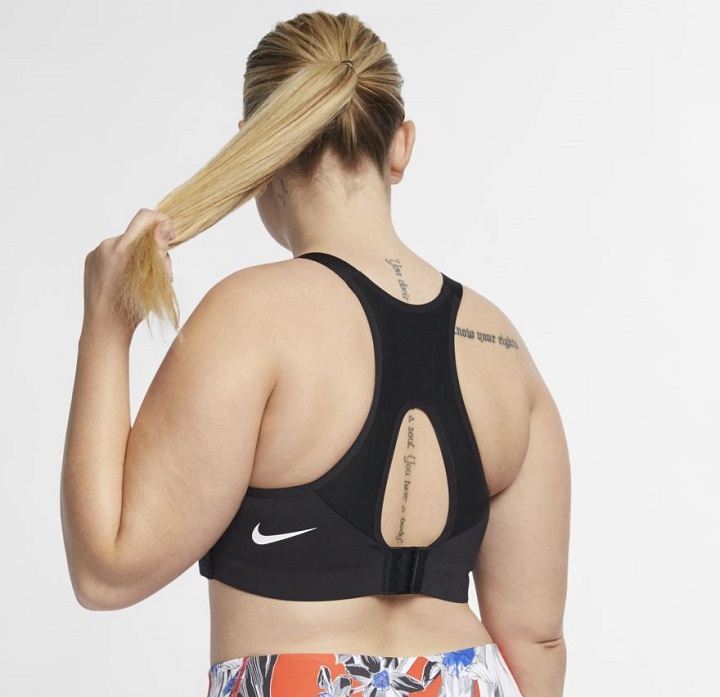 Title Nine Sports Bras – Avg $60
Beyond just loving the name, which goes to supporting all women in sports, this brand has become well known for their use of a barbells system to help you decide how much support a sports bra will provide.
As you can see here, they cater to a wide variety of sizes, which isn't always easy to find! And they do a good job of making sure they're equally cute at all sizes, with a wide variety of options to find a good fit.
Wool sounds hot, but it's a great material for runners.
I think this says it pretty well: "Merino Sheep live through cold winters -4°F and hot summers +95°F wearing the same, woolly smile. So, whatever the weather or occasion, Ibex has you covered."
The Balance Sports bra is another seamless choice that's a great fit for us smaller busted runners. Plenty of support, nothing crazy flashy, but cute.
It comes with removeable pads, which I removed. :)
This was a big time winner among my running friends needing more support. With a front zipper, adjustable band and straps they felt like this allowed them to get a really secure fit that was just right for them. This isn't the place to go for wild designs, there is literally one sports bra available, but they do that one very well.
Enell and Anita, which have a very similar concept, also came up a lot from the soon-to-be moms (new mom's, etc) who really appreciated that front closure. Enell uses hook and clasp front closures, while Anita also uses zippers.
In other words, these three got the vote for best sports bras for a large chest.
HINT: This lesser known brand offers the same features and is currently MARKED WAY DOWN.
Moving Comfort Juno – $65
Turns out this brand is now owned by Brooks Running! So if you've been referred to them and wondering what the heck is going on, there's your answer.

The women who recommended this liked that they could get a lot of support without a uniboob. This has a back clasp, wide adjustable straps and is available up to a DD.
Other Features
What if support isn't the only thing you want? Like say perhaps you want a sports bra to hold your phone?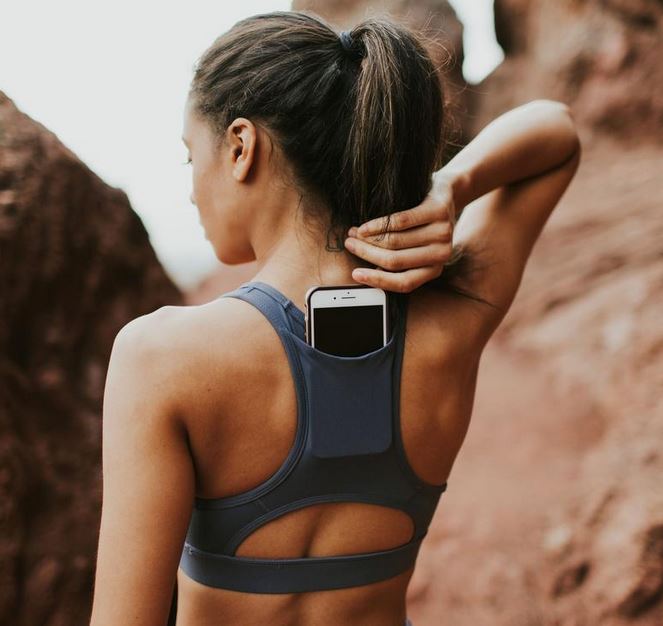 Not only is it cost effective, cute, and lightly padded, but you can store your phone in the middle of the racerback. Unlike some older styles where you stored it in front, creating a bizarre uniboob, this is actually pretty comfy!
NOTE: Personally I prefer the shorts with a pocket for my phone, but many swear this is their favorite.
Or maybe you live in Miami and can run in sports bra year round, so you'd like something a little more reflective to keep allow you to run cool and safe. Checkout the Core 10 Icon Supernova, it's super cool!
Another question I've received a few times is whether it's safe to wear a sports bra all the time? Yes, unless you're single and ready to mingle. Then I have to imagine it might get in the way of things, but as for me and my friends I find more of us wearing sports bras with everything because they're simply more comfortable and stay put!
Is there a must try sports bra that I've missed? Let us all know.
Other ways to connect with Amanda
Instagram Daily Fun: RunToTheFinish
Facebook Community Chatter: RunToTheFinish
Get more running tips: Pinterest