If you're looking for the best sports bra for running, then this complete guide will share with you everything you need to know to get the one that's perfect for you!
Because I am a lifetime member of the itty bitty club, once upon a time I forgot to bring a running sports bra with me to a run…I thought, ehh I don't really need support, I shall simply run free.
Do not do this. There's a reason men often finish races with bloody nipples, it hurts.
And not only can it hurt, but we now have research to prove that it can also negatively affect our performance. So finding the right sports bra for running is more than just about comfort, and is an essential part of your running gear as a woman.
And so, I have a complete guide and list of the top sports bra for running in 2023 and I'm sure you'll find something that's right for you.
Why Do We Need a Good Sports Bra?
First things first, why exactly do we even need a sports bra? Let alone a good one? Well, we now have research that answers this question precisely.
A research conducted by breast health expert Dr. Joanna Scurr at the University of Portsmouth in the UK studied the biomechanics of breast movement, breast support, and how its effects on athletes and their performance.
A number of high-profile companies were part of the project for testing and development, including Brooks and Adidas, which gave us some interesting results.
Not only does breast movement while doing workouts and other physical activities hurt, but it can also greatly affect performance.
The research showed that women lose up to 1.5 inches per stride due to breast movement. And while this may not sound like a lot, that extra inch and a half can add up to an extra mile's worth of steps during the course of an entire marathon!
Dr. Scurr found that while running and during other physical activities, breasts move in a figure-eight-like pattern and not just up and down. This means that they move sideways as well and all that movement can really affect your breast health.
Depending on the size of your breasts, your bust can move up to 7.5 inches in any direction during a run if they're left unsupported. This leads to multiple issues apart from shorter strides lengths, such as slower pace and leg turnover compared to athletes with a high support sports bra.
Better support also leads to overall better breast health as it'll prevent premature sagging, and support the sensitive tissues and mammary glands.
And so, finding the perfect sports bra can not only make you more comfortable, but it can also enhance your running performance.
How to Choose the Best Sports Bra for Running
A quality sports bra has the ability to make or break your performance.
It's hard to find the right balance between support, comfort, getting the right size, and finding a style that works well but also looks good and gives you a confidence boost.
And so, let's first start by understanding exactly what factors you need to consider when choosing the best sports bra for running for you:
Type of Support
There are mainly three types of support: encapsulation, compression, and a combination of the two.
Compression or encapsulation can provide support. Most compression bras have a simple squish style, and runners with C-cup chests or smaller chests do best with them. Seamless compression bras are generally better for the itty bitty club that doesn't need a great deal of movement support.
Encapsulation bras (underwire or molded cups) work like regular bras in that there are separate cups for each breast to stop them from moving.
Both options have their drawbacks: compression-only bras might not be the best choice for people with larger busts, and encapsulation bras might not be the best choice for everyone, depending on the size and shape of the breasts.
When worn, encapsulation bras can visually emphasize the look of your breasts, which may or may not be appealing to you.
Support can also come from the way the bra is put together as a whole, as well as from things like chest strap clasps and shoulder straps that can be tightened.
Instead of solely relying on the support of the front and cups themselves, these little features allow the wearer to lift and cinch the chest in if needed for the right fit.
Breasts can move in a variety of ways, depending on the shape and size of the wearer's chest. Smaller chests may move slightly up and down, but larger busts move in many directions, adding significant tension and strain on the back.
Encapsulation bras are, therefore, typically recommended for women with bigger busts for extra support.
Level of Support
The level of support is probably the most important thing to look at when choosing a sports bra, especially for runners with bigger busts. A bra that does not provide adequate support can result in sore breasts, back pain, and that uncomfortable bouncing feeling that we are all familiar with and despise.
Another important thing to do to keep support is to replace your sports bras often. Don't wait until they are worn out and the seams are coming apart before you get a new one.
The level of support (or impact) provided by a bra can be described as low, medium, or high by the manufacturer of the bra and it will always be mentioned.
Low-impact exercises like yoga and Pilates, as well as daily wear, don't require a high-impact bra and so you can use a low-support bra in such situations. Most of the time, they have thinner straps, less restrictive elastic, and are based on compression instead of encapsulation.
Although bras with medium support are marketed as being suitable for medium-impact activities such as boxing, strength training, cycling, or hiking, smaller-busted women frequently find that they provide sufficient support for running.
For high-intensity activities requiring a lot of jumping around, such as running, plyometrics, or HIIT, the best bras are those with a high level of support.
They typically have the heaviest padding and widest straps, and some even have underwires and lift-and-cinch features like clasps and adjustable shoulder straps. And so, high impact bras are usually designed for activities such as running
Comfort
If the bra is uncomfortable, it doesn't matter how well it holds the breasts down or how much support it has. Discomfort can be caused by a variety of factors, including chafing from rough seams or straps that dig into the shoulders or back due to a poorly designed style.
Discomfort can be caused by a variety of factors, including chafing from rough seams or straps that dig into the shoulders or back due to a poorly designed style.
The most comfortable bra for one person may be extremely uncomfortable for another person, therefore the best method to determine this is to actually try on a variety of different bras.
Many companies have now realized this, so their return and exchange policies are usually considerably flexible. This is especially helpful for runners who can't find the bra they want in a store nearby but really want to find the right one.
Sizing
Finding the right bra size can be hard if you don't know how to measure, and sizes vary so much from brand to brand and even within brands that it's hard to make a standard.
Some bras come in sizes that range from XS to XL. Others use numbered sizes, such as dresses and pants from 2 to 14, while yet others use the conventional bra sizes of 30AA to 42DD and beyond.
And then we have some brands, like Lululemon and Brooks, that change the size of their bras even between styles even though they're made by the same company!
Sometimes the sizes don't correspond to what's most comfortable for each person, so trying on the bra is the best method to discover what works best for you.
Even if you measure as a medium, you might want to size down if you want a tighter fit across your chest. But if you are very sensitive to rib cage entrapment, you might want to go up a size.
Understanding these things and what your personal preferences truly are is something you'll figure out with experience. But that shouldn't stop you from diving into the world of sports bras to find the right one for you.
Style
This style can be broken down into several subcategories, each of which contains a unique component.
The first factor is the bra's design, which partially determines the type of support you'll receive (compression or encapsulation) and how comfortable you'll feel in it.
The next thing to consider when it comes to style is how you want to wear it and what feels comfortable to you. Do you want one that has an overhead bra that you can slip on or clasps at the back like regular bras? Do you prefer an eye closure or a front zip?
And what about adjustable straps? Understanding your personal preferences in terms of style can really affect the fit and how you feel in your sports bra.
Another factor to consider is how it physically looks. Some of us runners might prefer running shirtless and if that's the case, the way your bra looks is incredibly important. We all want something that not only fits us but suits us too!
You'll also have options like X-strap called racerback bras or H-strap ones. Racerbacks can ensure less movement due to the pull in to the back
Wide straps however can be more comfortable to spread out the weight for my larger bosomed friends
I recommend runners with a larger cup size to go for an adjustable strap design for more support.
Moisture Wicking
Wicking fabric is key to keeping you comfortable (don't try to make your regular bra do double duty).
Let's face it, runners sweat. And so, we need something that will wick that moisture and sweat away. But if you're one of the lucky ones that don't sweat as much, you still need to consider a few things.
Even for the driest body, a bra with breathable panels, sweat-wicking fabric, and padding that doesn't gather up moisture is excellent to have in order to keep us comfortable and dry.
The fabric of the bra is what really makes a difference here, but the bra's design plays a role in its sweat-wicking abilities as well. For example, if there is less overall fabric and material it will lead to less moisture absorption.
Extra Features
It's not just about the style, support, or design! Luckily, we've come a long way, and now sports bras come with many handy features that can really make life easier for us runners.
What if support isn't the only thing you want? Like, say, perhaps you want a sports bra to hold your phone?
Not only is it cost-effective, cute, and lightly padded, but you can store your phone in the middle of the racerback. Unlike some older styles where you stored it in front, creating a bizarre uniboob, this is actually pretty comfy!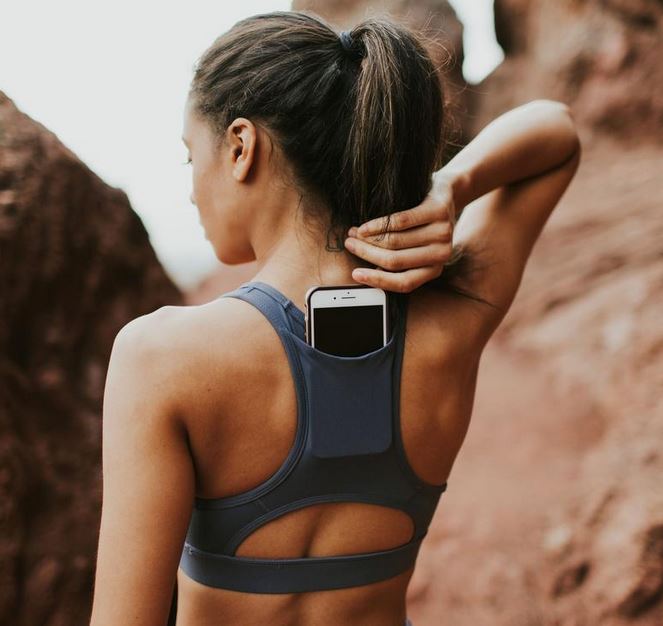 NOTE: Personally I prefer the shorts with a pocket for my phone, but many swear this is their favorite.
Or maybe you live in Miami and can run in sports bra year round, so you'd like something a little more reflective to keep allow you to run cool and safe. Check out the Core 10 Icon Supernova, it's super cool!
Certain bras come with internal panels between busts to make the bra increase ventilation and reduce boob sweat. Others come with built-in pockets to store energy gels, your cellphone, and other little items you might need when you're out and about.
You'll even find some running bras with removable padding. So look for those extra features when you're split between two sports bras and can't seem to choose one!
9 Best Running Sports Bras in 2023
Following are the best running sports bras in 2023 that have been tried, tested, and fully approved by fellow runners. Yup seriously, I get your feedback for these because finding a great sports bra is HARD when you need support.
This Seamless Racerback is perfect for maximum impact with a light compression fit. The wire-free racerback is perfect for high-impact activities like running and even tennis.
There are no inserts, which I LOVE, and the soft bonded seams help keep skin irritation at bay.
Honestly, this is the majority of what I wear (seriously I have 5 in black). Comfy, no issues with chafe, stays put….but as noted not exactly designed to support anyone over a B cup.
These are one of the few sports bras that you can still find without padding inserts, but I really love using the merino to wick sweat and prevent any issues with smell!
Some women love those to help prevent laser beams, but there were many of you like me who said you didn't always want that. Sometimes you just want a plain, no-frills sports bra.
Anyhow, on to the more supportive sports bras you've asked about!
I have gotten so many rave reviews about this, I had to add it to the list. It may not be the best support for larger busts, but folks LOVE the front pocket for their phone.
Their quality is always superb on anything that I've tried, so I fully support everyone's recommendation here! It's also a super soft fabric, which just freaking feels nice.
With a back closure, this is going to feel in many ways like your normal bra, but with way more support.
The UA Infinity High Sports Bra offers superior support and comfort for women looking for a bra that can handle the rigors of running. The bra is designed with an innovative power-mesh infinity back design that provides a secure fit without compromising breathability.
The adjustable straps and wide band provide additional support and help keep the bra in place.
The cups are lightly padded and provide coverage and shape without the bulk. The bra is made with moisture-wicking fabric that keeps you dry and comfortable during your run.
Sizes go up to 3X.
Overall, the UA Infinity High Sports Bra is an excellent choice for runners looking for support and comfort. It offers a secure fit with adjustable straps and a wide band for added stability. The padding is just enough to provide shape and coverage without being bulky. The moisture-wicking fabric also helps keep you dry and comfortable on long runs. If you are looking for a supportive yet comfortable sports bra for running, then the UA Infinity High Sports Bra is a great choice.
This compression style is slightly different from the one above. It offers individual cups, light padding, and a compression fit to keep you locked in place.
It's available up to a 42E and I think the biggest benefit is you might be able to try on similar styles at a place like Dick's Sporting Goods before ordering online.
Many of you really love the front zipper and that it allows you to retain shape vs the uniaboob look.
I don't know about you, but I totally need to test out things to see if the armholes or bands are going to chafe. Bonus if you order from Nike.com they have a fabulous and easy return policy which makes the process of finding the best sports bra so much better!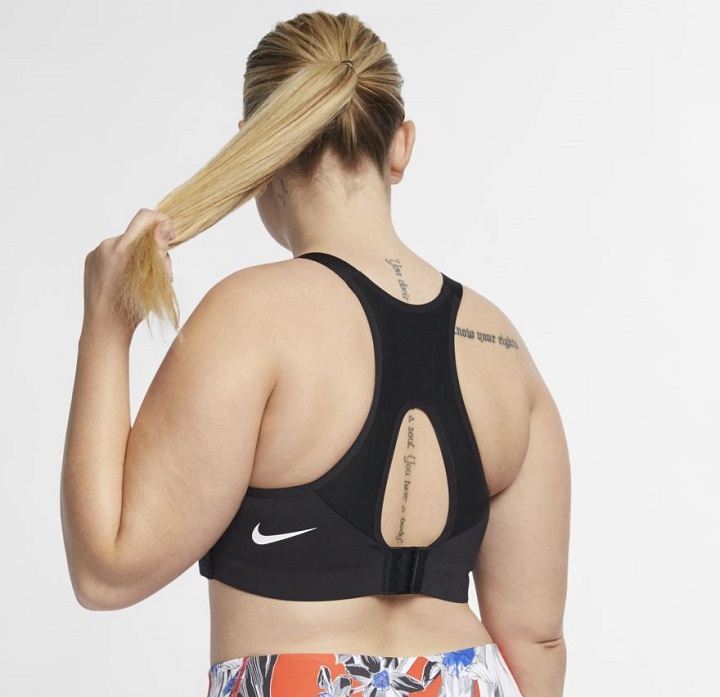 Beyond just loving the name, which goes to supporting all women in sports, this brand has become well known for its use of a barbell system to help you decide how much support a sports bra will provide.
As you can see here, they cater to a wide variety of sizes, which isn't always easy to find! And they do a good job of making sure they're equally cute in all sizes, with a wide variety of options to find a good fit.
So if your focus is a lot on style but you, obviously, don't want to compromise on comfort, support, and quality, then I'd say go with just about anything from Title Nine.
With fun designs, different patterns, and fun features, you're bound to find the one you're looking for there. It's a great choice if you're also looking for some extras like front zip, pockets, strappy design, etc.
Another recommendation that came in from multiple runners who need a larger cup size and more support. I adore Athleta gear for the quality and focus on fit, so this is no surprise to me.
The Athleta Ultimate Ease Sports Bra is designed for maximum comfort and support, making it a great choice for running. The sweat–wicking fabric and adjustable back straps offer a secure and comfortable fit. The straps are adjustable and have a soft, plush feel for extra comfort.
The fabric is also lightweight, breathable and quick–drying, so it can keep up with you on your runs. The cups are contoured for a natural shape and provide enough coverage to keep you feeling secure. The Ultimate Ease also has a racerback design that allows for full range of motion.
Available up to a 3X and says it fits up to a DD.
The Ultimate Sports Bra has been a big-time winner among my running friends needing more support. With a front zipper, adjustable band, and straps they felt like this allowed them to get a really secure fit that was just right for them.
This isn't the place to go for wild designs, there is literally one sports bra available, but they do that one very well. But I have to say, they have some beautiful color options that really suit the classic style, and so I'm sure you're bound to love the way it looks.
Enell and Anita, which have a very similar concept, also came up a lot from the soon-to-be moms (new moms, etc) who really appreciated that front closure. Enell uses hook and clasp front closures, while Anita also uses zippers.
In other words, these three got the vote for best sports bras for a large chest.
💰TIP: This lesser known brand offers the same features and is currently MARKED WAY DOWN.
Those of us that loved Moving Comfort Juno, which was then bought by Brooks, will be sad to hear that it's been discontinued.
But, fortunately, Brooks used that same style and all the good features to give us Brooks Dare and Drive sports bra collections that are great.
The Dare Racerback is a soft, quick-drying running bra that has a nearly seamless design and offers great support for a wide range of cup sizes going up to DD without a uniboob situation.
The adjustable fit with clasp closure in the back and adjustable shoulder straps allow you to really get the right fit.
Listen up my itty bitt friends. If you don't need a lot of support and don't need anything fancy, then let me save you some massive $$$.
$15 and this is the style that I've run in for years on years….on years. I love that it's seamless so I never have to worry about chaffing. And while it might be nice to have something cuter, honestly I'm just sweating so it gets the job done!
There you have it, that's my complete guide to finding the best sports bra for running.
Another question I've received a few times is whether it's safe to wear a sports bra all the time? Yes, unless you're single and ready to mingle. Then I have to imagine it might get in the way of things, but as for me and my friends, I find more of us wearing sports bras with everything because they're simply more comfortable and stay put!
However, they do recommend you take it off at night. Just like anything else, it's good to let them breathe.
Looking for more running gear recommendations?
Other ways to connect with Amanda
Instagram Daily Fun: RunToTheFinish
Facebook Community Chatter: RunToTheFinish
Get more running tips: Pinterest