With so many GPS watches available in the market, it can be overwhelming to go through all of the reviews to figure out which one is right for you. The first step is to narrow down to a brand, which is probably why you're here: Polar Vs Garmin.
All the well-known brands manufacture have several series of GPS watches with varying features and in a range of prices. All this means is that there is something for everyone.
A few of the major differences with Polar and Garmin:
Garmin wants to be part of your ENTIRE life, with cycle tracking, daily events, etc
Polar wants to enhance your training with heart rate variability, better HR tracking, etc
If you're looking to purchase your first GPS watch for running, check out my post on GPS watch mistakes not to make, so you don't end up getting more than what you need and spending more money than necessary.
This side-by-side comparison should help you better understand the different features and narrow down your choices.
Not interested in all the research and just want to know what I'd pick?
✅This is the watch I'd choose as a beginner.
It has more than enough features to last you through that first 5K all the way through many marathons and is more cost effective than other options.
I've compared Suunto vs Garmin and FitBit vs Garmin previous articles, and this time I'm pitting Polar vs Garmin.
How to Choose the Best GPS Watch for Running
Both Garmin and Polar make great, high quality GPS watches. You can't go wrong with either brand.
Picking the right watch for you is a matter of preference for features like the display, various tracking modes and activities, and the app used to sync the data from your watch.
Each brand makes a variety of watch models to suit different budgets and needs.
To help decide on the right watch for you, ask yourself the following:
Do you just want a basic watch that will track your training and races?
Do you want a multi-sport watch that will manage cross training?
Or, do you want a do-it-all watch that keeps track of your every moment, 24/7?
Are you running ultra marathons in the mountains or road marathons?
How important is battery life?
Check current Garmin prices
Buying tip: They don't usually have massive discounts, but you'll find $50 off frequently or largely discounts at the holidays.
Buying Tip: If you already have a watch and are just looking to upgrade, stick with the brand you have and know.
Unless there's a feature you really dislike, then there's no reason to learn a new interface. Think of it like switching from an Apple to a PC.
Here's a quick breakdown of the watches that you'll see. After the table find an in depth discussion of features and then more details about each watch.
Mid-Level $$ (often good sales)


Smart watch, super long battery life


Most accurate wrist based HR


Multisport, elevation, routes


Power Meter, recovery tracking

GPS Watch Feature Comparison

Even the most basic of GPS watches today include the same features such as heart rate monitor, pace, distance, calorie tracking, and lap function.
Where the two brands differ is in the hardware, training tools, alerts, and additional data recording features. Some watches go above and beyond what we often need, for those looking to nerd out on statistics.
One cool feature of Polar watches are the five minute fitness tests. These simple assessments determine your current aerobic fitness level and provide an estimated VO2 max.
Display and Tracking – Tie

Both Garmin and Polar watches display customizable real-time data, such as pace, time, distance run, calories burned, and heart rate, plus more if you desire.
Summary information like average pace, stride count, and elevation gain are all also available real-time by the push of a button.
The display on the Polar Vantage V is noticeably dimmer than that of Garmin watches. While still readable, it does require use of the backlight more often and is harder to read in bright light (as reported by some runners. I used mine in bright sun and did not have this issue).
The biggest difference between the two brands in this arena comes in display customization.
The six screens on the Polar Vantage can be modified via the Polar app, but not to the same extent as Garmin models, The Garmin IQ app allows users to choose from a selection of widgets, including music and weather, depending on the model.
In terms of which watchmaker reigns in tracking, it's a tie. Depending on the watch, both include a variety of sports modes and have superb GPS accuracy due to using multiple satellites.
GPS Watch Battery Life – Garmin

Aside from the Polar Vantage series, Garmin watches far exceed in battery life.
in continuous training mode, the Vantage series lasts 30 and 40 hours, depending on the model
the Garmin competitor can go for just 24 hours
However, the Garmin Fenix 6 and Forerunner 945 can switch to UltraTrac mode, which sacrifices GPS accuracy in exchange for a longer battery life, up to 60 hours.
UltraTrac mode is a battery saving feature that periodically shuts off GPS and uses the accelerometer to determine speed and distance.
Mapping and Navigation – Tie

For those running new routes or who have a tendency to get turned around during a run, the navigational features on Garmin watches will make sure you stay on course and return home safely.
If you don't mind looking at a map on a tiny screen, the Garmin Fenix series includes color topographic mapping capabilities.
Heart Rate Monitoring – Polar

These days, most GPS watches come with either strap-based or wrist-based optical heart rate monitors. Optical monitors are known to provide inaccurate results due to recording random movements.
However, the Polar Vantage series has the only watches currently available on the market that use bio-impedance technology to override readings caused by movement.
After a few months of testing the Polar, I have found it to be more accurate in cold weather and less issues with random spikes while running than the Garmin Fenix.
However, the new Garmin Enduro was more accurate with only occasional spikes where it was likely showing cadence and not HR. A known issue called "cadence lock".
Both brands track wellness-related data like sleep metrics and heart rate throughout the day.
The difference between the two brands is that all of the Polar watches include some variation of this feature, where Garmin has a few models that do not.
Since I run with low heart rate training I've come to understand the relevance of using a heart rate monitor to complement my training. All of the Polar watches and the higher end watches in the Garmin lineup include wrist-based and/or optical heart rate monitoring.
For some tricks on getting more accurate heart rate readings check out my GPS watch tips.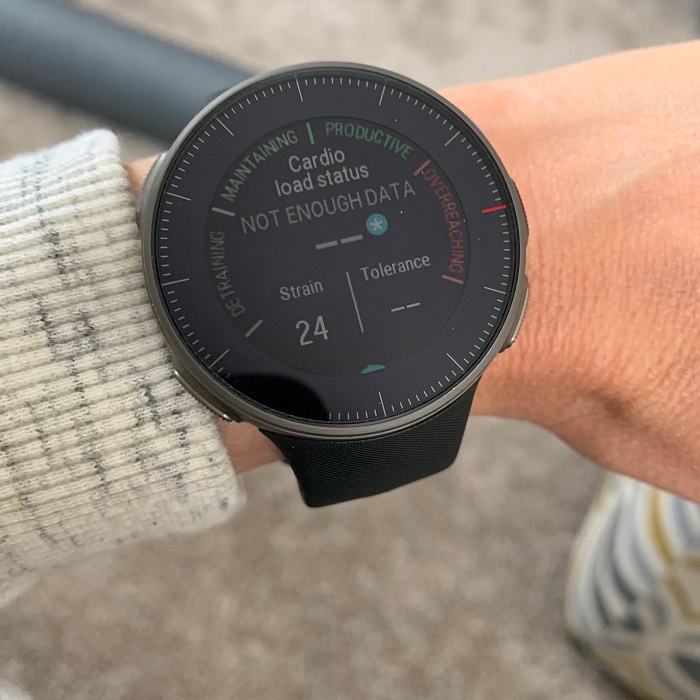 Data Management and Apps – Garmin

Polar uses the Polar Flow App to analyze post-workout summaries, highlighting heart rate, cadence, speed, and altitude on a map. Unlike Garmin, however, Polar watches don't automatically sync training stats to the app.
You have to open the app and do it manually from your watch.
Perhaps the most innovative and useful app feature of Polar watches is the ability to create a personalized training plan.
Once you set your race date and distance, the app will generate a training plan, populating a calendar with workouts. During your run, alarms will sound to indicate whether you are staying within your target heart rate.
Garmin uses a program called Connect that includes similar analytical features as Polar Flow, and users love the additional capabilities like the ability to create workouts, build courses, and challenge friends to competitions.
If you're switching between brands, then an app like Strava is probably the best place to keep all of your data safely in one place.
BONUS: If you've ever wondered how accurate the Training Status is on a GPS watch, checkout this article for the full scoop.
Garmin vs Polar Watch Comparison
Select any link below to see the watch and additional function details.
We've divided this in to high end, mid-range and entry level watches to help compare models. I did not spend a lot of time on the super high end like the Garmin Enduro, which is generally more of a trail running or back country watch.
Budget Watches
This is now what's considered an entry level running watch and it has EVERYTHING including smart watch features.
You can go more basic with the Garmin 25, but it's not well supported now. So with the 55 you'll get wrist based HR, GPS features, Safety features and more.
It's a great value when I think I paid this price for my first Garmin that could only track how far I ran!
Here is a full in-depth review of the Garmin 55 >>
As noted, I still recommend the predecessor the 45, which will save you about $70.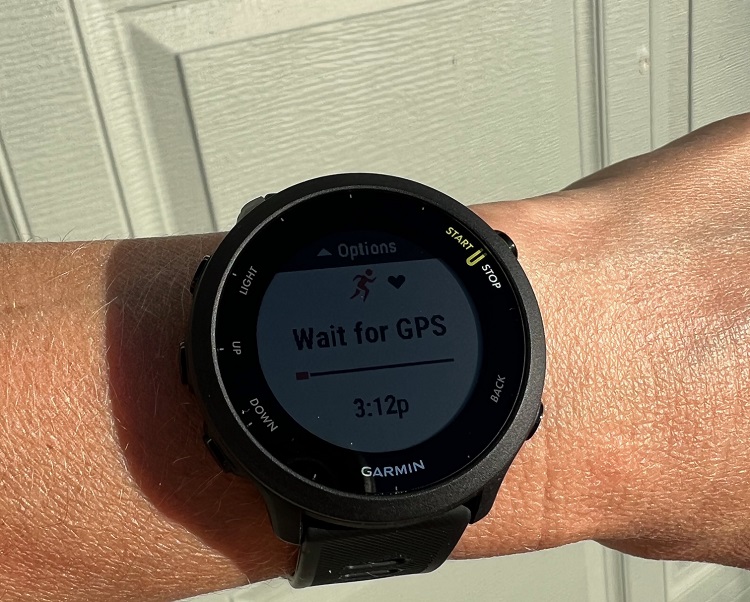 This is now what's considered an entry level running watch and it has EVERYTHING including smart watch features. I've recently been testing the Polar Pacer Pro which is just slightly leveled up and I'm going to give Polar some major props for creating an entry level running watch that has everything you need.
wrist based HR that's pretty darn accurate
sleep tracking, great battery life for a fitness tracker
GPS features
Super clear, easy to read screen in any light
Smart phone notifications and music control
It's a great value when I think I paid more than this for my first Garmin that could only track how far I ran! Very much built for the runner, not overall tracking tons of different types of workouts.
Mid-range Running Watches
For about $150 more, you can get the Forerunner 675, which is much more useful for those doing triathlons and needing multi-sport mode. I don't believe the 245 model will be around much longer, so you may be better off going up or down to ensure you get a watch that's being supported with all their updates.
This watch will track running, swimming, and cycling and tell you your ground contact time balance, stride length, and more.
Compass, Pulse Oximeter
Point to Point Navigation, Breadcrumb tracking
LIVE Track feature
Stride, vertical oscillation
14 days smartwatch mode
24 hours in GPS mode
A mid-range watch with nearly every feature you could possibly want.
The Precision Prime wrist-based sensor is the only one on the market that combines both an optical sensor with bio-impedance technology, meant to overcome erratic readings caused by movement.
This waterproof watch uses wrist-based heart rate tracking, calculates VO2 max post workout, and tracks recovery and sleep quality and the battery lasts up to 30 hours in continuous workout training mode.
This is a slightly updated model from the M that I tested, but most features are the same. I like the watch on the whole, but was less impressed after using the Vantage V listed below.
Sleep and recovery tracking
Smartwatch controls for notifications, weather and music control
130 different types of workouts supported
Fueling reminders, VO2 Max
40 hours battery life in training mode
7 days in watch mode with HR tracking
High End Watches
Garmin's premier sport watch, the Fenix series does pretty much anything you want, but is often the sought after watch because it has an everyday look.
Let's be honest, the white/rose gold look basically convinced me I need the Garmin Fenix 5s (the S version is made smaller for a wrist)!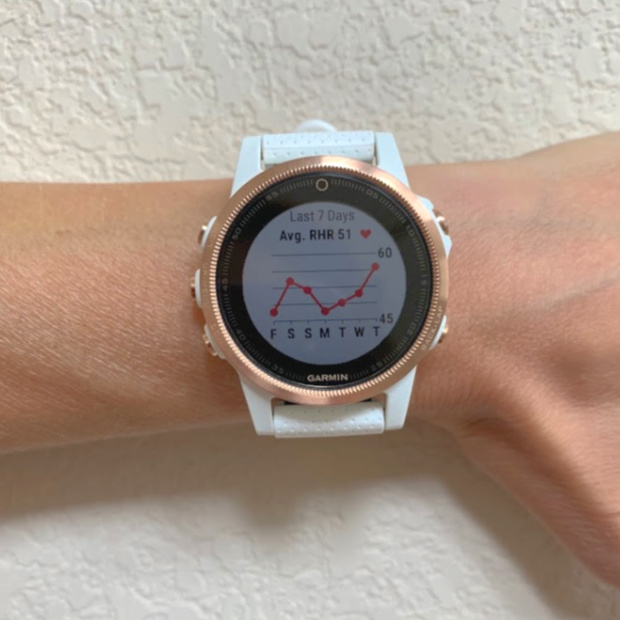 This watch is for the athlete who wants their watch to just know what they're doing. It's going to have every bell and whistle we've discussed previously, plus the components are upgraded.
The Fenix can tell the difference if you're running indoors vs outside vs on the road or trail. It knows if you're in a pool or swimming in open water. It can even give you an accurate weather forecast via Bluetooth.
The Solar version is going to increase your battery life by charging on the go, I've tested and it's pretty cool
18 days of battery life in Smartwatch Mode
57 hours of battery life in full GPS mode (73 hours with solar)
Abnormal HR alerts, pulse oximeter
Altimeter, compass, maps
Right now you can get the Fenix 5s at a huge discount because they've just rolled out the new Fenix 7 series.
See my full review of the Garmin Fenix 5S.
All right now, we've done a Garmin watch comparison so you can see what makes the different prices, but how does it stack up against other brands? Below you'll find Polar, but you can also see how Garmin compares to Suunto here.
For an upgrade of $200 more you can opt for the Polar Vantage V, which allows route imports, orthostatic tests, power meters and Strava Live segments.
For anyone like me who trains by HR, you'll really love one key feature of this upgrade:
Polar Precision Prime™ sensor fusion technology. This innovation combines optical heart rate measurement with other sensor technologies in order to rule out involuntary movement that might disturb the heart rate signal and produce unreliable readings.
I have been testing this watch and agree that it definitely has all the features you need for training, plus it does offer notifications from your phone.
It does not have some of the smart watch features which tend to increase the price of the Garmin watches. So if you just need a watch for training, this is going to save you bucks and provide all the tools.
And yet the BIG UPSIDE to the Vantage is that I've found the HR data to be far more accurate! It also has Heart Rate Variability and a Power Meter built in to the watch, which is unheard of in a watch.
Smartwatch features for weather, notifications, manage music
HR Variability and power meter
Tracking altitude, maps for navigation
40 hours in GPS mode
7 days smartwatch mode (I swear mine goes for weeks)
What is the best GPS watch for runners?
Depending on your budget and your feature preferences, both Garmin and Polar make quality running watches.
If you want all the data and metrics, consider something like the Garmin Fenix or Polar Vantage V2.
If you just want basic running statistics, then go for the Garmin Forerunner 55 or the Polar Pacer .
And don't forget to see how they both stack up against Suunto.
Try to check out the watches at your local running or outdoor store to tinker with the displays and see how they feel on your wrist.
Are they something you could wear all day long to track all the data?
Are they too heavy or is the face too big for your small wrists? Play around with the different apps beforehand to see which interface you like.
How to decided between two great watches?? A breakdown of Polar vs Garmin to help you decide! #runchat #running Click To Tweet
Looking for more reviews to find the best things for your run?
Checkout our full page of my must have running gear reviews and guides to save you time searching and money! I share what's worked for me and fellow runners, along with what wasn't worth the price tag.
A few common requests:
Other watches you want to know about? Let me know!
Other ways to connect with Amanda
Instagram Daily Fun: RunToTheFinish
Facebook Community Chatter: RunToTheFinish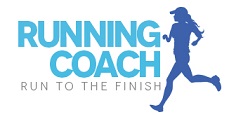 Sign Up to Receive a Weekly Newsletter with Top Running Tips and Laughs