You've decided that it's time to upgrade your sport watch. Or, perhaps, you're in the market to buy your very first GPS running watch. Now you've realized there are a number of major players and have no idea whose better? Garmin vs Suunto (and where does Polar fit in this whole comparison?!).

The two most popular brands of GPS watches on the market are Garmin and Suunto. Particularly popular among trail runners and those looking for watches with long battery life and features like altitude.
Not interested in all the research and just want to know what I'd pick?
✅
This is the most popular watch for new runners
.
(and it comes in
white
!) It has more than enough features to last you through that first 5K all the way through many marathons and is more cost effective than other options.
Though several other brands exist, we'll be focusing on these two brands in this post.
Largely because as holidays rolled around and I watched everyone flashing their spiffy new watches, these were the two giving me the biggest case of envy!!!
You can also find my comparison of Garmin vs Polar here.
Photo from @runthesix
Previously, I pondered and researched Garmin vs Suunto for months trying to decide which one to buy.
I was getting sucked in by a lot of marketing hype and about to commit the sin of over buying. So I thought I'd help out anyone else who might be in a similar situation.
We're going to look at some of the major feature comparisons and then specific models for entry level to high end watches.
Garmin Vs Suunto GPS Watches
Before your head explodes trying to choose between the two brands, know this: both Garmin and Suunto make great, high quality watches. You can't go wrong with either.
Choosing is a matter of preference for features like the display, the various tracking modes and activities, and the app used to sync the data from your watch.
Each brand makes a variety of watches to suit different budgets and needs.
Check current Garmin prices
Buying tip: They don't usually have massive discounts, but you'll find $50 off frequently or largely discounts at the holidays.
To help decide on the right watch for you, decide which features matter most to you.
Do you just want a basic watch that will track your training and races?
Do you want a multi-sport watch that will manage your triathlon training?
Do you want a do-it-all watch that keeps track of your every moment, 24/7?
Tip: If you already use a Garmin or Suunto and are just looking to upgrade, stick with the brand that you already know.
Unless there's a feature you really dislike, then there's no reason to learn a new interface. Think of it like switching from an iPhone to an Android.
Here's a quick breakdown of the watches, more feature details below.
| | | | | |
| --- | --- | --- | --- | --- |
| | | | | |
| | | | | |
| | | Notifications, multisport | | |
| | | | Mid-Level $$ (often good sales) | |
| | | Route navigation, notifications | | |
| | | Smart watch, super long battery life | | |
| | | Multisport, elevation, routes | | |
GPS Watch Feature Comparison
Most basic GPS watches today include the same data tracking features such as a heart rate monitor, pace, distance, and calorie tracking, and lap function.
Where they differ is in the hardware, training tools, alerts, and data management.
Garmin does tend to release entirely new models far more frequently than Suunto. That doesn't make them better, but often means you can find the previous model on discount!
Display and Tracking – Garmin
Both Garmin and Suunto watches display customizable real-time data, such as pace, time, distance run, calories burned, and heart rate, plus more if you desire. Summary information like average pace, stride count, and elevation gain are all also available real-time by the push of a button.
The biggest difference between the two brands in this arena comes in display customization.
The Garmin Fenix 7 Series and Garmin 945 allows you to change the data screens mid-workout, as well as the widgets when you're not.
Suunto watches require users to make custom changes to workout data screens through the Suunto app.

Click to see this rugged Garmin Fenix Plus
Being able to change watch faces is a fun feature of the Fenix series
In terms of which watchmaker reigns in tracking, it's a tie. Depending on the watch, both include a variety of sports modes and have superb GPS accuracy.
Battery Life – Suunto
The Suunto 9 (all three models) uses three different battery modes with built-in intelligence systems that estimate the remaining battery time left on a particular mode.
If the watch notices that you're running low on battery, it will suggest that you switch to a different mode. The battery life can last anywhere from 25 to 170 hours depending on the mode.
The Garmin Fenix and Forerunner 945 also includes various battery mode settings, with a battery life ranging from 24 hours in GPS mode to 60 hours in UltraTrac battery saver. UltraTrac mode is a battery saving feature that periodically shuts off GPS and uses the accelerometer to determine speed and distance.
The previously reviewed Garmin Enduro is going to beat them all thanks to the solar power! But it's also way more expensive and way more watch than most runners need.
Mapping and Navigation – Suunto
For those running new routes or who have a tendency to get turned around during a run, the navigational features on Suunto and Garmin watches will make sure you stay on course and return home safely.
Truly it's impressive to see how far these have come in such a short period of time. Let's look at how the two stack up and why I picked Suunto as the winner.
If you don't mind looking at a map on a tiny screen, the Garmin Fenix series includes color topographic mapping capabilities. Suunto watches allow for gpx downloads onto the watch that will display a breadcrumb map showing you the way.
For backcountry folk (whether running, skiing, or mountaineering), Suunto is well known for its altimeter and barometric functions that make off-trail navigation easier and safer. Serious backcountry wanderers will also appreciate the barometric features available from both brands.
Additionally the Suunto app offers the ability to easily look for popular trails or see a heatmap to know where a lot of people have traveled.
How to decided between two great watches?? A breakdown of Suunto vs Garmin to help you decide! #runchat #running
Click To Tweet
Heart Rate Monitoring – Garmin
You know how much I love low heart rate training and fortunately nearly every watch from both Suunto and Garmin include wrist-based and or optical heart rate monitoring.
Some Suunto models, like the Ambit 3 Peak use an optional heart rate belt instead of wrist-based technology. For some tricks on getting more accurate heart rate readings check out my best running HR monitor article.
The Suunto 9 is largely accurate when compared to a chest strap. This is a better optical sensor than in other Suunto models.
Over many runs I found the Garmin to often spike at the beginning or seem less accurate after more runs. The exception being the higher end models like the Enduro and the Fenix 7.
That being said, on the whole Garmin wins for more watches overall that are accurate.
The Garmin watches also notably track impressive 24/7 wellness-related data like sleep metrics and heart rate throughout the day. The watch uses this information to determine stress levels, though let's be honest… you probably already know if you're stressed, right??
Data Management and Apps – Garmin
In 2020 Suunto launched their new Suunto App and that has made a difference for being able to more easily manage your watch and data.
All watches will have the ability to synchronize and analyze training data, upload photos, videos, and descriptions from your workout, social sharing, send notifications from your phone to your watch, GPS optimization, and sync to sports services and other partners integrated to Suunto app.
The Suunto 5, Suunto 7, Suunto 9 also provide synchronization of 24/7 data, like steps, calories burned, and hours slept and route planning and sport mode customization.
Garmin uses a program called Connect that includes similar analytical features as Suunto, and users seems to love the additional capabilities like the ability to create workouts, build courses, and challenge friends to competitions.
But Garmin goes above an beyond with their app. They want to be part of every data point you want to track.
Inclusion of badges to excite your training
Monitoring sleep
Tracking your menstrual cycle
Monitoring HR trends
If you're switching between brands, then an app like Strava is probably the best place to keep all of your data safely in once place.
BONUS: If you've ever wondered how accurate the Training Status is on a GPS watch, checkout this article for the full scoop.
Garmin vs Suunto Models Compared
Depending on your budget and your feature preferences, both Garmin and Suunto make a watch for your needs.
TIP: If you can, check out the watches at your local running store or REI to see how they feel on your wrist and get a sense of the display and buttons. Play around with the different apps beforehand to see which interface you like.
As I mentioned above, both brands make high quality watches, so it's really a matter of just choosing one brand.
Below are some watch suggestions from each brand of varying prices to help you compare what they offer.
Budget Watch

These two are extremely similar and now the price is pretty much the same. However, I do believe Suunto may phase out the 5.
Suunto 5 max battery life 12 days, Garmin 55 max battery life 14 days
Suunto includes Altimeter and maps
Garmin has 3 satellite options, Suunto has 5
Roughly the same size and weight
Both watches can be used for swimming
Both offer HR monitoring and sleep monitoring

Both track Distance,

Calories Burned,

Activity,

Sleep,

Heart Rate,

Steps,

Activity Speed,

Time
This is a perfect watch if you're just looking for something simple that will track your distance, pace, heart rate and calories. At $199, the price is unbeatable.
This is 100% the starter watch I recommend for anyone getting in to running.
You can set up intervals, HR wrist based monitoring and get the basics to help you improve your training.
Having removed many previous models this is now their entry level watch and it includes EVERYTHING you could possibly need, especially as a trail runner.
Features include basic functions + altitude measurement, route navigation and track back, interval workout planner, running cadence, and activity-based recovery time. I say during my testing, I found the HR monitor to be very unreliable.
If you want something simple to use that records all of your running data and offers a bit more feature-wise than the Garmin Forerunner 55, this is a great pick.
Photo from @majocalgary
Midrange GPS Watches

The differences start to become more apparent here.
Suunto 7 max GPS battery life 12 hours, Garmin 255 max GPS battery life 30 hours
Garmin slightly lighter at 49 grams to 52 grams Suunto
Garmin has a more shatterproof screen with the Gorilla Glass
Suunto provides a superior map experience
Both watches can be used for swimming and a multitude of other sports

Both track Distance,

Calories Burned,

Activity,

Sleep,

Heart Rate,

Steps,

Activity Speed,

Time
If you want to monitor different sports, then take a look at the Forerunner 255. This watch will track running, swimming, and cycling, provide cross training workouts, safety features and tells you your ground contact time balance, stride length, and more.
Truly this watch offers nearly every single feature of the top end model, just without that fancy Rose Gold look.
You'll get things like abnormal HR readings, Heart Rate Variability and blood oxygen monitoring, which aren't provided by many other brands.
**The next option in this series is the Garmin 945, which I reviewed. It's for what I would call the serious athlete and especially trail runners or triathletes thanks to certain pieces of data.
As noted I believe they may phase out the Suunto 5 and instead expand the 7 line as they have with the 9.
This watch is going to cover all of your daily bases, while adding in some of those higher level features you want to start tailoring your training. Like training load, altimeter, music controls, sunrise/sunset tracking to help time your trail choices, as well as training load recommendations.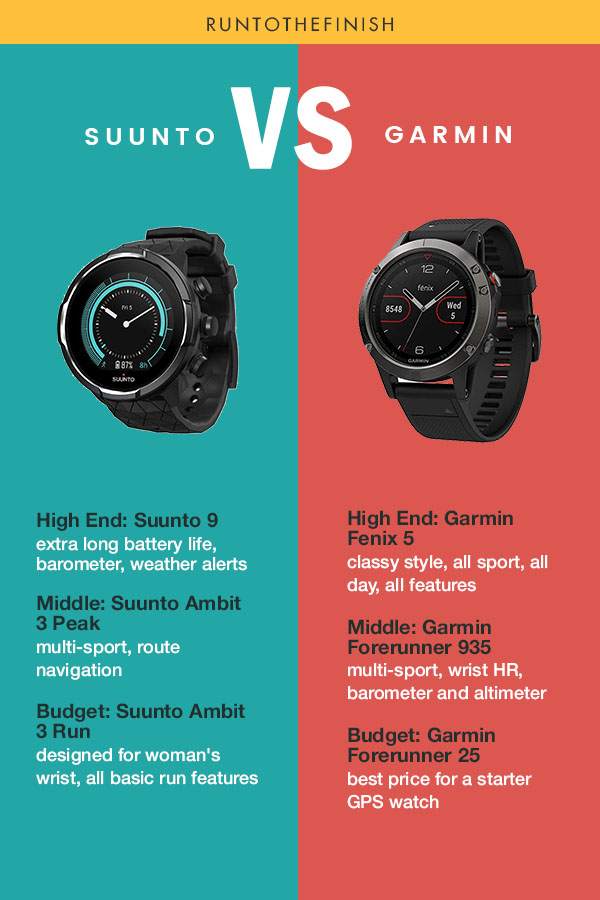 High End Running Watches

You'll notice with both high end GPS watches that the price depends on all the features you want included. The more concerned you are about durability, altitude or weather extremes, the higher the price.
Here I'm providing for the basic Garmin Fenix 7 and Suunto 9 Peak. These watches are larger than other models, unless you get the Garmin Fenix S (which I recommend for anyone like me with a smaller wrist).
Suunto GPS battery life up to 170 hours, Garmin GPS battery up to life 57 hours (higher with solar option)

Suunto is heavier at 84 grams to Garmin 73 grams
Garmin maps now catch up or surpass Suunto
Garmin set up for other specific activities like skiing, surfing, climbing
Both watches can be used for swimming and a multitude of other sports

Both track Distance,

Calories Burned,

Activity,

Sleep,

Heart Rate,

Steps,

Activity Speed,

Time
Garmin's premier sport watch, the Fenix series does pretty much anything you want and it's super smart. This watch is for the athlete who wants their watch to just know what they're doing.
The Fenix can tell the difference if you're running indoors vs outside vs on the road or trail. It knows if you're in a pool or swimming in open water.
It can even give you an accurate weather forecast via Bluetooth. It's not cheap starting at $700 and increasing to $929 for the Saphhire Solar version.
If I were shelling out right now, I would 100% be looking at the solar version. It's PHENOMENAL to not think about charging your watch for days on end.
But if you want a watch that looks classy to wear all day long and track your every move, then this is the watch for you.
Updated: Here's my full review of the Garmin Fenix after wearing it for many miles.
I do love the screens, ease of use and long batter life. Does it have more features than I need…well probably. Living near mountain trails I love being able to quickly see elevation and to know it can guide me back out of trails.
The adaptive learning also means it keeps making my daily step count higher and higher though, which means I gotta take it off on rest days!
The Suunto 9 is designed for endurance athletes who want a long battery life for day long activities.
The Suunto 9 Baro includes a barometer to provide more accurate altitude information and ascent/descent values. If storms are frequent where you run, then the watch will alert you of bad weather with a storm warning alarm.
Here's a full review of the Suunto 5, which is one step down from the 9…except that it has a ton of features for tracking that the 9 doesn't and costs less!
Suunto 9 Vs Garmin Fenix 7
If you're trying to decide between to the two top end models, here's my general breakdown:
Garmin has a lot more lifestyle features
Suunto often feels more suited to the ultra trail runner
Both are at the top of their respective lines, which means every bell and whistle is included
Garmin does offer sizing for smaller wrists with the S version
What is the best Suunto watch?
I'm torn on this because my experience wasn't great, but I have many trail running friends who LOVE their Suunto. The Suunto 9 or the Suunto 7 are really the best things they offer. Both have been recently released with a lot of software updates.
All right, there is the big old break down for you! Of course, each brand offers a lot of other options, but we tried to give you a good preview of each to help make this decision easier.
Looking for more reviews to find the best things for you run?
Checkout our full page of my must have running gear reviews and guides to save you time searching and money! I share what's worked for me and fellow runners, along with what wasn't worth the price tag.
A few common requests:
Other ways to connect with Amanda
Instagram Daily Fun: RunToTheFinish
Facebook Community Chatter: RunToTheFinish
Sign Up to Receive a Weekly Newsletter with Top Running Tips