You've decided that it's time to upgrade your sport watch. Or, perhaps, you're in the market to buy your very first GPS watch.
Once you've checked out my post on GPS watch mistakes not to make, we can dive into a little comparison shopping, but that one will help you to NOT OVER SPEND.
Photo from @runthesix
The two most popular brands of GPS watches on the market are Garmin and Suunto.
Though several others exist, we'll be focusing on these two brands in this post. Largely because as Christmas rolled around and I watched everyone flashing their spiffy new watches, these were the two giving me the biggest case of envy!!!
In fact, I pondered and researched the two for months trying to decide which one to buy. I was getting sucked in my a lot of marketing hype and about to commit the sin of over buying…so I thought I'd help out anyone else who might be in a similar situation.
How to Choose the Best GPS Watch for Running
Before your head explodes trying to choose between the two brands, know this: both Garmin and Suunto make great, high quality watches. You can't go wrong with either.
Choosing is a matter of preference for features like the display, the various tracking modes and activities, and the app used to sync the data from your watch. Each brand makes a variety of watches to suit different budgets and needs.
To help decide on the right watch for you, decide which features matter most to you.
Do you just want a basic watch that will track your training and races?
Do you want a multi-sport watch that will manage your triathlon training?
Do you want a do-it-all watch that keeps track of your every moment, 24/7?
Tip: If you already use a Garmin or Suunto and are just looking to upgrade, stick with the brand that you already know. Unless there's a feature you really dislike, then there's no reason to learn a new interface. Think of it like switching from an iPhone to an Android.
GPS Watch Feature Comparison
Most basic GPS watches today include the same data tracking features such as a heart rate monitor, pace, distance, and calorie tracking, and lap function.
Where they differ is in the hardware, training tools, alerts, and data management.
Display and Tracking
Both Garmin and Suunto watches display customizable real-time data, such as pace, time, distance run, calories burned, and heart rate, plus more if you desire. Summary information like average pace, stride count, and elevation gain are all also available real-time by the push of a button.
The biggest difference between the two brands in this arena comes in display customization.
The Garmin Fenix 5X Plus allows you to change the data screens mid-workout, as well as the widgets when you're not.
Suunto watches require users to make custom changes through the Movescount app.
In terms of which watchmaker reigns in tracking, it's a tie. Depending on the watch, both include a variety of sports modes and have superb GPS accuracy.
Battery Life
The Suunto 9 uses three different battery modes with built-in intelligence systems that estimate the remaining battery time left on a particular mode. If the watch notices that you're running low on battery, it will suggest that you switch to a different mode. The battery life can last anywhere from 25 to 120 hours depending on the mode.
The Garmin Fenix 5 and Forerunner 935 also includes various battery mode settings, with a battery life ranging from 24 hours in GPS mode to 60 hours in UltraTrac battery saver. UltraTrac mode is a battery saving feature that periodically shuts off GPS and uses the accelerometer to determine speed and distance.
Mapping and Navigation
For those running new routes or who have a tendency to get turned around during a run, the navigational features on Suunto and Garmin watches will make sure you stay on course and return home safely.
If you don't mind looking at a map on a tiny screen, the Garmin Fenix series includes color topographic mapping capabilities. Suunto watches allow for gpx downloads onto the watch that will display a breadcrumb map showing you the way.
For backcountry folk (whether running, skiing, or mountaineering), Suunto is well known for its altimeter and barometric functions that make off-trail navigation easier and safer. Serious backcountry wanderers will also appreciate the barometric features available from both brands.
Heart Rate Monitoring
You know how much I love low heart rate training and fortunately, all of the higher end watches from both Suunto and Garmin include wrist-based and or optical heart rate monitoring.
Some Suunto models, like the Ambit 3 Peak use an optional heart rate belt instead of wrist-based technology. For some tricks on getting more accurate heart rate readings check out my GPS watch tips.
The Garmin Fenix 5X plus notably tracks impressive 24/7 wellness-related data like sleep metrics and heart rate throughout the day. The watch uses this information to determine stress levels, though let's be honest… you probably already know if you're stressed, right??
Data Management and Apps
Suunto currently uses a program called Movescount, however, by summer 2020, the company will start to transition from Movescount to the Suunto app (which is currently working). The app will be compatible with the majority of the new Suunto products, with limited capabilities for lower end or older models.
All watches will have the ability to synchronize and analyze training data, upload photos, videos, and descriptions from your workout, social sharing, send notifications from your phone to your watch, GPS optimization, and sync to sports services and other partners integrated to Suunto app.
The Suunto 3 Fitness, Suunto 9, and Spartan collection includes a few more capabilities, such as synchronization of 24/7 data, like steps, calories burned, and hours slept and route planning and sport mode customization.
Garmin uses a program called Connect that includes similar analytical features as Movescount, and users seems to love the additional capabilities like the ability to create workouts, build courses, and challenge friends to competitions.
If you're switching between brands, then an app like Strava is probably the best place to keep all of your data safely in once place.
How to decided between two great watches?? A breakdown of Suunto vs Garmin to help you decide! #runchat #running
Click To Tweet
Which is the Sports Watch with GPS?
Depending on your budget and your feature preferences, both Garmin and Suunto make a watch for your needs.
TIP: If you can, check out the watches at your local running store or REI to see how they feel on your wrist and get a sense of the display and buttons. Play around with the different apps beforehand to see which interface you like.
As I mentioned above, both brands make high quality watches, so it's really a matter of just choosing one brand.
Below are some watch suggestions from each brand of varying prices to help you compare what they offer.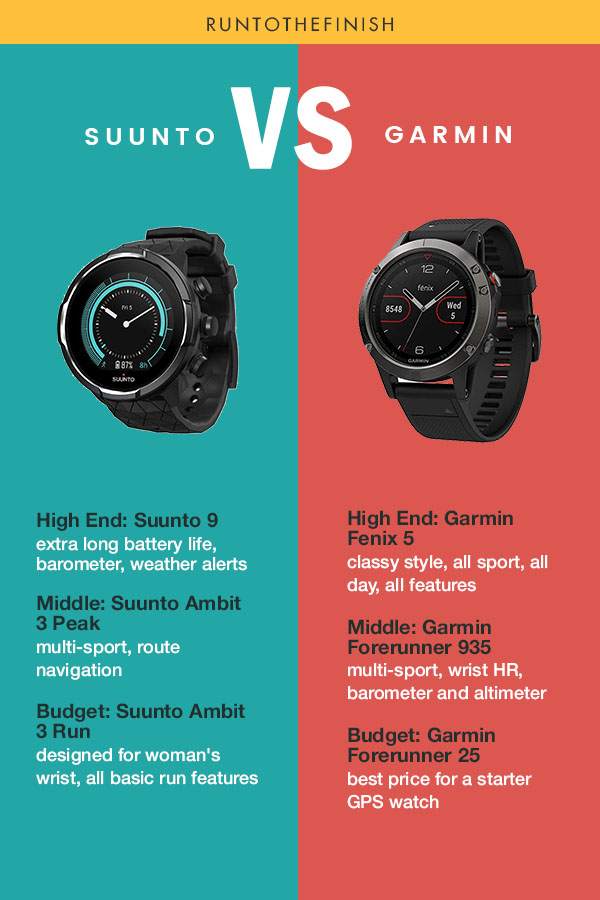 Garmin Watch Comparison
Here we're going from basic to over the top gadgets and gizmos. The truth is that a lot of us like to have some bells and whistles, but we may not so much NEED them. Get the watch that does what you need and save the moolah for a racecation.
Budget: Garmin Forerunner 25
This is a perfect watch if you're just looking for something simple that will track your distance, pace, heart rate and calories. At $99, the price is unbeatable.
Midrange: Garmin Forerunner 935
If you want to monitor different sports, then take a look at the Forerunner 935. This watch will track running, swimming, and cycling and tell you your ground contact time balance, stride length, and more. The built-in barometer lets you know elevation change and the altimeter and electronic compass can help you keep your bearings if you become disoriented.
High End: Garmin Fenix 5
Garmin's premier sport watch, the Fenix 5 series does pretty much anything you want and it's super smart. This watch is for the athlete who wants their watch to just know what they're doing.
The Fenix can tell the difference if you're running indoors vs outside vs on the road or trail. It knows if you're in a pool or swimming in open water. It can even give you an accurate weather forecast via Bluetooth. It's not cheap at $669.99, but if you basically want a watch that looks classy to wear all day long and track your every move, then this is the watch for you.
Suunto Watch Comparison
Suunto has more traction in the trail running community because they were some of the first to have high quality altitude and barometer features. Now road runners are starting to see this brand offers a quality gear.
Budget: Suunto Ambit3 Run
One of the most basic watches available from Suunto the Ambit 3 Run is designed specifically for women with its smaller face. Features include basic functions + altitude measurement, route navigation and track back, interval workout planner, running cadence, running cadence, and activity-based recovery time.
The downside is that the (optional) heart rate tracking is belt-based, vs wrist-based, which drives me crazy. If you want something simple to use that records all of your running data and offers a bit more feature-wise than the Garmin Forerunner 25, this is a great pick. It's quite a bit more than the budget Garmin option, but includes more features.
Photo from @majocalgary
Midrange: Suunto Ambit 3 Peak
For a multi-sport upgrade, check out the Ambit 3 Peak. Known for its super long battery life (30 hours), the Ambit 3 Peak is a great choice for long distance trail runners in particular. The watch also features route navigation and track back and real-time altitude profile navigation. As a bonus, this watch is quite affordable, considering all the features.
High End: Suunto 9
The Suunto 9 is designed for endurance athletes who want a long battery life for day long activities. The Suunto 9 Baro includes a barometer to provide more accurate altitude information and ascent/descent values. If storms are frequent where you run, then the watch will alert you of bad weather with a storm warning alarm.
All right, there is the big old break down for you! Of course, each brand offers a lot of other options, but we tried to give you a good preview of each to help make this decision easier.
What type of GPS watch do you use for running?
What features do you use and love?
Other ways to connect with Amanda
Instagram Daily Fun: RunToTheFinish
Facebook Community Chatter: RunToTheFinish
Sign Up to Receive a Weekly Newsletter with Top Running Tips