A solar GPS watch so that I rarely have to remember to charge it?? Count me in! But there's a lot more to the Garmin Enduro, which I think makes it a great trail running watch.
A lot of what I found you're looking for around this watch is how does it stack up to other models. Which I get, that's how I make decisions too!
Is it too large? How long is the battery really? What features does it have or not have?
Having tested other Garmin models, Coros watches, Polar watches, Sunnto watches and yes even some brands you may not have realized had watches like TomTom or Epson, I'll do my best to help with the comparisons.
Garmin Enduro Review
Pulling the watch from the box there are a few things you'll immediately notice.
It's large. It feels heavy duty. It has a nylon strap instead of the traditional rubber.
What's not immediately apparent are all the features happening inside the watch which elevate it's price and function to a higher level.
Watch Fit
Let's start with the obvious discussion and the one that has a lot of folks hesitant.
It's a big watch.
For reference my wrist is 5.5 inches and the fabric band overlaps a little to get it tight enough to not move around.
Weight is 71 grams (lighter than all but the S model of the Fenix)
Screen size is large and really easy to read, have multiple fields visible
When it's not pretty snug, I can feel the watch moving around a lot due to the weight
It's larger than any Garmin S model, but not really that much larger than other high end models from other brands
With larger watches, I've noticed that after long runs my wrist bone can be a little bruised and that is the case with this watch as well. That's not a problem with the watch, it's my boney wrist I guess. I often put a scrunchy on my wrist now to prevent it from pushing there.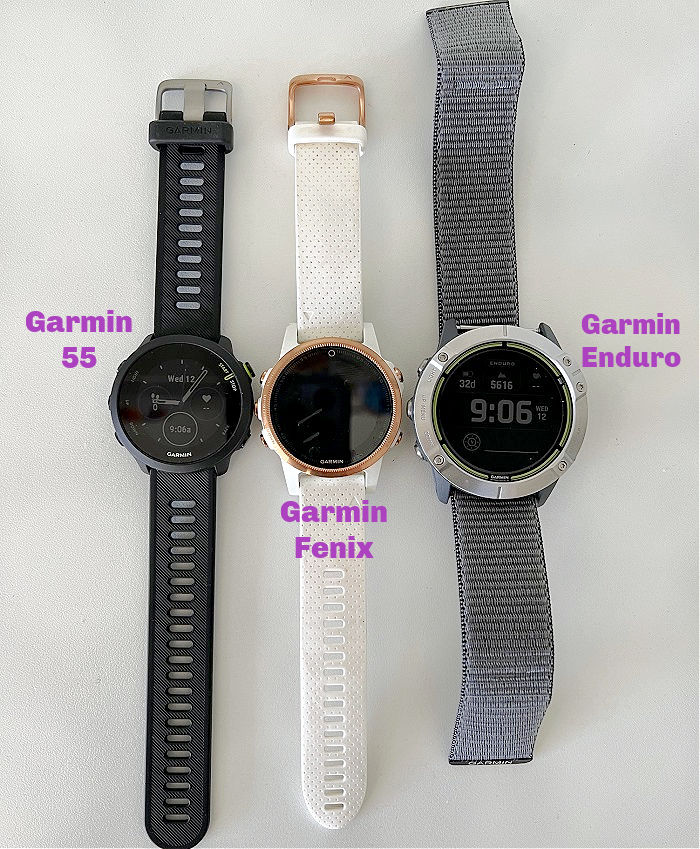 Battery life
This is one of the features that makes the Enduro stand out from others.
Smartwatch up to 50 Days
Standard GPS mode 70 hours
Solar charging means that you get extra on all the battery life settings, like up to 300 hours of GPS!
Power Meter to help conserve battery life by turning off some things, then up to 200 hours in GPS mode
Expedition mode is designed for multi-day activities to help you get that extended battery life
I took the watch off for over a week after the wildfires and then went out for a run and watched it charge back up. I loved that I wasn't worried about it being dead or dying during the run,
Can it be charged while in use?
An ultra runner question, that makes a lot of sense. Can you plug it in and charge while still having the activity and GPS going?
Yes you can. It won't be able to accurately do HR during this time, but it will work.
OR alternatively, it has a pause and resume later mode. So if you want to stop it while at an aid station and charge, you can then resume as soon as you're ready.
But with the Solar charging, for the most part you likely won't ever run in to this situation!
GPS Accuracy
Many of you asked about accuracy when you're in a densely forested area, while I have not tested this because things here are not like the PNW, I do know it uses all 3 satellite options, GPS, GLONASS and Galileo, making it the most accurate possible for any GPS watch.
Minus being directly in downtown areas like the Chicago marathon, you should find the GPS to remain pretty reliable.
It's also going to have a few other key trail running features:
Altimeter – more accuracy on elevation gain and loss
Compass and Gyroscope – increases accuracy of tracking and mapping
Accelerometer – helps know if you are moving forward or just moving your arm
Barrometer – to help monitor weather
Pulse Ox – measuring oxygen levels as you start running at altitude can be really useful
Fueling Reminders
A feature that many of you like from Polar and Coros is the fueling reminder.
The Enduro allows you to track things like hydration during the day, but it does not by default prompt you during your run to take in fuel at certain times.
HOWEVER, you do have a couple of options to get reminders.
From the Garmin ConnectIQ you can download the My Fuel Reminder App (developed by GU). Currently, it will remind you ever 5KM to take in fuel, there is not yet customization.
Create a custom alert for your activity, which takes 2 seconds. It can go off based on a countdown timer. I.e. Every 45 minutes your watch can vibrate or buzz and that's your reminder to take in fuel.
Use the Calorie alert feature. You can set this alert to go off when the watch senses you've burned anywhere from 50 to 500 calories, you can select your target in 50 calorie increments.
Using the alerts is nice because you can have a different alert for your Ultrarun activity than your road run activity.
Expected Garmin Features
I'm not going to detail each of these, as you have probably read about them in my Garmin 55 review or Fenix, these are the features we expect in a Garmin:
Suggested workouts, which adjust as the watch learns you
VO2 Max
Cadence, pace, stride length
Huge variety of activities included and can customize
Ability to customize watch face and screens
Step tracking, sleep tracking
Smartphone notifications, calendar, weather
Safety features with incident protection and Group Tracking — big one for ultrarunners
Control music playing on your smartphone
Listen I'm not saying you'll actually pay attention to the training tip it provides you for the day, but if you don't have a program then it can be useful. Every time you start an activity it will provide a suggested workout, which you can dismiss or turn off this feature.
Additional Garmin Enduro Features
A few of the other upgrades and features that might be important to you.
Audio Prompts
From the Garmin Connect app you can turn on audio prompts!
These are status announcements from your smartphone during any activity. Whatever audio you're listening too will be muted as these play.
Prompts include the lap number and lap time, pace or speed, and heart rate data.
Pace Pro
Designed to help keep you on pace during your race! You'll set up in advance the goals and then during the race it will help you see if you are on track.
Say you start out the race too fast, it's going to adjust splits from there to help keep you on target.
Winter Sports
If you're big in to skiing, back-country skiing or Cross country skiing, there's additional tracking and data points to enhance these activities. Like ski maps and features that know when you are climbing vs downhill skiing.
This is not my area of expertise, so I have not tested these features. And not diving in here as I focus on running, but cool to know for all my Colorado winter lovers.
** There's also a jumpmaster feature for those of you who love skydiving! Yup, seriously tracks all kinds of things around your flinging yourself from a plan.
Heat and altitude acclimatization
Golf Courses – yup actual images of the course and what's coming
Climbpro for all my rock climbers to get data and routes
Animated workouts on the watch face when loaded from Connect IQ
Is it a watch for road runners?
Definitely a question I received a lot while testing.
It's overkill.
I mean it's overkill for about 85% of all runners. But that doesn't mean I wasn't loving it.
You're going to get all the road running features you want, plus a boatload more and who knows maybe all of that will encourage you to cross train or just hit the trails.
The watch is large, which is probably my biggest drawback. But I did love that solar charging far more than anticipated. And the HR monitor felt WAY MORE accurate than other Garmins I've tested.
Where to Buy?
I'm going to recommend you checkout REI's return policy.
As one of my friends says, you can take your gear out get it muddy, roll around in a puddle and still return it. When I'm looking at a big expense, I like a try it out policy.
See Garmin Enduro at REI >> $800 – $900 depending on steel or titanium
See Garmin Enduro at Amazon >> $700 – $860, you're more likely to find sales here, but double check returns
Garmin Enduro Vs Garmin Fenix
How do these two top of the line Garmin watches match up?
Which one is going to best serve your running needs…
Let's take a look at where they differ so you can make a choice that works best for you. They share a TON of features including the same charging port and a bazillion sport modes.
Solar Charging
Only the Garmin Fenix Pro Solar has this feature, so for that particular feature you'll get it for about $100-$200 less than the Enduro. While you could find the Fenix for up to $300 less than an Enduro.
Beyond that let's compare the Enduro, Fenix and Fenix Pro Solar.
What the Enduro has that Fenix does not:
Titanium option for watch face
Nylon strap
Larger watch face and display with no S option for smaller wrists
Dramatically longer battery life across the board
Additional sport features for Ultrarunning, Expedition, Adventure Racing
Features on the Garmin Fenix that are not on the Enduro:
Topographic maps of the US
Music storage of up to 2,000 songs
S option for smaller wrist
Additional colors (like the infamous rose gold)
Garmin Around Me Mode to help navigate based on nearby things on the map
Yes the biggest issue some have found is that Enduro only has breadcrumb navigation. However, if you love the watch overall, you can utilize the dwMap App from Garmin Connect IQ.
Checkout more details of the Garmin Fenix Pro Solar >>
(I'm partial to the orange strap!)
Checkout more details of the original Garmin Fenix >>
(I have the s model in rose gold and do love the smaller fit.)
Hopefully this Garmin Enduro review from my last few months of running with it helped to answer some of your biggest questions!
Looking for more GPS Watch information?
Other ways to connect with Amanda
Instagram Daily Fun: RunToTheFinish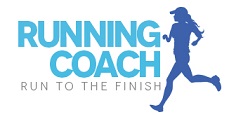 Facebook Community Chatter: RunToTheFinish
Sign Up to Receive a Weekly Newsletter with Top Running Tips and Laughs