Last Christmas I started debating what type of new GPS watch I wanted to get…not only was this debate internal, but I of course went to social media to get all of your thoughts and opinions. Really who makes decisions any other way??
My debate came down to a Suunto or a Garmin based on talking with a lot of Colorado runners, which of course meant I needed to thoroughly test a variety of watches to help me and you decide what's worth our dollars!
Honestly, there was a big part of me that really wanted the Garmin Fenix 5S in that beautiful white and rose/gold. I mean it's one of the prettiest GPS watches I've seen!! I just wasn't sure if I could justify sending so much on a watch, a very similar thought I had when getting my very first Garmin!!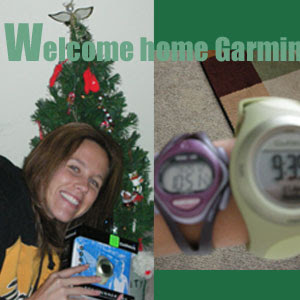 David spoiled me one Christmas with the first Garmin Forerunner and I loved it…ok I still have it (does it work, who knows, but it's like a race bib I just can't get rid of it). Don't judge me for my WAY BACK blog photo, this was how we did things…tiny and blurry.
\When Garmin offered to send me a couple of watches to test and fully review, I was very intrigued to finally test this watch out. I've said before that as much as I was ogling it, I wasn't sure I could justify the price.
Would I use all the features? What the heck are all the features?Let's start with fit because that has been a big issue for me with other running watches I've tested. It's also what's different between the Garmin 5 and the 5s.
The Fenix 5S is designed to for that smaller fit, and yet it packs a wallop. I think it's often consider the female version, but I'd just say it's for a smaller wrist and ok maybe the rose gold is feminine!
Is the Garmin Fenix worth it? Let's dive in to what can the Garmin Fenix 5 do and you can decide for yourself.
Smart Watch and Running Watch Combo
If you're looking for something to serve a lot of functions this watch is on board. It's going to send notifications from your phone, calendar reminders, and pretty much any other notification you've got turned on.
For me that's a pro and a con.
I often leave my phone in another room to stop looking at it while I work, but I do love that it allows me to turn off notifications during a workout so I'm not interrupted. For some reason, I really hate getting text messages during a run. I think because I feel compelled to answer.
Another feature they're mighty proud of is being able to turn privacy on for those notifications. Instead of immediately popping up the text on your watch face you can turn on this setting and it will require you to click a button to see the message.
Apps
But it doesn't stop there for the smart watch features. You can download a variety of apps to help you control your smart home, watch the weather, get live Strava segments, track your menstrual cycle so you can blame bad runs on that, Uber or just switch up how your screens look with an app.
Maps
First, a few of you asked me which watch is going to have the best GPS a for rural areas and this one is going to be on the top of the list. It includes advanced GPS and GLONASS satellite for better location tracking, which is part of what makes the maps feature possible.
One of the features I was most excited about was maps.
Since we're often doing new trails, I liked the idea that I could pre-load a map or I could use the navigation finder to help me get back to a trailhead. Hopefully, ensuring I do not end up like that lady who was airlifted in Hawaii for getting off trail and then totally lost.
Runsploring Tip:
Hold the light button, then select Point of Interest to save your starting location
Head out on your run
If you start to feel confused, during the run hold the menu button and scroll to navigation
You'll pick your point of interest, select Back to Start and you're on your way back to the hotel
Loading maps takes a little more effort, but worth it if that's your jam. Especially all of you asking me how I run in new cities all the time.
First download Garmin Basecamp
Import the GPX or TCX file you want to Basecamp
Connect your Garmin Fenix 5 to computer
Export route to watch
Find it by Main menu > Navigation > Courses
The Garmin Fenix 5X has a much more robust map system and that's the main difference, besides size, in the models.
Heart Rate Variability
This is data that I am super interested in because it's increasingly being used as a better judge of where we are in training. Finding that fine line of pushing just enough, but not too far. Unfortunately to be accurate you need to wear a chest strap and I'm just too lazy.
So I can't give you an accurate portrayal of this feature, but there's no reason it shouldn't work correctly based on the testing I've done of HR with this watch.
Music Sans Phone
Loading music is actually surprisingly easy and for those of you who have said you don't want to carry your phones any more, here you go.
Create a playlist in iTunes (or other program)
Connect your watch to your computer
Open Garmin Express
Select Music and then it will allow you to select your music, playlists or podcasts
Then send it to your watch and sync (Garmin express walks you through that)
Next on the watch go to Settings >> Sensors and Accessories >> Add New >> Headphones – tada no phone needed and wireless headphones connected
Ok all the fancy is fine, but what about HR tracking and customizing your screens for data. Good news the HR was spot on in my many runs and I realized that changing screens was easier than I thought.
Say like me you want to pay attention to HR and total time on your run.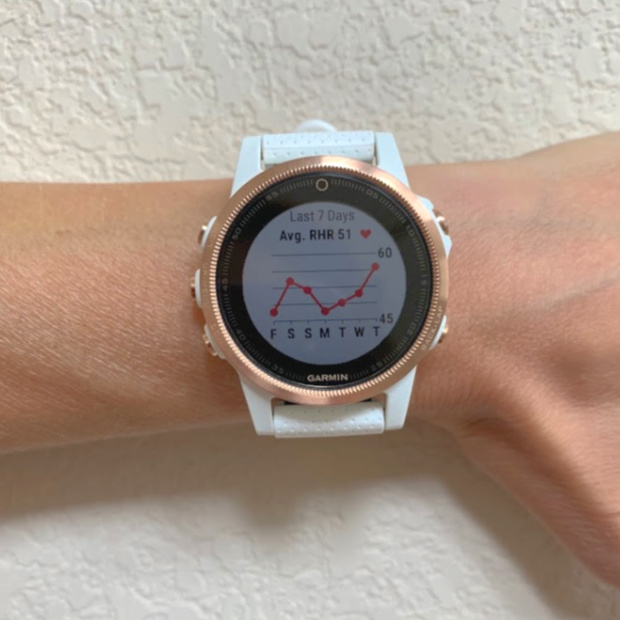 To customize the data fields and data screens of any activity before starting the activity:
hold the Menu button
scroll to Activities & Apps
pick the activity you want to customize
you'll get a pencil icon showing you can edit a screen or scroll down for the plus to add a new screen
you can add data fields or change the data in the current fields
Additionally, you can decide what activities you want listed when you go to start the watch. I've got running, hiking, trail running, and weights currently listed which means I can have different data screens on each of those, but I could also have aqua basket weaving if I wanted or swimming or mountain biking.
Easy to set up run intervals
Can be used for your swim workouts (waterproof)
Has a great battery life, says 60 hours, but I swear mine is more
Acts as a fitness tracker for steps, sleep, HR throughout the day
I couldn't ever get Find My Phone to work, which is bothersome having just lost my precious iPhone on a trail. With more research it seems this may only work with the Garmin Connect app is open, so not that helpful.
Additional Training Features
So beyond the standard features you need, there are some additions which could enhance your training in the Garmin Fenix 5!
Training status
Looking at the last 7 days of your training the Garmin takes in to account a number of factors to help tell you whether your peaking, improving your fitness, maintaining, in recovery mode or starting to hit the point of overtraining.
Cadence and stride length
I'm always harping on having faster turn over rather than longer strides, so here's your chance to watch and make small adjustments to hit the optimal 180 footfalls per minute.
Race Predictor
This is a super cool feature, but for me at least felt a little ambitious. If I could run a 3:31 marathon, I'd be signing up for one ASAP…that's however not accurate based on what I know of myself. It's based largely off of VO2Max and a table of correlated times.
VO2Max
I've actually done an entire post about this topic and whether or not it's valuable to your training, so I'll just say it's measured..ish via the watch. According to the makers, Firstbeat, it has only a 5% margin of error from laboratory testing.
But within this watch it's important because they use VO2Max to provide your race pace predictions.
Recovery Time
Takes in to account the intensity of your workout to provide you with an estimated number of hours before you should tackle an intense training sessions again. It looks at your overall training load as well as the specific workout, to help remind you not to break the too much, too fast rule.
Golf Swing
Should you enjoy golfing as well as running (did I mention David bought me clubs our very first Christmas) then you're in luck!
Swim Strokes
And of course, you know I've told you all the reasons that you should consider swimming as part of your consistent cross training, so this watch is on top of it!
What's the most important feature for you in a GPS watch?
Other ways to connect with Amanda
Instagram Daily Fun: RunToTheFinish
Facebook Community Chatter: RunToTheFinish
Sign Up to Receive a Weekly Newsletter with Top Running Tips