After years of raving about my love of the Polar Vantage V2, I was really curious to test out this new entry level running watch. This Polar Pacer Pro review will help breakdown the key features, along with the key differences to the Pacer and Vantage models.
The Polar Vantage V2 is a top of the line running watch with the best in wrist based heart rate and all the bells and whistles you could want on a running watch. But for a lot of runners, that's simply unnecessary when you start running so there's NO NEED to splurge for that top dollar watch.
In fact, I tend to advocate for the entry level watch. It's easy to use, you have truly more features than most runners use and it's cheaper! That being said, we'll cover any features you might be missing.

Then once you've been running awhile, it's extra exciting to level up.
After using the Polar Pacer Pro for a number of runs from the roads, to treadmill to trail, I've got a full review here.
Polar Pacer Pro Review
A number of years ago I tested out the Polar M and I'm finding this new watch is very similar, but with a few notable exceptions. The HR readings have been upgraded, easier to read screen and all the technology updates that have come along since then.
One thing that Polar does well is providing updates to even their base models, rather than saving them only for top end.
This watch is marketed truly to those focused entirely on running which is why they have the super basic Polar Pacer and this slightly upgraded Pacer Pro. However, it's an over great smartwatch fitness tracker that's going to provide more than enough for you to track other workouts.
See the full watch details on Polar >>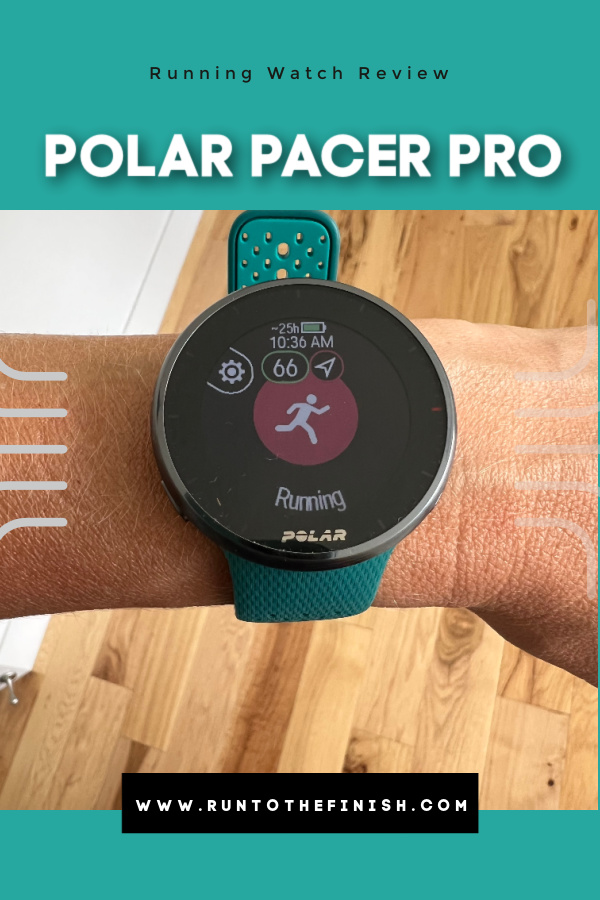 Smart Watch
Like most GPS running watches now it can display text notifications, calendar items, phone calls, etc. But I'm an even bigger fan of the weather screen, which shows me the temp for the next few hours and I can drill down for more details.
Music Controls for whatever is playing on your phone
Step tracking, 24/7 HR Tracking
Easy to customize watch faces per activity via the Polar Flow app
Holds up to 20 sport profiles (customized on the app)
Available in just a one size fits all strap, but you can swap out straps
Available in 5 colors
There is a lot of talk about the upgraded processing speed, but I suppose since I've been using the very fast V2, I never realized this was an issue.
With 5 buttons the watch is pretty simple to use. The largest red button is what you'll hit to indicate you're ready to do a workout. Then you'll select from the list of running, walking, swimming, etc to start your workout.
The other right side buttons are up and down.
The lower left button is pause
Battery Life
7 Days in smartwatch mode
35 hours with full GPS and HR tracking
100 hours in power save, which means less accuracy in HR and GPS
Super fast charging for those oops I forgot mornings
It's a different charger than the V2 and in a quick test I found that for about 10 minutes of charging, I would indeed get at least 10% battery life which is enough for most of us to get in a weekday run.
Wrist Based Heart Rate
The Pacer uses their newest heart rate technology which is amazing in an entry level watch. It also has a flatter surface than the V2, so this should help with readings. So far on my runs it's been accurate compared to similar runs with a chest strap.
They have additional sensors on both watches for greater reading accuracy
Utilize different colored light sensors to try and get even better readings
GPS Accuracy
Not only does this matter when we're on the trails, but running through cities with a lot of tall buildings. Polar actually provides you the option to connect to a variety of different satellite options, which will help with accuracy and be especially useful to switch if you are in the US vs Europe.
You can choose GPS + GLONASS, GPS + Galileo or GPS + QZSS.
It also has "Assisted GPS" to help you acquire a satellite faster…less time spent waving arms in the air. I can say I've always found it to pick up quickly.
NAVIGATION: Import a route and follow the line on your watch to avoid getting lost in new places or on trails.
Fuel
Have you ever been curious about what fuel you're predominately burning during a workout? With FuelWise it shows you what percentage of calories come from fat vs carbs. This is entirely a guesstimate based upon the intensity and duration of your workout.
Ideally in an easy run you want to see 50% or more coming from fat. That's how you build endurance.
FitSpark Workouts
I love that it not only reminds me that I should add in strength, core, mobility or a stretch, but if I select that option it will walk me through a workout on the watch!
Are they the most advanced or like watching a video, no.
But could they make sure you actually do something, yes.
Training Load
One common feature across all Polar watches is training load. While some users know this as a Garmin Status of Productive or Unproductive, it's all the same thing with different labels.
The idea is to help look at the total workload you've been doing, alongside your HR rate and recovery to help determine if your training is on track, cutting back or sending you in to overtraining.
You can read more about how to use training load here.
Sleep and Recovery
Like most smartwatches or fitness trackers, the Pacer Pro includes sleep tracking.
It's going to measure the quality of your sleep by looking at how much time you spend in deep sleep, wakefulness, and total duration. This data is all used to calculate your Nightly Recharge score.
A good way to stay on top of your recovery and can help you know when a rest day might be the best choice.
Polar Pacer vs Polar Pacer Pro
Both watches are designed for the new runner to give you the basic features you need, but the Pro version has just a tad more built in.
For the additional $100 to get the Pro, here's what has been added to the base model (besides some minor upgrades to look and feel):
Route Navigation
If you enjoy using that little on watch map to help find your way, it's only available on the Pro. It allows you to use "Back to Start" to get turn by turn directions back to where you started, which is really nice if you run in new cities like I do.
It also syncs with Koomt for you to create routes, load them to the watch for turn by turn navigation.
Barometer and Magnetometer
This allows the watch to display a power meter, which is a tool that some runners prefer to use over Heart Rate for measuring workout intensity.
Additionally, the barometer is used to determine change in elevation. This is a feature that I actually really appreciate as I am tracking vert or trying to get my training to match the hills of a race course.
Hill Splitter
If you like getting granular with your data to see things like hill splits, it's automatically built in to the Pro. It's going to tell you how big the hills were, how much you climbed and how much you descended.
Polar Vantage V2 vs Polar Pacer Pro
The Vantage V2 is the clear winner against the Polar Pacer, but once you get to the Pro it's a lot more nuanced. Then you start really looking at the quality of the watch and just a few features that might entice you to upgrade.
Understandably for $200 more you have to judge what's worth it to you. There aren't a ton of features included now on their high end watch that you won't find here. But these are a few:
The watch band and watch feel nicer to me
Altimeter easily showing elevation gains
Dusk and Dawn timing
Much longer battery life, I swear I can go weeks without charging
Touchscreen
Can use the V2 in pool, open water, and snorkeling up to 100 meters, the Pacer Pro only to 50 meters
With those being the major difference points, I have to wonder if there isn't a new Polar V2 in the works. One would hope they'd add something more to the high end watch to really make it sing in comparison. Then again if ya don't need more, it's perfect!
I will continue to happily run in my Polar Vantage V2.
See my full Polar Vantage V2 review >>
Where to Buy Polar Pacer Pro?
Personally, I'm always going to shop around a bit to find the best price. But with Polar I tend to find the prices are pretty similar across all sites.
I do know that they often run good Black Friday sales!
Looking for more reviews to find the best things for you run?
Checkout our full page of my must have running gear reviews and guides to save you time searching and money! I share what's worked for me and fellow runners, along with what wasn't worth the price tag.
A few common requests:
Other ways to connect with Amanda
Instagram Daily Fun: RunToTheFinish
Facebook Community Chatter: RunToTheFinish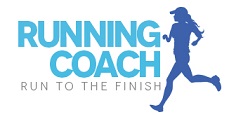 Sign Up to Receive a Weekly Newsletter with Top Running Tips and Laughs