Trying to keep your protein up? Then here are 22 incredible clean eating, healthy high protein desserts that will not only help you meet your protein goals but also satisfy that sweet tooth!
I'm sure whenever you think of desserts, the first thing that pops into your mind is that you'll gain weight from them, and they'll be high in carbs and fat.
Well, I'm here to bust that myth! With the right recipes and ingredients, you can have delicious tasting desserts without those extra calories!
So instead of fearing food, let's just find some treats that make us feel great!
These high-protein desserts are fantastic because they help to satisfy both appetite and sweet tooth! I'm always working to get enough protein, why not enjoy the ways that I'm eating it?!
Protein is going to slow down the spike of sugar.
Protein is going to make you feel fuller, which will slow you down.
Protein is fabulous for repairing all those muscles you work so hard while running and lifting.
Whether you want a plant-based dessert, high fat low carb, or something in between, I've got you covered!
Before we get started, it's no surprise that you'll find a number of desserts using whey protein powder, collagen or plant-based protein powder! It's one of the easiest ways to add in protein to baking.
Check out this post to make sure you're finding the right protein for your goals!
So, let's get started!
Plant Based High Protein Desserts
You could simply go for one of these 17 post workout smoothies to get a sweet treat that's power packed with healthy stuff…but sometimes you need to feel like you're indulging!
These healthy options are perfect for anyone looking to follow a plant based diet.
1. Healthy Chubby Hubby Protein bar
This recipe from Desserts with Benefits is the perfect grab-and-go snack! It's all-natural, low sugar, high in fiber, and definitely high protein!
If you love peanut butter, chocolate and pretzels, this might be your new go-to homemade snack that's not only healthy but also good for you!
And if you're looking to make them gluten-free and vegan, then just opt for pretzels that are gluten-free and vegan! It's as simple as that.
It's the perfect way to indulge in some peanut-butter-chocolate-pretzel combo but guilt-free, knowing with every bite that you're putting something good in your body.
2. Low Fat Vegan Pudding Pie
This recipe from Healthy Helper Kaila is everything you dreamed of in a chocolate pudding, but it's also healthy and full of protein!
It's creamy and absolutely delicious, but also low fat, vegan and gluten-free at the same time! The pie's crust is almost naturally sweetened, so you won't find any sugar here folks.
It's also a great option to have for holiday dinners when you want to have something healthy but also something that everyone will love and enjoy during a festive meal.
This recipe is close to my heart and one that I shared a while back and have had loads of people love!
This recipe includes the tastiest muffins you would have ever tried! And it's loaded with nutrients!! I've used chocolate protein powder to make it which just enhances the flavor even more.
The flaxseeds in this recipe add healthy Omega-3 fatty acids and thiamine, a B vitamin that plays a key role in energy metabolism, cell function and helps create blood cells. The Omega-3, on the other hand, is really important for heart health!
The fiber in the flaxseeds is great for digestion and it supports the growth of probiotics in the gut.
And, really, who doesn't love hazelnuts? They help reduce LDL (the bad cholesterol) and are a great source of Vitamin E which is great for brain boost.
I've also mentioned a delicious hazelnut spread that's a dairy-free replacement for another well-known one so you can enjoy this recipe dairy-free as well!
Imagine getting all those benefits while having these incredibly delicious Hazelnut Banana Protein Muffins!
4. No-Bake Cinnamon Vanilla Protein Bites
This recipe by Cotter Crunch is super easy to make and requires zero baking! With some gluten-free oats, you can make these easily! On top of it all, they're also vegan!
If you happen to have a nut allergy, the recipe also includes an alternative ingredient to substitute it.
You have got to try this one for your next high-protein, healthy, grab-and-go dessert!
Checkout these 21 Super Easy Energy Bites for even more ideas.
5. Protein Peppermint Patties
This recipe by Protein Cakery is keep you wanting more! And the best part is that each patty has only 37 calories!!
Made with unsweetened almond milk, protein powder, coconut oil, and alcohol-free peppermint extract, it has a beautifully light flavor that's just right.
Top it off with a quick and easy-to-make chocolate coating and you might just find the perfect night-time snack!
Who doesn't love hummus? I know I do!! But imagine having a creamy, pumpkin cranberry dessert hummus!
Finding new ways to indulge my sweet tooth has become a regular thing we do around the house, and that's when I came up with this delicious recipe.
This recipe is dairy-free, egg-free, and gluten-free! You can also make these low-sugar treats in advance.
And you know what's incredible about this dessert hummus? It's made from chickpeas but no one will ever be able to guess it!
Chickpeas are an incredible source of fiber, folate, and manganese and a good source of protein, iron, magnesium, and phosphorus.
They promote weight control, prevent constipating, and help control blood sugar levels.
Trust me, you won't ever regret trying this one!
HINT: You can also buy a pre-made version of this with the Hope chocolate hummus or Trader Joe's Chocolate hummus.
Paleo High-Protein Desserts
If you aren't focused on being totally plant-based, but you know the benefits of waving goodbye to dairy and you've felt better than ever saying hasta la vista to grains…doesn't that mean you're totally up a creek when it comes to dessert?!
That used to be the case, but no longer thanks to so many creative bloggers. Here are some of my top favorite paleo high-protein desserts recipes!
7. Double Almond Paleo Protein Cookies
This recipe by Hungry by Nature is made with only 9 ingredients, using 1 bowl, and will be ready in under 20 minutes!
What's incredible is that you still manage to get 7 grams of protein in each cookie!
Chewy, with the perfect blend of chocolate chips – seriously, what's not to like? The recipe is also gluten-free, thanks to the almond flour.
8. Ancient Cocoa Paleo Protein Bars
You can make this recipe by Protein Pow in under a whopping 5 minutes! And they taste really good, especially if you like dark chocolate!
What's great about these is that you can wrap them in foil, stick them in your bag, and hit the road.
The Goji berries in these protein bars are incredible for your immune system and help improve depression, anxiety, and sleeping issues.
They're also naturally anti-inflammatory and have anti-fungal and anti-bacterial compounds.
These little berries are considered a nutritional powerhouse since they contain the highest concentration of protein in any fruit and more than 15 times the amount of iron found in spinach.
Yep, count me in! I'm definitely sure you're going to love this recipe as much as I do!
9. Four Ingredient Flourless Protein Brownies
These flourless brownies by The Big Man's World are gooey and fudgy and might just become your new go-to post-workout snack!
Brownies don't usually equate with eating healthy, but that's definitely not the case with these brownies!
These are made with healthy and wholesome ingredients that are absolutely packed with protein! In fact, the entire recipe contains 68 grams of protein!!
They're also super low in carbs. If you've ever craved for some brownies but didn't think you could, well now you definitely can!
10. Frozen Caramel-Swirled Banana Bars
This recipe by Bakerita is incredibly easy to make with a blender or food processor. The bars always turn out super creamy and refreshing!
What's best is that this recipe is gluten-free as well! These bars are packed with nutrition benefits with a combination of delicious nut butter, protein powder, bananas, pecan, and finely chopped dates!
And the fact that you can freeze these to enjoy during those hot summer moments just makes it all even better. Highly recommend you try out this recipe!
11. Paleo Salted Caramel 'Cheesecake' Bars
This recipe by Paleo Grubs is absolutely delicious! I'm sure you've been craving some cheesecake but didn't know how to have it while on a paleo diet.
Well, this recipe helps you do just that and more! Plus, is actually easy and involves no baking whatsoever.
All you need is a blender or food processor and you're good to go! All the trick to having some delicious paleo cheesecake lies in soaked cashews.
If you're a cheesecake lover, then you've definitely found your paleo, high-protein dessert fix!
Edible cookie dough – what's not to love? This recipe is a high protein, low carb snack that's perfect to beat the mid-day slump!
You only need a handful of ingredients to make this healthy snack and it takes only 2 minutes to make! Doesn't get better than that, does it?
No cooking is required and it's super portable to take with you in a small container anywhere you go. And personally, I LOVE IT! One of my favorite go to desserts.
13. Healthy Low Carb Waffles
Waffles! We all love them, but not all of us can have them every day. But these healthy, low-carb versions by Foodie Fiasco can help you indulge every now and then!
This recipe is grain-free, gluten-free, low carb, and has only 121 calories for a full waffle! That's less than a third of the calories of a regular generic Belgium waffle.
You can use whichever sweetener you like in it as well, such as Stevia. Definitely suggest you give this one a go!
Single Serve High Protein Desserts
If you're anything like me having dessert around means everything is a single serving.
Of course that doesn't always work and there are only so many miles I can run, thus it's time to rely on the single serve dessert! One at a time ensures you don't over do it.
We all love a good pudding from time to time but you know me, keeping it low sugar is always a priority.
That's how I came up with this recipe after experimenting around a bit and making tweaks along the way from an idea of ultra runner Scott Jurek.
You definitely can't possibly have the whole thing in one sitting and even then, it still comes up to under 600 calories! Oh, did I mention they're also vegan?
What's best is that cacao is highly nutritious and amazing for you! It has 40 times the antioxidants of blueberries, is the highest plant-based source of iron, and is full of magnesium!
The silken tofu in this recipe is a great source of good quality protein, magnesium, zinc, copper and vitamin B1.
Ans we've all heard of the nutritional benefits of chia seeds. Not only are they loaded with Omega-3 fatty acids, but they also contain fiber and protein. Overall great for your skin and digestion.
Would definitely recommend giving this recipe a go as soon as possible!
15. Strawberry Protein Mug Cake
We've all heard of mug cakes, but it's so easy to fall into the habit of making unhealthy food decisions, especially if it's that quick to make.
But that's definitely not what you need to be concerned with this easy-to-make dessert by Food Faith Fitness is ready to eat in literally two minutes, but is also healthy and made of whole wheat!
Plus is packed with protein, and that's exactly what we're looking for.
You can also switch up the flavors super easily by just picking a different flavored protein powder to whip these up. Truly versatile and incredibly tasty.
16. Healthy Peanut Butter Protein Brownies
These microwavable Peanut Butter Protein Brownies by Carrots N Cake are to die for!
If you love peanut butter and brownies, this combination is exactly what you've been looking for. It's incredible how you can definitely have delicious desserts and they can still be healthy for you.
So give these protein brownies a go next time you're craving some brownies, and you can satisfy that sweet tooth guilt-free!
17. Single-Serve Blueberry Banana Bread
This single-serve Blueberry Banana bread by Bite of Wellness is perfect for a Sunday breakfast or a weekday dessert!
The blueberries add a new dimension to this classic bread. A single serving contained 20 grams of protein which makes it perfect for when you need that protein fix but feel like having something sweet instead of savory.
To top it off, it's gluten-free as well and only takes 30 minutes to make from start to finish!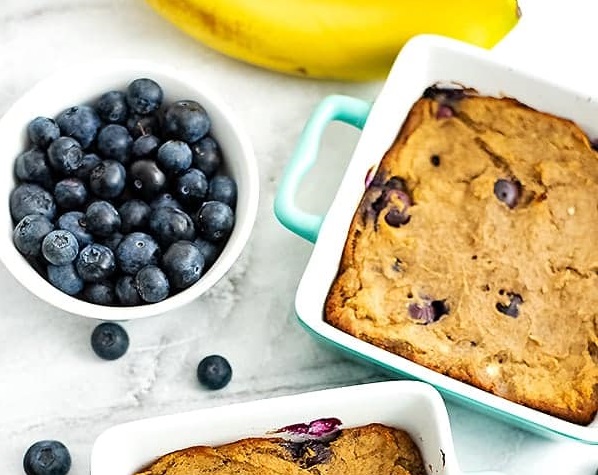 Other High Protein Desserts You'll Love
These may not fall in any of the above categories, but remain HEALTHY and delicious so they must not be missed.
As always, most can easily be modified to meet your dietary needs (i.e. swap out dairy yogurt for coconut).
18. Oatmeal Blueberry Yogurt Pancakes
This gluten-free, high-protein recipe by Ambitious Kitchen will make breakfast an absolute treat for you! (pictured at the top of the post)
They're super easy to make, take only 10 minutes from start to finish, and are really filling.
You can make these in advance and stock them in your freezer for days when you just don't have time to whip something up or just want to treat yourself a little bit.
You can also switch out the blueberries for some chocolate chips to have a chocolate-chip version!
19. Breakfast Protein Bars
This recipe by Wallflower Kitchen is packed with protein, fiber, and nutritional goodness! Not to mention, it's also naturally gluten-free and paleo-friendly!
These protein bars are perfect for eating on the go and make for an excellent breakfast when you don't really feel like having anything too heavy.
One batch of these will make breakfast for two people for a whole week! You can even half the recipe if you're making it for yourself or freeze the bars to have later.
It's a great little snack to have around you whenever you're craving something sweet but don't want to overindulge.
20. High Protein Frozen Yogurt
This recipe by The Healthy Foodie is the perfect fix for you if you're looking for a healthy alternative to ice cream. This frozen yogurt will definitely satisfy those cravings, plus is packed with protein!
With a beautiful creamy texture, it's not only easy to make, and but also absolutely delicious.
It's, really, everything a frozen yogurt should be and more. It's also a great option to have post-run or even as an after-dinner treat.
The Greek yogurt in this sweet treat helps boost metabolism, helps in building muscle mass, and reduces appetite and hunger!
I love how versatile this recipe is. You can make it your own by using your favorite frozen fruits instead of the recommended frozen mangoes and raspberries.
And the best part is that all you need is to chug the ingredients into a blender, and you'll have some delicious Froyo in no time.
21. Blueberry Cake Donuts
This incredible cake donuts recipe by Kinda Healthy Recipes contains 17 grams of protein per donut!
It might just be one of the best low carb, high protein donuts you'll ever find. And what's even better is that it's made with pantry staple ingredients!
With juicy blueberries in every bite, these cake donuts just melt in your mouth and have the tastiest sugar-free glaze ever!
Still not quite what you're looking for? Get hundreds of ideas on my Pinterest Healthy Desserts Board. And remember—clean eating and making changes extends throughout your entire day!
So kick things off with a healthy morning with these 97 high protein breakfast ideas!
Do you have a go to high protein dessert?
Do you even think about protein in your treats?
Other ways to connect with Amanda
Instagram: RunToTheFinish
Facebook: RunToTheFinish
Get more workout inspiration on Pinterest