The best running watch isn't always the most expensive one on the market. It's the one with the features that are truly going to help improve your training and fit your lifestyle and running needs.
For some runners that means focusing on the wrist based heart rate, for others it's elevation gain on the trails and reminders to fuel on long runs, while others just want it to fit into their day with notifications and then track distance.
Over the last decade of writing this blog, I have tested a WIDE variety of GPS running watches and my favorites have changed through the years.
If you're looking for the best running watch, this is the article for you. You'll find the best running watches for 2022 broken down by categories, as well as what you need to consider when buying a running watch.
Also learn what mistakes runners make when buying so that you can find the best running watch for you.
Best Running Watch for 2023
For 2023 here's where I would put my money if investing in a new running watch. I'm always testing the new models, so I'll update this as things change, but often I am all about getting last years model if it means saving $200!
The best running watches are the most versatile fitness wearables you can buy. This guide's GPS-enabled running wearables are more than simply smartwatches.
There should at the very least be an integrated heart rate sensor, as well as quick GPS and health and wellness capabilities, in a good running watch. Not to mention a smart algorithm that estimates all important running metrics accurately.
Garmin, Polar, Suunto, Coros, and other brands are competing for the title of best running watch.
I'll give you a break down by the major categories, but if you want to do more digging or compare watches, I've done that for you in a number of articles:
Best Running Watch for Beginners: Garmin 55
✅On Garmin.com ($199)
Garmin 55 on Amazon ($199)
Garmin 55 at REI ($199)
The biggest issue I find for new runners is sticker shock when they jump to the high-end watches and think that's what they need. Nope my friends, 90% of us are probably fine with what are now entry level watches.
They provide GPS, wrist based HR, multi-sport modes, usually pretty good battery life, features for intervals, and plenty more!
Garmin Forerunner 55 is where I would start. It's lightweight and features a hi-res, color display.
One of the watch's key features is GPS, which can be used to track your distance, intervals, and pace.
During a run, the easy button interface allows you to pause the timer or mark a lap even with sweaty hands. Even better, the watch has handy controls for your phone's music to make it convenient to listen to music as you run.
This watch also comes with a variety of wellness tracking functions for monitoring daily sleep, distance, calories burnt, and steps. You can also calibrate your treadmill runs to make sure the data is accurate.
You can also get smart notifications of incoming phone calls and texts right on your wrist while you're running.
The Forerunner 55's battery life is significantly better than that of its predecessor, the Forerunner 45, lasting nearly twice as long in both smartwatch and GPS modes.
It also incorporated a number of non-performance functions, like respiration rate and women's health tracking, water reminders, a breathing timer, etc. This is on top of the features already included on the Forerunner 45.
This watch is compatible with Garmin Coach adaptive training, which gives quality, personalized coaching on your wrist.
***If I was going to jump up a level, then you'll see the Garmin 265 below which I have really fallen in love with.
Best Overall Running Watch: Polar Vantage V2
✅ Polar Vantage V2 on Amazon ($435)
Polar Vantage V2 on Polar ($499)
If asked which watch I am in love with right now and would 100% recommend it's going to be this one!
Polar Vantage V and V2 have the most sophisticated wrist based HR on the market and I've found it to be insanely accurate over many months of testing (including an Ultramarathon).
I LOVE both so if one is way cheaper at some point, you won't be disappointed getting V instead of V2. It just has a few more upgrades.
Its build quality is better than the first generation of the Vantage V and is undoubtedly an improvement overall. It has a variety of useful tests and data for dedicated runners and cyclists looking to improve their form and prepare for competitions better.
Even better, most of the tests and data that the Vantage V2 gives you can't be found anywhere else. This makes it even more appealing to athletes who want more data delivered reliably.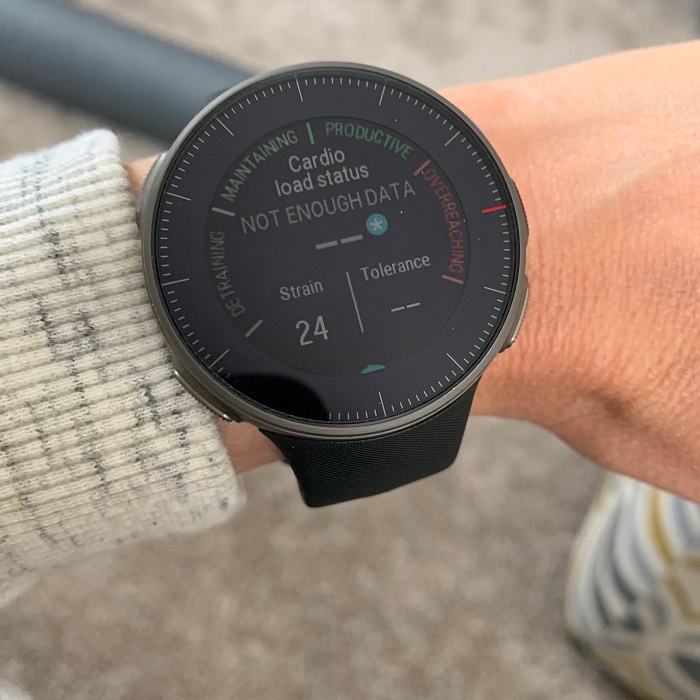 But both models are super easy when customizing screens, scrolling through data during the day, and setting up workouts. I like that it shows me the weather, and provides on-screen workouts to follow for mobility or strength
The battery life is incredible and when turning on GPS it will tell you just how many hours you can get out of it. No more wondering if it might make it through a long run.
It tracks elevation gain and descent, along with altitude – so it's great for trail running. You can load maps to it which is great for trails or new cities.
Like most high end GPS watches it also includes VO2 Max.
Note – the Polar Vantage M is cheaper. I don't like it! It doesn't have the same HR reading technology.
Best Running Watch for Women
Are there certain watches that are actually better for women?
In my view, only from the perspective that some watches are smaller and therefore more comfortable on a slimmer wrist. That could apply to some men as well.
As someone with a smaller wrist, here is my take:
Garmin's watches for a small wrist are listed with an S in the name. (Example is the Garmin 55s linked above.) The smaller fit is nice and I do trend towards those because I have had bruised wrist bones with larger models.
Tip if that happens to you. Put a scrunchie on your wrist in front of the watch for a little padding. It worked well for me during marathon training!
Garmin Connect app does also contain a period tracker and that data can be very useful in training around your menstural cycle
Coros Pace 3 is a very small and very lightweight watch. It also packs a punch for the price. Read my full Coros Pace 3 Review >>
Polar Vantage is a very light weight watch, so maybe bigger than some of the Garmin S models, but doesn't overwhelm me and the strap gives me plenty of room to tighten even further than I have.
FitBit
FitBit gets billed as best for women on many sites and while it is smaller, I think you're missing out on many of the best features of GPS watches.
And can I say it annoys me because it seems to be promoting it as best for women because it's a fitness tracker… you're a runner. You deserve a full on running watch.
Best GPS Watch for Small Wrists Garmin 265s
Previously my recommendation was the Garmin Fenix 7s and listen that is still a great watch (just read the review). BUT I am now personally wearing my 265 way more than the Fenix and that has a lot to do with AMOLED screen.
After testing this watch, I'm actually ready to start changing my recommendation for a lot of runners from the Forerunner 55 to the 265. This AMOLED display is insane and the watch features really are a step up from the entry level watch.
It's the watch I am asked most about when sharing photos and the one I'm using about 80% of the time right now. The other 20% is my Garmin Enduro on trail runs. Which means this has finally bumped my long standing Polar Vantage V2 from it's coveted daily spot. (We'll see if the HR remains super accurate when winter hits, but so far, right on.)
That being said, if all you need are the basics of HR, how far did I run and some pace data then don't spend the extra!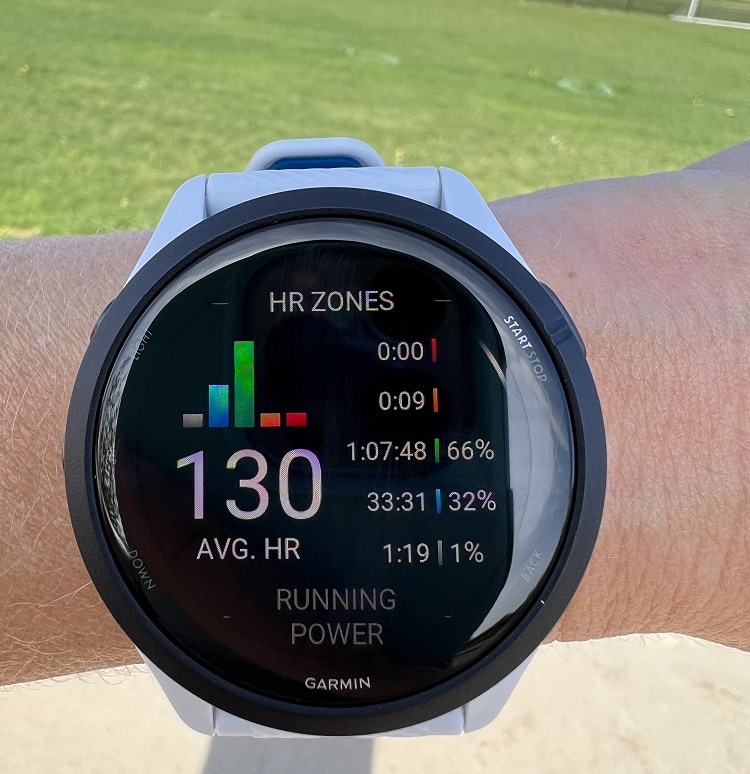 As expected this more mid-level watch is going to provide some things that the 55 doesn't. A lot more running stats, sports, etc.
Recovery time
HRV status (debatable how accurate HRV is)
Training readiness, training load and training effect
Elevation data, stride length, running power, running dynamics
More accurate track workouts, PacePro
Better cycling and swimming tracking
See all the specs of the Garmin 265 >>
Apple Watch
Yes, they are square and smaller.
The only Apple Watch for running that I recommend is the Apple Ultra. All of the older versions or daily versions have very inaccurate GPS and even in my testing of the Ultra, I wasn't impressed with HR readings during runs. I've heard from many of you that you know it's off as well.
BUT if you do run through the city, this watch is going to give you some exceptional accuracy.
Best Inexpensive Running Watches
When looking for the cheapest running watch, I'm always thinking about what features do you need and what would be a waste to buy a cheap watch and find out it doesn't really do much.
Option 1: Apps

Use the free running apps on your phone.
You can track distance and pace just fine!
You can even pair a chest strap with many of the phone apps so that you'll have HR data too.
If you aren't interested in GPS tracking and you just want to be able to know when you start and stop, congrats this is the watch for you.
This is exactly how I trained from 2002-2007 when I got my first Garmin! Guess what I did half marathons and was half way through my first marathon training cycle.
It's absolutely possible to utilize this very basic watch and get in great training.
Option 3: Running Watches Under $200
👉 Garmin Forerunner 55
👉 Coros Pace 2
The Garmin Forerunner 55 is back again! As noted it's what I recommend for beginners because it's on the budget friendly side, but with all of the features you need.
Another great option is the the Coros Pace 2. It goes head-to-head with Garmin's Forerunner 55, but includes certain more 'high-end' features that some runners might prefer. The Coros Pace 3 is a MUCH BETTER watch than the 2, but technically $229.
The watch weighs only 29g and is barely noticeable on the wrist, but it still packs a punch and has a lot of features that are usually only found in more expensive running watches.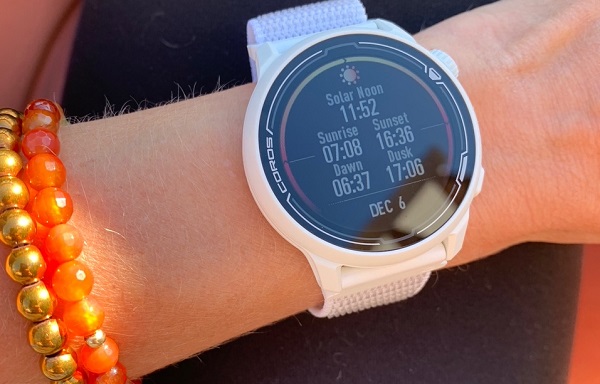 Long battery life is, by far, the most notable feature! It has a battery life of up to 15 days in smartwatch mode and 30 hours in GPS mode, making it a great option for long-distance runners on a budget.
Additionally, it provides running power data and support for Stryd power meters, a feature that is rare at this price point.
Coros Pace 2 can display smartphone notifications, but it lacks mobile payments, music storage, and the option to integrate third-party apps, which are all available on higher-end devices.
It comes with a "AI trainer" to assist you in managing your training load before races and events. This running watch's location capabilities are also top-notch thanks to GPS supplemented by GLONASS and Beidou positioning.
In the event it does lose track of your location momentarily, for example while you're running through a tunnel, the watch will continue to monitor your progress by calculating your cadence and stride length automatically.
My main drawback to Coros is the inaccuracy of the wrist based HR.
Option 4: Fitness Trackers

Go for a smartwatch like a FitBit charge or an older Apple watch. While I have seen data that makes me wonder about the accuracy of the GPS, if you don't need perfect, go for it.
These won't have the same GPS tracking quality as the above running watches
Optical heart-rate sensors in Apple tend to be very good now, but are iffy with running in the FitBit
BUT these are going to give you LOTS of bells and whistles for less money. Like still including sport modes and a long battery life.
And for a little throwback, oh yes this was my joy at getting my first ever Garmin…so many, many…many miles ago.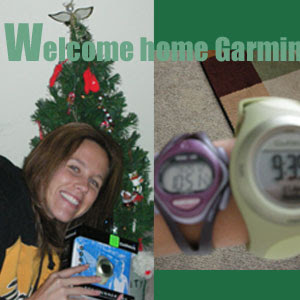 This is how you know I've been blogging too long…Christmas 2004. Fuzzy small photos, random graphics…I had it all.
Best Running Watch for Trail Running
Many of my trail running friends LOVE Suunto and Coros watches. I can absolutely see why from the data provided. Unfortunately, I struggled with both models due to inaccurate HR data.
I even had my husband try wearing the watches during different activities and he got frustrated watching it hit 180 as we would be hiking downhill.
With that said, obviously the solution is to wear a chest strap or not be concerned with HR data!
One of the key features for trail runners is usually how long does a GPS watch last.
A solar GPS watch so that I rarely have to remember to charge it?? Count me in! But there's a lot more to the Garmin Enduro, which I think makes it a great trail running watch.
This is a beefy watch and it does swallow my wrist, but I love it. You've all seen me wearing it for a few years now on my weekly trail runs because it's just so freaking accurate and I love seeing the grade/elevation changes.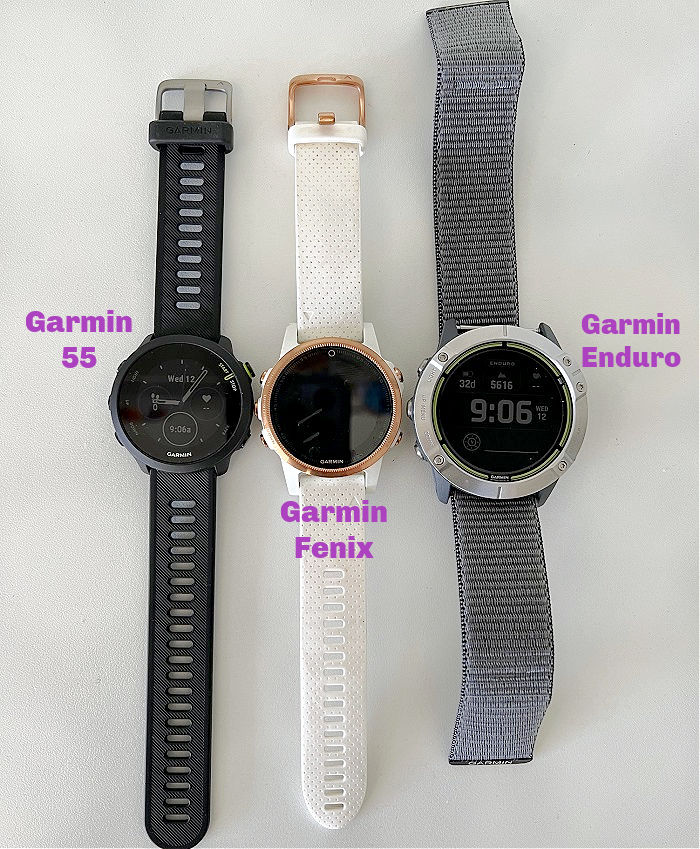 All the Garmin features you expect with a variety of workouts, run data, custom screens, etc.
Solar charging means that you get extra on all the battery life settings, like up to 300 hours of GPS!
Altimeter – more accuracy on elevation gain and loss
Compass and Gyroscope – increases accuracy of tracking and mapping
Accelerometer – helps know if you are moving forward or just moving your arm
Barrometer – to help monitor weather
Pulse Ox – measuring oxygen levels as you start running at altitude can be really useful
Read the full Garmin Enduro Review >>
This running watch from Coros has some serious battery life, features like blood oxygen monitoring and so much more that's going to appeal to those spending many miles on the trails.
Like I said it's a bigger watch on the wrist and you have to get used to the dial to access data, but that was also a LOVED feature by many. It's also the most cost effective.
The Coros Apex also has navigation and tracking functions that enable you upload maps into a grid with compass settings.
This is useful if you're going to attempt a new running route or take the watch into the woods for hikes and trail runs.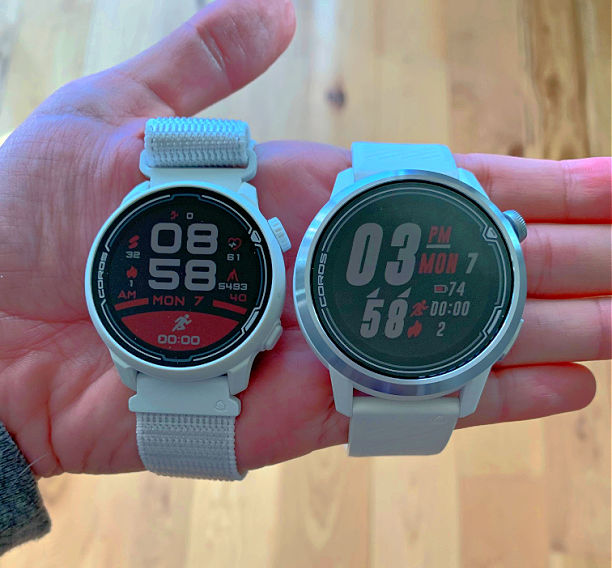 It will be no surprise to find another Polar watch that I'm a fan of. Stellar battery life, military grade durability (and look), same great HR as the Vantage, sleep tracking and other smart features.
The main difference from the Fenix is the quality on the on screen maps for navigation, it's just not as good. But if you're looking for a slightly more affordable alternative to the Garmin Fenix 7, this could be the best running watch for you.
I've found that there are definitely personal preferences to watches, just like shoes. But there are also some things that universally make for a better watch these days.
I've found that there are definitely personal preferences to watches, just like shoes.
But there are also some things that universally make for a better watch these days.
How to Choose the Best Running Watch for You
There are a few important things to think about when choosing the best running watch that fits you. Let's look at what each of these are in more detail:
Current Goals
One of the first things to consider when choosing a running watch is your current goal.
Every runner may benefit from a GPS watch, but your demands will be different if you're running your first 5K vs aiming for a new PR in your next marathon.
A watch that can help you create a straightforward training schedule and add variation to your runs is helpful for beginning runners.
You should think about how much you run each week and how serious you are about keeping track of your progress.
Beginner runners may simply need basic features such as GPS and heart rate monitoring. But if you're preparing for a triathlon or an ultramarathon, other features like stride length or water resistance may be more important to you.
Even if you're not following to a specific training plan, watches like the Garmin Forerunner 55 offer workout recommendations to prevent you from becoming bored with the same routine.
In order to get the most out of your training, it also recommends how long you should rest and recover after each exercise.
The Polar Grit X, on the other hand, monitors your fueling strategy for long distance races and training sessions, alerting you when it's time to consume have extra carbs and water.
Features and Functions
With your goals in mind, figure out what you want in a running watch while keeping your budget in mind to narrow down your options.
GPS watches with altimeters, barometers, and gyroscopes are designed for hikers and trail runners who want to track altitude and air pressure while exploring new trails. But they cost a bit more, so you should think about where you'll do most of your training.
If you'll be running on roads, look for watches with built-in visual maps to help you navigate unfamiliar neighborhoods or those that track your detailed running metrics and create custom workouts for you.
Also consider what type of cross-training you'll be doing along with running. Some premium options have more than 80 athletic modes, including surfing, snowboarding, cycling, and badminton.
Although you can use a smartwatch to keep track of your runs, a running watch that is specifically designed for the purpose and has physical buttons is always going to be the better option.
This enables you to use the watch without looking at the screen, as well as to access its menus and pause and resume workouts with even with sweaty hands.
Battery Life
Another important thing to consider is battery life of the device.
When you want to start your run by hitting the start button on your running watch, the last thing you want to see is a low battery sign.
The average battery life of a running watch is five days, but certain watches including some Garmin watches are designed to last a lot longer. For example, Garmin Enduro features a battery that can last up to 50 days!
It's important to keep in mind that the amount of time your battery lasts is directly proportional to how often you use your running watch and which features you use the most.
If you are a regular long-distance runner or if you wish to receive frequent GPS tracking and data such as VO2 max levels, the battery will drain faster.
Other Lifestyle Features
Once you've narrowed down your options even further, consider certain lifestyle and habits related features you might like. For some runners, Music and contactless payments can come in handy.
It allows you to keep yourself busy with music or a podcast throughout your run and then be able stop to buy a bottle of water or a quick snack if you're not carrying your credit card.
These features also make your running watch more wearable for daily activities, saving you money on a second smartwatch for when you're done training.
Top GPS Running Watch Mistakes
Not only do I LOVE talking running gear with you, but you often ask me what you really need.
Looking at the list above, it's REALLY easy to get super excited about the high end running watches. But do you actually need all of those features?
Sometimes you may end up disliking a watch because it's more than you need and you can't easily get to what you want. Or you simply spent way too much which means less money for new running shoes.
1 ) Buying More Than You Need
Looking at my plethora of watches, I'm the first to admit I get very excited by all the gizmos, gadgets, wickety, wackets that come out each year. And then just as quickly go back to using the features that really matter to me.
VO2Max:
This is one of the features appearing on a lot of watches now. I've written a whole article to help you use that feature, but most of us aren't.
Additional sports Metrics:
The Garmin Fenix 5 is one of the more advanced watches and includes features like tracking our Ski/Snowboarding adventures for speed, distance, vertical drop and an automatic run counter. Meanwhile in golf mode it gives you yardage to the front, back and middle of the green for any single course you've downloaded.
Barometric Altimiter:
Do you spend a lot of time on the trails, hiking, running, biking? Is it possible you'll get lost and need to know your exact location?
Then the Suunto Sport might be worth the extra coins to get a more specific marking that GPS altitude. It's also going to tell you the air pressure, provide storm warnings and temperature readings. And it allows you to navigate to a specific point of interest, no worries about your phone WiFi.
Sleep, food, life tracking:
These puppies can do it all now. And while I'm enjoying the daily step counts, do I want to sleep in my watch? Do you need to have your phone interrupt even more of your life my lighting up your wrist? Debatable.
All great…but possibly overkill for a lot of us.
I mean, I know if I slept well or didn't.
Don't overspend on your next #running watch, use these tips to make the most of it! #runchat
Click To Tweet
2) Ignoring the HR Function
Heart rate training can provide so much information to enhance your running. But first let me say, you gotta ditch the models that require the chest strap. I've had enough scrapping and dipping and dropping of those things to last a lifetime.
A new world of training opened up with the advancement of HR through the wrist strap.
Now, I'm using the new Polar Vantage V daily because it has the most sophisticated HR in wrist tech right now.
I get a lot of questions about wrist based accuracy: I've had a great luck with it, in certain watches. That's the key, some just aren't as good.
There are definitely issues in extreme cold because your blood flow changes and skin temp can make readings harder. I had spiking issue with all the chest straps, but not those specific wrist readers.
Why use HR?
Allows you to measure intensity
Allows you to measure fitness progress – overtime you should have a lower heart rate for the same pace
Allows you to see when you're overtraining (HR Is running higher than normal or you can't get your HR up)
Allows you to do things like a Low Heart Rate training plan to build a better cardio base
3) Signal Impatience
We've all wigged out over finishing a race to see our watch show an entirely different distance than the one we signed up for, which we can often blame on tall buildings, running under bridges or other signal interrupters that most watches will be prone to.
Some watches are known to have better GPS signals and tracking:
Polar is now using FOUR satellite systems which should make them very accurate
Garmin is the most well know for their variety of GPS products
Suunto has more tools built in like the altimeter to improve accuracy
All of these watches are likely more accurate than your smartphone due to their technology
While you're standing impatiently hoping from foot to foot with your arm in the air, your watch is trying to latch on to at least 3 of the 24 satellites orbiting Earth.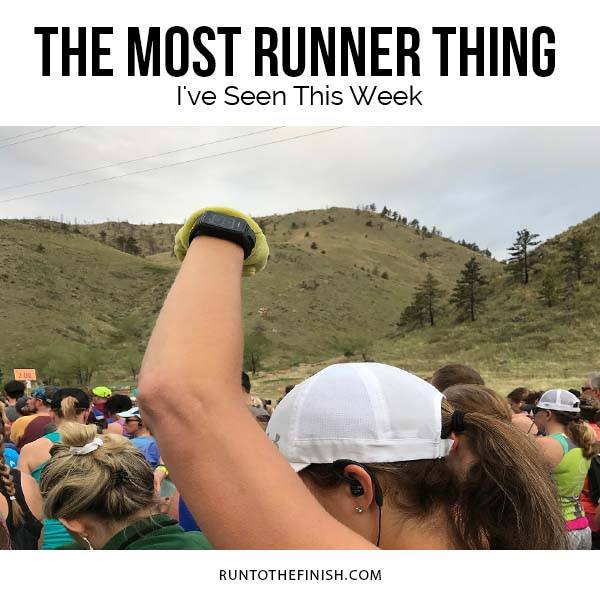 You can help improve the accuracy by:
Ensuring you've updated your watch software
Giving the watch a full minute to completely connect, the more it connects to the stronger your signal as you pass under things. Feel free to turn it on inside next to a window.
Save locations to speed up GPS locating (if your watch allows it)
Look for a watch with GLONASS for improved accuracy, but possibly shorter battery life
Upload your data – many of the online tools will actually "clean up" the watch data for improved accuracy.
4) Switching Apps
Each watch comes with their own App to upload your data (and manage the watch), which is great unless you've been using something else previously or tend to be a watch hopper like me.
While it sounds minor, trust me after years of running you'll wish you had all of your information in one place. It's extremely helpful to see your year over year data or to compare training cycles when trying to see what has worked previously or trends in injuries.
Having mine in one place allowed me to put my return to running post surgery in perspective and see what's possible!
Not sure which app to work with?
Checkout these free running apps >>
5) Pacing
While our watches provide a wealth of data and can ensure we aren't going out guns blazing on a 20 mile run, they can also take away from your ability to learn pacing. It disconnects you from understanding what hard, easy and medium efforts feel like.
And for a lot of runners, eh hem like my husband, it causes you to push too hard wanting every run to be better than the last. Remember it's a tool and a guide, but don't let it run you.
Read this on learning to pace yourself and remember to not be stuck looking at it all the time.
BONUS: The forgotten charge
Make a habit of keeping your watch charger in the same spot as your phone, you'll be more likely to plug it in and ensure it's ready for your next sweat session. Because nothing stops a good run in it's tracks like realizing you're without a means to measure it!
Of course you could run sans watch, but when every run has a goal that can be easier said than done.
Looking for more reviews to find the best things for you run?
Checkout our full page of my must have running gear reviews and guides to save you time searching and money! I share what's worked for me and fellow runners, along with what wasn't worth the price tag.
A few common requests:
Other ways to connect with Amanda
Instagram Daily Fun: RunToTheFinish
Facebook Community Chatter: RunToTheFinish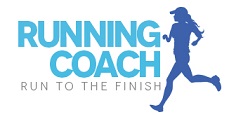 Sign Up to Receive a Weekly Newsletter with Top Running Tips and Laughs