One of the things that makes people laugh is my confession of running around with an empty hydration pack largely because it provides an easy place to hold my phone. But I've now compiled a stockpile of leggings with pockets for phone that I feel good using and recommending!
One of the things I love most is new running gear…I mean it gives me an excuse to go run the second that I open it and of course in this job I have the honor of testing out a lot of things.
When it came to this list, I had some key requirements of my own and from talking with you:
Pants don't fall down once phone is in pocket
Also not so tight they give me horrible muffin top just to keep the phone in place
Still stylish and fit well
If you're more focused on running shorts with phone pockets <<< go here.
**Gentlemen** I did a post just for you with with best men's running pants! You'll find pocket options there.
Why You Need Pockets in Your Running Tights?
The longer you run, the more you realize you need to carry things with you! Most notably is often your phone, but we also want pockets for our energy gels, or even to stash a hydration flask.
Did you know that carrying your phone in your hand while running could be changing your running form? That's right.
Carrying something whether a phone or handheld water bottle, flips our hand to the side so your thumb is now pointed towards your body. As a result you end up crossing your arms over the center line of your body while running.
It's slowing you down and causing pain in your hips by twisting your body.
Now that being said, we absolutely want to carry our phone! It's got apps to track how far did I run, it's got safety features and of course all our favorite running podcasts.
I've covered a ton of options for how to carry a phone while running, but today we're going to focus on leggings.
What to Look For in Running Leggings?
When testing there are a few key areas we want to make sure that your running tights hit.
Stay Put: Sounds simple, but I can't tell you the number of things I've tried in the last decade that slide farther and farther down my hips while I run. Add pockets and it's often worse.
Wicking: Pulling moisture away from the body is key to keeping you feeling cool and preventing chafing while running.
Length: As a tall person, can I just say the new 7/8th length is a lifesaver because that's how many running leggings look to start with! You'll need to decide what you most want based on the runs you're doing.
During the summer a capri or even a longer short like a 10 inch might help avoid chafing concerns, while keeping you from overheating.
Style: I know it seems less important, but why? Don't you want to put on things that make you feel good before you even start? Its an extra motivator.
9 Best Running Leggings with Pockets for Phone
Here I've had luck finding a few more options and a lot of what I'll be sharing are capri's, for some reason I've found a lot more of them that work well than full length leggings.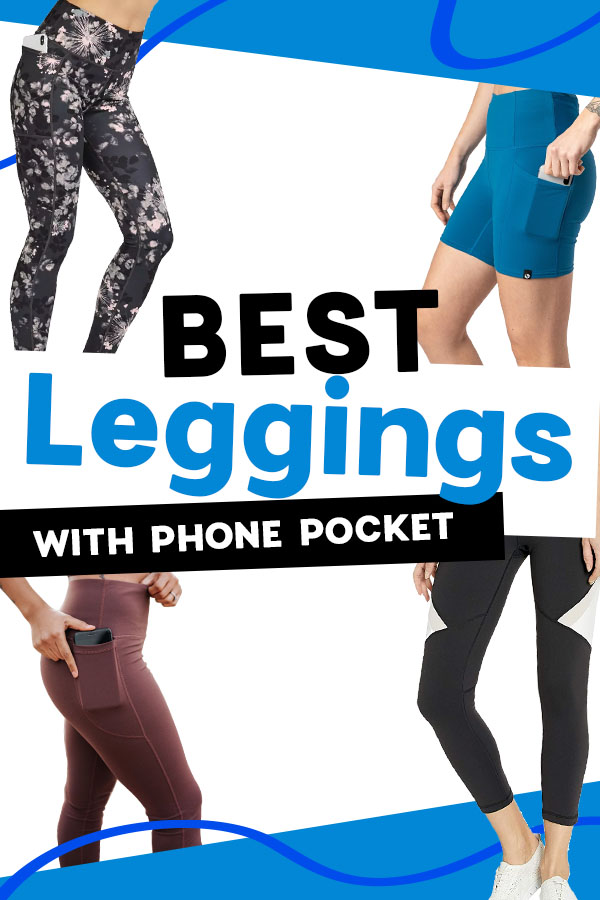 Best Overall Running Legging with Phone Pockets
The Align has long been a favorite among Lululemon wearers and now with the added pocket it's getting even more attention. BUT they're designed for yoga, so take that in to account when you hear people raving about them.
Available in a full length legging, crop, capri and short
Wide variety of colors
Ankle is a raw hem, which leads to less constricting or chafing
High Rise
Back pocket is big enough for phone, as are side pockets
This one seems to be marked down and maybe going away, so that's why it's an alternative!
High rise to help them stay up
Side pocket for phone and large back pocket may also fit phone
Lots of patterns and colors available
Best Winter Running Tights with Phone Pocket
YESSSSS finally a great winter tight with a pocket along the low back for your phone.
I've worn On Running gear for years and I'm super impressed with the quality. These are pieces that will last you for many, many, many runs.
Available in men's and women's
Good for winter running
The ankle design actually makes them easier to pull on my big calves
Back pocket for phone is large enough and zippered, it really does stay up
Increasingly made from recycled materials, which is an extra cool bonus
Warmest Winter Running Tight with Phone Pocket
I was chatting with a friend who mentioned Janji the other day and I was like, yes they are great, why don't I think of them more?!
Great side phone pocket on both sides
Lightly brushed, so warm but not the super super warm tights
Mid-rise
donates 2% of all proceeds to clean drinking water
Reflective piping along the leg
Budget Friendly Capri with Pockets
One more capri, before I give you some full length options! Once again these are a high waisted option, so I ran in them a number of times, but felt a bit like they were cutting me in half.
I've always found my NB gear to hold up really well and be something I can use for years, so that's recommendation number one.
Being black, many of you will love them just for that reason, ha! And finally, yup they stay up with that phone in the pocket, you never feel it bouncing around.
Best Fitting Leggings with Phone Pocket
Listen I have such a short torso that I don't generally love anything high waisted. Which is why I like finding something that's a bit more mid-rise! But I will absolutely say that I love my full length Sweaty Betty tights, they look incredible thanks to their "bum sculpting"
They don't fall down and are just comfortable for the run.
Also available in full length
Absolutely found that they stayed put with the phone in the side
Bum sculpting is another of their big benefits
Great variety of colors
Cheapest Running Pants with Pockets
I haven't had a chance to test these, but I have tried a lot of their gear in the past and honestly love the current styles with the CHEAP prices.
Definitely make sure you look at the size chart, especially if you have small hips like me, to make sure they fit well and stay put while running. For the price Fabletics really does a good job providing a wide variety of styles to find what works best for you.
Click here to get 50% off your membership!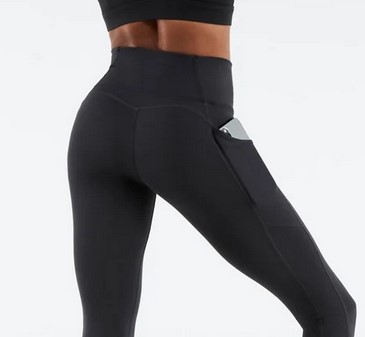 I have so many friends who LOVE these.
For me without hips, I couldn't get them to stay up, so it wasn't a go for me. I am wondering if I needed to size down, but then they start getting tight around the midsection and that's also just not a favorite for me.
But again, lots of friends like them and they meet the criteria for leggings with pocket that are cheap!
I've had folks ask me about the Old Navy leggings because they are very cost effective, but again I haven't found that for the they fit well enough and stay up.
I caution you here though because without the right amount of elasticity, you're going to find these quickly sliding down and that's not a good look for anyone.
Best Plus Size Running Pants with Pockets
Thanks to one of our Run To the Finish athletes for this recommendation! Samantha let me know that R Sport Life has some seriously great gear for plus size runners, including ones with pockets.
This one comes in a bunch of cool patterns as well as black.
I like that you have the front thigh pocket for the phone, but also still a back pocket for things like keys or in my spring running allergies case, some kleenex!
Additionally, I am a big fan of Athleta for offering a great variety of sizes. These tights are so freaking cute, I'm now on my way to buy a pair in fun new colors. But I digress.
Available in shorts, tights and capris
Tights only go up to XL, but capri's and shorts go up to 3XL
Super soft
Back pocket and two side pockets that will fit phone
I'll continue to update the list of legging with pocket for phone with other ideas or as I test new gear!
Looking for more running gear reviews?
Other ways to connect with Amanda
Instagram Daily Fun: RunToTheFinish
Facebook Community Chatter: RunToTheFinish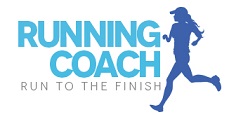 Sign Up to Receive a Weekly Newsletter with Top Running Tips and Laughs