One of the things that makes people laugh is my confession of running around with an empty hydration pack largely because it provides an easy place to hold my phone. But I've now compiled a stockpile of running shorts with pockets for phone that I feel good using and recommending!
One of the things I love most is new running gear. I mean it gives me an excuse to go run the second that I open it and of course in this job I have the honor of testing out a lot of things.
When it came to this list, I had some key requirements of my own and from talking with you about a good pair of shorts:
Shorts that don't fall down once phone is in pocket
Shorts that don't ride up
Also not so tight they give me horrible muffin top just to keep the phone in place
Still stylish and comfort in the fit (not overly tight or moving around)
Great range of motion
Breathability so they feel good as we heat up
Why You Want Running Shorts with a Phone Pocket?
Did you know that carrying your phone in your hand while running could be changing your running form? That's right.
Carrying something whether a phone or handheld water bottle, flips our hand to the side so your thumb is now pointed towards your body. As a result you end up crossing your arms over the center line of your body while running.
It's slowing you down and causing pain in your hips by twisting your body.
Now that being said, we absolutely want to carry our phone! It's got apps to track how far did I run, it's got safety features and of course all our favorite running podcasts.
I've covered a ton of options for how to carry a phone while running, but today we're going to focus on shorts.
8 Best Running Shorts with Phone Pocket
Over that last few years the number of options has increased significantly! I'm thrilled by this turn of events and have tested out a wide variety of running shorts to see which ones actually do what they promise.
All testing was done with a iPhone Pro, but not an iPhone Max. In mast cases the slightly larger phone should fit when it's a side pocket. However, the iPhone Max may not fit in the waist level pockets.
Additionally, all of the running shorts are designed to be moisture-wicking, so that isn't listed it's assumed.
Because our focus is on storage and pockets, you aren't going to see split shorts or things with a brief liner like Nike because they don't have enough structure to hold up the weight of a phone.
If you're not someone who loves shorts, but needs pockets checkout the BEST RUNNING LEGGINGS with phone pocket!
**Gentlemen** I did a post just for you with with best men's running pants! You'll find pocket options there.
All shorts are linked below. I was not paid for any of these reviews, but may receive some pennies if you order through and affiliate link.
Maybe it's not just that I like the longer for less chafing, it's that these are the only ones with enough material not to fall down once you put in a heavy phone! Since creating this list, these have actually moved in to my top spot.
They stay up well, have a good pocket and the length works well to avoid chaffing. I am not made about how well the fit and I've had so many say they swear by these! A few folks on IG told me they liked that it kept their skin from moving around or jiggling after they lost weight or it just made them feel better about the movement. And heck yes, I'm all for whatever gives us more confidence.
I LOVE these so far. Great fit!
Bum scuplting means they give you a shape
Side pocket for  phone
Additional zippered back pocket
Also a 9 inch version and plenty of colors, patterns
I've always found these to run very true to size
Polyamide and Elastane
One of the things I've found with Sweaty Betty is they focus on the fit and how it's going to look. They wan you to feel like your bum is lifted and your tummy is tucked. Everything is all held together!
So if you're looking for a little extra sculpting, you've got it here!
Plus they are high quality and will last a long time.
*Next time  I need to buy them in red! Red has been shown to potentially help us run faster!!
I LOVE THESE SHORTS! Just don't get the light blue if you want to avoid the peed your pants look…I wasn't stoked about.
These have a pocket on both sides that's really easy to place your phone in and not have it move around, but remain easy to pull out. It's something I found useful when testing out running leggings with phone pockets, but didn't find as much in shorts.
The compression fit is going to make sure these don't move around, while still looking stylish and super soft. They also have a light bit of rubber around the thigh to help prevent them from riding up.
Sizes XXS to 3X
5 Inch length, other options available
4 current colors (often changes with seasons)
Polyester and Lycra
If you like a back pocket then checkout the Ultimate Stash 7 inch!
👉Best Thicker (and softer) Running Shorts For Women with Pocket- Oiselle Pocket Jogger Shorts – ($66)
This is actually what I've worn for my last 4 or 5 races! I'm a shorts girl and love that I can put my phone in one leg pocket and a flask with some pre-workout or fuel in the other side.
These shorts also have a 4.75 inch inseam, which is something I prefer with my long legs. It means they don't ride up and I don't feel like my bum is going to fall out, ha!
The material is thicker, which doesn't bother me, but does mean it's WET when I finish my sweat session. These are a non-stop recommendation among many women I run with, so they have a stamp of approval.
Hot Weather Runners: I wore these for the first time in a very hot, wet marathon and they seemed to get a bit longer. Ha. Never an issue I had previously, but good to know based on your weather.
Ideal for: Half marathon and shorter to hold phone, gels, etc. Cooler weather runs.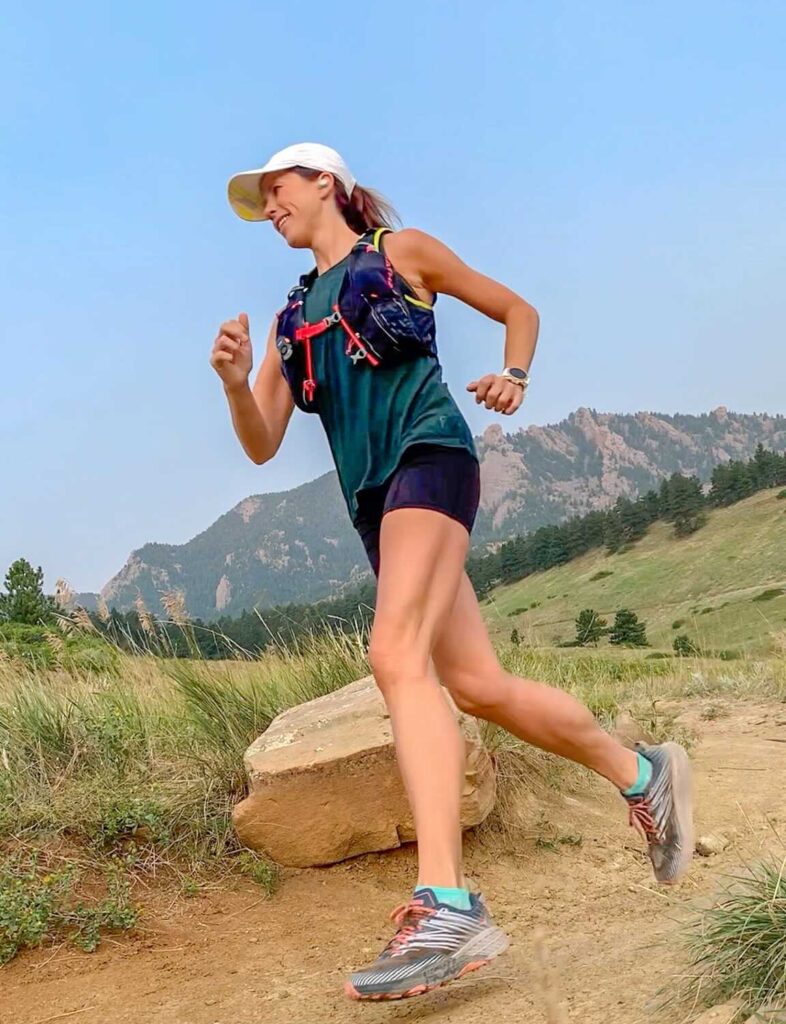 Slightly thicker material
Zippered rear pocket
Two side pockets both fit phone
Limited colors
Nylon/Spandex blend
Now I admit  I have not tested these yet, but based on my experience with the jogger and some other styles below this is on my MUST list. Instead of holding the phone on the side of your leg, you can actually put it in the waist band.
It's a bit like having a FlipBelt on, except it's part of your shorts so no worries that it will wind up riding up! These are also the 4.75 inch inseam, which again I'm an extra fan of on race day when I don't want anyhing to chafe.
Coming in as a surprise winner is Tracksmith! Not because I didn't think the brand was great, but looking at the shorts I thought NO WAY is a phone going in any of those pockets.
Wrong. The back pocket comfortably fit my iPhone and I had no issues with the shorts feeling like they were pulling down on a 6 mile run.
Listed as 5 inc inseam, mine were actual 4.3 (some of you will love that!)
Rubber banding around legs to help prevent them from sliding up
Super soft and very breathable
Additional small side pockets are a great fit for gels
See it looks tiny, but I got that phone in and ran away! This is not an option where you'll be quickly pulling your phone out for a photo.
Tired of carrying your phone? Some of the best leggings with pockets for runners (i.e. they don't fall down!) #runninggeear
Click To Tweet
If the standard longer shorts aren't doing it for you, then good news I've tested out these and found them to work just as well.
These are jut under a 5-inch inseams, which still isn't short, but is long enough to just squeeze your phone in to the side pockets and know it's staying put, not bouncing out.
Stick with your normal size, they are designed to be a tight fit
Super light weight, would be idea in summer
5 Pockets, no zippers (nice if you also wear them to do any core work)
 The mesh hip pockets around the waist are PERFECTION for stashing energy gels and grabbing them during a race
Polyamide and Elastane blends
They stopped making the ones I truly recommend which were the Fast and Free. And since then all of the alternatives that I've come up with have been removed as well!
BUT I recently discovered they have a special version of the Wunder Train with pockets. However, it looks to me like this is going away pretty soon too…. I don't know why!
I'm not a high rise fan due to my very short torso, but the fabric on these feels great and is quick drying, always a big plus.
I would size up
Pockets on both sides
Available in 3 colors
Also available with pockets in 4 and 8 inch inseam
I got a lot of great recommendation recently in IG, but many of them are being discontinued so I'm only include this option from Nike. I've used a similar style called their Trail Luxe (also discontinued) and it does feel great against the skin.
Many of you won't want something quite this long, but it's a viable option.
I would probably size up
5 colors available
XS to XXL
Side pockets and zippered pocket
👉Best Men's Running Shorts With Phone Pocket
Knowing this an issue for David, I've done some hunting. Here's what it really comes down to if you're doing any kind of distance running…
The running shorts need to have the tight compression liner so that it can sit against your skin to hold the phone without pulling your pants down. We've tried other pockets and the bounce is painful on the leg or well you're ready to moon the neighborhood.
A number of cheap options exist on Amazon from Pinkbomb and others.
Under Armour SpeedPocket 7 Inch
Nathan Sports shorts (David has really liked these)
David prefers using the FlipBelt or running with a hydration pack
You may notice that budget running shorts with a phone pocket are not listed. That's because so far in my testing the result was shorts that got pulled down, stretched out or simply weren't flattering. If you've found some though, definitely share so others can test them out!!
Looking for more running gear?
Other ways to connect with Amanda
Instagram Daily Fun: RunToTheFinish
Facebook Community Chatter: RunToTheFinish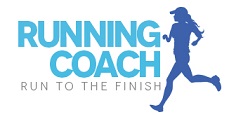 Sign Up to Receive a Weekly Newsletter with Top Running Tips and Laughs